Recipe: Shrimp piri piri with quick-preserved Meyer lemons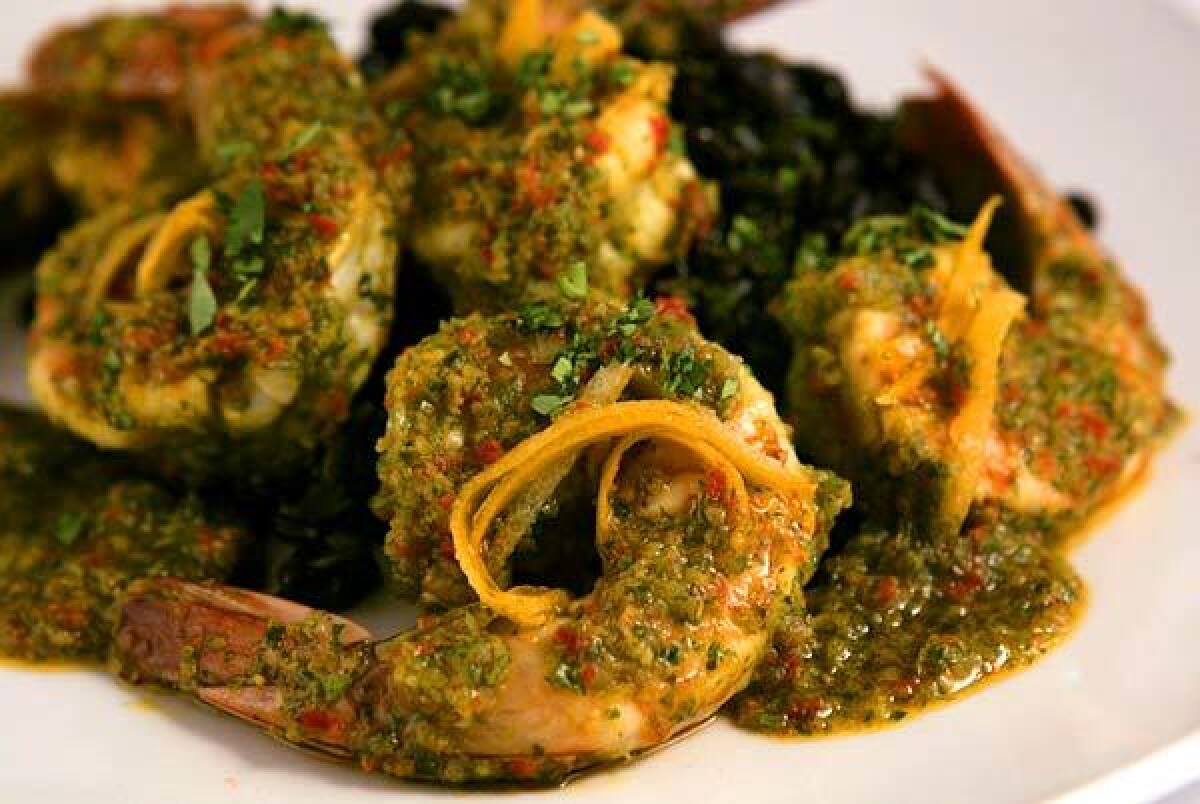 Total time: 50 minutes plus 30 minutes marinating time
Servings: 4
Note: This recipe is an adaption and combining of two recipes from Marcus Samuelsson's "The Soul of a New Cuisine." Piri piri is an African dish named for a hot chile pepper. We substitute jalapeños. Black (Forbidden) rice is available at selected supermarkets and food specialty stores.
Quick-preserved Meyer lemons
6 Meyer lemons
1/4 cup kosher salt
1/4 cup sugar
1. Using a vegetable peeler, peel the lemons, trying to keep away from the white pith. (If necessary, scrape any pith away from the peels with a small knife.) Squeeze the juice from the peeled lemons into a bowl and reserve: You should have about 1 cup. Add water to bring the liquid up to 2 cups; set aside to reserve.
2. Place the peel and 2 cups of water in a saucepan and bring to a rolling boil. Drain. Repeat this procedure once more. Return the drained peel to the pan, add the reserved juice, salt and sugar and bring to a boil. Reduce the heat and simmer for 10 minutes. Remove from the heat and set aside to cool. Makes about three-eighths cup.
Shrimp piri piri
1 cup black rice (Forbidden rice)
4 red jalapeño chiles, seeded, ribs removed and chopped
2 green jalapeño chiles, seeded, ribs removed and chopped
2 serrano chiles, seeded, ribs removed and chopped
2 cloves garlic
1/4 cup chopped cilantro, plus additional for garnish
1/4 cup chopped Italian parsley
Juice of 1 Meyer lemon
1 recipe quick-preserved Meyer lemon peel, julienned, divided
1/2 cup plus 2 tablespoons olive oil, divided
1 pound medium shrimp, tail-on, peeled and deveined
1/4 teaspoon kosher salt
Additional chopped cilantro for garnish
1. In a medium saucepan with a tight-fitting lid, cook the black rice according to the package instructions (about 30 minutes) and reserve.
2. In a food processor, combine the chiles, garlic, cilantro, parsley, lemon juice and one-eighth cup of the preserved lemon peel and process until the mixture is a coarse paste. Add one-half cup olive oil in a slow stream and reserve. (Makes 1 cup.)
3. In a large bowl, toss the shrimp in the sauce and allow to marinate, covered and refrigerated, for 30 minutes.
4. Heat the remaining 2 tablespoons olive oil in a large skillet over high heat until it shimmers, then add the marinated shrimp. Toss for 3 to 4 minutes until the shrimp is opaque, taking care not to overcook. Season with kosher salt.
5. Serve the shrimp over the black rice, garnished with the remaining preserved lemon and a little chopped cilantro.
Each serving: 705 calories; 28 grams protein; 67 grams carbohydrates; 3 grams fiber; 37 grams fat; 5 grams saturated fat; 172 mg. cholesterol; 3,610 mg. sodium.
Get our L.A. Goes Out newsletter, with the week's best events, to help you explore and experience our city.
You may occasionally receive promotional content from the Los Angeles Times.