Recipe: Hazelnut meringues with orange sherbet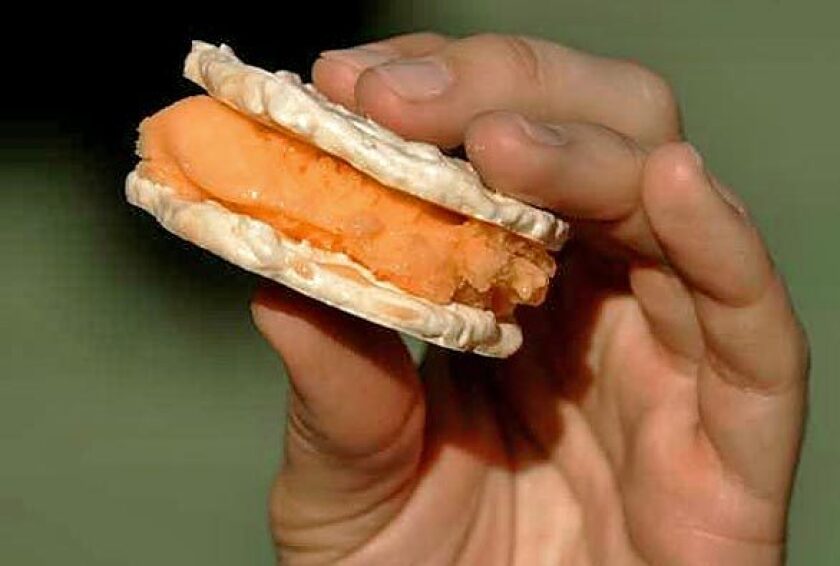 Total time: 1 1/2 hours, plus 2 hours drying time for the meringues
Servings: Makes 21 small ice cream sandwiches
Note: From test kitchen director Donna Deane. You will have leftover orange sherbet; reserve for another use.
3 egg whites, at room temperature
1/4 teaspoon cream of tartar
1/2 cup sugar
1/4 teaspoon vanilla
1/2 teaspoon lemon juice
1 cup finely chopped blanched hazelnuts
1 pint orange sherbet
Powdered sugar
1. Heat the oven to 225 degrees. In the bowl of a stand mixer or in a large bowl with a hand-held mixer, beat the egg whites until frothy on medium speed, about 1 minute. Add the cream of tartar and continue to beat to soft peaks, a minute more. Gradually add the sugar and continue beating until stiff peaks form, an additional 3 to 5 minutes. Beat in the vanilla and lemon juice. Fold in the hazelnuts.
2. Use a 2 1/4 -inch ring to trace circles onto parchment paper on a baking sheet. Spoon about 1 tablespoon of the meringue onto the center of a circle, and spread evenly to the edges. Repeat with the remaining meringue.
3. As you finish spreading each tray of meringues place them in the oven to bake for 1 hour to set the meringues, then turn off the oven but leave the trays inside for an additional 2 hours to allow the meringues to dry out. Remove from the oven, and gently peel them off the parchment paper. Store, loosely covered and in a dry area, at room temperature, until needed. The meringues will keep for 2 days.
4. Just before serving, spoon a tablespoon of sherbet onto a hazelnut meringue and top with another meringue, gently pressing the meringues into the sherbet to form a sandwich. Dust the tops lightly with powdered sugar. Serve two meringue sandwiches per person.
Each ice cream sandwich: 69 calories; 1 gram protein; 9 grams carbohydrates; 1 gram fiber; 4 grams fat; 0 saturated fat; 0 cholesterol; 12 mg. sodium.
---
The essential weekly guide to enjoying the outdoors in Southern California. Insider tips on the best of our beaches, trails, parks, deserts, forests and mountains.
You may occasionally receive promotional content from the Los Angeles Times.