Recipe: Kamut and cheese muffins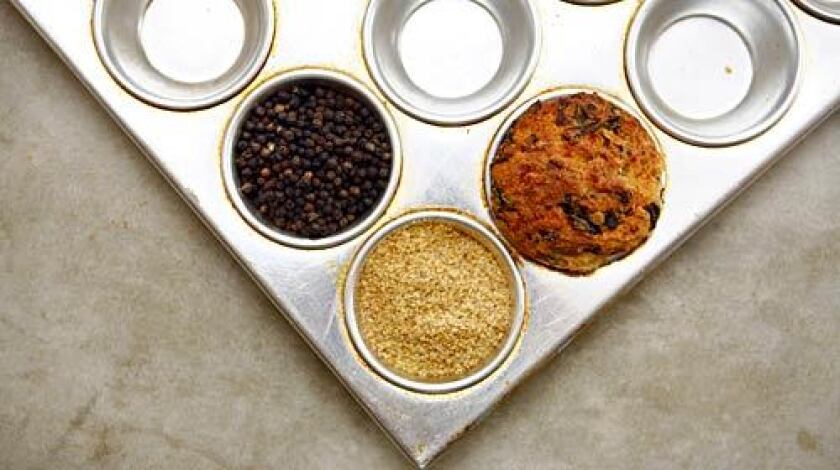 Total time: 1 hour, 25 minutes
Servings: 10 muffins
Note: From Kim Boyce. Cotswold cheese, which is studded with bits of chives and onion, is available at Gelson's, Trader Joe's, Whole Foods and the Cheese Store of Silverlake. You can substitute 1 1/2 cups cheddar and 2 teaspoon minced chives. Kamut flour is available at Whole Foods and health-food stores.
Vegetable oil spray for coating the tins
3 tablespoons olive oil, divided
1 bunch red chard, washed, drained and middle vein removed
1/2 plus 1/8 teaspoon salt, divided
1/4 plus 1/8 teaspoon freshly ground black pepper, divided
1 cup flour
1 cup kamut flour
2 tablespoons sugar
2 teaspoons baking powder
2 tablespoons wheat germ
3/4 cup buttermilk
1/2 cup light sour cream
2 tablespoons melted butter
1 Egg
1 1/2 cups grated Cotswold cheese (about 1/3 pound)
3/4 cup Parmesan, finely grated
1/8 teaspoon cayenne
1. Heat the oven to 350 degrees. Lightly spray a muffin pan with vegetable oil.
2. In a large sauté pan, heat 1 tablespoon olive oil over medium-high heat. Sauté the chard, seasoning it with one-eighth teaspoon each salt and pepper, for 3 to 5 minutes until wilted and softened. Remove from heat and cool the chard on paper towels. Blot if any liquid remains. Roughly chop the chard and set aside.
3. Into a medium mixing bowl, sift the flour, kamut flour, sugar, baking powder, the remaining salt, the remaining black pepper and the cayenne pepper into medium mixing bowl, then stir in the wheat germ.
4. In a separate bowl, whisk the buttermilk, sour cream, the remaining 2 tablespoons olive oil, melted butter and egg; stir in the cheeses and chopped chard. Gently fold in the dry ingredients until combined.
5. Using an ice cream scoop (about one-half cup capacity), scoop the mixture into prepared muffin tins, about one scoop per muffin. Bake for about 45 minutes. You can use a small offset spatula or knife to carefully lift a muffin from the tin and check to see that the bottom is dark golden brown. As soon as muffins come out of the oven run a knife around the edges for easy removal.
Each muffin: 289 calories; 12 grams protein; 24 grams carbohydrates; 2 grams fiber; 16 grams fat; 8 grams saturated fat; 55 mg. cholesterol; 564 mg. sodium.
---
The essential weekly guide to enjoying the outdoors in Southern California. Insider tips on the best of our beaches, trails, parks, deserts, forests and mountains.
You may occasionally receive promotional content from the Los Angeles Times.