'Parker's Wine Buyer's Guide No. 7' -- a departure from the past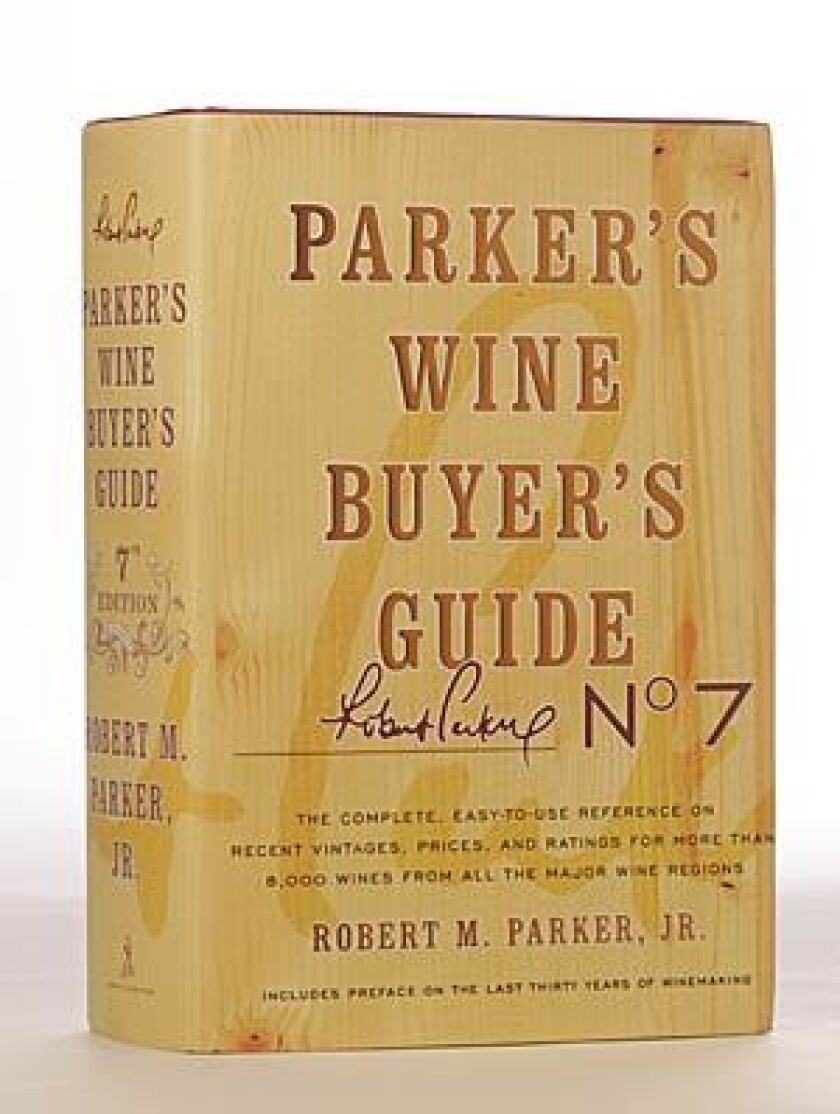 Special to The Times
ROBERT PARKER Jr., founder of the Wine Advocate magazine and indisputably the world's most influential wine critic, has published "Parker's Wine Buyer's Guide No. 7," the first of his series to be produced by a team of writers.
Since 1978, largely unaccompanied, Parker has published the Wine Advocate, a journal of tasting notes and, most notably, scores, based on a 100-point scale -- the scale that revolutionized the wine world. From these efforts, six "Buyer's Guides" were compiled, the first five being solo efforts (Pierre-Antoine Rovani was coauthor of the sixth edition).
In 2006, however, Parker bequeathed many of his Advocate tasting and writing duties to a team of critics, so this edition is the work of six authors. In pages and palates, the world's most influential critic is outnumbered.
In past editions, the "Buyer's Guide" amounted to a compendium of critical notes that defines what might be called the "Parker palate." Wineries that received the highest marks generally produced vintages that were voluptuous, powerful, rich -- and ripe as jam.
"Great wines," Parker writes in his introduction, "offer satisfaction on a hedonistic level and also challenge and satiate the intellect." But it's no secret that most of the high-scoring wines are weighted toward hedonism. A wine with "gobs of fruit," to use one of his favorite expressions, will have little to offer the intellect -- it aims for more immediate pleasures. In reading some of the profiles here, it's clear that Parker can recognize restraint in a wine, but rarely rewards it. He's just not the contemplative sort. He prefers to be bowled over.
Most wine experts believe American enthusiasts have been slowly moving away from vintages that exhibit the kind of brazen power and ripeness that Parker prefers.
Nevertheless, the Parker palate remains the barometer by which most wine lovers evaluate their own tastes; you can more or less define your aesthetic by whether you think a "Parker wine" is a great wine, or a caricature of great wine.
Multiple viewpoints
IN THIS edition, readers encounter six authors in one volume, with different levels of experience, different points of view and very different degrees of writing ability.
Here is how Parker divvies up the world: Neal Martin, a young former blogger (for Wine-Journal.com) covers New Zealand and South America. Portugal and Israel fall to Mark Squires, a Philadelphia lawyer who administers the bulletin board eRobertParker.com. Antonio Galloni, author of the Piedmont Report wine journal, writes on Italy. Baltimore psychologist Jay Miller serves as critic for Australia, Chile, Argentina, Spain, Oregon, Washington and Port wines. Finally, David Schildknecht covers the French regions of Alsace, Beaujolais, Burgundy, the Loire Valley and Languedoc-Roussillon, as well as Austria, Germany and Central Europe.
Parker himself is responsible only for California, Bordeaux and the Rhône Valley, regions in which he has had the most lasting influence. Squires and Martin contribute fewer than 75 pages between them, while the four remaining authors have the lion's share of the work -- with notably mixed results.
Parker remains admirably consistent. His writing has always been straightforward and pragmatic, driven by his abiding sense of himself as the Ralph Nader of the wine world. He's a consumer advocate first and foremost, willing to tangle with tradition and poke holes in what he considers to be outmoded assumptions about how to taste, evaluate and enjoy wine.
He may write as if his is the only opinion that matters, but he's unflinching in his delivery. Only in his general introduction, a soapbox section where he passes judgment on a variety of topics, including competing journals, restaurant wine list prices, excessive filtration and, not least, his detractors, does he seem out of step at times, and often peevish.
In his section, Galloni clearly intends to emulate his boss and make the very confusing world of Italian wine as consumer-friendly as he possibly can, and for the most part he succeeds. His regional profiles, vintage notes and winery snapshots are clear-eyed and workmanlike, and they will be especially useful as an introduction to the country's myriad regions and styles.
Miller has the same intention -- to provide consumers with plain talk about the regions in his purview -- but his writing has neither the clarity nor the energy of his peers, and in places it's embarrassingly prosaic.
Fortunately, the writing of Schildknecht makes up for Miller's stylistic shortcomings. Schildknecht has been a passionate writer, critic and importer of old-world wines for the better part of three decades, and he brings experience to bear on the regions -- the Loire and Burgundy in particular -- that fall outside the paradigms of the Parker palate. The regions whose wines are characterized by finesse and subtlety are entrusted to the "Buyer's Guide's" most nuanced writer. Schildknecht's thoughtful, balanced commentary elevates the entire endeavor.
Appreciating 'mystery'
HERE, FOR example, is his limpid general description of Burgundy: "Most vintners and observers can agree on certain ideals for Burgundy wine, both red and white: clarity of flavor; striking perfume; a balance of caressing textural richness with vivacity and refreshment (even in reds); the capacity to express the distinctiveness of a particular site; and along with all of these traits, a measure of genuine mystery."
It's worth noting that "mystery" is not the sort of word a consumer advocate such as Parker would be inclined to use, but it is precisely what makes Burgundy endlessly appealing -- and it's vital to have a critic who gets that. It seems odd at times to have such divergent approaches in the same volume, but give Parker credit for going against type with regions he has never seemed entirely comfortable with.
So, wherever you find yourself on the Parker barometer, this year's "Buyer's Guide" is a useful addition to your library. Parker fans will not be disappointed; those who have parted ways with him will value the contributions of the others, particularly Schildknecht, whose book within the book makes this a worthwhile purchase.
---
The essential weekly guide to enjoying the outdoors in Southern California. Insider tips on the best of our beaches, trails, parks, deserts, forests and mountains.
You may occasionally receive promotional content from the Los Angeles Times.