Gjelina in Venice: a high-energy Mediterranean restaurant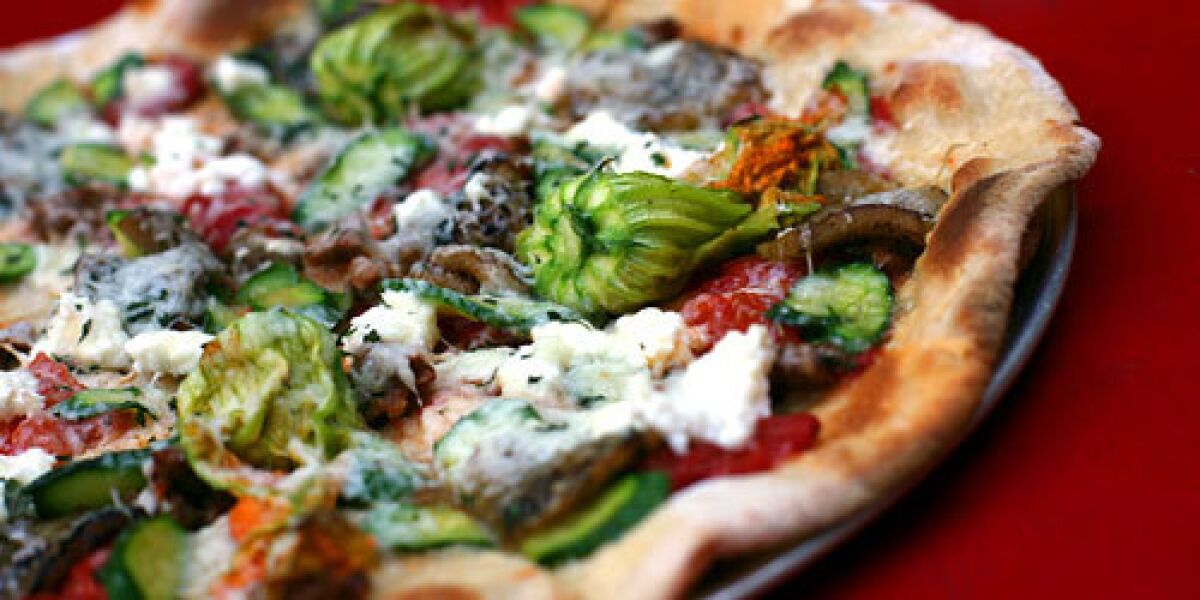 Times Restaurant Critic
The tall door of the rustic Mediterranean restaurant opens, closes, opens -- on a roar of sound inside, much of it generated by the folks at the two tall communal tables docked at the bar. Laughter wafts up to the funky chandelier, an old pot rack dangling bare filament lightbulbs. Silverware clatters. Hands hoist glasses of wine. The party at Gjelina, a few-months-old spot on Abbott Kinney Boulevard, is impromptu and ongoing.
---
FOR THE RECORD:
Gjelina review: In Wednesday's Food section, a review of the new Venice restaurant Gjelina misspelled the last name of the chef, Travis Lett, as Letts. —

---
FOR THE RECORD:
Gjelina review: In the Oct. 1 Food section, a review of the new Venice restaurant Gjelina incorrectly identified the restaurant's designer as architect Sam Marshall. Peel Inc. and Modern Architectural Inc. were the restaurant's designers. Marshall, a former employee of the design firms and not a licensed architect, was project manager and lead designer. —

---
Glamour girls in thin jersey dresses, guys in retro hats, the distinguished and the arty, the scruffy and the hard-working -- everyone's perched on vintage wood and metal stools. Forks dig into wood-oven-roasted baby artichokes or grilled white prawns in romesco butter. The tables are a wonderful mess of plates. This is a place where everything is meant to be shared. Nobody's just picking at their main course pretending to eat. They couldn't possibly. Not when thefareis this lusty and accessible.
Gjelina, named for owner Fran Camaj's mother, opened on the sly in July and has been packed ever since. It has everything you could want in a casual restaurant -- a smart seasonal menu, great atmosphere, high energy and an enthralling mix of people, along with a young chef-partner who can turn out delicious food, seemingly effortlessly. He's Travis Letts, who made a splash as the opening chef at NineThirty in the W hotel in Westwood and has been working most recently as a private chef.
Pizza, pizza
LETTS, who is 29, takes full advantage of the wood-burning oven inherited from the previous restaurant, which you can see in the far corner of the kitchen, embers glowing. Though Gjelina isn't a dedicated pizzeria, Letts' handful of inventive pizzas are enough to be a siren's call to Westside pizza lovers.
He might top one with velvety Fontina cheese, bitter greens, lardons of bacon and tomato confit. Other deeply delicious pies are spread with Taleggio cheese, wild mushrooms and tender pea shoots or lamb sausage with eggplant, zucchini and dollops of sheep's milk ricotta. The prosciutto cotto (cooked ham) pizza adorned with roasted peppers and tomato is too dry, though, more like eating a garnished cracker.
Among non-pizza dishes from recent menus, Letts turns out a beautiful plate of nectarine wedges with arugula, spoonfuls of burrata and pale pink speck, shaved very thinly over the top. Baby beets and their greens roasted in a cast iron skillet emerge from the wood-burning oven looking like strands of seaweed, with a slightly smoky taste that is wonderful with gobbets of sheep's milk ricotta and a drizzle of walnut oil. Monterey Bay squid are rolled up and grilled, unbelievably tender, and served with roasted red peppers, fingerling potatoes and an emerald chimichurri sauce (mostly parsley with garlic and olive oil) for a Latin touch. Getting hungry?
If, at the spur of the moment, you covet a table along the muted brocade banquette that runs along one wall, you may be out of luck. Get yourself a reservation. And if you want a spot at the communal table, you'll most likely have to wait. That group of scenesters leaning against the cool plaster wall, is waiting for seats to open up.
Vegetarians can feast on wood-oven-roasted eggplant and sweet red peppers in agrodolce (Italian for "sour-sweet") with raisins, a little sugar and a splash of vinegar. I love the roasted baby artichokes with gremolata (minced parsley, lemon peel and garlic) and Parmesan, too. And that wood-burning oven does beautiful things to sunchokes, especially when their sweetness is brought out by an Italian salsa verde, or green sauce piquant with capers and garlic.
Sound strategy
OK, HERE'S the downside. Crowded means loud, though there are pockets in the loft-like dining room where the acoustics work just enough in your favor that you can have a conversation. Otherwise, it's point and shout, eat and drink. Some diners, of course, are so used to loud restaurants, the noise level barely registers as anything unusual.
Diners who can't tolerate the clamor that ricochets off the wood plank ceiling and the vintage brick floors will have to pick their moments -- early (the restaurant opens at 5:30 p.m. for dinner) or late. By 9:30 and certainly by 10 most nights, during the week anyway, the sound level begins to ratchet down. It's also easier to get a table at that hour. Note that the kitchen stays open till 10:30 p.m. weeknights, until 11 p.m. weekends.
It's quieter too in the airy patio in back, enclosed by high walls. This area, like the rest of the restaurant, designed by New York architect Sam Marshall, seems more curated than designed. A shrewd collection of vintage pieces and a mix of materials cohabit in the patio -- white subway tiles, exposed brick, wood boards and wall-mounted heat lamps that look like 19th century ironwork, along with low sofas and upholstered chairs and vintage garden tables, each different.
There's a window that allows you, from the patio, to see directly into the kitchen. Letts is the guy with longish dark blond hair and baseball shirt -- no toque -- standing facing the cooks. He stood there one night, not turning his head, not taking a turn in the dining room, for the entire time we were eating. That's dedication. And that's why every dish comes out fast and correct.
Rustic and flavorful
THIS IS not complicated food, but it's very good food, made with top ingredients. The single page menu shouts out EAT LOCAL or HOME GROWN, in all capitals, on the back. The style is rustic and full-flavored. And like Palate, another delicious newcomer, the menu is basically mix and match. Order anything in any order.
Maybe the grilled white prawns in romesco butter and lemon or the glossy black Prince Edward Island mussels steamed in ale with a touch of tomato. Crispy pork belly cooked in cider with mustard greens is very nice too. I love the way Letts serves his crackling crisp duck leg confit with a vinegary white bean salad to cut the richness.
The wine list may not be the deepest in town -- the entire thing fits on a single page -- but the dozen wines by the glass include a Château Thivin Beaujolais, Qupé Marsanne and an Alsace Riesling. The Alban Viognier and the Elio Grasso Barbera are both fine choices too. I could wish for more wines under $50, but at least there are some, and for the budget or beer-minded, four beers on tap (two from Germany, one from England and one from San Diego).
If you're the kind of dessert-loving person obsessed enough to check out the sweets before looking at the rest of the menu, Gjelina may not be the place for you. Desserts are not all that original or exciting: a basic fruit crumble, a fragile pine nut and honey tart with a buttery short crust, a thick butterscotch pot de crème crowned with a frill of whipped cream.
But then it seems so much more appealing to nurse that last glass of wine and enjoy this relaxed scene and Letts' lusty Mediterranean cooking.
Gjelina Rating: ** 1/2Location: 1429 Abbot Kinney Blvd. (at Milwood Avenue), Venice, (310) 450-1429.Ambience: Rustic Mediterranean restaurant with communal tables at the bar, a loft-like dining room and airy patio out back. The crowd is chic boho, the vibe lively and the food earthy and delicious.Service: Friendly and helpful.Price: Cured meats and cheeses, $10 to $13; vegetables, $8; salads, $10; pizzas, $13 to $15; plates, $9 to $27.Best dishes: Nectarines with speck and burrata, wild mushroom and Taleggio pizza, wood-oven-roasted sunchokes or artichokes, duck leg confit, Monterey Bay squid with chimichurri, skirt steak, pine nut tart, butterscotch pot de crème.Wine list: One page, but with some affordable and interesting choices. Corkage fee, $20.Best table: One on the garden patio where it's quieter.Special features: Two communal tables for drop-ins.Details: Open for dinner nightly from 5:30 p.m. to midnight Sundays through Thursdays (kitchen closes at 10:30 p.m.), until 1 a.m. Fridays and Saturdays (kitchen closes at 11 p.m.). Brunch is 10 a.m. to 3 p.m. Saturdays and Sundays. Beer and wine. Lot parking behind restaurant, also street parking.To see a photo gallery, go to latimes.com/food.Rating is based on food, service and ambience, with price taken into account in relation to quality. ****: Outstanding on every level. ***: Excellent. **: Very good. *: Good. No star: Poor to satisfactory.
Get our L.A. Goes Out newsletter, with the week's best events, to help you explore and experience our city.
You may occasionally receive promotional content from the Los Angeles Times.