Review: Brix@1601 in Hermosa Beach gives contemporary American a well-executed twist
Brix@1601 and the adjoining Brixwine are newly opened in Hermosa Beach. Developer Gene Shook is behind the project and has assembled a team with plenty of experience at high-end L.A. restaurants.
(Lawrence K. Ho/ Los Angeles Times)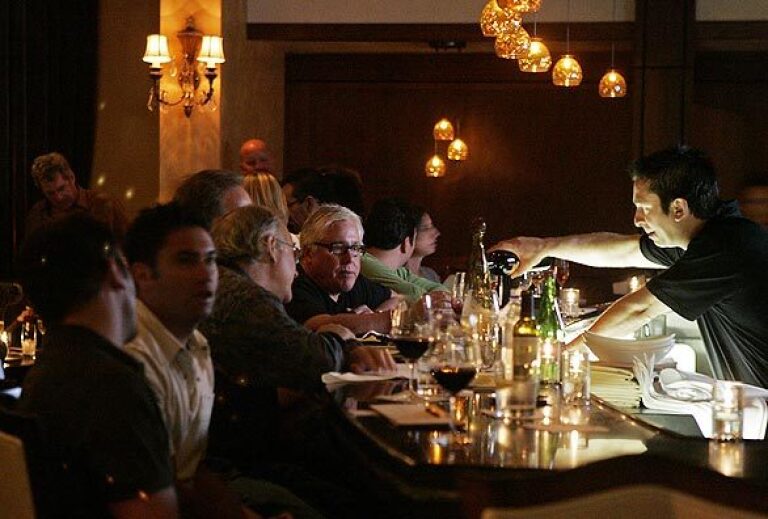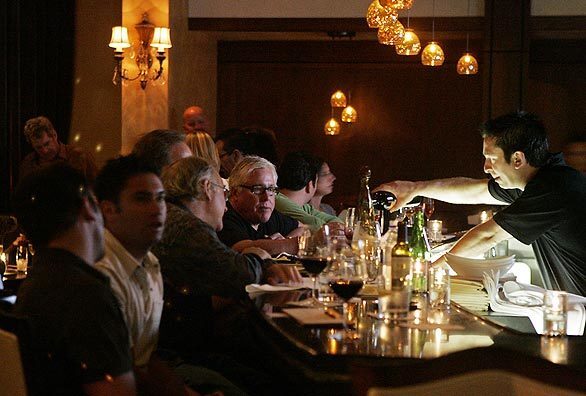 A bartender pours libations as patrons swarm the bar inside Brix@1601.
(Lawrence K. Ho / Los Angeles Times)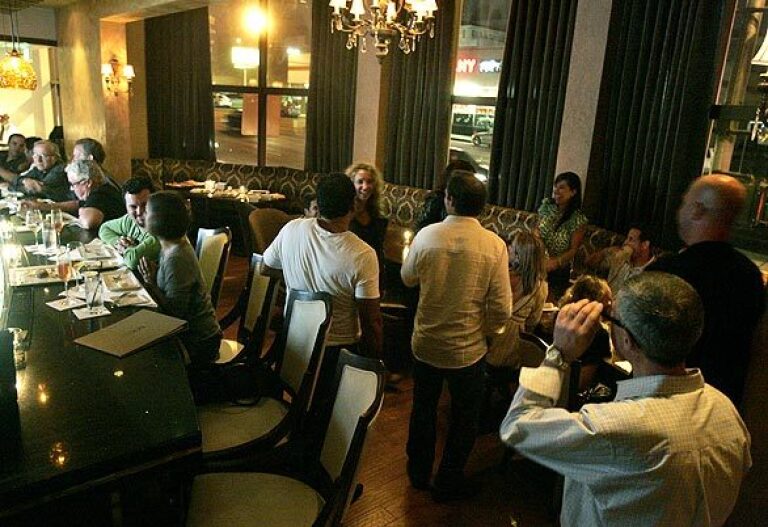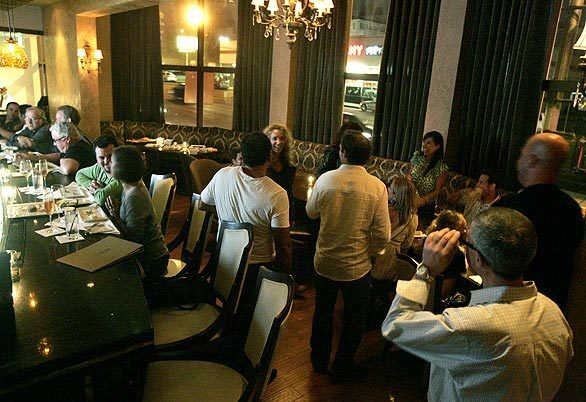 The newcomer already draws a crowd.
(Lawrence K. Ho / Los Angeles Times)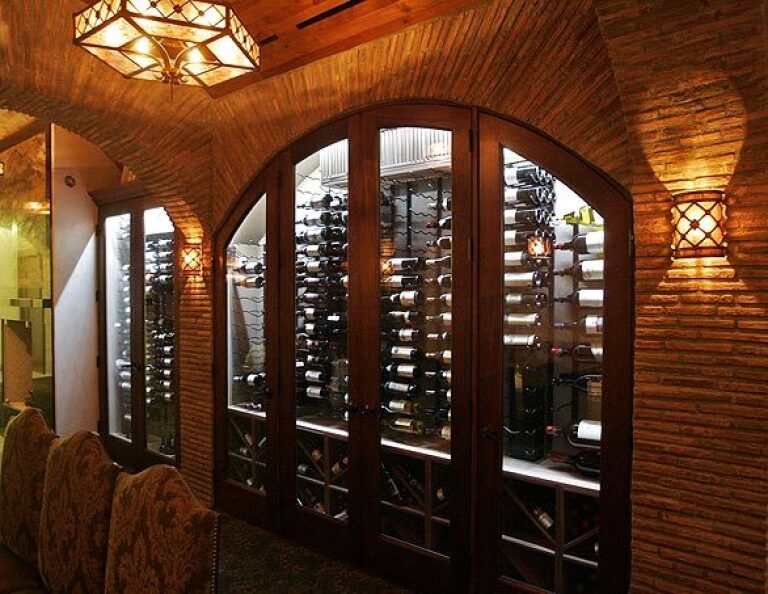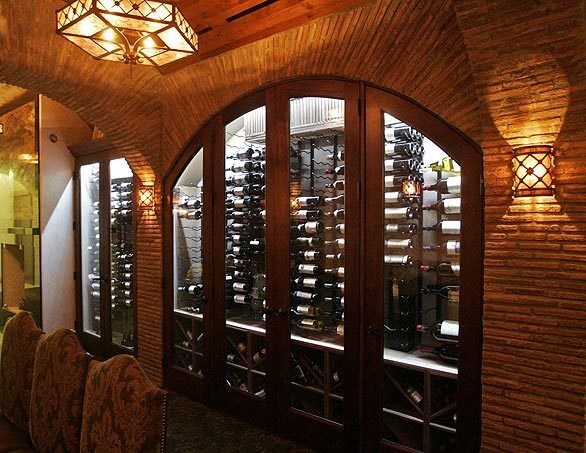 An elaborate wine case shelters the valued vintages.
(Lawrence K. Ho / Los Angeles Times)
Soft lights reflect off Brix@1601's vaulted ceiling.
(Lawrence K. Ho / Los Angeles Times)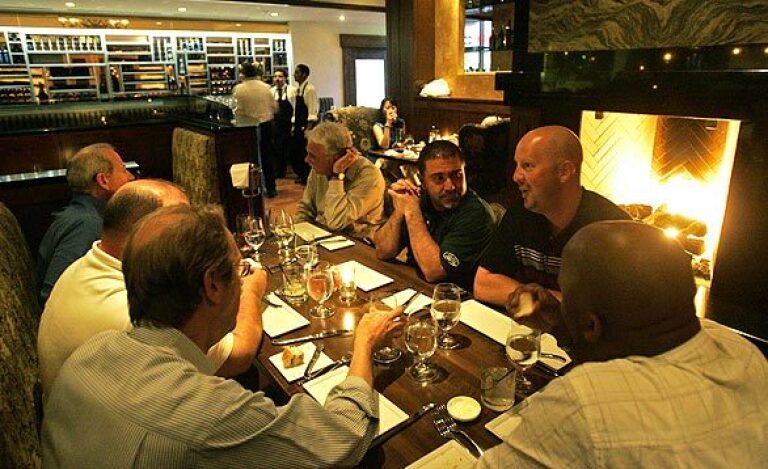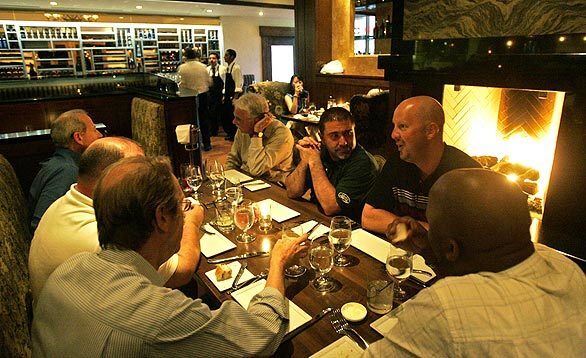 When Hermosa Beach gets chilly, there's a fireplace.
(Lawrence K. Ho / Los Angeles Times)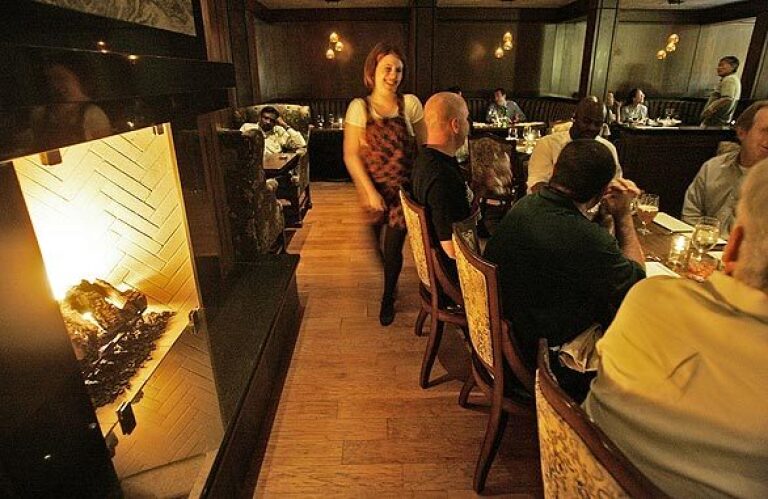 A server tends to guests by the fireplace.
(Lawrence K. Ho / Los Angeles Times)
Brixwine's long display window adjoins a dining area.
(Lawrence K. Ho / Los Angeles Times)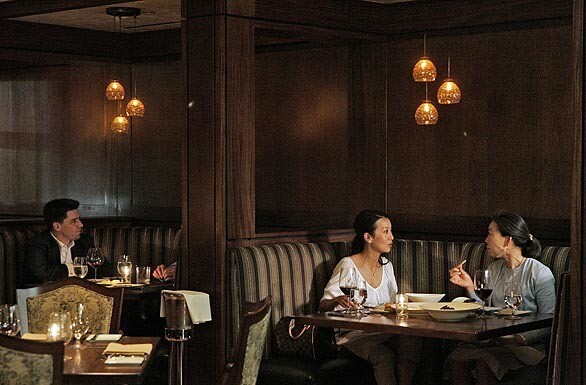 Softly lighted, cozy booths are set against a wood-paneled wall.
(Lawrence K. Ho / Los Angeles Times)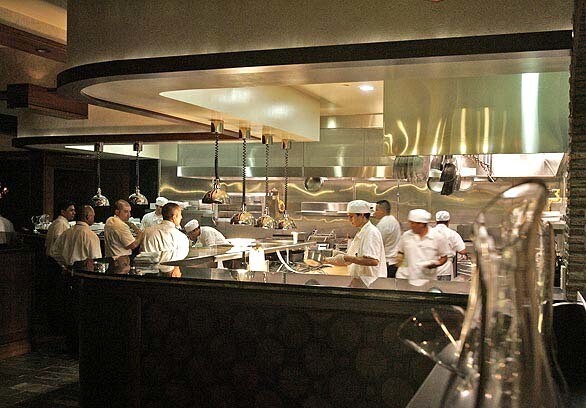 Brix@1601 isn't shy -- the open kitchen shows its confidence.
(Lawrence K. Ho / Los Angeles Times)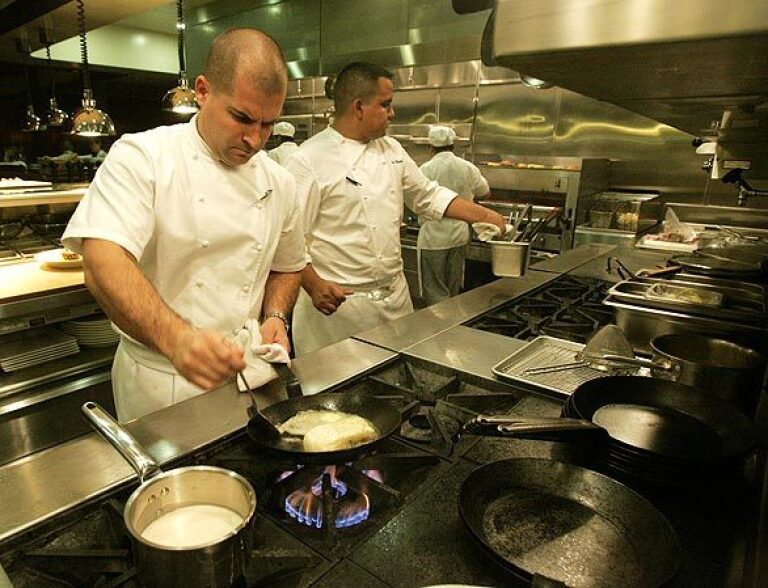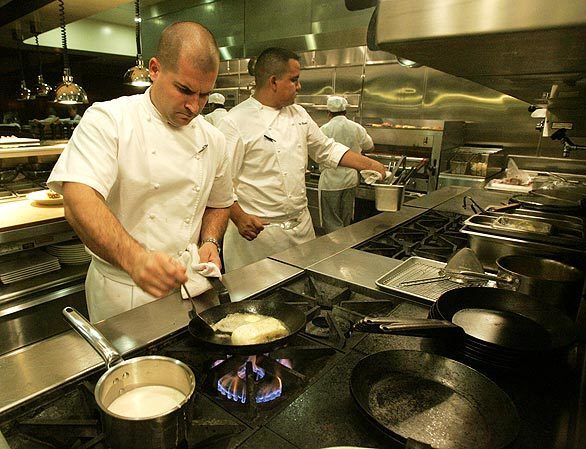 Executive Chef Michael McDonald, formerly of Dakota steakhouse in the Hollywood Roosevelt Hotel, has something cooking in the Brix kitchen.
(Lawrence K. Ho / Los Angeles Times)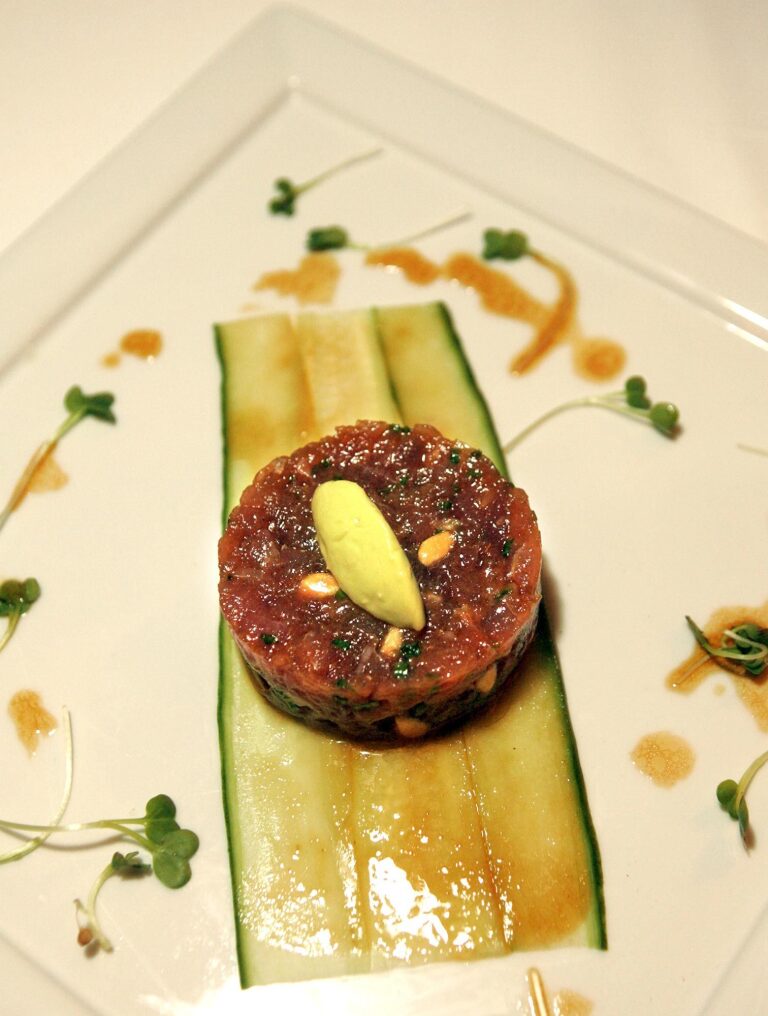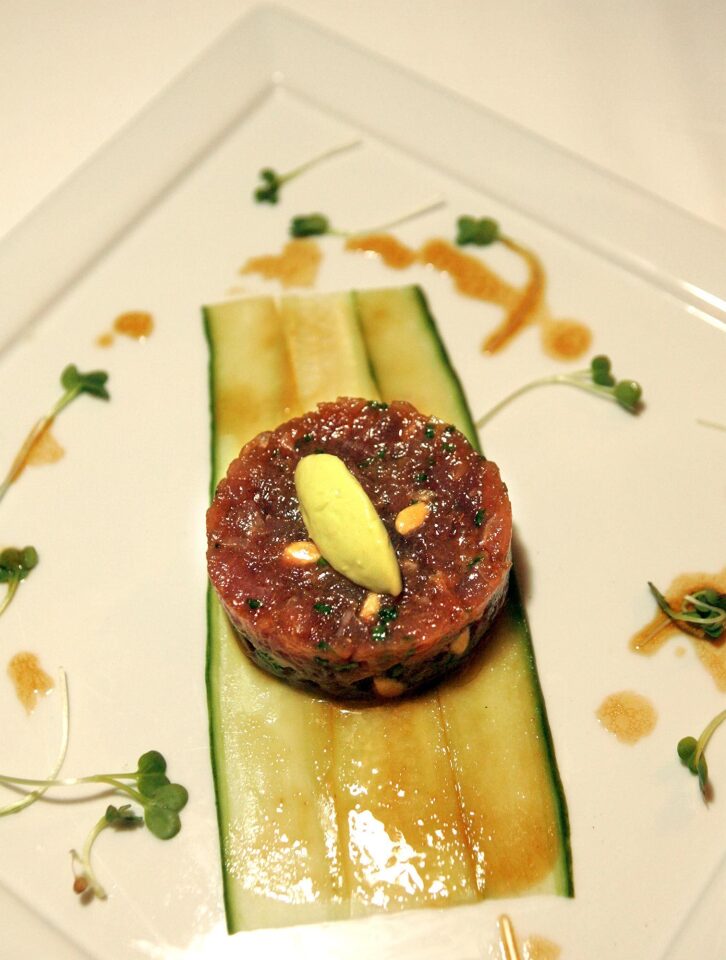 Spicy tuna tartare at Brix@1601.
(Lawrence K. Ho / Los Angeles Times)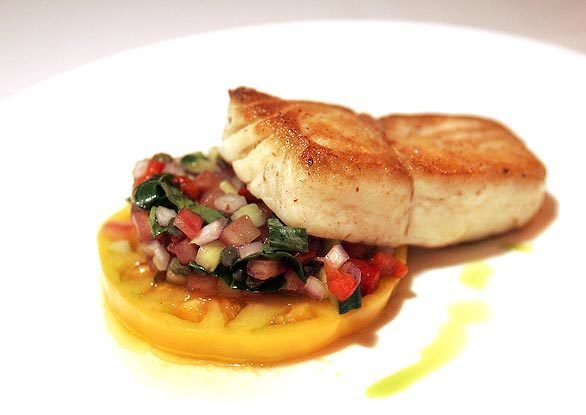 Alaskan halibut at Brix@1601.
(Lawrence K. Ho / Los Angeles Times)
Times Restaurant Critic
"DO YOU want that decanted?" the sommelier asks. Yes, please. Minutes later she's back, bearing a crystal decanter that, I swear, looks like a glass saxophone. It's that big. She sets it down in the middle of the table and when she later pours the wine, we watch, fascinated, as ruby Pinot speeds down the slender spout and lands with the grace of an Olympic diver in the precise middle of the glass. It's a charming bit of theater at Brix@1601, a new wine-centric restaurant in Hermosa Beach.
The project of developer Gene Shook, Brix is set in a small, contemporary mall right on PCH. The name is a combination of Brix (a measure of grapes' sugar concentration) and the street number. Although it's built around wine and is next door to an affiliated wine shop, Brixwine, Brix isn't a wine bar per se, at least not one in the current idiom of wines by the glass paired with small plates.
This is a real restaurant, quite a large one really, with a dedicated chef -- Michael McDonald -- whose last gig was cooking at the Dakota, the steakhouse in the chic Hollywood Roosevelt Hotel. At Brix, he's created a solid contemporary American menu that outshines everything else in the South Bay at the moment.
Shook has spent money -- lots of it -- in building out the restaurant. Yet despite the quality appointments, Brix has the familiar layout and feel of a chain or suburban restaurant, just elevated a notch. Meticulously set bricks frame the arches. The plaster has a fancy troweled finish; a massive faux tree trunk stands behind the maitre d' station. I like the comfort of the back-to-back booths lined up in double rows with dark wood partitions between them.
On the far side of the dining room, beneath a vaulted brick ceiling, are more tables, a wall of wine storage and, beyond that, private rooms. And the display kitchen is the heart and focus of the restaurant.
Read over the one-page menu and it sounds similar to a zillion other menus I've seen lately. You've got your lettuce wedge, your sliders, your steamed mussels, your tuna tartare, your fashionable flat-iron steak, et cetera, et cetera. But if any restaurant demonstrates that it's all in the execution and also in the quality of the ingredients, this is it.
Virtually everything on the menu is delicious. The food here certainly won't rock your world, but in McDonald's kitchen, dish after dish is expertly prepared and satisfying. The guy can cook.
Take the ubiquitous sliders. For the uninitiated, a slider is a miniature burger. But this trio of baby burgers, each with a shiny, golden brown bun and a juicy beef patty dressed up with caramelized onions and Gruyère, is terrific. A glass of New Zealand Pinot Noir and an order of these sliders is worth leaving home for.
Steamed mussels are a good bet too. The mussels are plump and sweet, floating in a white wine broth embroidered with fines herbes and perfect with a very well-priced bottle of Prager "Klaus Vineyard" Riesling from Austria. The frites that come with them, though, tend to be pale, sometimes limp, sometimes crisp. More unusual as a first course is the moist, hot smoked salmon served on halved fingerling potatoes with a dab of crème fraîche and caviar. Smoky and almost custardy in texture, it could stand in as a light main course too.
Crisp calamari rings and tentacles are tossed with Thai and other basils in a juicy lime vinaigrette with a spark of heat to it. The Brix lettuce wedge arrives with shards of very dark, very crisp bacon and sliced heirloom tomatoes with some creamy Point Reyes blue cheese.
Wonderful light spring rolls are stuffed with bundles of matchstick-cut vegetables and rich duck confit. With wasabi mustard sauce for dipping, this too makes a good appetizer to share.
Only a couple of dishes misfire. One of them is the watery white corn chowder with a trio of clams and a slice of fingerling potato at the bottom of the bowl. Halibut cheeks didn't do much for me either.
The service, when it's not overzealous, is a pleasure. Everyone is personable and enthusiastic. And servers move as if they're in a hurry, the way they do at a busy Paris brasserie. The style is usually much more laid-back at the beach.
OK, hire a chef away from a steakhouse and what do you get? Steak. After trying all of the cuts, I'd pass up the pricier rib-eye or New York steak in favor of a couple of more moderately priced but very flavorful cuts: the skirt or the prime flat-iron. And if you want it medium rare, order it rare.
There's a fine pork loin chop, which comes with a truffled mac 'n' cheese. And for those who prefer their burgers sized up, there's a dauntingly large cheeseburger that's not as heavy as you'd expect because the patty is loosely formed, the better to make a truly juicy burger. It comes on a soft, glazed bun with iceberg lettuce and the usual fixings, plus white cheddar cheese.
Seafood tends to show well too. Seared scallops, still quite rare in the center, come with a silky sunchoke purée and a splash of brilliant red beet vinaigrette. Alaskan halibut is moist and flaky and the seared yellowtail could easily be part of the omakase at a top-notch sushi restaurant. But in general, main courses aren't nearly as compelling as the first courses and desserts.
Sipping by the sea
DRESS IS mostly beach casual -- guys in their 20s and 30s wandering in jeans and T-shirts, women of the same vintage in flirty sundresses, tanned shoulders bared. There are older couples too, wine buffs holding forth on the virtues of this or that Pinot from the Santa Rita Hills or the latest cult Syrah. The place is becoming a magnet for wine collectors.
Sommelier Caitlin Stansbury fetched up here from a stint at the Lodge in Beverly Hills. (She also helped put together the wine list at Tasca in Los Angeles.) And she's like a breath of fresh air in the competitive and often pretentious sommelier world. Wearing skinny jeans and a shirt instead of a buttoned-up suit, she cuts a very different figure than the usual high-end restaurant wine steward. Her style is down-to-earth and enthusiastic, and she's ever ready to offer creative and sensible advice.
Take advantage of her expertise and allow her to steer you toward bottles you've never tasted. Give her a price point, and let her come up with something unusual and exciting. She'll also pour half-glasses if you just want to taste. That's how I tried a Greek rosé and a beautiful Côtes du Rhône blanc from a small producer I'd never come across.
Desserts from pastry chef Renée Ward sail in right on target. Don't miss her deliciously light coconut-lime sorbet coupe layered with raspberry marmalade and kalamansi (a kind of citrus) gelée. Her maple-flavored tiramisu is the best I've had in ages, creamy and dense, though I'm less enamored of the pretty chocolate mousse bombe (too sweet) or the fussy mango-passion fruit crème brûlée. Given a designated driver, you could also take the opportunity to taste some of the unusual sweet wines on the list, maybe a grand cru Banyuls or a 1969 Madeira.
The South Bay restaurant scene is growing up, and with Brix@1601, the bar is set just a little higher. Who else in the neighborhood can offer a choice of a minerally Grechetto from Italy or a sparkling Crémant de Bourgogne Rosé from Burgundy along with calamari and basil salad or duck confit spring rolls? Bring it on. Bring it all on.
Brix@1601 Rating: **Location:Brix@1601, 1601 Pacific Coast Highway, Hermosa Beach; (310) 698-0740; www.brix1601.com.Ambience: Sprawling South Bay wine-centric restaurant with a contemporary American menu. There's a large bar and several dining areas. Lots of stone and wood, even a fireplace, give this newcomer polish.Service: Enthusiastic and helpful.Price: Dinner appetizers, $8 to $15; main courses, $12 to $54; desserts, $6 to $9; cheese plate, $12.Best dishes: Sliders, crispy calamari, lettuce wedge, duck confit spring rolls, hot-smoked salmon, prime flat-iron steak, Alaskan halibut, diver scallops, burger, maple tiramisu, coconut coupe.Wine list: Exceptional, wide-ranging list and wine by the glass program. Corkage fee, $20 (2-bottle maximum).Best table: One of the generously sized booths.Details: Open for lunch from 11:30 a.m. to 2:30 p.m Monday through Friday and for dinner from 5:30 to 9 p.m. Sunday through Thursday, until 10 p.m. Friday and Saturday. Bar stays open nightly until midnight. Full bar. Valet parking, and also parking in a lot beneath.To see a photo gallery, go to latimes.com/food.Rating is based on food, service and ambience, with price taken into account in relation to quality. ****: Outstanding on every level. ***: Excellent. **: Very good. *: Good. No star: Poor to satisfactory.
---
Life is stressful. Our weekly mental wellness newsletter can help.
You may occasionally receive promotional content from the Los Angeles Times.