Melograno is a delicious step up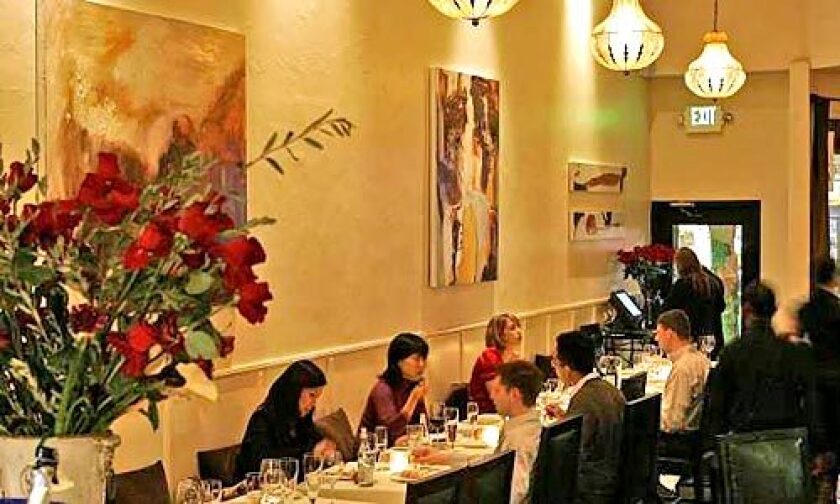 Los Angeles Times Staff Writer
COMING from Piedmont, where handmade tagliarini made with lavish amounts of egg yolks take pride of place in home and restaurant kitchens, Alberto Lazzarino, chef-owner of Hollywood's new Italian restaurant Melograno, is no slouch in the pasta department. Consider his tagliarini with braised lepre, or hare, in a pomegranate reduction. His rich egg noodles are fine as angel hair, yet perfectly sauced in a subtle sweet-tart ragù laced with the unique flavor of the hare.
Right now, the special is often that tagliarini with wild boar and a hint of bittersweet chocolate that disappears into the sauce, leaving behind a mysterious depth of flavor. Lazzarino also makes a saffron-flavored pappardelle with fennel and tomato and bites of lobster that's simple and delicious.
Lazzarino has been a chef-soldier in the kitchens of a host of L.A. Italian restaurants, including Il Moro in West L.A., Cheebo in Hollywood, and, most recently, Piccolo Ristorante in Venice. It's amazing that after making countless plates of spaghetti alle vongole and angel hair pasta with tomato sauce, he still retains a fire for his native cuisine. The 37-year-old chef is actually from Piedmont, the region in northern Italy famous not only for its distinguished Barolo and Barbaresco wines, but also for its distinctive cuisine.
And after 16 years cooking Italian in L.A., Lazzarino finally has his own place. In late fall, he and Sardinian-born sommelier Giuseppe Cossu pulled it off, taking over the long narrow space on a scruffy stretch of Hollywood Boulevard where Brasserie les Voyous used to be.
In terms of antipasti and primi, Lazzarino is cooking more interesting dishes here than at Piccolo. Even the main courses, often the dullest part of an Italian restaurant menu, are better here than they are at the general run of Italian restaurants, which says a lot about Lazzarino's ambitions for Melograno.
Unlike some of the other restaurants where he's cooked, this time the menu is entirely his and not small when you consider the specials. And he can execute it, which is what's important, and execute it well.
Enjoyable atmosphere
ON a rainy night, reflections of the gaudy signs along Hollywood Boulevard blur and vibrate in the street, creating a happy collage of colors as we cruise the boulevard looking for the restaurant. There it is, I call out, spotting a valet sign, but it's for Lift, another Hollywood newcomer. I prompt the driver to go a little farther, and sure enough, just after Wilcox Avenue is another (small) valet sign, this one for Melograno.
No valet is in sight, so I wait for a couple of minutes under the eaves of the building, appreciating the dank earthy scent that rain brings to the city. Not so enjoyable is the smell of garlic emanating from the open door of the pizza joint next door. What a juxtaposition: elegant ristorante next to cheap pizza by the slice.
Inside the glass door inscribed with the name, Melograno has an appealing faded glamour reminiscent of the dining room at Bar Marmont. Ceilings are luxuriously high. Pale gold Murano glass lamps sway overhead and French windows along one wall look out onto a commercial courtyard and walkway dotted with silvery olive trees, opening up the long narrow room to the outside.
Good smells come from the kitchen, and a lot of clattering, too. Yet it's possible to have a conversation without straining to be heard. On a rainy night, the atmosphere is particularly lovely, especially when you know a plate of tagliarini or gnocchi and a bottle of minerally Greco di Tufo or crisp Arneis are in your immediate future.
Melograno is the Italian word for pomegranate, which is why a pomegranate sits on every table. The menu is printed with pomegranate-colored ink on heavy cream paper. With high-backed dark leather and wood chairs, white tablecloths and good china, Melograno is very much a ristorante, but one with a more relaxed ambience than, say, Valentino. Dress up, or come casual, however the mood strikes.
The restaurant is a step up for Lazzarino and he seems to be reveling in showing what he can do. The menu reads well, but before committing to a choice, wait to hear from the waiter about the specials.
Starters include an excellent carpaccio di bue. Deep red slices of raw beef cover the entire plate; they're garnished with a topknot of tiny wild arugula leaves and a loose, delicious tonnato, or tuna sauce. Autumnal salad (never mind that it's now inverno, or winter) is a whirlwind of baby lettuce greens, grapes, pickled cauliflower and carrot with shredded Cornish game hen marinated in sweet wine, in a juicy pomegranate-shallot dressing.
Soup sounds awfully appealing on a damp night: either the hearty garbanzo bean, barley and porcini mushroom zuppa that's earthy and comforting, or maybe the special, a delicate purée of cauliflower garnished with the ruffly florets burnished on the griddle. Though served with a delectable fontina fondue, vegetable flan is a tired relic of fancy hotel cooking, something that can be prepared ahead and reheated to order. What's so compelling about warm vegetable custard anyway?
When the waiter proposes ravioli al plinhere, he's offering the real thing, ravioli about as large as postage stamps with a dab of filling inside and characteristic pinches (plin) at the sides. Most of the time they're stuffed with a classic combination of finely minced roasted meats and Swiss chard and a little Parmigiano and sauced in either the meat's juices or a little butter and sage. Sometimes they're filled with fonduta (fontina cheese melted in milk) and taste like bite-sized fondue. One night, for a table of vegetarians, Lazzarino had made some ravioli al plin stuffed with ricotta and Swiss chard in a loose, fresh heirloom tomato sauce. They looked so enticing, we asked for an order too. As with all of Lazzarino's pasta dishes, the dough is tender and supple, made by someone who doesn't take shortcuts and knows very much what he's doing.
His potato gnocchi are unusual, with wild nettles kneaded into the dough, giving each dumpling a slightly tweedy appearance. So that you can really taste the potato -- and the grassiness of the nettles -- he tosses them in some browned butter with sage leaves, and that's it. Risotto with radicchio and black truffle is fine, a little gummy as restaurant risotto tends to be, but not compelling enough to give up pasta for risotto.
Main courses are generous and well-executed. Barolo-braised short ribs are meaty and tender, served with coarse-ground polenta from Valtellina, pan-roasted to give it a crunchy edge. Beef tagliata is Kobe-style flat iron grilled and sliced. It has plenty of beefy flavor and is served with delicious little roasted potatoes and a medley of carrot, broccoli, green beans and other vegetables.
Occasionally, as a special, the chef brines thick-cut Berkshire pork chops and serves them simply grilled. They're wonderful, the kind of juicy, flavorful chops carnivores dream about. New Zealand lamb chops get dressed up in herbed bread crumbs and wild black sea bass from Virginia comes with wild mushrooms in a vermouth sauce. One night, there's venison osso buco. It has a delicious flavor, but it could be that braising is not the best way to cook it: The meat is a little tough. But that's almost to be expected with venison.
Seldom-seen sweet
Ilove the fact that our waiter who, like Cossu, is from the island of Sardinia, seems genuinely enthralled with whatever bottle of Italian wine we happen to be drinking. The list is stronger on whites than reds, at least if you're looking for a good bottle for less than $50. You can drink a Ceretto Arneis from Piedmont, a Pinot Grigio from Friuli or a Soave, all priced under $40. The much larger red wine selection has too many high-priced bottles and not enough affordable ones. Most of the red-wine labels are familiar producers, so it's not that interesting, either.
For dessert, for me, there's just one option: the bunet, wonderfully homey chocolate sweet from Piedmont that's halfway between a cake and a custard. It's unusual and it's regional, something that's been all too hard to find in Los Angeles.
With polished cooking from a dedicated, passionate chef who spends his time cooking rather than talking the talk, Melograno is on the right track. I'm just hoping, despite the oddball location, enough Italophiles will find their way to this promising newcomer, and get a taste of Lazzarino's Piedmontese cooking.
Rating: **
Location: 6541 Hollywood Blvd. (west of Wilcox Avenue), Hollywood; (323) 465-6650; www.melogranohollywood.com.
Ambience: Serene ristorante in an unlikely spot with cooking from former Piccolo chef Alberto Lazzarino. Pale gold Murano glass lamps light the long, narrow dining room with windows that look onto a courtyard, and a clutch of outdoor tables.
Service: Warm and attentive.
Price:Antipasti and salads, $10.50 to $16; pasta and risotto, $14.50 to $18.50; main courses, $24 to $27; desserts, $6.50.
Best dishes: Beef carpaccio, autumnal salad, tagliarini with lepre (hare) or wild boar and a touch of chocolate, ravioli al plin, saffron pappardelle with lobster, potato and nettle gnocchi with sage butter, Kobe-style flat iron tagliata, lamb chops in herbed bread crumbs, bunet, pears with zabaglione.
Wine list: Stronger on Italian whites than reds (that category needs more bottles in the under-$50 range). Corkage fee, $20, waived with purchase of a bottle from the list.
Best table: One in the back corner.
Details: Open for dinner from 5:30 to 10 p.m. Tuesday through Thursday, from 5 to 11 p.m. Friday and Saturday, Sunday until 10 p.m. Full bar. Valet parking, $10.
To see a photo gallery, go to latimes.com/food.
Rating is based on food, service and ambience, with price taken into account in relation to quality. ****: Outstanding on every level. ***: Excellent. **: Very good. *: Good. No star: Poor to satisfactory.
---
Life is stressful. Our weekly mental wellness newsletter can help.
You may occasionally receive promotional content from the Los Angeles Times.