Recipe: Pan-fried cod with radicchio slaw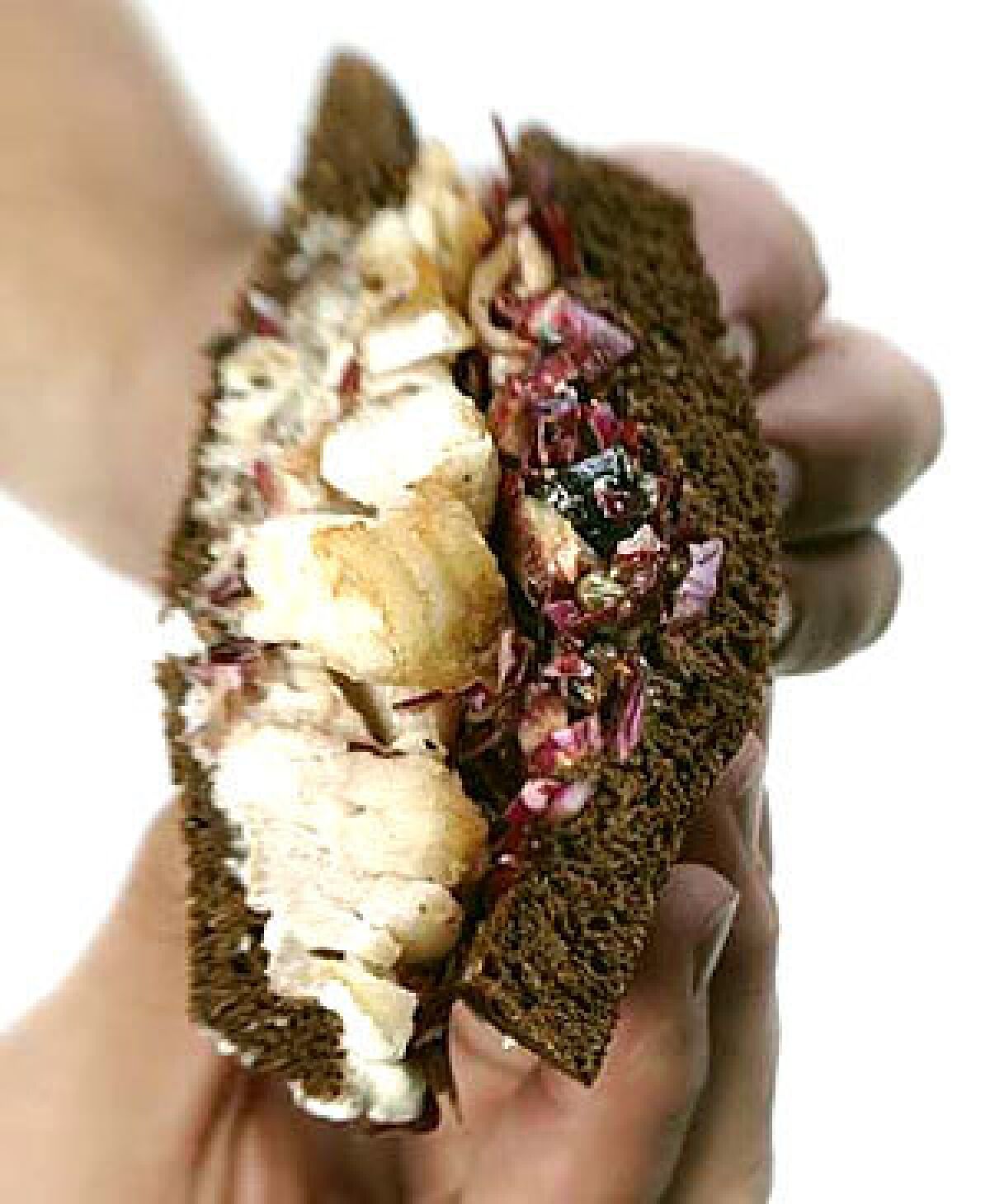 Total time: 30 minutes
Servings: 4
Note: Moroccan olives are available at Whole Foods and specialty markets. To make creamy horseradish, combine one-half cup sour cream with 1 tablespoon straight horseradish and season with one-eighth teaspoon salt.
Radicchio slaw
1 head radicchio, cored and quartered lengthwise
1/2 head red cabbage, cored and halved lengthwise
1/2 cup capers
1/2 cup chopped Moroccan olives
1 tablespoon minced thyme
1 1/4 teaspoons minced rosemary
2 tablespoons sherry vinegar
3 tablespoons olive oil
Salt
Freshly ground black pepper
Sugar
1. Finely shred the radicchio and cabbage crosswise and toss in a large bowl.
2. Fold in the capers, olives, thyme and rosemary. Stir in the vinegar and oil.
3. Season with one-half teaspoon salt, several grinds of pepper and a teaspoon of sugar, or to taste. Cover and refrigerate at least 30 minutes before using to allow the flavors to develop. This recipe makes about 10 cups slaw, more than needed for the final recipe, and will keep for up to three days in the refrigerator.
Sandwich assembly
1 1/2 pounds Atlantic cod fillets, skin and pin bones removed
1/3 cup flour
1/2 teaspoon salt
Freshly ground black pepper
Canola or vegetable oil for frying
8 thick slices pumpernickel bread, toasted
1/4 cup Dijon mustard, divided
1/2 cup creamy horseradish, divided
2 cups radicchio slaw, divided
1. Cut the fillets crosswise into 1 1/2 - to 2-inch cubes. In a shallow baking dish, combine the flour, salt and several grinds of black pepper. Lightly dredge the fish in the seasoned flour and set aside; you will not use all of the seasoned flour.
2. In a large skillet, add enough oil so that it's about 1 inch deep. Heat the oil until a thermometer inserted reads 350 degrees. Pan fry the cod until the exterior is a light golden-brown and the inside is firm and white, about 2 minutes per side. Do not crowd the pan; you may need to fry the fish in two batches. Drain the pieces on a paper towel-lined plate and set aside in a warm place.
3. Spread 1 tablespoon of mustard on each of 4 pieces of toast, and 2 tablespoons creamy horseradish on the remaining pieces. Divide the cod among the pieces of toast with the horseradish, then top each portion with one-half cup of the slaw. Top each sandwich with the mustard toast, slice in half and serve immediately.
Each serving: 476 calories; 35 grams protein; 43 grams carbohydrates; 6 grams fiber; 18 grams fat; 2 grams saturated fat; 70 mg. cholesterol; 1,377 mg. sodium.
Get our L.A. Goes Out newsletter, with the week's best events, to help you explore and experience our city.
You may occasionally receive promotional content from the Los Angeles Times.