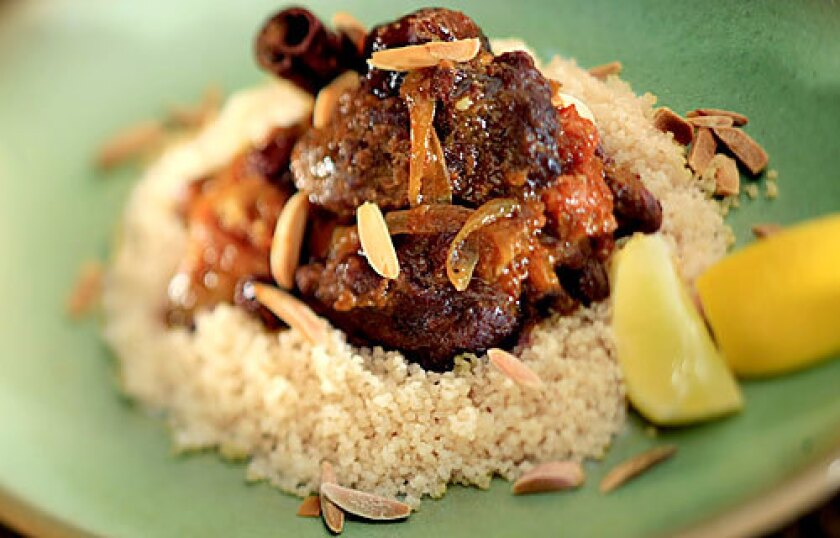 Total time: 40 minutes, plus cooking time (3 to 4 hours on high; 6 to 8 hours on low)
Servings: 6 to 8
Note: Serve the tagine spooned over couscous or rice. Sprinkle with toasted almonds and serve each portion with a wedge of lemon. This recipe requires a 5- to 6-quart slow cooker. The lamb shoulder should be weighed after it is boned and trimmed.
4 teaspoons ground cumin
2 teaspoons ground turmeric
2 teaspoons salt
1/2 teaspoon pepper
1/2 teaspoon smoked paprika
1/2 teaspoon finely ground chile powder
3 pounds boneless, trimmed lamb shoulder, cut into 2-inch cubes
1/4 cup flour
2 tablespoons oil
1 tablespoon butter
2 large onions, cut into 1/2 -inch slices lengthwise
10 shallots, peeled and left whole
4 teaspoons chopped garlic
1 tablespoon minced ginger
1 cup dried apricots
1/2 cup raisins
1 tablespoon honey
2 to 3 cinnamon sticks
1 1/2 cups vegetable broth, more as needed
1 cup pitted dates
1. In a large bowl, stir together the cumin, turmeric, salt, pepper, paprika and chile. Add the cubed lamb and toss until the pieces are evenly coated with the spice mix. Sprinkle with the flour and toss to give the lamb a light coating of flour (you may have a little flour left in the bottom of the bowl; save this to thicken the tagine).
2. Heat a large saute pan or stove top-safe slow cooker insert over medium-high heat. Add the oil and butter. When the butter has melted, add the lamb pieces in a single layer (this may need to be done in more than one batch) and sear until the pieces are browned on all sides, about 8 minutes per batch. Remove the lamb with a slotted spoon back to the large bowl.
3. Add the onions and shallots to the pan. Saute the onion and shallots until the onions are just softened and slightly golden, about 5 minutes, stirring frequently. Remove the pan from heat.
4. Place the onions and shallots in an even layer in the slow cooker insert (if not already in use). Stir in the garlic, ginger, apricots, raisins, honey, cinnamon sticks and broth. Place the lamb pieces over the onion mixture in an even layer. Gently sprinkle any remaining flour over the lamb.
5. Cover the insert and place it in the slow cooker. Set the slow cooker to the high heat setting. After 2 hours, remove the lid and sprinkle the dates over the lamb. Replace the lid quickly (heat is lost whenever the lid is removed) and cook an additional 1 to 1 1/2 hours, until the lamb is fork-tender.
6. Remove the insert from the heat and briefly prop the lid open to allow the mixture to cool slightly. Gently stir the lamb with the vegetables and fruit; the apricots and dates will crush easily if stirred too hard.
Each of 8 servings: 528 calories; 40 grams protein; 49 grams carbohydrates; 6 grams fiber; 21 grams fat; 6 grams saturated fat; 125 mg. cholesterol; 1,255 mg. sodium.
---