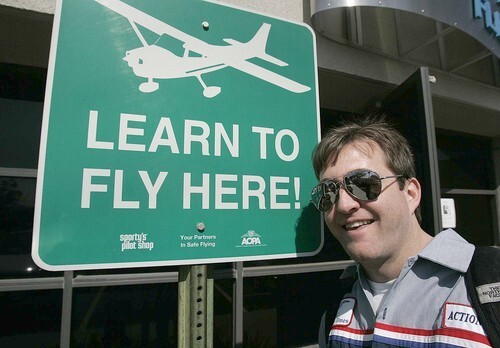 5 Images
Action Man: Off he goes into the wild blue yonder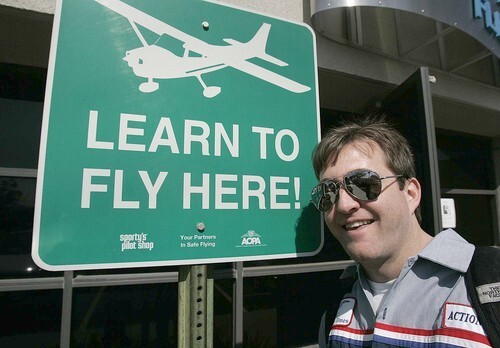 Action Man columnist Liam Gowing learns to fly as part of ProjectPilot, a new program that offers discounted, one-hour demonstration flights to those interested in pursuing a pilot's license. Here's what happened in Action Man's own words:
I arrived at Justice Aviation at Santa Monica Airport ready to roll. Notice the aviator shades.
(Spencer Weiner/ Los Angeles Times)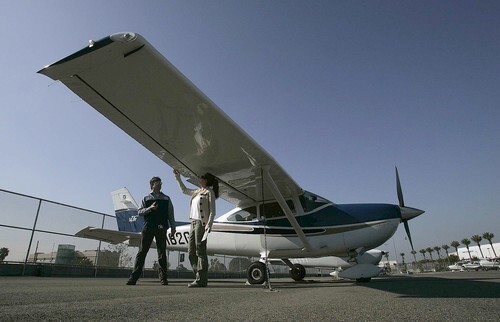 Flight instructor Liz DeStaffany earned my confidence early on by walking me through a very thorough visual inspection of our aircraft, a single-engine, high-wing Cessna 182. Here, DeStaffany is not merely confirming the unimpeded movement of the right wing's aileron, but showing me how it interacts with the plane's main steering mechanism, the yoke. As she raised the aileron, I could see it turning inside the cabin.
(Spencer Weiner/ Los Angeles Times)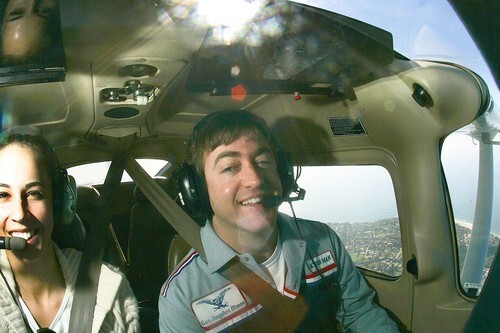 DeStaffany actually took this photo mid-flight somewhere along the celebrity-riddled core of Malibu. Despite a touch of haze, it was a beautiful day for a flight with excellent views of the coastline. Equally clear here, I was having a splendid time.
---
FOR THE RECORD:
A photo caption running with the print version of this column should have credited the photo to Liz DeStaffany, not Times photographer Spencer Weiner.
---
(Liz DeStaffany)
DeStaffany is an instrument-rated pilot, meaning she could land our Cessna 182 through fog thick enough to spread on toast. On my first flight, I was nowhere near that level of competence, so DeStaffany simply pointed towards Santa Monica airport's Barker Hangar and told me to steer in that direction to set us up for our final approach.
(Spencer Weiner/ Los Angeles Times)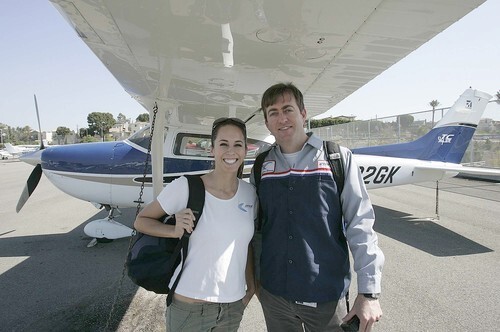 Back at Santa Monica Airport, DeStaffany and I posed for a final shot before she left for her second job, selling SunPower solar panels to "make up for all the gas I burn in the air." Her great-granddad, Lyman William DeStaffany -- the pilot certified to fly by Orville Wright himself -- would be very proud.
(Spencer Weiner/ Los Angeles Times)