Loft living at the Broadway Hollywood leaves room for privacy, creativity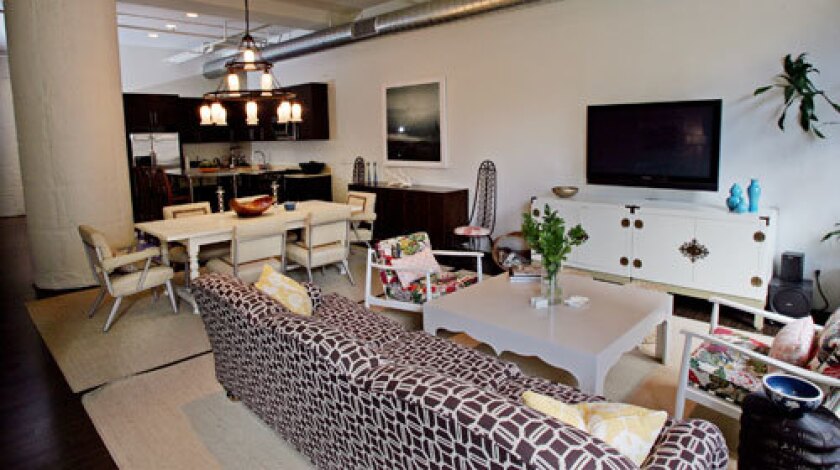 IT'S SATURDAY night, and Jennifer Culp and husband John Hoffman have ventured out for movies at ArcLight, dinner at Katsuya and drinks at Eva Longoria Parker's sexy hot spot, Beso. But when they get home to their 1,450-square-foot loft at the Broadway Hollywood, the focus shifts from experiencing the city to escaping it.
When Culp, an interior designer, and Hoffman, a real estate developer, bought their loft, they wanted to create a series of private, livable rooms while maintaining the airy feeling.
"The beauty of a loft is that it's this large open space," Culp says. "I wanted to honor that."
She called upon a few standard designer tricks. Instead of one large carpet, she threw down two sisal rugs to divide the living and dining areas. A three-tiered iron chandelier of Culp's design also helps to define the dining area as a distinct space. In the bedroom, a bohemian chic sanctuary where John Robshaw batik pillows dress up a simple white bedspread, the designer added a curtain for privacy.
Culp kept the walls white so that she could go bold with the furniture and artwork. Big-impact florals and graphics give a modern twist to vintage pieces in the living room. A pair of midcentury chairs have been lacquered white and reupholstered in a colorful print. Vintage garden chairs from Alie Waldman Home Couture in Los Angeles have seats covered in a modern toile. A traditional George Smith sofa is funked out with a white-on-brown Kelly Wearstler fabric and bright yellow ikat-print throw pillows.
Loft living often leaves no room for clutter. In the walk-in closet, the couple added banks of shelves that rise to the 18-foot ceiling.
"It forces you to be super organized," says Culp, who admits orderliness has not always been her forte.
"It's challenging especially in that we both work from home the majority of the time," Hoffman says. "But it opens up that communal aspect of living, which is very cool. On the broader spectrum, it's what this building is all about. You walk out the door and there's your neighbor. Just being in the common areas, at the pool, waiting for your car, you get to know everyone. It's village living, and that's what we're coming back to."
---
The essential weekly guide to enjoying the outdoors in Southern California. Insider tips on the best of our beaches, trails, parks, deserts, forests and mountains.
You may occasionally receive promotional content from the Los Angeles Times.