16 Images
Home library looks
Caryn Mandabach's home library in Pacific Palisades is a light-filled affair — hardly the dark, clubby space most people associate with reading rooms. Interior designer Peter Dunham maintained the room's connection to the outdoors and added a green velvet sofa, richly aged leather chairs and a wall of books with a rolling ladder.
(Wally Skalij, Los Angeles Times)
Interior designer Dunham on one his favorite finishing touches, a rolling ladder.
(Wally Skalij / Los Angeles Times)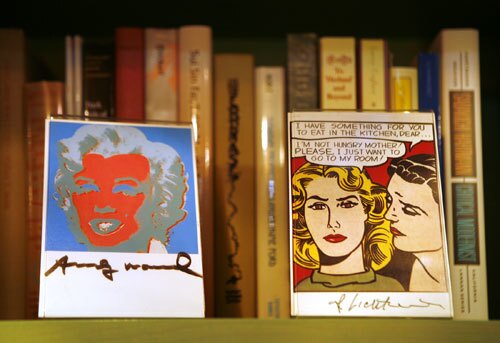 Dunham suggests incorporating art and objects among the rows of books. The result: something that further reflects the personality of the person who lives there. Shown here: Writer and antique book dealer Victoria Dailey's signed Warhol and Lichtenstein cards.
(Mark Boster / Los Angeles Times)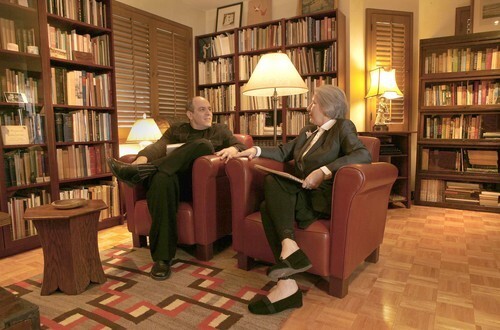 Historian and dealer Victoria Dailey and husband Steve Turner, an art gallery owner, needed storage solutions for their tens of thousands of titles.
(Mark Boster, Los Angeles Times)
Their Beverly Hills house includes a maple curio cabinet with pull-out drawers to store their collection of documents related to Southern California and African American history.
(Mark Boster, Los Angeles Times)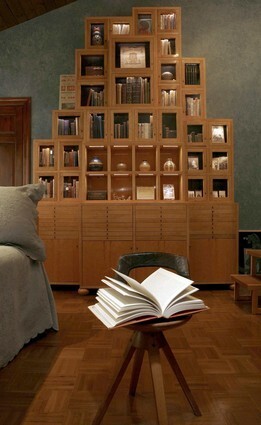 Dailey and Turner's custom bookcase soars to the ceiling in a style that echoes the 1930s Skyscraper furniture of Paul Frankl.
(Mark Boster, Los Angeles Times)
West Hollywood library consultant Nick Harvill stores his personal collection on industrial steel and walnut shelves crafted by Oliver Furth.
(Annie Wells, Los Angeles Times)
Harvill helps people to catalog, augment and present their collections. "The faux English lord approach fools no one," he says.
(Annie Wells, Los Angeles Times)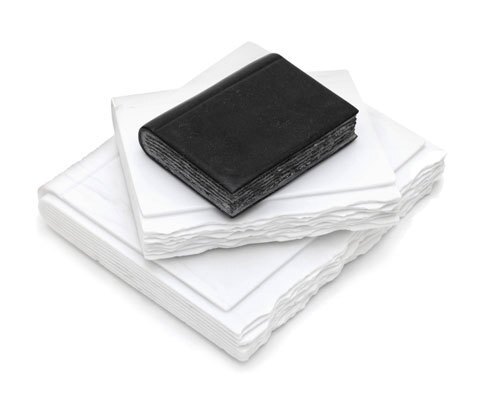 The home-library trend is reflected in a bevy of new products that pay homage to books and what they represent. Los Angeles designer Kelly Wearstler's new collection for Bergdorf Goodman in New York includes carved marble books in black, gray and white.
()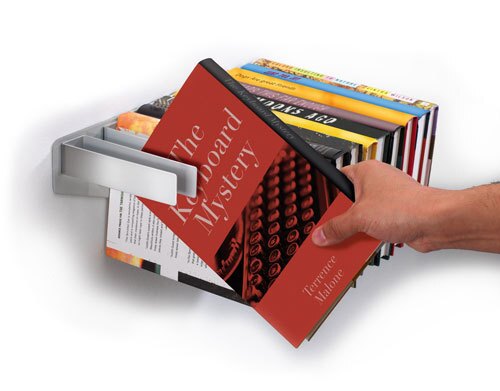 One of Umbra's latest offerings is the Flybrary, a contraption that holds books in a horizontal row, so that they appear to be suspended in midair.
(Umbra)
Umbra first had success with Conceal, a bookshelf whose hidden support makes a stack of titles appear to float on a wall.
(Umbra)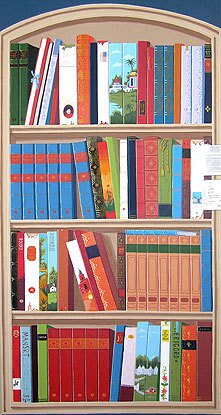 The Stark wallcoverings company has come out with Library, a 3-foot-wide panel with an amusing, animated bookshelf print.
(Stark)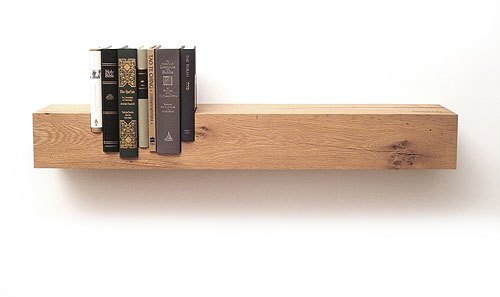 The design firm Mike and Maaike created Juxtaposed: Religion, a shelf made of reclaimed wood carved to hold the seven texts of various faiths side by side. The design purposely keeps the tops of the books level, so none is taller than the others.
(Mike and Maaike for Blankblank)

Berkeley artist Jim Rosenau cleverly uses books as materials in constructing furniture, shelves and other furnishings. Here, a riff on the library ladder.
(Jim Rosenau)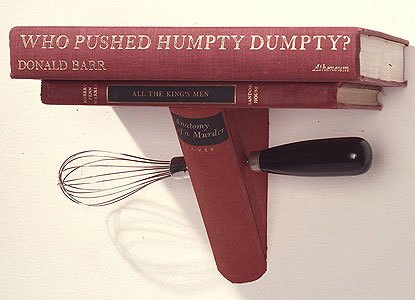 Rosenau crafted this cheeky bookshelf with "Who Pushed Humpty Dumpty?" and "All the Kings Men," both supported by a wedge of "Anatomy of a Murder" — pierced by an egg whisk.
(Jim Rosenau)
The Eagle Rock design studio Bughouse produces "Radical Chic," a silk-screened graphic for your wall depicting the photographic image of provocative political tracts lined up on a shelf.
(Bughouse)