A MOST INSPIRED HAUNT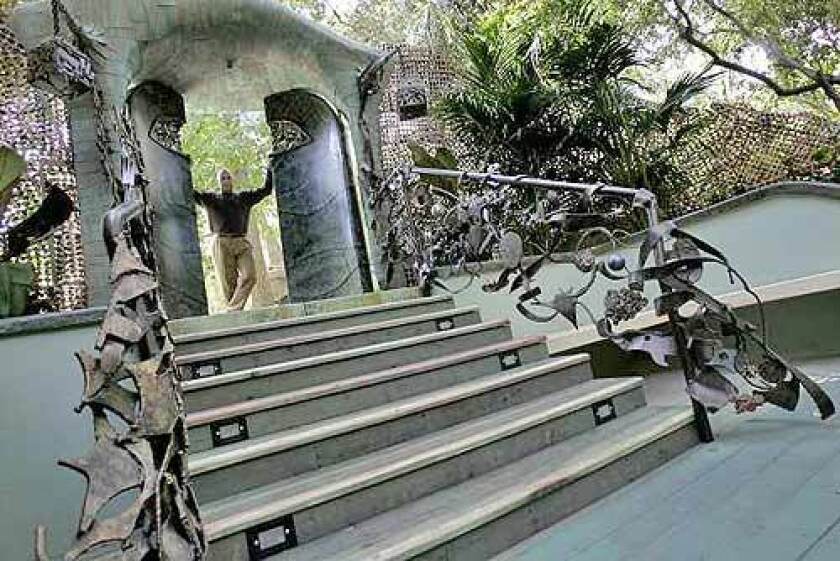 Times Staff Writer
THOM and Leslie Beers are possessed, though in no way like Linda Blair or Emily Rose. The couple does not talk in tongues or levitate, but their Sherman Oaks home speaks in an elevated vernacular of its own. An ode to Craftsman and Age of Aquarius arts and crafts, man, the imaginative residence appears to owe its design more to Dr. Frankenstein than Martha Stewart.
And appropriately so, for the Beerses are the husband-wife team behind the Discovery Channel's "Monster Garage" and "Monster House" series that Thom, 53, calls "more takeover than makeover." Mechanics might turn a Mustang into a lawn mower on "Garage"; construction crews drop the front 30-foot section of a salvaged 747 into a Simi Valley home on "House" and make it look like part of the décor, complete with a gaming console in the cockpit.
On a smaller scale, the Beerses have transformed a humble midcentury ranch house into a highly personal folk art piece — part Winchester Mystery House, part Pee-wee's Playhouse.
At the former, rifle manufacturer heiress Sarah Winchester tried to appease evil spirits haunting her San Jose house by constantly expanding and changing the 160-room Victorian mansion for nearly four decades. Thom has been at it only four years, though he cautions, "This is only phase one. I always remember what Anthony Quinn said when asked why he kept building additions: If he stopped doing it he'd die. I am literally addicted to the concept."
The Pee-wee connection is evident in a riot of color. "I'm into the rainbow," says Leslie, a music publisher for Thom's Original Productions company and a jewelry designer. "Every shade has a personality." When it comes to furniture, she favors shapes with personality, including her tutti-frutti upholstered '50s amoeba-shaped couches by Harry Segal.
Perhaps it should come as no surprise that the inspiration for the "Monster" family's home comes from a most benevolent spirit: Sami Johns, Thom's late mother. Pictures of the Mrs. Senior Citizen USA and nightclub performer in Sarasota, Fla., are all over the house. Leslie keeps one above the kitchen sink that shows Johns in her coffin, its lid festooned with jewels and sequins that her son and daughter-in-law decorated themselves.
It was Johns who taught Thom that the unhappiest people in the world were the ones with limited imagination.
"I'll never forget she wanted to go to Hawaii and we had no money," recalls Thom, now executive producer of the "Monster" shows. "She had four kids and a little $12,000 crackerjack box house in upstate New York. And one day we came home from school and she had hand-painted an entire island scene with these massive palm trees in the living room. The next year it was an African landscape."
When Johns remarried, her wealthy husband indulged her avant-garde tastes, purchasing the 1970s four-panel mahogany carving by Chilean artist Paul Davis that now stands in the Beerses' front garden and the sculpted wooden Hand chair, a fixture in the Beerses' media room designed by Mexico's foremost Modernist, Pedro Friedeberg. And what about that Egyptian sarcophagus in the living room?
"That was a prop in the film 'Cleopatra,' " says Thom. "There's a pickup truck driving down the street with that in the back, and my mom flagged the guy down and gave him a $5,000 check."
The Beerses' monster house began modestly. Four years ago, Thom came across the typical 1960s two-bedroom. Built on a five-sided lot with a guest cottage and a natural stream running through the property, it was, he recalls, "a total disaster, a 'War of the Roses' house. There was a bitter divorce between the couple that owned it and they were using the house as a weapon. Everything that could go wrong with a house had, and they just left it that way."
The Beerses bought the 2,200-square-foot house for $750,000 and have since put at least that much into its transformation for their family, which includes son Max, 8, and a rescue mutt, Rusty.
Rather than redo the interior, Leslie used a rainbow of paint — apple green in the kitchen, silver in a hallway, lipstick red over grass cloth wallpaper in a bathroom with green glass tile floors — and a jumble of retro furniture and art pieces by Keith Haring and Peter Max.
Bead board, wood trim, copper lighting fixtures and two shades of green imbued the bland exterior with personality. "Most clients want a vanilla shell, something safe," says Carlos R. Alonso, the Beerses' architect, who primarily designs commercial properties such as Morels restaurant at the Grove. "We went for neo Japanese Craftsman."
"Architects are trained to use the most efficient shapes and materials, but Thom and Leslie aren't the typical client. They are uninhibited and playful," Alonso says, adding that when a crew dug trenches for the foundation, Thom delayed filling them in so he and his son could play in the ditches. "These are not rigid people, so whenever I showed them something square or rectangular, I got resistance."
Alonso's main challenge was to connect the guest cottage to the main house under one roof. Using a chevron shape, he joined the disparate single-story structures with a two-story "crow's nest" room with a handsome spiral staircase made of solid maple.
It is through this room that the Beerses' koi pond flows, visible through a window built into the wood plank floor.
The guest quarters were enlarged to include a kitchen and bathroom with sliding doors that reveal a private garden and a soaking tub, where Leslie indulges visitors with aromatherapy baths. Reimagined as a Japanese teahouse, the space has bamboo floors, joinery door frames and a patio that is partially enclosed by an undulating bamboo fence with windows etched with bamboo stalks.
Designer Mariana Garaygordobil of Kevin Corn Design spent the better part of a year working with Leslie on the guesthouse and turning the pool house into a "California Moroccan" jewelry design studio.
"The beginning parameters were 'no white,' " Garaygordobil recalls. "Being an artist, Leslie has a very good eye for blending color." In the guesthouse, for instance, khaki green, gold and touches of lavender create a serene mood. In Leslie's studio a Venetian plastered wall in lime is invigorated with streaks of purple and blue. "I don't think they adhere to any rules, and that really gives the house a personality of its own," Garaygordobil says.
It is an entirely different ambience from the "controlled chaos" Thom admits to in the main part of the home.
"What I like about this house is that it has many different environments," he says, adding that the family will take a yearlong break from construction before starting work on a second floor. "Not to be a cosmic cynic, but all is not perfect in the world. There's always something off-kilter, and the house reminds me of that."
Feng shui? Not for Beers. "That's like phoned-in harmonics," he says. His monster house is far more representative of the notion of wabi-sabi, which recognizes the beauty of imperfection and the impermanence of all physical things.
He recalls a recent morning when he was sipping coffee, walking along a winding boardwalk that reminded him of summers he and his wife spent on Fire Island in New York. He was staring in wonder at a blue heron. "Then I noticed it had one of my koi in its mouth," Beers says. "It was this incredible moment of tranquillity and wonder, shattered by death!"
The koi pond is the creation of artistic partners Karl Johnson of Los Angeles and George Munday of Pomona. Johnson says Thom "is wack in a really good way."
"He's an obvious genius, the ultimate kid with money, but has an understanding of the artistic process that you don't get with bottom-line guys," Johnson says.
That understanding allowed for the Entity, Johnson's serpentine orange tile sculpture that shares the pond with Thom's prized koi. The sculpture's tentacles seemingly crash through a window into the house and also travel under the home through a waterway that is visible through a glass panel in the floor. Then the Entity reemerges outside, traveling across the poolside terrace and climbing the exterior wall of Leslie's art studio.
Thom says the Entity might be a squid, "although we have never found the head, so that's just a guess." Johnson calls it "a friendly vine, the mythical protector of the property, although it is somewhat territorial."
Indeed, in a wondrous display of theatricality, it appears as though the Entity has torn a light fixture from the side of the house and dragged it under the water. Naturally, the lamp is still wired, providing a night light.
Johnson, a designer of bodybuilding equipment with no previous art training, began to experiment with mosaic after seeing the work of Antoni Gaudí in Barcelona.
"It's just like tiling a floor or wall," he says of his technique, "but there's no point in me doing a bathroom. I don't like straight lines; I'd just screw it up."
During one of her frequent Saturday yard sale expeditions, Leslie was in Studio City and came across Johnson's frontyard, which is decorated in surrealistic sculpture clad with broken tile and stained glass. She invited him over, and soon after, she began turning a retaining wall behind the house into an art project.
"I told her, 'You don't need me,' " Johnson says.
Her husband did. Boulders and glass water lilies awaited to be transformed into the koi pond. Thom also wanted a kinder, gentler version of the Entity that Johnson had first created for his own home. When those were completed, Johnson erected a mammoth gate out of welded scrap steel, which conceals a sunken garden.
"The house is basically on a property you could describe as Shangri-La," Johnson says. "I wanted to create a dramatic entryway to enhance the beauty of nature with the handiwork of man."
Ever the producer, Thom puts it another way: "It's that whole King Kong thing, the big doors that open to paradise."
---
David A. Keeps can be reached at david.keeps@latimes.com.
---
The essential weekly guide to enjoying the outdoors in Southern California. Insider tips on the best of our beaches, trails, parks, deserts, forests and mountains.
You may occasionally receive promotional content from the Los Angeles Times.