5 Images
Eclectic Passions
ARTFUL PAIRING:
Patti and Stanley Silver, who own Fred Segal Feet, with their favorite Lynn Chadwick sculpture, "Sitting Couple."
(Ken Hively / LAT)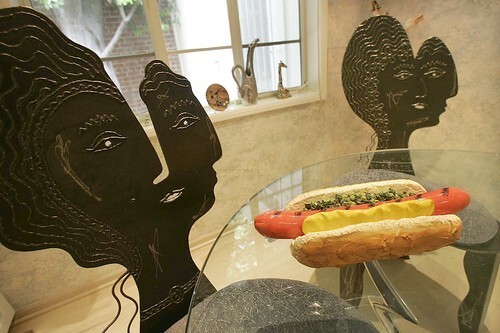 FUN:
A ceramic hot dog in the breakfast nook. "That's our favorite food," Stanley jokes.
(Ken Hively / LAT)
CIGAR AND BRANDY:
A butler sculpture by Todd Warner greets guests in the Silvers' entry, leading to the living room, with a Tom Holland abstract over the fireplace.
(Ken Hively / LAT)
HAVING A BALL:
Stanley checks on his collection of 1,200 baseballs dating to 1869, locked behind custom glass cases in his office. He says all were gifts from players, friends or his father, who inspired Stanley's early love of baseball.
(Ken Hively / LAT)
ECLECTIC PASSIONS:
The Silvers look over scrolls and drawings bought on a recent trip to 10 cities in Asia. Facing Stanley is a Picasso, and to the right, a stone artwork by Woods Cavey.
(Ken Hively / LAT)