This season's 'it' tree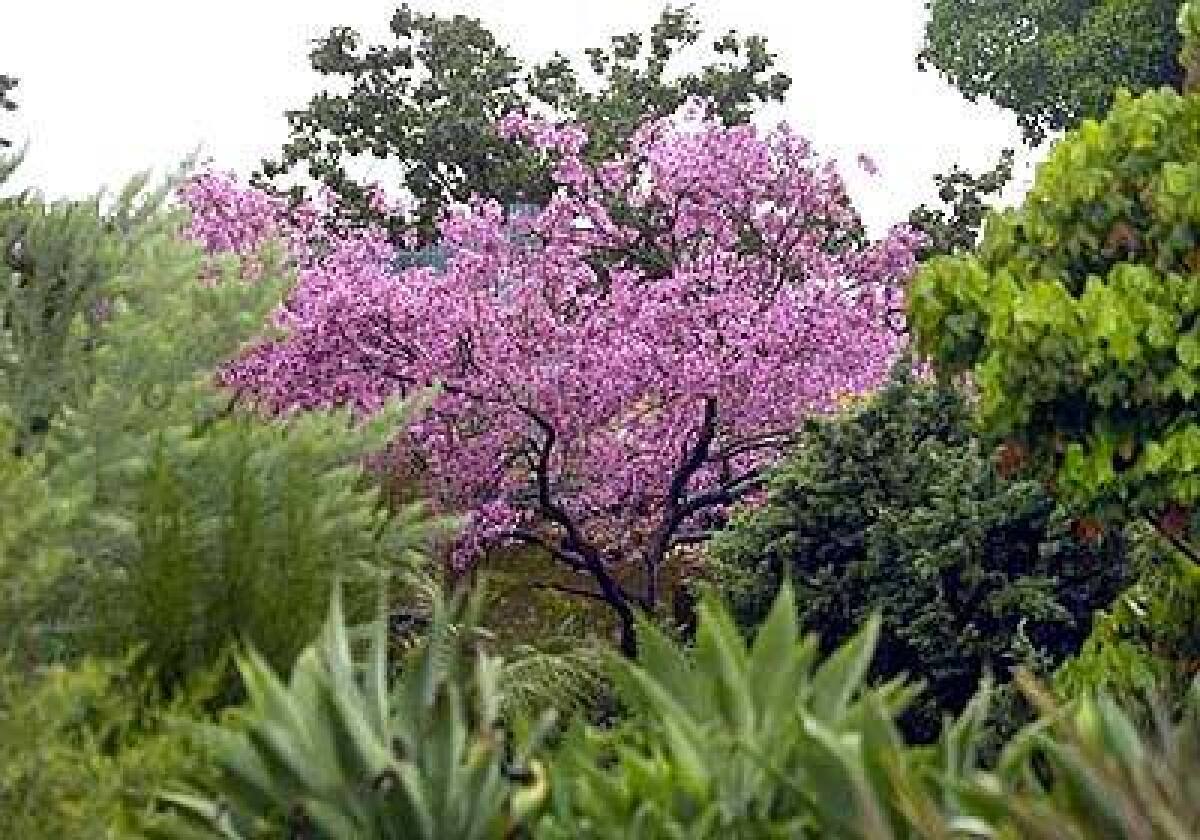 Special to The Times
E.H. Wilson, renowned plant hunter of the early 1900s, said Southern California grew a greater variety of plants than any other place in the United States, but even so, our region "possessed but one-half of one percent of the number it might have."
Case in point: tabebuias, those dazzling golden and pink trumpet trees, unknown in these parts in Wilson's day but now bursting into bloom all over town. Their beauty in home gardens as well as public spots such as Walt Disney Concert Hall are making tabebuias the "it" trees of the moment. Where did they come from, and how did they get here?
One clue comes from the source of Wilson's quote, a book titled "Plants for Extra-Tropical Regions," written by Peter Riedel, published in 1957 by the California Arboretum Foundation and humorously subtitled, "A Catalog of the Plants That Are, Have Been, or Might Be Grown Where the Orange and the Avocado Thrive, Including Brief Mention of Others Every Plantsman Should Know." Among the trees Riedel praised in the book: tabebuias (pronounced ta-bay-BOO-yahs).
Floridians were raising them and, Riedel suggested, the hardiest types could grow here. The market was strong for flowering trees — think jacaranda, a close relative — and other members of the trumpet vine family.
By 1962, Edwin A. Menninger, in his classic book "Flowering Trees of the World for Tropics and Warm Climates," was opining that the genus Tabebuia may have been the showiest on the planet. Roland Stewart Hoyt added his kudos in his 1978 handbook, "Ornamental Plants for Subtropical Regions." Trumpet trees, he wrote, were "extremely spectacular in flower and ornamental otherwise, even to the pod," but they were not yet "proven for general use" in Southern California.
Proof was just a matter of time.
During the '50s and '60s, trumpet tree seedlings had been grown from seed collected in the wild by Samuel Ayres, Evans & Reeves Nursery and other regional luminaries. The seedlings were transplanted into various microclimates on the 127-acre grounds of the Los Angeles State and County Arboretum, since renamed the Los Angeles County Arboretum & Botanic Garden, in Arcadia.
Many of the tabebuias succumbed to the foreign soil and chilly wet winters. But two stalwart species, the golden trumpet tree (from areas such as Central America south to Brazil) and the pink trumpet tree (from Mexico to Argentina) adapted readily to their new digs, flowered stunningly and were destined for local celebrity.
Although neither was fast-growing, both were easy to start from seed. In April 1964, the arboretum introduced the golden trumpet tree (Tabebuia chrysotricha) to horticulture, meaning that it offered seedlings to the public and provided seed to wholesale nurseries for propagation and distribution. The pink trumpet tree, or Ipe, as it's called in South America (Tabebuia impetiginosa), premiered in April 1979.
The golden trumpet tree is a gangly grower, reaching about 25 feet, and has curious amber bristles on its buds and leaves. Flaring flowers — 4 inches long, intense yellow and clustered at the branch tips — epitomize the heat and sunshine that the tree craves. It blooms heavily in spring and occasionally in summer and fall in many locales — though rarely, if at all, near the coast.
The pink trumpet tree, its more popular cousin, flowers on and off from November into May in coastal and interior locations, with peak bloom in early spring. T. impetiginosa stands tall, but not too tall — 30 to 40 feet, straight and broad, with olive green foliage and yellow-throated lavender pink blossoms. The flowering grows more impressive as the tree ages. Frank McDonough, an arboretum plant information specialist, recommends it more than any other tree. "It's a good size with a fairly shady canopy," McDonough says, "and the roots are not invasive."
Yes, the flowers do drop, but "mess-wise," he says, "it's not that bad, compared with what you're getting."
Garden designer Melinda Taylor is "pro-tabebuia." When she planned the arboreal rainbow that reflects off the stainless steel walls of Disney Hall in downtown L.A., she knew that T. impetiginosa had to be included. She used 13 of the trees in the garden and 10 along 1st and 2nd streets.
"It has a lot of color power — a luminescent pink dome that is hard to miss and can be seen from great distances," she says, adding that she has noticed an "interesting variation in flower color" among individual trees, from soft pink to almost purple.
"Tabebuias in general, but especially those called T. impetiginosa, are extremely variable in size, habit and color," says Jim Bauml, the L.A. County Arboretum's senior biologist. Hence the botanic garden's introduction of two extraordinary "selections" of the pink trumpet tree: compact and floriferous T. impetiginosa cv. 'Pink Cloud' and deep pink 'Raspberry.'
One explanation, to paraphrase Bauml: Tabebuias are not averse to mating.
Take the apricot trumpet tree, a hybrid of the gold and pink species. The "cross" that yielded this unusual color was made in 1970 at the arboretum by George H. Lewis, who went on to become supervisor of Descanso Gardens in La Cañada Flintridge. The three original apricot seedlings are planted on Tallac Knoll overlooking the waterfall.
Because seeds of 'Pink Cloud,' 'Raspberry' and 'Apricot' do not guarantee the same colors, cuttings must be grafted onto pink trumpet tree seedlings at specific times of the year. The process requires skilled hands, so the trees are hard to come by.
Ophthalmologist William Corbin has two in his Los Feliz hillside garden, both purchased at the arboretum. The apricot trumpet tree, planted from a 5-gallon can about 10 years ago, is about 20 feet tall. "It bloomed a little early this year, with its leaves still on," he says.
Tabebuias are most arresting when they flower on leafless branches. (Pollinating bees no doubt are drawn to unobscured nectar guides, thin dark lines on the lower petals that beckon them into each flower.) But warm winters, regular irrigation or winter rain can interfere with leaf drop.
"I also have a raspberry clone," Corbin adds. "A newer acquisition, it bloomed for the first time in 2004 and not yet this year. The leaves are fading and just starting to drop."
At the arboretum, new chief executive Mark Wourms is experiencing his first season of tabebuias. "In full glory," he says, "they're absolutely heart-stopping. The pink are so gaudy, they're wonderful, and the golden so refined in comparison."
The arboretum's David Lofgren, who dispenses plant information with McDonough, walks past dozens of tabebuias in a range of dimensions and splendid colors: faint, rosy and purplish pinks, radiant yellows and subtle apricot. Seedlings of the pink and golden trees will be available at the arboretum's Baldwin Bonanza plant sale April 30 and May 1. (For information call [626] 821-3222 or go to https://www.arboretum.org .)
Senior biologist Bauml says another trumpet tree in the garden has "special qualities": T. impetiginosa cv. 'Paulensis,' a medium pink that stays 12 to 15 feet at maturity, doesn't get as broad and blooms intermittently all year.
*
(BEGIN TEXT OF INFOBOX)
From form to function
As tabebuia trees gain status in the garden, they gain scrutiny in the wild. The timber — one of the hardest and densest on Earth — is used in the tropics of the Americas for bows, boats, tool handles, railroad ties, ball bearings and, most recently, decking. The valuable fungus- and insect-resistant wood is logged at the expense of rain forests, where old-growth pink trumpet trees can reach 150 feet with a 6-foot girth.
In some countries the bark, heartwood and leaves are believed to have potent medicinal properties, but contact with freshly cut tabebuia wood or the barbed hairs on T. chrysotricha can cause a skin rash. Experts caution against the use of herbal products made from the tree.
— Lili Singer
---
Life is stressful. Our weekly mental wellness newsletter can help.
You may occasionally receive promotional content from the Los Angeles Times.