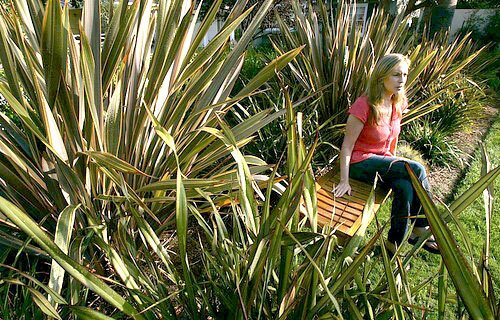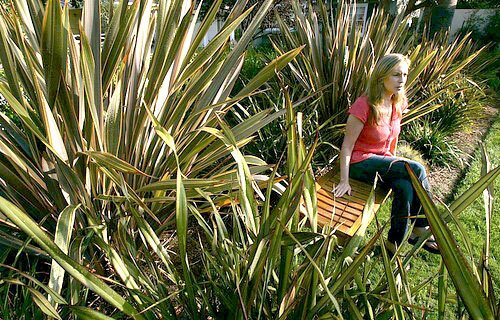 MULTITASKING:
Landscape designer Joan Grabel, next to 'Sundowner,' admires flax's versatility. "It can slip into numerous types of gardens and do fine," she says. In the Closson garden, she used mixed and matched multicolored stripes and single-hued varieties.
(Brian VanderBrug / LAT)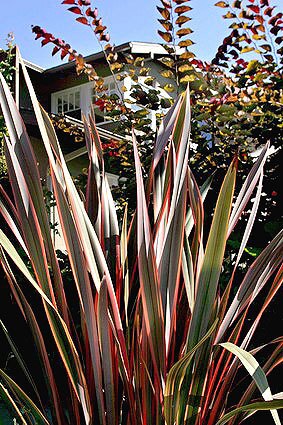 SPARKS:
At a Venice home, landscape designer Jay Griffith chose the Phormium 'Guardsman,' a medley of green, yellow and red spiky leaves.
(Richard Hartog / LAT)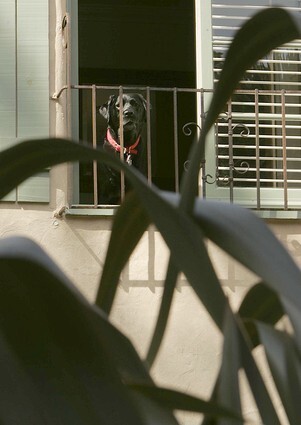 VIGOROUS GROWTH:
The dark leaves of a Phormium spike up from Jan Esterton's Santa Monica garden, as her dog Zoe, watches from a balcony. To maintain size and shape, experts suggest grooming flax like a fern, pulling out the old growth as new growth comes in, and removing worn leaves. "Never let a gardener turn on the power and then hack," says horticulturist Mike Partelow. An added perk: spring and summer blooms that attract hummingbirds.
(Mark Boster / LAT)
ACCENT:
Large containers, like the one in Kevin and Claire Closson's garden can safely hold Phormium; they chose 'Surfer.' After about a year, however, the plant may require being moved to a bigger pot because of its huge root system.
(Brian VanderBrug / LAT)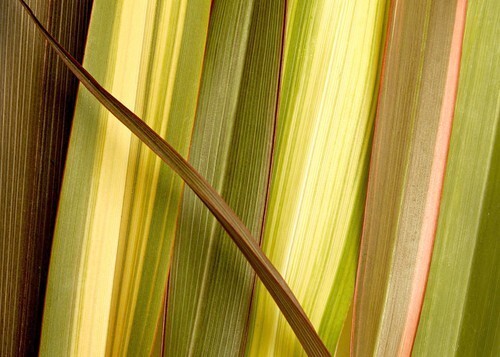 WIDE PALETTE:
'Jack Spratt' lies atop 'Rubrum,' from left, 'Apricot Queen,' 'Surfer Green,' 'Yellow Wave,' 'Rainbow Sunrise' and 'Duet.'
(Robert Lachman / LAT)
NEVER FADE AWAY:
Flax's rainbow colors — which span the palette from lime green to golden yellow to sunset pink — have made the plant a must-have in Southern California gardens. But those bright colors, especially from the newer varieties, can fade in hotter areas. The best strategy is to plant flax in partial shade and water frequently. Look for varieties labeled "stable," which tend to hold their hues well.
(Mark Boster / LAT)
Twisted leaves of a flax plant in Jan Esterton's yard shimmers in the morning sun.
(Mark Boster / LAT)