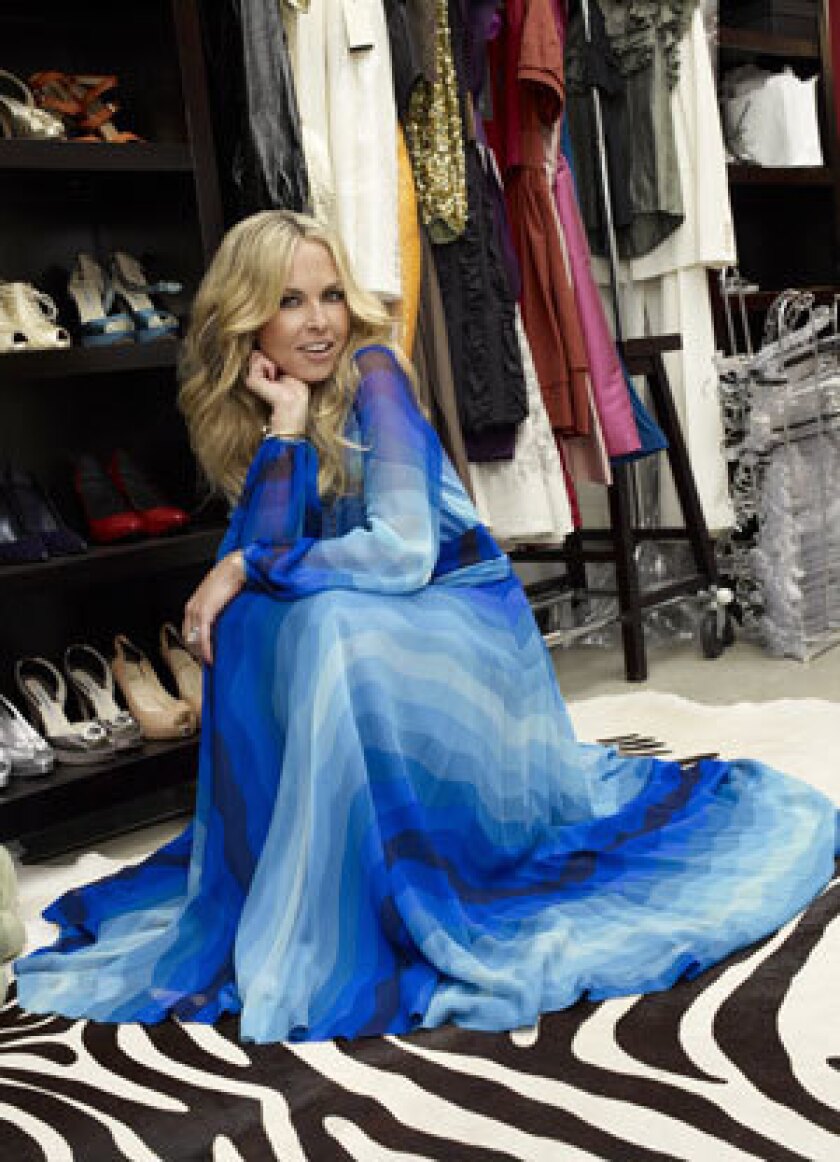 Los Angeles Times Staff Writer
CELEBRITY stylist Rachel Zoe may be Margaret Maldonado's most famous client. Zoe grabbed the spotlight three years ago when she transformed Nicole Richie from dumpy to dazzling, and since then has dressed half of Hollywood's A-list, including Lindsay Lohan, Keira Knightley, Cameron Diaz and Kate Hudson.
She is one of a handful of top stylists who earn up to $6,000 a day dressing the world's most visible women for film junkets, premieres and magazine shoots.
She's left Maldonado, and along the way, she's become a style celeb herself, with her trademark 1970s boho Barbie look, launching a handbag line with Judith Leiber and consulting for Halston and Piperlime.com. Now, it's not just her clients, but Zoe who has her picture taken on red carpets around the world.
She's also flexed her ego plenty, telling an interviewer that "people have told her" she has more fashion influence than Vogue's Anna Wintour.
She's been criticized for promoting Hollywood's scary-thin physique and dressing her clients like clones of herself. But style mavens have feelings too, and how better to answer the naysayers and show her human side than with a reality TV series?
"The Rachel Zoe Project" debuts next month on Bravo. The show -- chaotic, and riveting -- is filled with bold-face fashion names such as Oscar de la Renta and Michael Kors and, most entertainingly, the over-the-top antics of her longtime right hand, Taylor Jacobson, who seemingly lives to abuse the new assistant, ex-Vogue staffer Brad Goreski.
We chatted with Zoe about her latest foray into the public eye.
What made you want to do a reality series?
I never set out to be on TV or to be famous or any of that. I was pulled into the press involuntarily. But I think a lot of my reasons for doing this were because people have said a laundry list of negative things about me. And the people saying these awful things don't know me -- they've never met me. So that's the way it is. It was like, what do I do with that now? And what do I have to lose?
Was it unnerving having cameras on you all the time?
I had a lot of experience being on TV -- on "Project Runway" and doing various commentary jobs. So for me it wasn't that strange having cameras around. When I'm in my work mode, it's almost like nothing exists around me. The thing that was hard for me was not wanting to edit and take things out. You're crying and you look like crap and you think, I can't believe I look like that -- that is not cute. But I checked my vanity at the door.
People always talk about how editing can influence perception in these series. Were you represented fairly?
I wouldn't have done it unless I was an executive producer, so I had a lot of input. And they were very respectful of my boundaries. When something was off-limits, it was off-limits. But there was nothing scripted.
Did seeing the show make you realize anything about your life that you hadn't noticed before?
My life is insanity all the time. I live my life exhausted. I think that I've almost surrendered to the fact that that's my life. We laugh a lot, we cry a lot. People come into our world and are like, "Oh my God, you guys are a walking SNL skit." But we're completely unaware of it.
A lot of the drama on the show revolves around your assistants. Does Taylor regret not being sweeter to Brad?
I would have to say yes, I think she saw that she was a bit hard on him. But I think both of them, in watching it, noticed things about themselves and have changed because of it. . . . But at the same time, my first boss made me cry every day. I don't believe in guerrilla tactics, but I think I'm probably too nice as a boss. Being a boss isn't my strong suit.
The first episode reveals that you're in talks to launch your own Rachel Zoe brand. Are you moving forward with that?
Yes, I am. We're doing accessories, clothes, everything -- we're going across the board. I always have a lot I want to say, and I think there's a gap in certain areas [of the fashion market]. I'm thinking it will launch sometime in 2009. It will be very accessible.
I want people to have access to fashion fantasy all the time. I also want the person who's spending $500 on a purse to want to buy it. It will be a mix of lower-tier and midrange prices -- maybe with some limited-edition items.
There are a couple of phrases that you say over and over when you're talking about fashion: "Shut it down" (a newfangled "that's fierce") and "I die" (an exclamation for when you're thrilled with how something looks). Where did you pick these up?
When I started working with Joy Bryant years ago, she used to be like, "Rache, we're gonna shut it down!" I say it all the time now. "I die" is something that literally came from I have no idea where. These crazy things come out of me -- a clash of synapses happen in my brain and come flying out of my mouth. Like when a client puts on a couture Dior gown, and I literally can't breathe, and I say, "I die." Or seeing an amazing Givenchy gown from the '70s -- it's that reaction. There's no other way to say it. That probably comes out of my mouth 10 times a day. It's horrible. Do I sound like a Valley girl?
In the first episode we see you shopping all over, including at vintage boutique Decades in L.A. Have you curbed your addiction to vintage -- as your husband Rodger keeps begging you to do?
It rages on forever. As much money as I make is as much money is in my closet. I spend my money on clothes and charity. That's where I think it should go. My parents are art collectors and I don't collect art, I collect clothes and jewelry. Shopping, for me, is literally building my collection.
"The Rachel Zoe Project" premieres on Bravo at 11 p.m. Sept. 9.
---