World-class designers are changing the geography of L.A.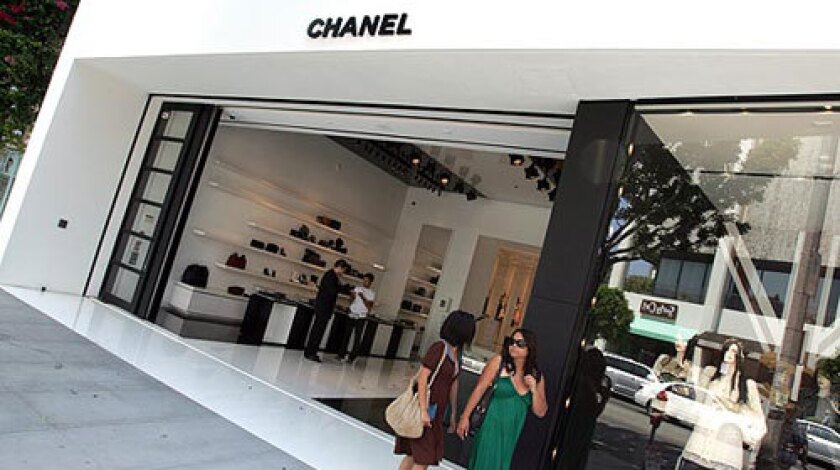 Los Angeles Times Staff Writer
THERE'S Balenciaga, with its space-age interior and minimalist cactus garden out front. Down the road at Alexander McQueen, a larger-than-life metal nude is suspended in the skylight. Martin Margiela's exterior shimmers like a disco ball in the sun, while Comme des Garçons' outpost hides behind an unmarked doorway on a gritty alley.
Nevermind all the remarkable clothes -- L.A. is in the midst of a designer boutique boom that's as much about statement-making architecture and one-upsmanship as it is about selling bags and boots.
Phillip Lim opened a sculptural flagship on Robertson Boulevard last month. Alberta Ferretti is about to open its first U.S. flagship on Melrose -- not Madison -- Avenue. Lanvin is jockeying for real estate next to Oscar de la Renta on Melrose Place. And there are more on the way: Catherine Malandrino, Sportmax and Vera Wang are poised to roll out luxe new stores by the end of the year. Even Tom Ford is said to be looking. Once defined by shopping malls and denim-clad Valley girls, L.A. is quickly becoming one of the most dynamic places in the world to shop, even as the economy flags.
"They're coming because L.A. is the most fashionable city in the world," said veteran L.A. retailer Tracey Ross. "It may never be a runway capital, but it's a style inspiration capital."
The creative spaces are concentrated on three retail rows -- Melrose Avenue, Melrose Place and Robertson Boulevard -- and they represent a far cry from the '90s way of selling designer goods. Back then, designers such as Ford built global luxury brands by ensuring the retail experience was identical around the world. After a while, a kind of luxury fatigue set in, and one-of-a-kind boutiques such as Opening Ceremony and Colette began to have more cutting-edge appeal.
Prada was the first to turn things around, opening experimental "Epicenter" stores in New York, Beverly Hills and Tokyo. The $30-million Epicenter on Rodeo Drive, designed by Rem Koolhaas and Ole Scheeren, opened in 2004 and quickly became a magnet for tourists and fashion lovers. It brims with strange and wonderful architectural details, but most notably, it's missing a facade -- the entire front of the boutique is open to the street.
"L.A. seems more open in terms of pushing the envelope," said Brooklyn-based architect Dominic Leong, who designed Lim's new store. "The fabric of L.A. is more varied and more eclectic, so it inherently lends itself to a multiplicity of identities and styles, whereas in New York, the fabric is so strong that any difference has a very big impact on public opinion. Also in L.A., the building envelope isn't so constraining."
A year after Prada debuted, Marc Jacobs single-handedly turned Melrose Avenue and adjacent Melrose Place into a designer fashion district when he opened a flagship and a Marc by Marc Jacobs store on the two streets. The real estate experiment might not have worked had it been any other brand, but Jacobs is one of the most influential designers of his time -- and of course, the fashion world followed. Marni, Temperley, Oscar de la Renta and Carolina Herrera soon opened on Melrose Place, and landlords have since hiked monthly rents on both streets from $3 to $5 per square foot to upward of $16.
Jay Luchs, retail Realtor with C.B. Richard Ellis, said designer accessories maker Lambertson Truex signed a lease for $20 per square foot last year. Luchs, who's been touring Lanvin around town, recently placed Catherine Malandrino in a two-level, 6,000-square-foot building on La Cienega Boulevard and brokered the deal for the Sportmax store on Melrose Place, set to open in December.
The character of the districts has changed with the storefronts. Shabby-chic antiques stores, knit shops in A-frame houses and rundown mercantile spaces have morphed into gleaming monuments to the world's top fashion brands.
Walking into the new Balenciaga on Melrose Avenue feels like boarding a spaceship. Lights shaped like Tetris pieces illuminate bejeweled tunics and sculptural skirts hanging from industrial-looking racks. Some walls are texturized metal, NASA-style. Want the new City bag? Watch that you don't get punctured on the way in by the spindly cactuses lining the property like a sinister picket fence.
Down the street at Alexander McQueen, Robert Bryce Muir's nude skylight sculpture is the centerpiece of the all-white store, which was designed to feel as though it had been excavated out of a solid mass of material. Curved, cathedral-like archways help erect built-in shelves that look as if they were hollowed out of walls with an oversized ice-cream scoop.
Over on Melrose Place, nothing touches the floor at the new Ports 1961 store, which looks like a cavern swathed in richly hued velvet fabrics. Clothes hang from suspended bars that resemble giant metal licorice whips or are neatly folded inside near-translucent, sculptural shelves. Michael Gabellini, who designed that store and is currently designing two for Vera Wang on Melrose Avenue, said designers outside of L.A. are keen to try new things here architecturally.
"They have the sense that it's naturally a culture that is very open to outside influences," he said. "There is an effervescence and sense of freedom that may not exist in more established fashion capitals."
All about the brand
HAS FASHION forgiven us for the Uggs phenom so soon?
Apparently so. Celebrity endorsements -- whether impromptu or paid -- have become integral to modern fashion marketing. Unlike Milan, Paris or New York, this is a town where you can launch a media campaign curbside. Rachel Bilson or Kate Hudson carrying a Helmut Lang bag in a gazillion tabloids is better marketing than a full-page ad in Vogue.
And with the rise of the stylist in Hollywood, designers are far less afraid than they used to be of seeing a celebrity dressed badly in their clothes (remember when Ford asked if there was a way Gucci could stop Victoria Beckham from wearing his designs?).
The avalanche of designer retail is also about keeping up with the Joneses. "When we're driving around looking at available spaces, the companies are definitely looking at the names on stores," Luchs said.
Robertson Boulevard built its name on its high-wattage specialty stores, including Kitson, Curve and Lisa Kline. The street was ground zero in the paparazzi-tabloid explosion that kicked off a few years ago, and international brands took notice, eventually supplanting shallow-pocketed local retailers -- including Chan Luu and Harari -- as rents rose from around $5 per square foot per month to the current $25.
Now the global fashion crowd is moving in. Intermix opened a glossy new shop across from Ivy Restaurant last year, and Chanel recently debuted an elegant two-level store -- the first in what the company hopes to be a series of boutiques merchandised with the local shopper in mind.
The demand for space on hot retail streets is still high, Luchs said, because there are very few storefronts left. And "branding yourself seems to be more important to fashion companies here more than anywhere else," he said, "so location is really important."
And what better way to brand yourself than by opening a sprawling, shiny shrine to your brand? Especially when Demi, Reese or Halle could drop by at any moment.
Red-carpet treatment
ALBERTA FERRETTI said the success she's had from dressing celebs for the red carpet was a major factor in opening her first U.S. flagship in L.A. "That all these boutiques are opening now in L.A. is a reflection of the power of celebrity and proof in the marketing that red-carpet dressing and celebrity sells clothing," added a spokesperson for the company. "There has been an increased interest in fashion in Los Angeles as the movie industry and fashion have become mutually beneficial for and to each other."
Actresses aside, "L.A. is really rocking fashion," said Tony Alcindor, vice president of public relations and marketing for Ports 1961. "It's not like it used to be. It kills me that people have this perception of L.A. as this kicked-back flip-flop town. I'm like, 'No, that's wrong. It's serious here.' "
That many of L.A.'s buildings are stand-alone and -- depending on the landlord -- available for renovation from the outside in also lends itself to innovative architecture.
"There are less-protected buildings than in Milan or London," said London-based architect William Russell, who designed McQueen's most recent boutiques, including the new outpost in L.A. "It's a bigger room to maneuver in." He added, "I think the L.A. boutique is the best so far because we got to mold the shape of the exterior."
A wall outside the Maison Martin Margiela in Beverly Hills is covered in thousands of silver paillettes. Inside, the quirky brand lets its freak flag fly: Shoes are displayed on a conical shelf created from stacked crystal stemware; walls are covered in photo-printed wallpaper depicting ornate, classical door frames and moldings (there's even a window covered in a transparent image of a window); floors are covered in photo-printed paper to affect a well-worn hardwood; and bags are displayed on Lucite shelves riddled with nails.
But making a major statement doesn't always cost millions. The tiny Comme des Garçons guerrilla store downtown opened inside a former art gallery tiled from floor to ceiling in hardware-store bathroom tile, hand-cracked to look old. The shop's pièce de résistance is a sculpture made of old grocery carts.
But despite the influx of flashy statement stores, it's debatable just how many fashion addicts are shopping these new temples of retail.
Visit a smattering of designer boutiques on various days of the week -- and times of the day -- and you'll find sales staff twiddling its well-manicured thumbs. And despite the blockbuster names, the foot traffic on Melrose Place is nonexistent. Of course, there's no guarantee that if you build it they will come.
---
The essential weekly guide to enjoying the outdoors in Southern California. Insider tips on the best of our beaches, trails, parks, deserts, forests and mountains.
You may occasionally receive promotional content from the Los Angeles Times.