11 Images
The Gold and the Green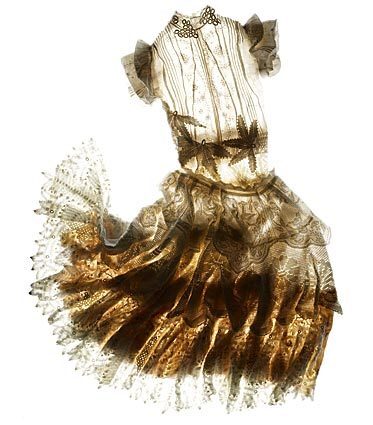 RECYCLED ELEGANCE
Edging from turn-of-the century bedding and lace from hand-crocheted tablecloths adorn Magda Berliner's one-of-a-kind vintage wedding gowns. The bodice incorporates an early-Victorian cotton blouse, updated with a sleeker silhouette and puff sleeves. Dress, $3,800, at www.magdaberliner.com. Other Berliner vintage dresses at Barneys New York, Beverly Hills.
(Lucas Zarebinski)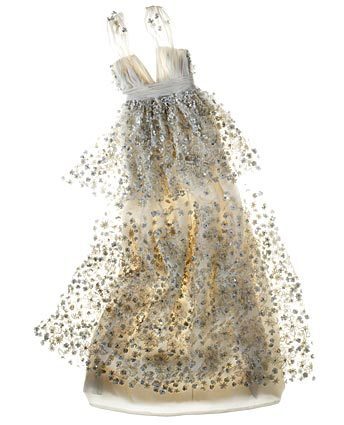 SHIMMERING
Monique Lhuillier's plunging V-neck gown is fashioned from silk mousseline chiffon. The tulle overlay features thousands of beads and hand-embroidered texturing that create an illusion of floating flowers. Tiered wedding dress, $17,600, at Monique Lhuillier, West Hollywood; www.moniquelhuillier.com.
(Lucas Zarebinski)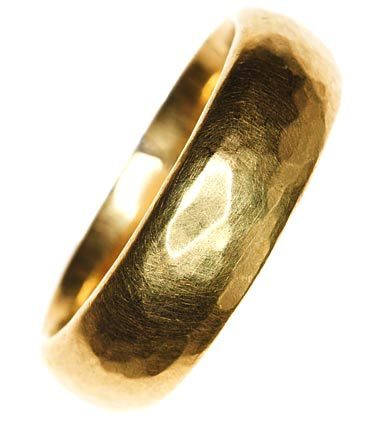 LOCALLY SOURCED
Todd Bracken pans for gold at his family's northern Sierra claim and fashions it into beautifully crafted, hand-hammered wedding bands. 20-karat gold band, $1,500, at Bracken Jewelry, Venice; www.brackensgoldrush.com.
(Lucas Zarebinski)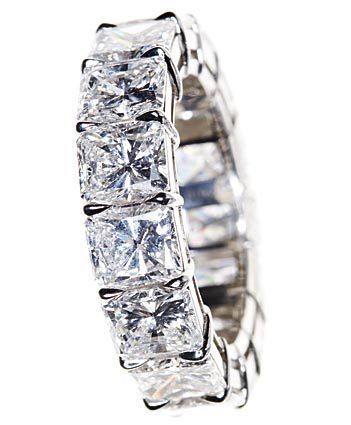 SPARKLE
Fifteen diamonds totaling 10.12 carats surround Harry Winston's platinum wedding band to extravagant effect. The gems are radiant cut, which combines the shape of the classic emerald cut with faceting that adds the brilliant sparkle of a round stone. Band, $73,000, at Harry Winston, Beverly Hills; www.harrywinston.com.
(Lucas Zarebinski)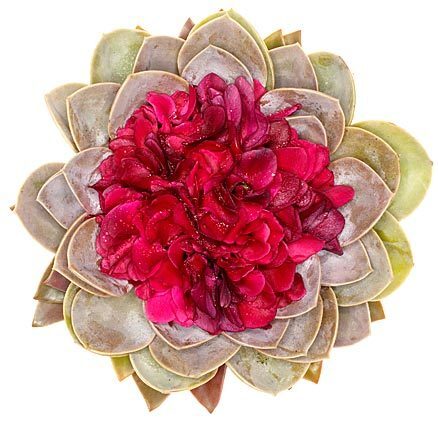 EARTHBOUND
Krislyn Design owner Krislyn Komarov dreams up modern takes on classic floral design. This eco-friendly bouquet pairs cyclamen blooms with succulents, delicately cut to keep the plants alive. After the wedding, the succulents can be replanted. Bouquet wrapped with antique ribbon, $250, at Krislyn Design, Los Angeles; www.krislyndesign.com.
(Lucas Zarebinski)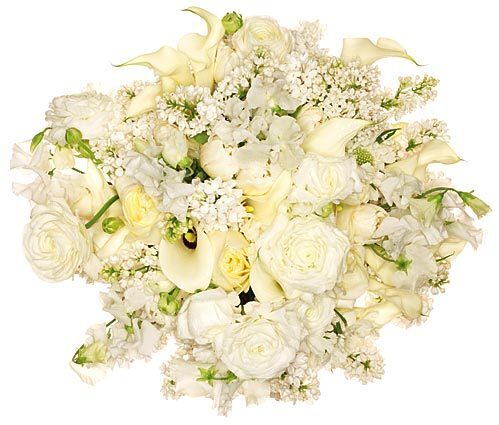 HEAVEN-SENT
Exotic white flowers from Ecuador and Holland make up the bouquet created by florists Mark Helm and Richard David of Mark's Garden. French lilacs, ranunculuses, roses, tulips and rare miniature calla lilies are wrapped with douppioni silk ribbon to form a soft, rounder version of the classic cascade shape. Bouquet, $325, at Mark's Garden, Los Angeles; www.marksgarden.net.
(Lucas Zarebinski)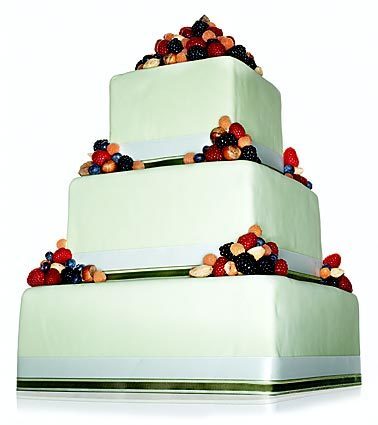 GO GREEN
Wonyee Tom, the Water Grill's former pastry chef, uses the best farmers market products for this cake: Santa Barbara pistachios, wildflower honey from Energy Bee Farm and organic raspberries from Nipomo. In each tier, pistachio buttermilk cake tops a layer of lemon curd lightened with crème fraîche and dotted with raspberries and strawberries. The whole thing is swathed in pistachio fondant. Cake for 125, $1,100, at Tomgirl Baking Co., Huntington Beach; wwwtomgirlbakingcompany.com.
(Lucas Zarebinski)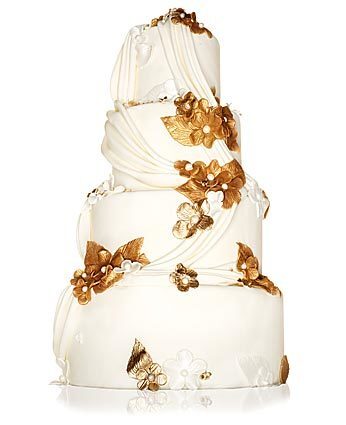 GOLD-DUSTED
San Francisco's Cakework specializes in cakes covered with a special white chocolate—much smoother than fondant—such as this one with tiers of rich dark chocolate cake, extravagant chocolate truffle and dark chocolate mousse studded with house-made toffee. White chocolate swags and flowers dusted with edible gold and adorned with "pearls" of hand-rolled white chocolate and opalescent powder complete the picture. Cake for 70, $980 plus shipping, at Cakework, San Francisco; www.cakework.com.
(Lucas Zarebinski)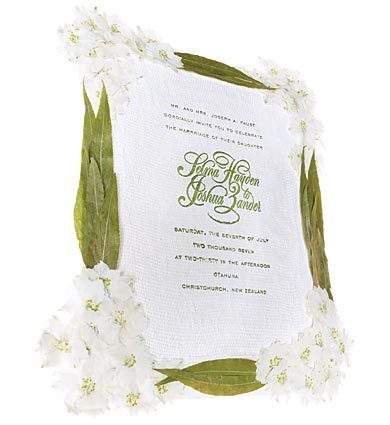 TEXTURAL
Handcrafted invitations made with hemp and cotton are specialties of Soolip Paperie & Press. This custom design is accented with pressed larkspur blooms and green willow leaves. One invitation, $65 (minimum order 100), at Soolip, West Hollywood; www.soolip.com.
(Lucas Zarebinski)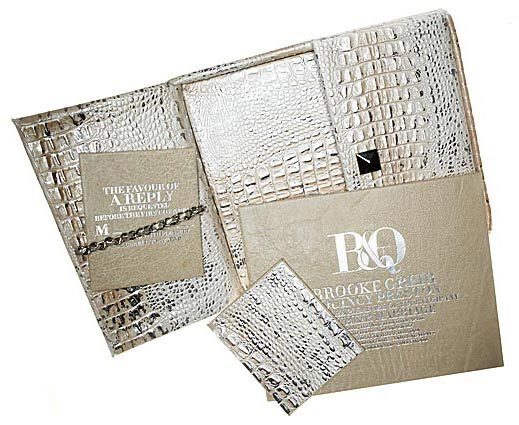 TEXTURAL
Lehr & Black's luxuriously crafted invitation arrives in a box covered in leather embossed with a crocodile pattern. Inside, the custom leather and suede reply card is accented with a silver-plated chain. One invitation, $500, at Lehr & Black, Los Angeles; www.lehrandblack.com.
(Lucas Zarebinski)