4 Images
He's in the Band
Thin Belts
Hedi Slimane for Dior Homme started the slim thing last year, citing as his muse Pete Doherty, the in-jail-one-minute, out-the-next British rocker. This year Slimane continues to rein in the silhouette—tightening the belt too—and Jean-Paul Gaultier followed suit, dressing Goth-looking lads in garb reserved for London politicos on holiday in Cornwall. Singer Martiniano Lopez-Crozet of Los Super Elegantes, a band with a Latin flavor, wears Burberry's leather and gold chain belt with skinny trousers, another fall staple. You can't be to thin.
(Randee St. Nicholas)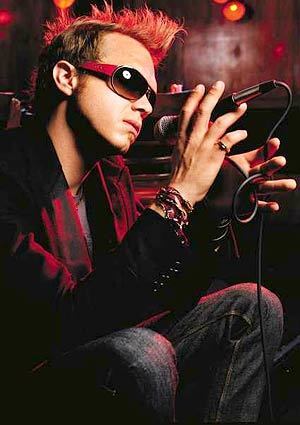 Sunglasses
A hard day's night of rock 'n' rolling can be masked by glammed-out, over-the-top sunglasses, such as the Prada 54Gs concealing the eyes of drummer Brad Colton of the Jane Doe's, which he calls a "red-eyed-soul" band. Nicole Richie-sized shades were all over the runways in New York, Paris and Milan: Junya Watanabe's punked-out models wore oversized aviators along with their mohawks, while John Galliano paired eyeshades with camouflage vests. Versace stuck sunglasses-wearing guys in super-slim motorcycle jackets. What do they all have to hide?
(Randee St. Nicholas)
High Tops
They've come a long way since the Converse Chuck Taylor All Stars (fondly called Chucks) debuted in the '20s. Now they're fashion statements—again. At www.converse.com, you can find them in gold or silver leather, or design your own in canvas printed with bones or skulls. At www.shopadidas.com, you can buy the Halfshell—introduced to the NBA in the '70s as an alternative to Chucks—in black or chocolate with a plaid tongue, or go for a skate-and-surf vibe with Vans' Crepe Chukka or Sk8-Hi series. Ed Reyes, frontman for The Little Ones, opted for a very red pair of Vans.
(Randee St. Nicholas)
Skinny Ties
Maybe the Southern California man's aversion to neckwear will abate now that the offending article has been narrowed, constricted and made almost syringe-like in size. At the fall shows, Ralph Lauren paired a slender tie with jeans and a blazer, as well as with Wall Street-esque tweeds and pinstripes. Givenchy knotted ties underneath sweater vests, bombers and overcoats. Kim Jones turned one model into the Michelin Man, with an isthmus of a tie made from quilted nylon. Brian Canning, who sings and strums for the inde-rock group Irving, dons a Band of Outsider silver model. Knot bad.
(Randee St. Nicholas)