7 Images
Duplicating a Landmark
x
Case Study House 16, is considered one of Rodney Walker's greatest accomplishments. It's since been torn down, but the designer's sons have re-created it as their own homes
(Julius Shulman / J.Paul Getty Trust)
xxx
Craig Walker's living room.
(Stephen Osman / LAT)
x
Among the features Bruce wanted: an open layout, high ceilings and abundance of natural light.
(Lawrence K. Ho / LAT)
The inspiration
THE INSPIRATION:
Case Study House 16 embodied Rodney Walker's modern aesthetic of clean lines and airy interiors. Built in the '40s in Los Angeles, it has since been demolished.
(Julius Shulman/ J.Paul Getty Trust)
x
TWO OF A KIND:
The entrances to Bruce and Craig's homes bear the unmistakable mark of their father's plans but still show slight differences. Bruce's home incorporates a traditional staircase with storage underneath. See Craig's entry in the next photo.
(Lawrence K. Ho / LAT)
x
Craig's entry more closely follows the original cantilevered design.
(Lawrence K. Ho / LAT)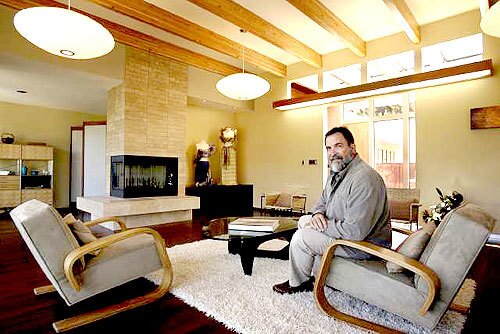 x
The home of Craig and Debra Walker in Oak View. Their house is built according to the plans of Craig's father/archetect Rodney Walker's Case Study House #16. Craig Walker in the living room of the house.
(Lawrence K. Ho / LAT)