L.A. Affairs: I told myself I was going to AA meetings to meet guys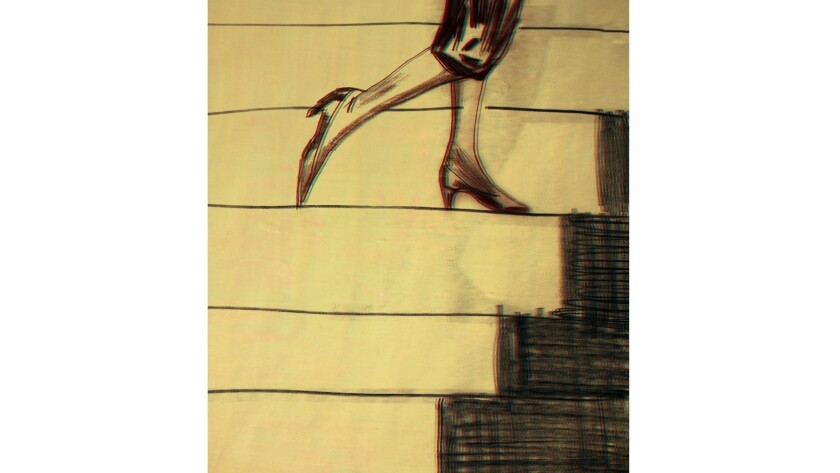 I wasn't exactly trolling for men when I attended my first Alcoholics Anonymous meeting, but I'd heard on good authority that a particular 12-step meeting near my home in Venice was the place to meet people on the Westside.
Before you judge me: At the time I was trying on what it was like to be sober, having spent the past couple months in a self-loathing, lonely place, forced to confront the fact that this party girl was, and had been for quite some time, a self-destructive binge drinker. The solitude of a bungalow apartment off Pacific Avenue, removed from the boardwalk riffraff, lent me the ocean at night. With the waves crashing as I drifted out of consciousness, I could no longer avoid myself. Here, where succulents grew out the sidewalk cracks and Venice natives looked oddly displaced among designer boutiques popping up on Abbot Kinney Boulevard, I was desperate to connect with people in a way that didn't involve Scotch and soda or leave me with hazy expectations of people.
Certainly, recovery is a serious matter, which I do not intend to trivialize. People in recovery are vulnerable and open. And it probably goes without saying one should not attend AA meetings for the purpose of finding a soul mate — though rumor had it that at least two couples made it from this meeting to the altar.
Having said that, the more I attended these meetings the more I realized that the only serious relationship I'd had in my 30s had been with alcohol. I was single and fabulous, but was I ready to turn myself over to a higher power?
Are you a veteran of L.A.'s current dating scene? We want to publish your story
I'd spent years in New York writing a sex column for which nightly partying was fodder for my work; sex was an excuse to drink, and drinking was an excuse for sex. As an addict, everything becomes a tangle of excuses and explanations, and so too became my motivation to stop drinking.
The New York party scene, which had once dazzled me with its flashy clubs and seedy dive bars, had taken a cruel turn, feeling as far away as disco. "Cuffing" season was underway, and I had no one with whom to Netflix and chill. So I made the exodus for Los Angeles with the vague hope that single and fabulous in Los Angeles would manifest as something else entirely.
At the Ace Hotel downtown, you could swim in a rooftop pool and drink artisanal tequila, basking in the sun until the art people came pouring into the bar. Take away the palm trees and I might as well have been at Le Bain back in New York, but I was still hopeful.
I hooked up with a fashion designer who wore thick glasses, a keffiyeh scarf and whose fingers dripped with silver jewelry. We spent four days together at his studio in the Arts District, where he asked to be my boyfriend. He took me to Bar Jackalope, a DTLA Japanese whiskey speak-easy, and to the opening of a pop-up gallery called La Rosa, curated by L.A. artist Aaron Rose. We'd find our way back to his studio, where we drank everything from Cháteau Lafite to micheladas. He took my measurements for a custom shift dress, and I thought that L.A. women had it made: In under a week I had scored a new boyfriend and free couture.
When I finally made it back to the Westside with a wicked hangover, it struck me as odd that a designer who could afford to down a $4,000 vintage like it wasn't a thing would live in a studio where people who sewed his garments came and went at all hours of the day. In the sobering light of day, it was clearly some kind of hookup pad. Of course, I never heard from him again.
After the designer ghosted me, there was the screenwriter. He wined and dined me from Santa Monica to Malibu, where we ate at trattorias I can't remember much about except that at one we were seated next to Aaron Paul and at another we were politely asked to leave because I was loudly going on about how I needed some of the screenwriter's Percocet left over from dental surgery. Suffice to say, things didn't end well with the screenwriter.
"But, Jill, you're not an alcoholic," my friends would say. "You can't go to those meetings. It's lying. And to meet a man? That's just wrong."
But was it? In the meetings, I cried. I shared. I listened to men open up about their feelings. I started drinking less and less. I read the Big Book and started to think there was truth in the mantra, "It works if you work it."
What had started as a search for men led me to a deeper understanding of feelings that needed numbing by alcohol, sex and one endless party on loop.
I didn't find my soul mate at this trendy Venice AA meeting. But just as I'd picked up things about myself from encounters with other lovers, these meetings were ripe with information (inventory, as they say) about myself that I'd been starving for. The adages, mantras, and aspirational solution-oriented thinking spoke to me, and I listened. The process of sharing thoughts of my relationship with drinking formed a new self-care routine I'd been longing for.
Sometimes you find that type of comfort and security from someone else caring for you. Sometimes you stumble upon it yourself.
The author is an L.A./N.Y.-based creative producer and lifestyle editor. Her website is www.jilldidonato.com.
L.A. Affairs chronicles the current dating scene in and around Los Angeles. If you have comments or a true story to tell, email us at LAAffairs@latimes.com.
MORE L.A. LOVE STORIES …
I got caught on AshleyMadison.com
8 lessons I learned about being single in L.A.
I finally asked her: Are we dating, or just hanging out?
L.A. Affairs chronicles the current dating scene in and around Los Angeles. If you have comments, or a true story to tell, email us at LAAffairs@latimes.com.
---
The essential weekly guide to enjoying the outdoors in Southern California. Insider tips on the best of our beaches, trails, parks, deserts, forests and mountains.
You may occasionally receive promotional content from the Los Angeles Times.