L.A. Affairs: I got caught on AshleyMadison.com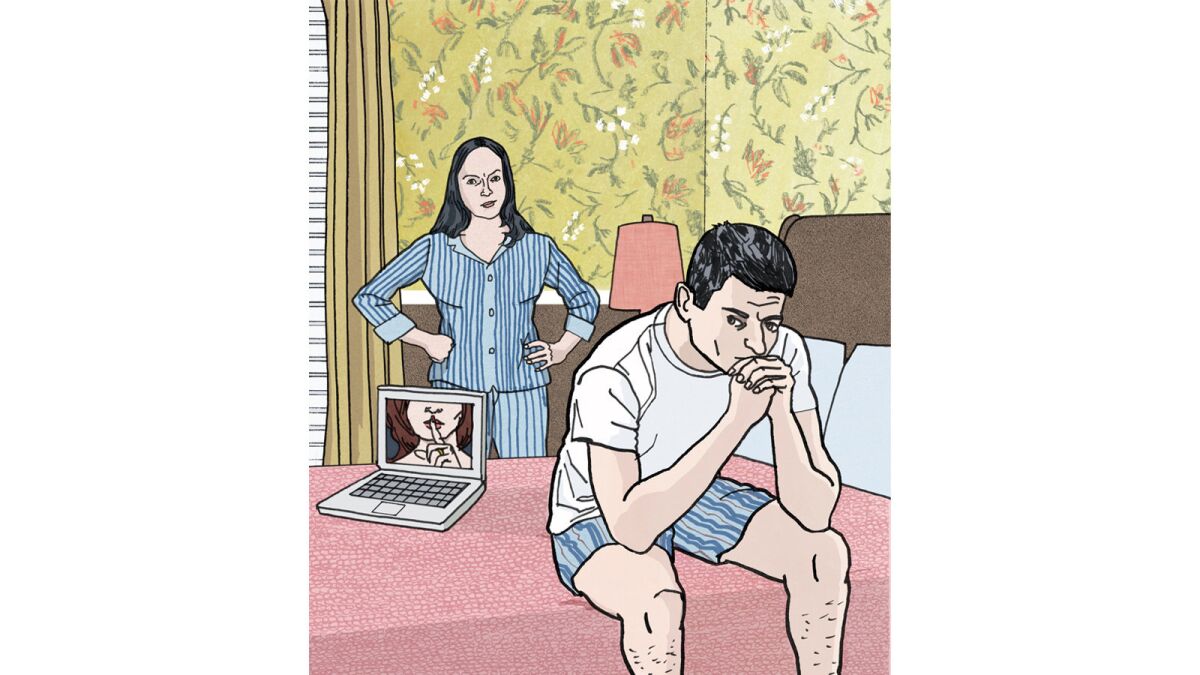 My marriage was going on 19 years. When you think about it, that's nearly three "seven-year itches" without a single craving for anyone other than my wife. Then, shortly after turning 56, I got a bad case of hives.
Call it a midlife crisis, poor judgment or a cheater's heart. Whatever it was, I easily found fault in my marriage. Intimacy was long gone. Our focus was on making a living and raising kids. We had not taken a vacation without children in years. To be fair, I think my wife had the better claim for frustration. My corporate job was approaching the 30-year mark, and my daily, three-hour round-trip commute was a drag.
I decided to take an early retirement and, thus, liberate myself from the toxic world of office politics. Hell yeah! I was no longer swimming with the sharks in a sea of cubicles. Then I bought a Harley-Davidson Sportster, and got some ink.
AshleyMadison.com is an online dating site for married people. Here is some more information about the website. (Jan. 17, 2017)
Midlife can be both a blessing and a curse. For me, it was more like a mild disaster. My wife was the cornerstone of the successful family we built together. Nothing could compare with that, or so I thought. Until I met a woman named Ashley. I found her online with her finger pressed against her delicious candy-apple lips. She wore a wedding ring.
"Can you keep our secret?" I imagined her breathy whisper in my ear.
I was not thinking with my brain when I answered back, "You bet, babe!"
Are you a veteran of L.A.'s current dating scene? We want to publish your story
So I admit it, I signed up for a membership on AshleyMadison.com. (It's a dating site for married cheaters, but you probably already know that.) A couple of weeks into my membership, the headlines hit: Hackers broke into the website and stole records about its subscribers. The identities of several high-profile members were made public.
I started getting emails from a hacker who called himself Mr. X:
"MR. THOMAS, Bad News
"… I have all the information about your online affairs and even the cheatings you did... I am going to send messages to all of your friends and family members. Wondering how to prevent me from doing this? It's simple, you need to send just..."
Mr. X demanded about $1,000, paid in bitcoins, and gave me a deadline:
"How much is your marriage, standing in your community, and reputation at work worth to you? Your countdown has started."
I refused to pay the money, but I decided to come clean with my wife.
"Why did you do it?" she asked.
I hemmed and hawed, but just couldn't dance around the fact that I took the first step of introducing infidelity into our marriage. I gave her a lame excuse about hearing the song "Escape (The Piña Colada Song)" in my head while creating my profile online. And I also told her the truth, that I never actually cheated with another woman, it never went beyond the computer.
I begged forgiveness. Groveled some.
And I promised to remain faithful but had enough sense to demand more from our marriage and suggested counseling.
Finally, I tried to put into words how much I loved her.
My wife just shook her head and walked out the front door.
I hoped she would deliberate with compassion. Maybe even laugh along with me at the numbskull she had married. Or have mercy, at least, and grant me a reprieve from the gallows of divorce court. Splitting marital assets, personal items, and making timeshare arrangements with our children during the holidays — such an ugly business.
That night, while I waited to find out if she was coming home, I thought about my family.
My mother was pregnant at 15. She quit high school to give birth and raise a family. My father was 19. He started out as a laborer, digging ditches and washing tankers for Standard Oil Co. until he steadily climbed the ladder in his career all the way to the boardroom, ending his tenure as the leader of a major automobile manufacturer. My father helped me get my first job out of college. On that income, my wife was able to be a stay-at-home mother. Together, we raised two wonderful children here in Pasadena.
Family. Friendship. Gratitude. Love. More than words, they seemed to swirl about in my mind, tangled up in the reality of my recent poor judgment.
As I waited that night, I dusted off my great grandparent's 50th wedding anniversary album and began flipping through its pages. I was 6 years old at the time and couldn't remember it, but there I was in the pictures. I attended two more golden 50th wedding anniversaries in my life, my grandparents' and my parents'.
My family is close-knit. Their marriages go the distance.
When the sun came up, I heard my wife coming through the front door of our Pasadena home. She suggested that I make that appointment with the marriage counselor.
I suppose I have Mr. X to thank. Although I do believe that hackers are the scourge of humanity, I appreciated his timing.
I took my wife to see Ben Folds in concert recently at the Orpheum Theatre in downtown Los Angeles. I wanted to hear him perform live "The Luckiest." The song is about a man who struggles to express his love. He fears that his words fail to convey just how lucky he is. I had planned to hold my wife's hand while Ben sang the repeating chorus "I am, I am, I am, the luckiest," and thank her once again for giving our marriage another try.
Unfortunately, he didn't sing that song that night. So now my plan is to sing it to her at the 20th wedding anniversary party we are planning for later this year.
I will need a decent piano player. I wonder if Ben is available.
L.A Affairs chronicles love in and around Los Angeles. If you have comments, or a true story to tell, email us at LAAffairs@latimes.com
MORE L.A. LOVE STORIES…
This is how I found out my boyfriend was cheating on me
I knew she was the one when we began arguing -- over the election
I'm a senior citizen. Here's what happened when I tried online dating