L.A. Affairs: Before I left for school back East, she sent me a text: She just wanted to be friends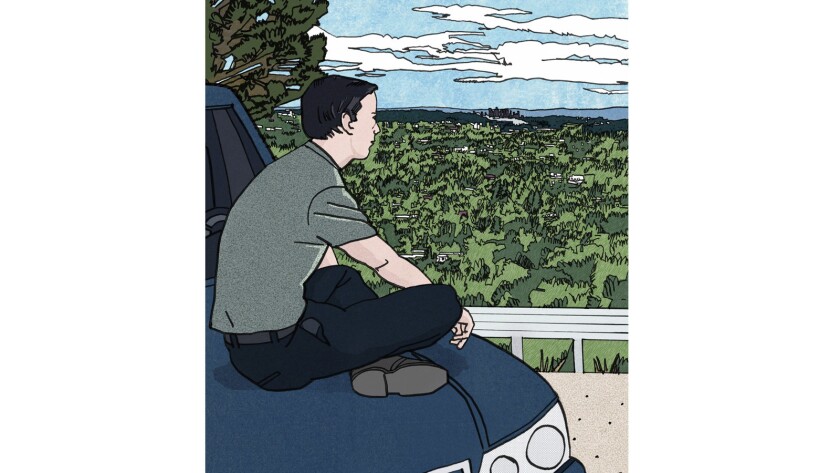 I wasn't looking for a serious relationship after I graduated high school, so I guess you could say that what we had was nothing more than a summer fling. At the end of the summer I would find myself on a hill, surrounded by farms in upstate New York.
Inasmuch as I had learned about myself in those few months, I realized the true potential of Los Angeles when it comes to dating.
It started when we decided to hike in Eaton Canyon after catching up at a party one night. "I'll go hiking if you remember to text me tomorrow," I told her, thinking she wouldn't remember. The next morning, I woke up to a text: "Lol I remembered." Great.
Are you a veteran of L.A.'s current dating scene? We want to publish your story
I picked her up and we drove through Altadena. The Spanish-revival homes conjured up early 20th century Los Angeles. An image appeared in my mind: Myself, an owner of a home with a red-tiled roof in Altadena, a wife, kids. The American Dream. It was a windy summer day, the kind that might have inspired Raymond Chandler's "Red Wind." We hiked to a waterfall, and agreed to see each other again.
Days later, we hiked the three-mile trail from Eaton Canyon to Henninger Flats, once a part of the Mt. Wilson Toll Road. We ventured off the dusty trail and sat on a bluff taking in the view. The Santa Ana winds had pushed the smog out to sea that day. We could see downtown, Century City, Palos Verdes, even Santa Catalina Island.
My days were numbered. As we sat and talked, I couldn't help but think about how much I would miss everything. My family, my friends, my life back home. However, I was excited about starting a new life at college.
The sun went down and we were forced to make our way back. The orange hue from streetlights across the San Gabriel Valley helped illuminate what our measly flashlight couldn't.
Later, I suggested going downtown. My love affair with DTLA started in high school and it was just the place to take her. To me, downtown offered a nice change of pace from suburban living. I understood the inherent problems with gentrification, but the vibrant eclecticism of downtown cannot be denied. There is something special in seeing people of all walks of life interact. We sat, people-watching, in Grand Central Market.
At our communal table, seemingly important men in suits rubbed elbows with hipsters wearing Jesus sandals and Spanish-speaking day laborers. Everyone seemed to be enjoying the weather, taking in the slight breeze coming from Bunker Hill. After we ate, we made our way to the roof of the parking garage. The sun reflected off the polished glass of the skyscrapers in the financial district. It was blinding. We turned to the mountains, trying to pick out the bluff where we had sat earlier in the summer. I imagined myself living with someone downtown after college, sans Jesus sandals.
As the summer progressed, we found ourselves venturing farther from home. One such night, we sat in traffic on our way to Santa Monica. It seemed as if we spent as much time driving in my car as we did exploring at our destinations. "That's so L.A.," I thought to myself. I stopped to help tourists jump-start their rental car in the parking garage of the Promenade. "See, L.A. isn't as bad as you thought," I told them. They laughed.
It was dark at the beach. We found ourselves sitting on a swing set, as a light summer rain fell on our shoulders. As we sat, we watched the planes take off over the ocean by LAX. I tried to envision the lights of Los Angeles slowly disappearing from a plane window.
Before I left for school she sent me a text saying she just wanted to be friends. That's all we ever were. We never labeled our relationship. Or so I thought. But it was great while it lasted. I had the opportunity to explore Los Angeles with someone who held my sense of adventure and open-mindedness.
My "last day" in Los Angeles was spent by myself. I drove up Angeles Crest Highway and pulled over in a turnout. Sitting on the hood of my car, I took in the view. The hot Santa Ana winds had pushed the smog out to sea again, creating a strikingly similar view to my first date with her. Downtown, Century City, Palos Verdes, even Catalina Island. This time, however; I sat alone. I relived my summer.
It is hard going back to upstate New York, but I step on the plane every time knowing that I'll fall in love with Los Angeles just a little bit more on my return trip.
The author grew up in Alhambra and is studying history and studio art at Hamilton College in New York. This fall, he'll be studying abroad in Havana.
L.A. Affairs chronicles the dating scene in and around Los Angeles. If you have comments or a true story to tell, email us at LAAffairs@latimes.com.
To read the article in Spanish, click here
MORE L.A. LOVE STORIES …
The best advice I ever got for dating a guy with kids
We had a one-night stand. I wish it had stayed that way
---
The essential weekly guide to enjoying the outdoors in Southern California. Insider tips on the best of our beaches, trails, parks, deserts, forests and mountains.
You may occasionally receive promotional content from the Los Angeles Times.