L.A. Affairs: What do we have in common? We hate everyone but each other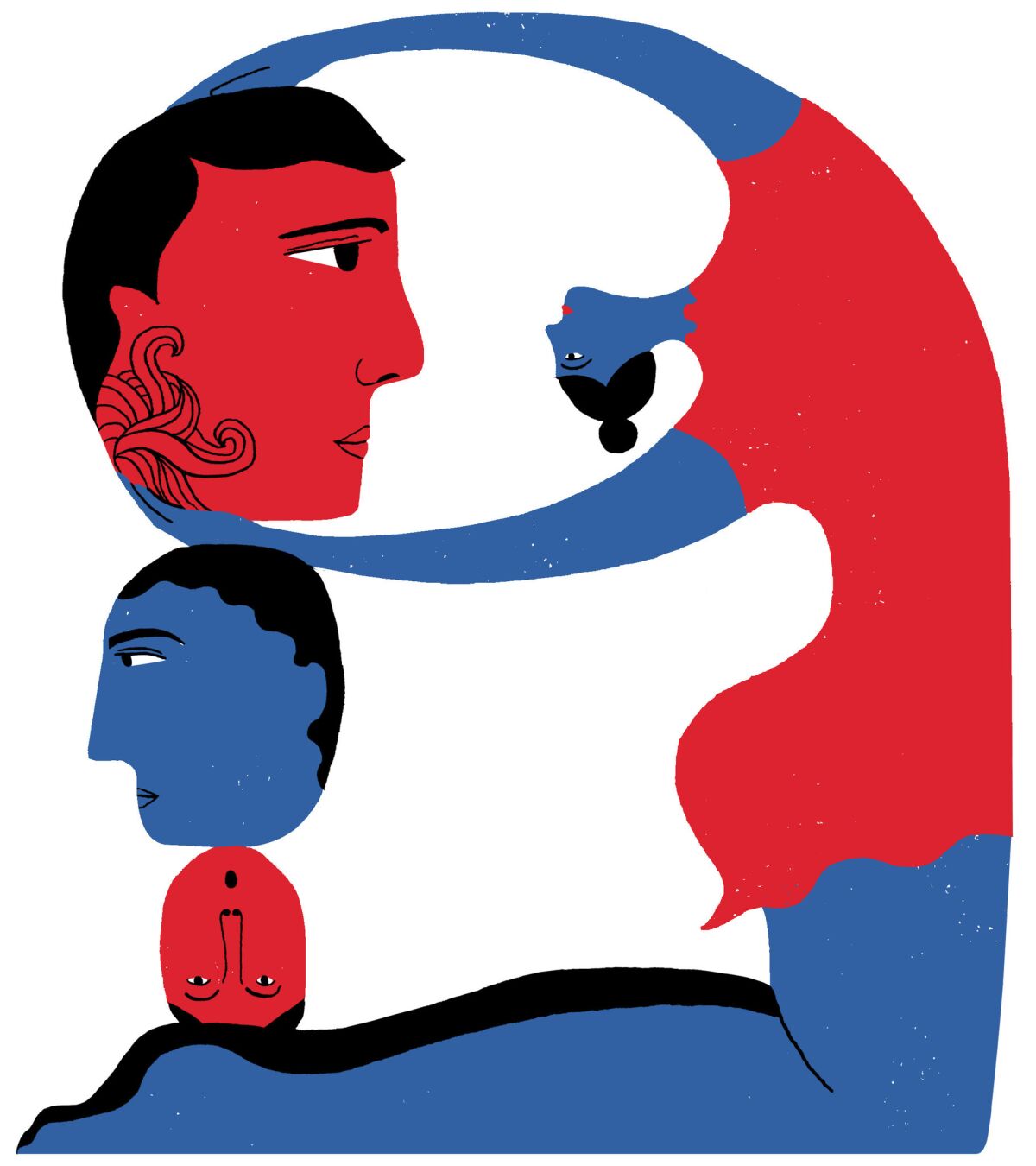 I am currently testing a theory: Can a relationship be born from two people hating everyone around them?
I'm a die-hard optimist. My joyful cheeriness will make your eyes roll. During the holidays, the corners of my mouth turned up for no apparent reason in public, making bah-humbug Scrooges throughout L.A. bury their faces in their phones to avoid me starting a conversation with them in line at Sprouts.
Yet despite my sunshine personality, most people annoy me. People have some pretty obnoxious habits — riding tandem on motorized scooters, wearing yoga pants while not doing yoga, daring to cross the street when I am turning right, or blocking a gorgeous sunset to take 1,000 selfies.
I didn't realize just how much other people get on my nerves until I met a man who hates people as much as I do.
In fact, this seems to be the strongest point of connection in our relationship.
Are you a veteran of L.A.'s current dating scene? We want to publish your story
We met on Hinge after my last relationship (2 years) ended, and I was ready to get out there again. We make an interesting pair. He is a construction contractor and I am an attorney. He is covered in tattoos with thug undertones and speaks in a thick Boston accent. I spend my mornings putting together cute, dressy outfits à la "Legally Blonde" and imagine I am in an Ariana Grande music video when I try them on.
On our first date, we met at a bar on Fairfax, but neither of us ordered anything. We both glared at the bartender whenever she asked if we needed anything other than water. "We don't drink," we said in unison (no inflection, no apology).
Driving around with him on what was maybe our sixth date, listening to Mr. Construction curse every L.A. driver who apparently forgot how to operate a car that day or otherwise dared to exist on the street as we went by, I realized just how much he hated other people and (sadly) how much I liked that about him. It was as if we hated everyone but each other, and that was the spark that set off our connection.
In addition to our hidden (or not so hidden) inner streak of aggression, we found out that we both like to blow off steam with martial arts training — Muay Thai — and workouts that involve sparring with others.
What else did we really have in common?
We came from totally different families. My parents are still together after 34 years of marriage. He said his dad drank too much, took him to bars when he was just 10 and later walked out on the family. The hard streets of Dorchester, Mass., formed him into a rugged, self-assured rebel, while I grew up in the Valley attending ballet class and taking AP classes.
Opposites are said to attract, but surely this adage has its limits, right?
Still, I gave the connection some time to develop one way or another. I thought he was attractive, and I found his background fascinating. I needed a good rebound after two years with the last guy, and Mr. Construction offered the total "bad boy" package (a privileged, clean-cut girl's dream).
With the benefit of zero expectations — where could this really lead, anyway? — a sweet intimacy began to develop, and it caught me off guard.
Mr. Construction kissed me on the lips and forehead on the mornings we woke up together. We use our martial arts training to play fight, laughing as we pretend spar and grapple. After two months of dating, he took me to meet his mom and stepdad. It was pretty fast, but I wasn't about to turn down the opportunity to learn more about him and his family. (When has a girl ever turned down a chance to meet her crush's mom?)
We are now in that uncomfortable limbo between "true love everlasting" and Rebound Land, meant to last one season or less. Sure, I've met his mom, and we've taken a trip out of town. We're not exclusive, but we don't make time to date anyone else (plus we hate everyone else, anyway).
Where does this leave us?
We'll have to see what 2019 brings. We both have back-to-back trips lined up that were planned before we met. (He's returning to Boston and I'm seeking warm-water scuba adventures in Florida.)
Is what we have strong enough to survive three weeks apart?
Or will we forget each other and fade into dating app oblivion?
The author is a family law attorney practicing in Santa Monica. Her Instagram is @chelseamnorris.
L.A. Affairs chronicles the search for love in and around Los Angeles. If you have comments or a true story to tell, email us at LAAffairs@latimes.com.
MORE L.A. LOVE STORIES …
I'm black. He's white. Here's what happened
I went on a bunch of blind dates with total losers
I was sleeping alone in a stranger's bed — and falling for him
---
Get our L.A. Goes Out newsletter, with the week's best events, to help you explore and experience our city.
You may occasionally receive promotional content from the Los Angeles Times.