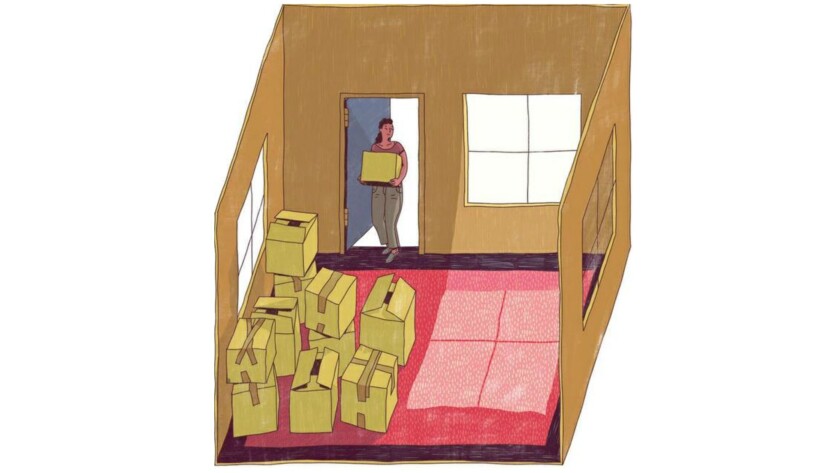 I have never been a big believer in fate. While many of my friends believe "giving things over to the universe" can have life-altering results, I remain firmly in the existentialist camp. "All things happen for a reason" has never been my mantra.
One area where there had been no rhyme or reason was my love life. If luck and timing had been the pathway to success in landing jobs and meeting good friends, neither had been in my favor when it came to dating. Since my late 30s I have dated mostly divorced men, who by and large had been there, done that, and were not interested in making a commitment.
But if my relationship status was predictably unpredictable, one thing that wasn't was my living situation.
In this respect, the universe, or incredible luck, had treated me well.
Are you a veteran of L.A.'s current dating scene? We want to publish your story
For 20 years, I paid a way-below-market rate on a one-bedroom, rent-controlled apartment in upscale Santa Monica on San Vicente Boulevard, one of the prettiest streets in the city. (This is the tree-lined street that Larry David often cruises down in "Curb Your Enthusiasm," running west from Brentwood before ending at Palisades Park, perched above the cliffs overlooking the ocean.) At one point, I dated a man I met online, and he turned out to live right across the street from me. Perfect, right? Yes, until he ghosted me. I reached out to him a few times. I'd see his car parked on the street. But I never actually laid eyes on him again.
Around the time that romance fizzled, my apartment building was put up for sale. In fact, in a fairly short timespan, it changed owners twice. As rumors swirled among my fellow renters about what fate (a.k.a. the landlords) had in store for our building, I got nervous and began to seriously contemplate buying my own place.
This was a petrifying proposition for someone who was more than a bit averse to tackling homeownership on her own — I couldn't fathom how this could be done in L.A. on one income. Or was it that I never intended to move unless it was with a partner?
With great trepidation, I decided to make a change, and let go of the one constant in my life. My many years under rent control had allowed me to save enough for a down payment. In 2015, I began the thankless task of looking for a "reasonably priced" condominium. Mind you, there's nothing "reasonably priced" in Santa Monica, but I was determined to buy somewhere on the Westside.
About nine months into my search, I put an offer on a surprisingly affordable one-bedroom condo in a busy Century City high-rise with many units (and plenty of opportunity to meet new people). But I immediately had second thoughts. Why, after all these years, did I want to move into another one-bedroom? I wasn't planning to have a roommate but I wanted more space, as in closets and a study.
So I pulled out of the deal and kept looking.
A few months later my offer was accepted on a two-bedroom, two-bath condo in Rancho Park. Now I had plenty of storage and an extra bedroom where I could finally give my computer its own perch.
I was a real grown-up with a mortgage and property taxes to pay.
After a couple of months, with my house in order, I returned to online dating. As I'd moved a whopping five miles from Santa Monica, I wasn't counting on a new pool of men emerging but figured I had nothing to lose (after all, I had met my San Vicente neighbor guy this way).
My first month back at the dating game, Bruce, who billed himself as "Tall Finance Guy" on Match.com, contacted me. Newly single after a long marriage, he had moved into a Van Nuys apartment the same month I became a resident of Rancho Park.
Our relationship began slowly, with Westwood dinners and ArcLight movies. Along with being smart, cute and in possession of a great laugh, he exhibited something I hadn't encountered in my many years in the dating wilderness: genuine support and care. And best of all, he was open to a serious relationship and wasn't jaded.
About a year after we started dating, we talked about moving in together. His lease was ending on his apartment, so the choice was clear on where we'd cohabitate.
After all, I had the room!
Now my closets and study are full, but that's OK as I'm sharing my space (and life) with "the one."
Without intending to, I bought a place with plenty of room for two.
And now I can say with no trace of irony: Thank you, universe!
Jane Greenstein is a content strategist and freelance writer. Her website is janegreenstein.com
Straight, gay, bisexual, transgender or nonbinary: L.A. Affairs chronicles the search for love in and around Los Angeles — and we want to hear your story. You must allow your name to be published and the story you tell has to be true. We pay $300 for each essay we publish. Email us at LAAffairs@latimes.com.
MORE L.A. LOVE STORIES …
I'm black. He's white. Here's what happened
I went on a bunch of blind dates with total losers
I was sleeping alone in a stranger's bed — and falling for him
---