Who rescued whom?: Actress and animal rescuer Kaley Cuoco on the pit bull that changed her life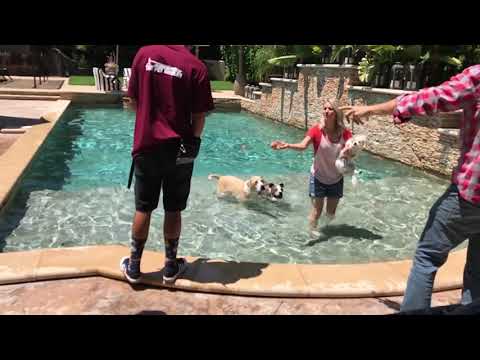 Los Angeles Times staff photographer Jay L. Clendenin photographs Kaley Cuoco ("The Big Bang Theory") poolside with her two pit bull mixes, Norman and Shirley, and her shaggy terrier mix, Ruby.
If there is one variety of pet owner that Kaley Cuoco absolutely cannot stand, it's the indifferent type. The ones who, unlike their furry companions, lack loyalty. The ones whose commitment to their animals is conditional.
Cuoco knows firsthand how this brand of apathy plays out in real time. And it looks a lot like dumping your 11-year-old German shepherd in the entryway of an animal shelter the way you might toss a sack of musty clothes off at your local Goodwill.
"It makes me sick," Cuoco said. "They act like dogs are trash. They act like dogs are a water bottle that you just throw away."
Cuoco, 31, certainly heeds her own command — and when she commits, she's not messing around.
She's always been an animal lover and is an accomplished equestrian. But it wasn't until about 10 years ago that Cuoco took her first steps toward animal rescue work. It started with pit bulls, after she learned about the dangerous stereotypes that damage their reputation and contribute to their widespread mistreatment.
Cuoco was hooked.
"I was like, 'Oh, my God. I'm obsessed with this kind of dog,'" she said. "I just found them to be so incredible. I realized what great dogs they were, and how horribly they were seen. And I just didn't want that to happen anymore. So it became a passion."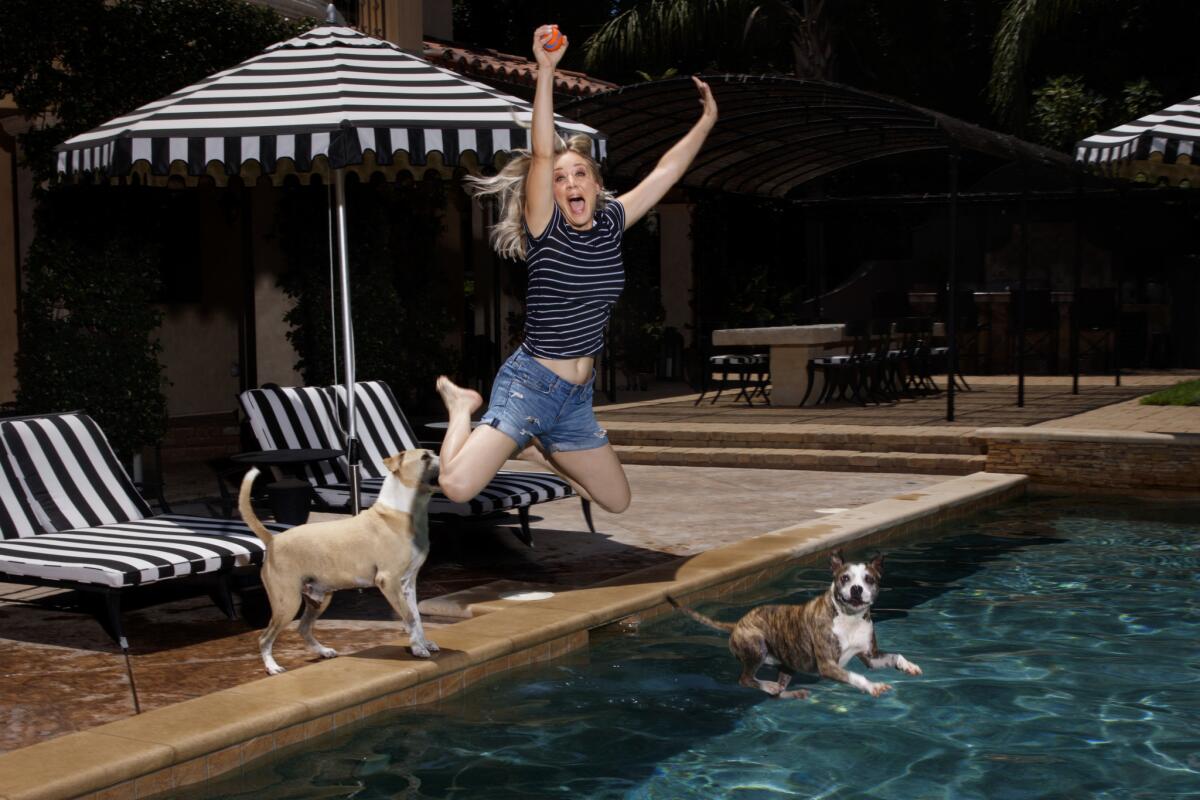 Not long after, Cuoco adopted her first rescue animal: A 2-year-old (give or take) pit bull mix with a broken leg. She named him Norman.
"I knew right away," Cuoco said. "I wanted this dog to be in my life."
Norman — the goofy-grinned, handkerchief-clad tail-wagger — has been steadily climbing the ranks of social-media stardom by way of Cuoco's Instagram account, named after Norman. That's him in the profile thumbnail, wearing a handkerchief and looking impossibly earnest.
Norman isn't the only Cuoco household pet to gain a fan following. (Cuoco has joked that her horses were becoming more famous than she was.) Her Instagram account — with 3.2 million followers — can probably be best described as a visual, patchwork ode to each of her pets.
There's Shirley, another pit bull mix and Norman's dusky-coated counterpart; Ruby, an almost pocket-sized shaggy terrier mix, and seven professional show horses.
Her love for Norman drove her to animal rescue. She found her philanthropic "home base" in Paw Works, a nonprofit rescue organization that partners with shelters across Los Angeles to place abandoned animals in foster and adoptive homes.
So between filming the upcoming season of "The Big Bang Theory" (or "playing pretend," as Cuoco calls it), doubling as a certified (and incredibly well-manicured) equestrian on the side and turning each of her 10 pets into social-media personalities in her spare time, Cuoco also acts as a makeshift halfway house for discarded animals in search of a permanent home.
"You know, an animal is so innocent," she said. "They have no voice. ... I want to kind of be a voice for them, and speak up for them."
That's why Cuoco is intent on spotlighting the plight of animals who've been relegated to one of L.A.'s severely overpopulated, under-resourced shelters.
"It's because they're old," she said. "So many people come in and drop off dogs they've had for years that they don't want anymore because they're old."
She suspects that at least part of the "toss it" mentality is rooted in Angelenos' relentless inclination to turn necessities into accessories. And a once-sprightly, now-lethargic 14-year-old canine probably doesn't fit the bill.
Most of the time, Cuoco said, owners cite the cost of care for an elderly animal as the No. 1 motive behind this kind of rollback. For many families, the added expense slingshots "household pet" straight through their budget's ceiling.
"That's a tough one for me to understand," she said. And of course it is — because unlike Cuoco, your run-of-the-mill dog owner is probably not raking in a steady $1 million per episode.
But perhaps even more than that, Cuoco prioritizes the thoughts, feelings and overall well-being of animals the way most people prioritize humans.
That's largely because for Cuoco, her pets have been just as much a refuge for her as she has been for them.
"I live by this saying," she said, "I don't know who quoted it, but it's like: Who rescued who?"
She paused for a moment.
"And I just think it's the sweetest thing," she continued, "Because it's true. It changes your life."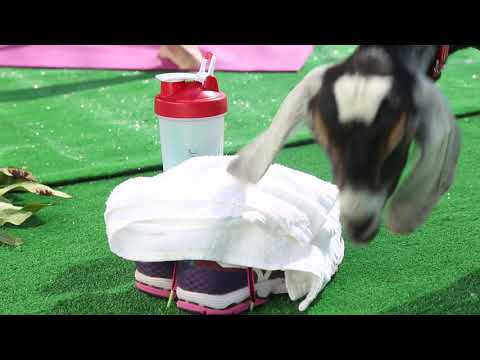 On Now
In goat yoga, the point isn't to sweat. It's to have a baby goat climb on your shoulders during your plank
On Now
On Now
Hanging out with Instagram's famous cats Nala, Coffee and Luna
On Now
Poolside with Kaley Cuoco, Norman, Shirley, Rose and friends
On Now
Watch a pet therapy dog at work
On Now
Visit the Pug Nation Rescue
On Now
Visiting the dog beach with Shari Sandberg
Updated 5:56 p.m.: This story has been updated throughout.
Get our L.A. Goes Out newsletter, with the week's best events, to help you explore and experience our city.
You may occasionally receive promotional content from the Los Angeles Times.