An Airstream idyll in Malibu with many happy returns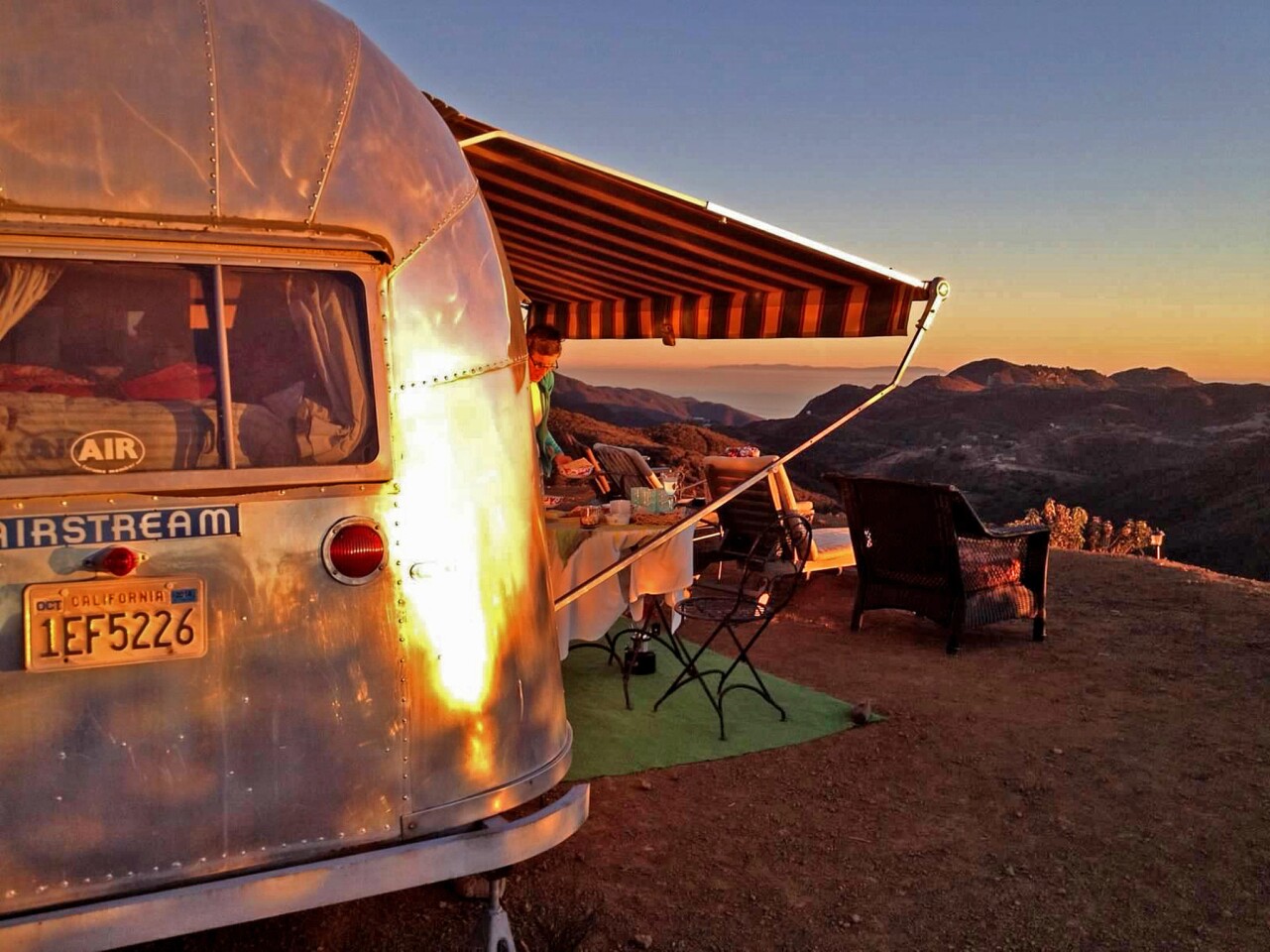 On a plateau next to a shiny 1957 Airstream Flying Cloud with 360-degree views of the Pacific Ocean, we could sit out and watch the Santa Monica Mountains and a giant sapphire sky. There was no one else in sight.
(Kari Howard / Los Angeles Times)
A line of comfy chairs with a view of the Pacific offer an ideal spot for viewing the sunset.
(Kari Howard / Los Angeles Times)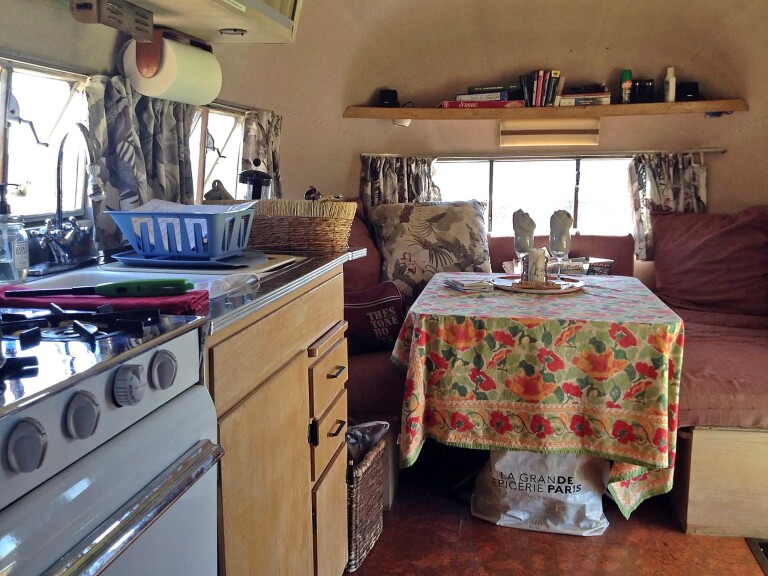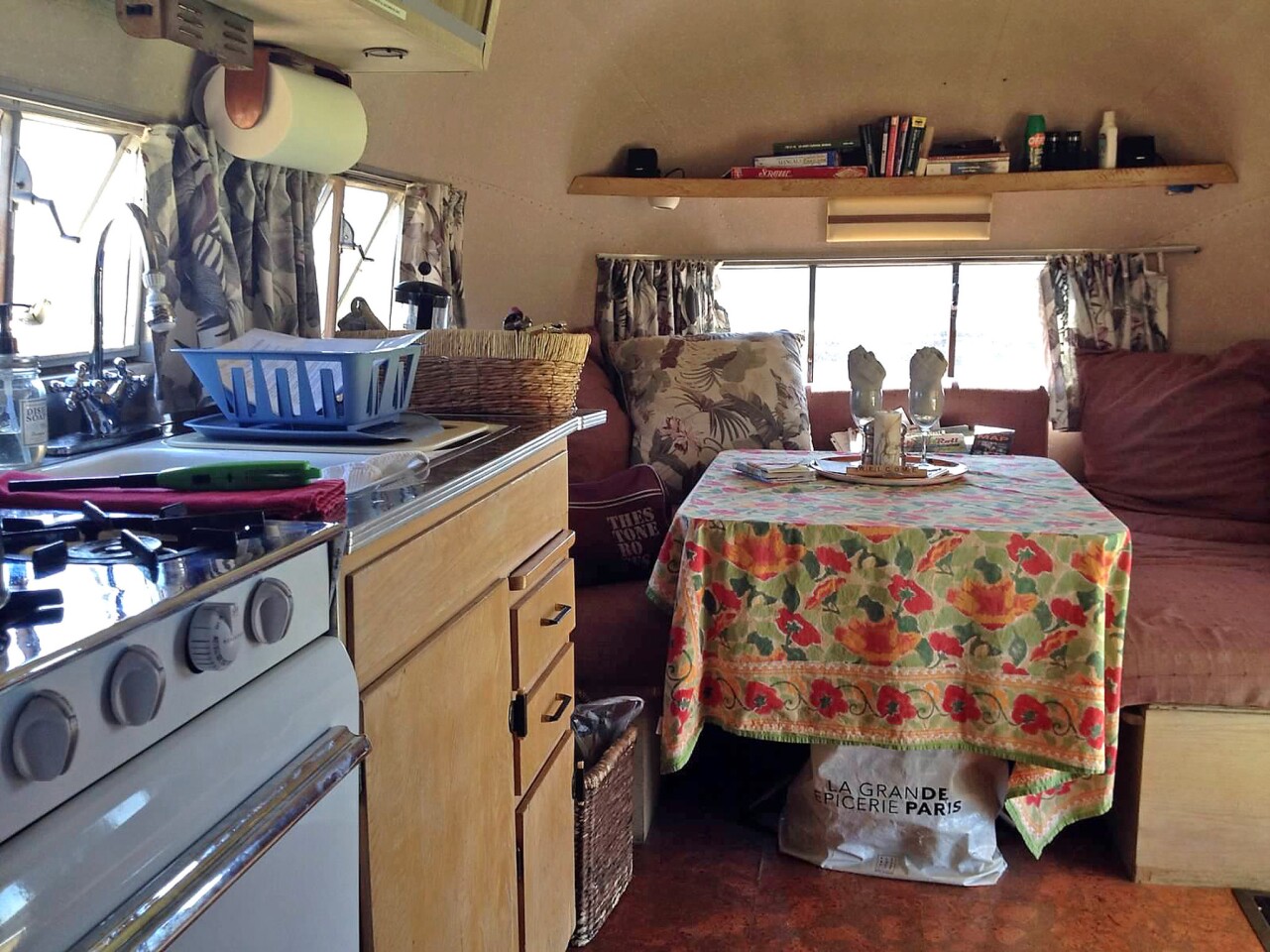 The Airstream's interior. The trailer's kitchenette is small but fully functional, with a gas stove and oven, a large fridge and a decent-sized sink.
(Kari Howard / Los Angeles Times)
A view of Malibu Pier, looking down from above in the Malibu hills.
(Ricardo DeAratanha / Los Angeles Times)
A classic grouping of Malibu foot traffic can be seen while crossing Pacific Coast Highway and heading toward Malibu Pier.
(Kari Howard / Los Angeles Times)
Malibu Farm at the end of Malibu Pier has tables for dining outside or in.
(Irene Virbila / Los Angeles Times)
You know how everyone always writes "I'll be back!" — and there's always an exclamation point — in vacation rental guest books?
You've just had a moment that somehow seems transformative. This is the way life is meant to be. But then the moment fades, and there are new adventures to be had and that exclamation-point promise becomes a wistful "We should really get back there."
This is the story of an "I'll be back" promise kept.
But I'm getting ahead of myself.
The first time I stayed in the Malibu Airstream, the "wow" moment arrived in stages.
Stage 1: Sitting in traffic on the 101 in the Valley on a Sunday afternoon, inching along, drumming my fingertips, feeling tense.
Stage 2: Getting off, finally, at Topanga Boulevard. I'd decided to pick up Mulholland Highway where it begins, at the intersection of city and not city. Only a few miles from the freeway, it was as if I were on a rural back road, just me and the motorcyclists on their Sunday drive. I let them pass and took my time swooping around the curves and feeling as if I were a million miles from Los Angeles.
Stage 3: Going through a gate onto a ranch in the Malibu hills with scrub brush and gullies that wouldn't look out of place in a Hollywood western. As I followed Rob, the caretaker, I hoped my low-to-the-ground Mini Cooper could make it up the steep, rutted dirt road that leads to …
Stage 4: Wow.
Timeless echoes
We were standing on a plateau next to a shiny 1957 Airstream Flying Cloud with 360-degree views of the Pacific Ocean, the Santa Monica Mountains and a giant sapphire sky. There were no other people in sight.
And, thanks to Airbnb, it all belonged to me — for the night, at least.
Rob showed me the ropes of the sweetly geriatric, off-the-grid trailer. Use water and lights mindfully, he said. He noted that there were no outlets, so make sure your phone is fully charged before you get there.
He left me to it, and I knew the first thing I wanted to do: set up my battery-powered record player on the table outside the trailer. I'd brought a pile of vinyl and wanted to hear how it sounded in the open air of a wilderness that says: Yeah, L.A. is high-rises and shopping malls and freeways, but it will never be fully tamed.
I kept the volume low, because noise carries in the canyons, but it sounded wonderful. The '70s California vibe of Ray LaMontagne's "Supernova" echoed off the aluminum of the Airstream and the sunbaked hillsides, and it felt as if I'd stepped into a groovy Malibu past.
As the sun started to drop, the traffic on Mulholland below shifted from motorcycles and Ferraris racing to the sea to sedans and SUVs moving tiredly inland from the beach. Finally, it was just small packs of cars, their beams looking like the posse hunting Butch Cassidy and the Sundance Kid.
Then, it was the big moment: sunset. You don't get a better front-row seat at day's end in California than the comfy chairs lined up like sentinels guarding the view of the Pacific.
The pleasures of the place were at once low-key and spectacular: the shades of a sky as it darkened, a dog barking a few canyons over, the space station gliding over the Pacific like a bright star and disappearing into the black silhouette of the mountains.
Finally, I got out of my chair and started thinking about dinner. The trailer's kitchenette is small but functional, with a gas stove and oven, a large fridge and decent-sized sink. It's stocked with the basics for cooking, but next time I would bring a bigger pot or two. (More on that later.)
Even smaller is the bathroom. You climb over the two-person bed to reach it, and you don't have much room for moving around. But remember, this is like ultra-cool camping. This is not a hotel.
I ended the day by reading some Southern California noir by Ross MacDonald and fell asleep trying to see the meteor shower on tap for that night — but the full moon was determined to outshine the stars.
From peak to pier
The next morning, I slept in and missed the sunrise. But the late-morning view of the ocean, with the barest hint of marine layer, made me wish it wasn't time to pack up and leave.
Still, it was time to get a bit closer to that ocean. I wanted to drive the whole snaking length of Mulholland Highway — the wilder counterpart to the more urban Mulholland Drive — so I took it a few more miles to its terminus at Pacific Coast Highway.
There was a Lewis and Clark moment at the end, like I was an explorer reaching the Pacific for the first time, and then I made a left turn into 21st century traffic.
And 21st century parking. After a fraught 15 minutes trying to find a spot near the Malibu Pier, I was rescued by a laid-back guy who let me park in his lot even though I wasn't shopping at his store. (Thank you, surfer dude.)
Then I made my way down the long pier to a cluster of whitewashed buildings with cheery blue trim, like how you imagined the seaside used to look. There was even a miniature speedboat bolted to the pier, gleaming red. The look on a boy's face as he rode it took me back to those little rides they used to have outside supermarkets. Your mom would put in a quarter and you were in your own fun park.
Inside Malibu Farm, the stylish restaurant at the end of the pier, it was all clean, rustic Scandinavian design (cue sheepskin rugs thrown casually across wooden benches and those chic steel cafe chairs). Lovely.
The California casual menu, big on sandwiches and salads, touts its locavore bona fides. The slice of watermelon radish that topped my kale salad came from a nearby farm, and it was so pretty I got out my iPhone for a food-porn Instagram moment. (And the drinks were very Pinterest: They came in Mason jars.)
Finding ways back
Finally, it was time to head home. I drove back on another curvy canyon road and breathed deep before getting on the 101 again. I wasn't going to let the traffic harsh my mellow.
I knew the Airstream was waiting for me if I want to escape the city, without actually having to escape the city.
P.S. I've already been back twice.
I even spent Thanksgiving there with my family. We booked the Airstream on the hilltop and another one elsewhere on the property, a later-model Airstream in a canyon that doesn't have views but does have more space.
Yes, you can cook a holiday meal in a trailer kitchen. As a vegetarian family we didn't do a turkey, but with some coordination and an edict against too many cooks in the kitchen, we had a wonderful meal.
I didn't even have to write it in the guest book to know: I'll be back.
If you go
Two Airstream trailers are available for rent on the Malibu hills property. They can be booked through the Airbnb site:
The 1957 Airstream with Pacific views rents for $145 a night: www.airbnb.com/rooms/820227
The 1971 Airstream doesn't have ocean view, but sleeps four. $135 a night at www.airbnb.com/rooms/1077343
Malibu Farm restaurant, 23000 Pacific Coast Highway, Malibu; (310) 456-1112, www.malibu-farm.com. Lunch about $15.
Twitter: @karihow
---
Get inspired to get away.
Explore California, the West and beyond with the weekly Escapes newsletter.
You may occasionally receive promotional content from the Los Angeles Times.