4 ways to cope with the stress of LAX, expected to be nation's busiest this Thanksgiving
Los Angeles International Airport will be the busiest in the nation during the Thanksgiving holiday, according to Orbitz.
The online travel website put L.A. in the top spot for the third year in a row after analyzing the number of its flight bookings at 50 airports between Nov. 25 and 30.
The rest:
2. Chicago O'Hare International Airport (ORD). Pity the person who leaves from LAX and has a stopover in Chicago.
3. San Francisco International Airport (SFO).
4. Denver International Airport (DEN).
5. Boston Logan International Airport (BOS).
6. JFK International Airport (JFK) in New York City.
7. Orlando International Airport (MCO) in Florida.
8. Newark Liberty International Airport (EWR) in Newark, N.J.
9. Dallas-Fort Worth International Airport (DFW).
10. Hartsfield-Jackson Atlanta International Airport (ATL), which is the busiest airport in the world.
What should you do if you're flying from LAX? Relax and make plans. Here are four ways to make your travel time bearable.
1. Get there earlier than early. No one likes hanging out at the airport, but sitting in traffic as your flight time nears is no fun either.
With big crowds expected at the airport, allow two hours before domestic flights and three hours before international flights.
If you want to keep costs of getting to the airport low, take a FlyAway bus ($8 to $10 each way) from five locations around L.A. or the Metro Green Line train to LAX/Aviation Boulevard ($1.75) and then a free shuttle to the airport.
2. Make your airline your new BFF. Airlines and airports push out flight changes, delays and status via alerts and on their social media sites. Make sure you have signed up for alerts from your airline and check them out on Twitter and Facebook.
Often you'll find more timely information from your smartphone than from the person at the reservation counter.
Airports also use social media to advise travelers about parking, inclement weather, flight delays and other information.
Also, check out LAX Is Happening, which highlights airport construction delays, walking maps around the construction and real-time traffic jams.
It has maps of terminals, which may have changed since the last time you traveled.
3. Keep your phone and charger with you and maybe an extra external battery. Phones are vital if travel plans go sideways, but nothing is worse than having a dead phone because you packed the charger in your checked luggage, which is now well out of reach.
You might consider also taking an external battery source just in case. The pictured orange Jackery mini at left costs $11 and weighs less than 3 ounces. Just make sure you charge it before you leave home.
Use your smartphone or tablet to stay on top of emails, instant messages or tweets the airline may be sending you. You can also call your airline if you need to speak to a real person to change plans.
4. It's all about you. Find something fun to do. You can sit and read a book or blab on the phone with friends, but maybe a quick neck massage at the spa strikes the right tone to start your trip.
Check out LAX Beach too, a play area in the Tom Bradley International Terminal, if you're traveling with kids.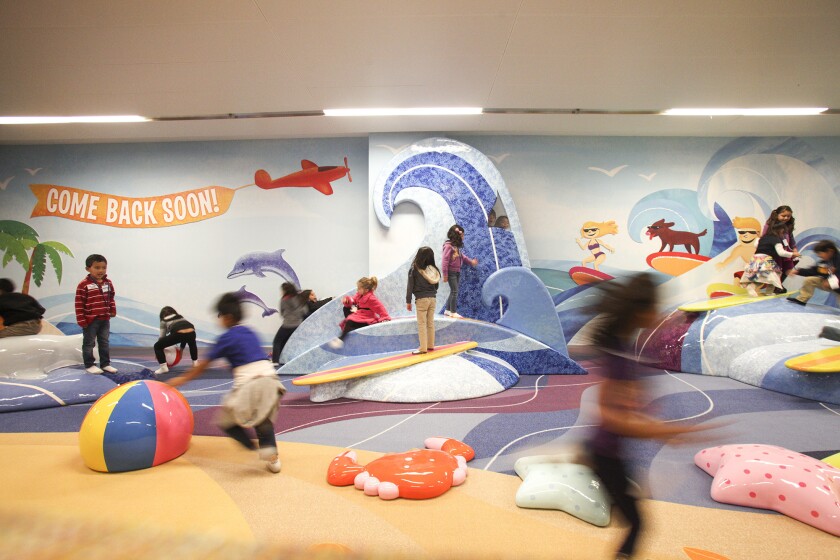 Or you can grab a bite at La Brea Bakery (Terminal 1), Gladstone's 4 Fish (Terminal 3), Lemonade or Loteria Grill (Terminal 5) and Wahoo's Fish Taco (Terminal 6).
Some words of warning: Make sure you don't drink so much that you're too drunk to fly. And if you go on a shopping frenzy, do you really want more stuff to carry on?
ALSO
U.S. News rates 'best of' in cruises, with some surprising (in a good way) results
Skier's 1,600-foot fall down an Alaskan mountain will have you gasping in horror
---
Get inspired to get away.
Explore California, the West and beyond with the weekly Escapes newsletter.
You may occasionally receive promotional content from the Los Angeles Times.