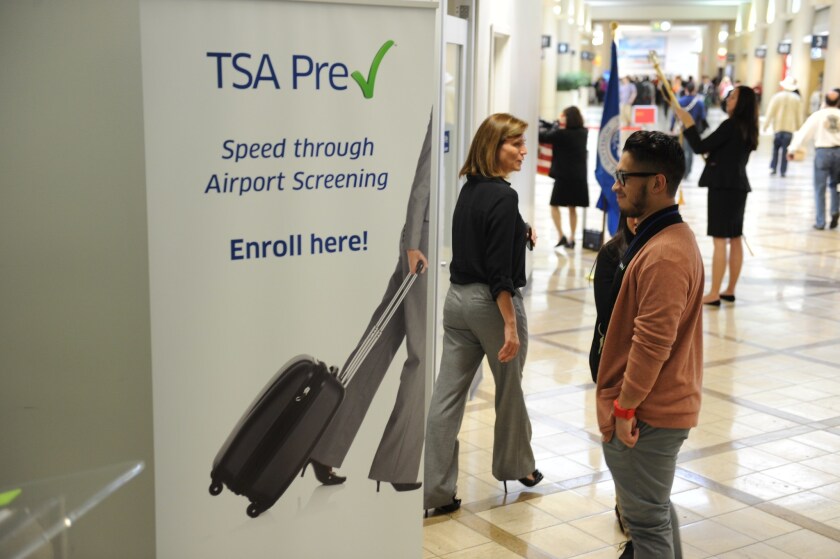 Travelers will be able to do something else when they get their taxes done at H&R Block: apply for the Transportation Security Administration's fast-pass security screening program.
Fliers will be able to apply for the TSA's PreCheck at more than 400 H&R Block offices in 27 states, including California, Washington and Oregon.
You may start an application online or bring your ID (passport, birth certificate or driver's license) to an H&R Block location and complete one there.
But don't charge down to your local tax preparer just yet. IdentoGO, the company providing the enrollment services for the TSA, expects to start rolling out the program at 66 H&R Block sites in the next several months, eventually expanding to more.
PreCheck costs $85 for a membership that's good for five years.
There currently are TSA enrollment centers in Terminals 1 and 6 at Los Angeles International Airport (LAX), Terminal C at John Wayne Airport (SNA) and at other Southern California locations listed on the agency's website.
Travelers who qualify for expedited screening receive a "known traveler number" that allows them to use dedicated express lanes at airports. Participating airlines include Air Canada, Alaska, American, Delta, Hawaiian, JetBlue, OneJet, Southwest, Sun Country, United US Airways (merging with American) and Virgin America.
The program that started in 2011 allows fliers to leave their jackets, belts and shoes on when going through security. They also don't need to take laptops or liquids from their carry-on luggage.
More than 1.5 million travelers have enrolled in PreCheck, the agency says.
ALSO
Swilling a bottle of cognac in front of airport security: idiotic, or genius?
Why enrolling in TSA's faster-through-airport-security program may be easier this summer
Three nights in Vegas over Labor Day weekend for less than $500? Score!
---