Cruise News: Major cruise lines sail into lucrative adventure travel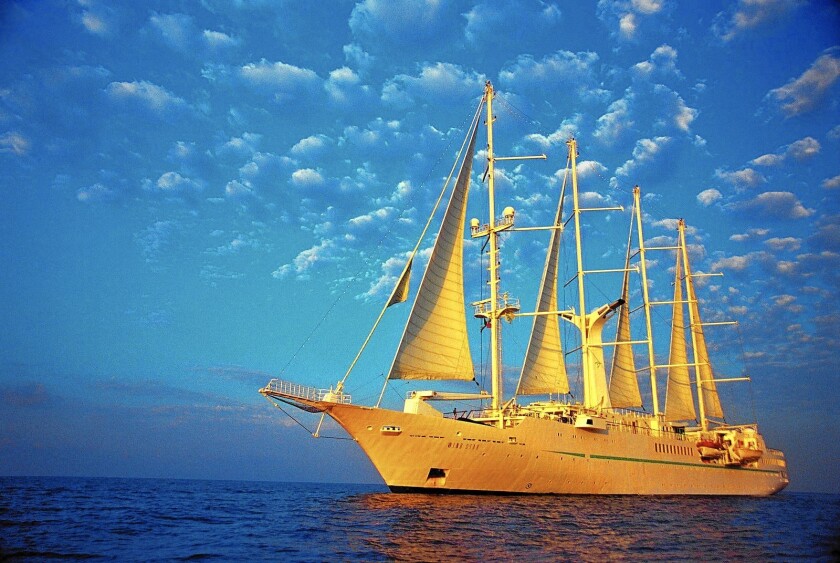 Some destinations fuel my sense of wanderlust: the Galápagos Islands, Mexico's Gulf of California, Alaska, the South Pacific and Antarctica, among them. Cruises to these destinations offer once-in-a-lifetime adventure and a chance to see remote beaches, hidden coves and fascinating wildlife.
Once the exclusive domain of small, expedition-type ships, adventure cruising has become a big business. Adventure travel is a $263-billion market that is growing at a rate of 65% annually, a George Washington University study reported, and major cruise lines are jumping aboard. Some have invested in smaller ships that can access these hot spots; others offer adventure-style excursions, such as a chance to hike a gold rush trail in Alaska or swim with sharks in the Caribbean.
Baby boomers, many retired and working their way down a bucket list, are a prime target.
But they're certainly not the entire market. Passengers include multigenerational families and an increasing number of Gen-Xers.
"The adventure trend crosses all age groups," said Bruce Krumrine, shore excursions vice president for Princess Cruises. "We live in a fitness culture; it's not a function of age."
Princess, celebrating its 50th anniversary this year, has teamed with the Discovery Channel to offer excursions keyed to some of the station's shows, such as "MythBusters" and "Gold Rush" and the various programs offered during "Shark Week."
In Alaska, passengers can go bear and whale hunting (with a camera), hike the historic Chilkoot Trail used during the Klondike gold rush or take a combined flightseeing/airboat ride through the ice fields of mammoth Tongass National Forest. All of the tours are available only to Princess passengers.
"We're offering more active tours all the time," Krumrine said. "It's a rising tide in the industry that's lifting all ships."
Celebrity Cruises announced a new slate of excursions this week, many focused on adventure. In Sicily, for instance, passengers can discover, by hiking along the rim of the Silvestri Spent Craters, how Mt. Etna shaped the landscape.
"We want our guests to experience authentic moments," said Roberta Jacoby, managing director of Celebrity's global tour operations, adding that such experiences offer passengers "a deeper connection with some of the world's most amazing destinations."
Celebrity also has a 40-passenger ship that explores a traditional adventure locale, the Galápagos, once almost exclusively the purview of expedition-style cruise companies.
Why these sorts of destinations? "There's a growing fascination with ecology," said Sven Lindblad, founder and president of Lindblad Expeditions, which has been exploring the far corners of the world for decades.
"People like the idea of getting out of their comfort zone and into the wild," Lindblad said.
Lindblad's cruise line, with ships that hold 28 to 148 passengers, is known for pioneering journeys that take citizen explorers to destinations that only scientists once could visit. Lindblad said larger cruise lines now advertising adventure are helping to broaden the market.
"Everybody seems to be dabbling in it a bit," he said. "But offering these kinds of cruises is really hard work. To do it properly requires a lot of dedication."
::
Here's a sampling of other adventure tours and cruises. Contact the cruise line (latimes.com/cruiselist) or a travel agent.
AmaWaterways: This European river cruise company has teamed with Backroads Travel to offer river cruising combined with biking, walking and hiking tours along the Danube River.
Hurtigruten: An Antarctic Circle expedition will spend more than a week exploring the region. Excursions include camping and kayaking.
Uniworld Boutique River Cruise Collection: You can cruise the Mekong River through Vietnam and Cambodia, visiting large cities such as Hanoi and Ho Chi Minh City in Vietnam and Phnom Penh in Cambodia plus floating villages. Also available: a cyclo (three-wheel bike) ride through Phnom Penh and jungle excursions.
Windstar Cruises: During a seven-day voyage to Panama and Costa Rica, passengers can dive the coral reefs of Panama's Isla de Coiba, transit the Panama Canal and take a mile-long canopy tour in Costa Rica's Quepos.
Crystal Cruises: This voyage travels beyond the Arctic Circle to the Land of the Midnight Sun and includes calls to five ports on Russia's White Sea as well as little-explored towns and fiords in Norway. Among the excursions: horseback riding on the beach in the glow of the midnight sun.
::
Cruise Tip of the Week:
Connecting to the Internet at sea can be costly: Many ship-based hot spots charge 75 cents to $1 a minute. Packages are available, but if possible, just disconnect for a while, or use an Internet cafe in port, where you can connect for the price of a cup of coffee.
---
Get inspired to get away.
Explore California, the West and beyond with the weekly Escapes newsletter.
You may occasionally receive promotional content from the Los Angeles Times.