Six more Ponant ships to be launched, all equipped with underwater lounges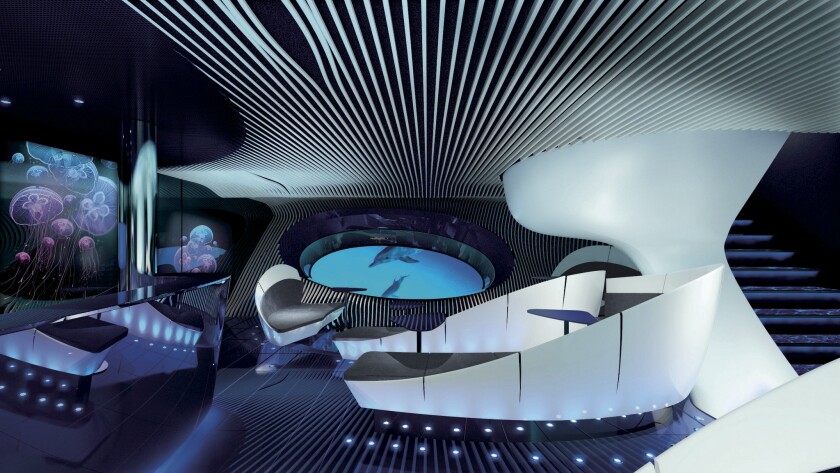 Is there an underwater lounge in your future? There may be if you plan to sail with Ponant, a small-ship luxury expedition cruise line that's adding six vessels to its fleet that feature underwater observation lounges.
Ponant's Blue Eye lounges, as they're called, are described as multisensory, 800-square-foot spaces that hold about 40 guests, with standing room for 10 more.
The French line also will add a new hybrid icebreaker ship by 2021, increasing the size of its fleet to 12, a $12-billion investment.
"Small is best, destination is key, enrichment and innovation are our motto," Jean-Emmanuel Sauvée said at a news conference in Fort Lauderdale, Fla., announcing the new ships.
The Explorer-class ships will each have 92 cabins, including four suites with bay windows and terraces. Two will arrive this year (Le Lapérouse and Le Champlain), two more in 2019 (Le Bougainville and Le Dumont d'Urville) and the last two in 2020 (Le Bellot and Le Surville).
The Blue Eye lounges will be positioned beneath the waterline and feature two large observation windows, one on each side of the ship, shaped like whales' eyes.
Wall-mounted digital screens will project images filmed live by three underwater cameras. Foodlights under the water will run most of the length of the ship, illuminating the view.
Other high-tech equipment planned includes a sound system using hydrophones, microphones that capture underwater sounds within a three-mile radius of the ship.
Passengers will sit on "body listening sofas" that will vibrate in sync with the aquatic acoustics, Ponant said.
The new icebreaker ship, expected to launch in April 2021, will be able to sail voyages to the Geographic North Pole and the Northeast Passage, making the brand the first true cruise line to reach the North Pole, according to Sauvée.
"This ship will be very, very special, able to go where no one else can go," he said.
The icebreaker was in the planning stages for three years and now will take an additional three years to build. It will be powered by a hybrid LNG and battery system, which allows it to sail for about 100 days on that power alone.
The ship will accommodate 270 guests in 135 cabins.
Info: Ponant, (888) 400-1082
ALSO
America's first pop-up Pac-Man cafe opens in Honolulu. Hurry, it won't last long
Love Easter candy? Visit five sweet spots where treats are made
Style meets the waves on Cunard's NYC Fashion Week cruise
---
Get inspired to get away.
Explore California, the West and beyond with the weekly Escapes newsletter.
You may occasionally receive promotional content from the Los Angeles Times.