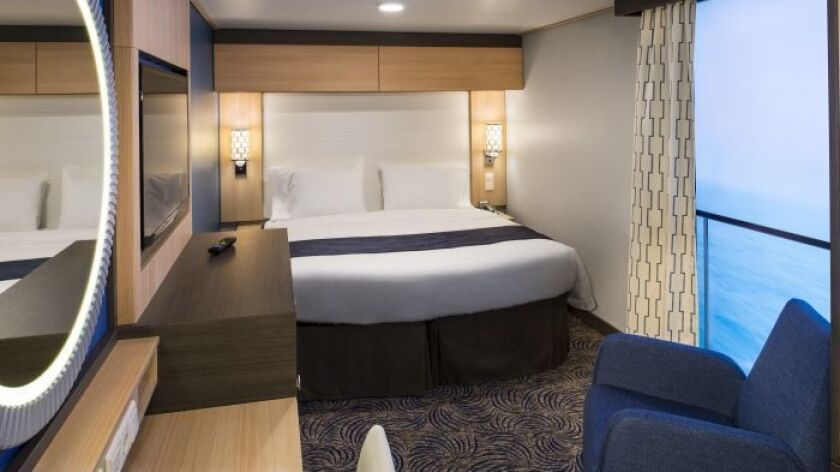 Cruise ships offer travelers a lot of pluses: entertainment, activities, transportation and a seemingly endless supply of food. But they don't get many points for providing roomy accommodations.
Some cabins, in fact, are only slightly more than 100 square feet; compare that with the average hotel room, which is about 330 square feet.
If your stateroom is a small interior room with no outside light, it can seem claustrophobic. Some lines, in fact, have added virtual balconies to interior rooms to make them seem bigger.
With a little forethought, savvy passengers can take a page out of an interior designer's guidebook and create some magic in their staterooms, according to a recent CruiseCritic.com article. Here are some suggestions.
Pack sensibly
Don't bring a giant bag; use one that's less than 28 inches, says Cruise Critic. That will help you reduce clutter. In addition, a big bag will take up so much space in your closet that you won't have much room to hang your clothes.
Look for hidden storage space
Some lines put built-in cabinets behind mirrors, in ottomans and in other surprising places. Don't forget to store things under the bed. The more items you can put out of sight, the larger your cabin will feel.
Bring your own storage compartments
Some cruisers pack over-the-door shoe bags or other organizers to help them stay in control of cabin space.
Remove small furniture
When you board, ask if small pieces of furniture, or things such as your bedspread or throw pillows, can be stored elsewhere. This will clear out more room space for you.
Keep it tidy
Hang up your clothes, stash small items. If they're out of sight, you'll feel better, and the cabin will seem larger.
Use the walls
Cabins are mainly made of metal. If you bring along a few magnets, you can hang some of the daily paperwork — planners and party invitations on a wall instead of having them litter the desk. And if you hang them near the door, Cruise Critic suggests, you can check them on the way out.
Move the beds, if possible
On some ships, you can have the beds reconfigured to create more space in one area or another.
Turn on your TV
If you have an inside cabin, you can make your cabin seem bigger by tuning your set to the bridge or bow cam station, which will give you an ocean view.
Natural light helps
Leave your drapes open during the day if you have an ocean-view or balcony room. A dark room seems too much like a cocoon.
ALSO
2018 New Year's Eve celebrations for $10,000 and up
Singers Andrea Bocelli and Ricky Martin to perform at MSC Seaside's naming party
Virgin Atlantic tells first-class fliers: Steal our holiday salt and pepper shakers. Please.
Twitter: @latimestravel
---