Aboard the luxurious Azamara Quest, a pirate scare adds to the intrigue
DUBAI —
My wife, Laurel, and I, jet-lagged, headed to our balcony stateroom on the Azamara Quest to let the rhythmic wash of the hull through the Aegean Sea lull us to sleep. In the morning, we found a letter from the ship's captain, José Vilarinho, slipped under our door. "I am writing," it began, "with important information regarding our passage through the Gulf of Aden."
We knew the gulf was the infamous hunting ground of Somalian pirates and that cruise ships — most notably the Seabourn Spirit in 2005 and Oceania's Nautica in 2008 — had been approached. Though these events were years ago, attacks on cargo ships have continued and, in fact, three vessels were approached during the days we were in the gulf. Though we've made dozens of cruises, we had never experienced anything like this.
FULL COVERAGE: Cruise reviews, deals and news
The letter outlined precautions that would last for five days. The ship would be darkened at night to improve visibility for the lookouts: crew volunteers who were posted around the clock during the passage through the Gulf of Aden. Exterior deck lights would be doused and curtains closed in public rooms and staterooms. If the words "Operation Safe Haven" were broadcast over the public address system, passengers would move to the interior of the ship and follow crew instructions. We were more intrigued than alarmed.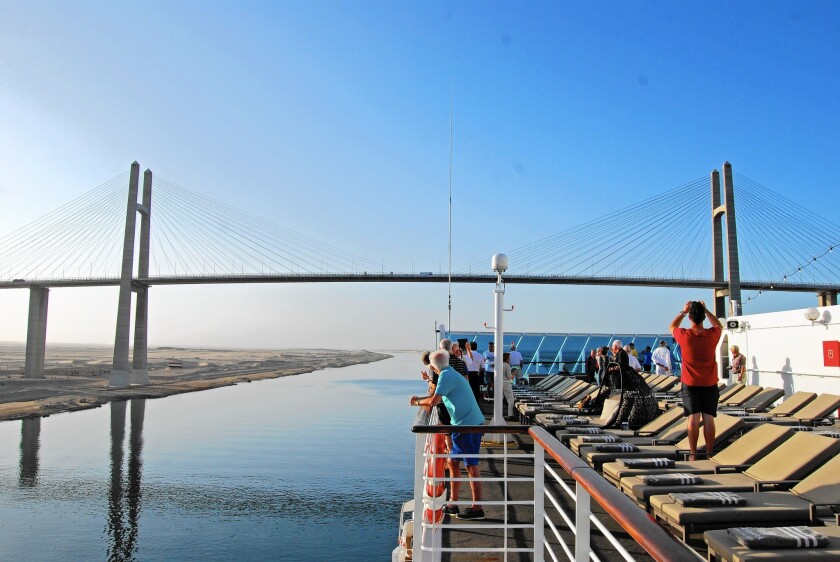 Cruising as usual
Our mid-October departure from Piraeus, Greece, on the 694-passenger Quest had been picture-perfect and sunset-tinted, with ferries shuttling in and out as lights twinkled on in Athens' sprawling port city. With the sun dropping into the Aegean, it was an auspicious beginning to our 15-night, 3,733-nautical mile voyage to Dubai, promising adventures that would include transiting the Suez Canal.
This was a repositioning cruise, getting the Quest from the Mediterranean to the Far East, which meant many sea days — nine in all, counting the canal transit — and affordable fares. Of the five port calls, three — Rhodes, Greece; Kas, Turkey; and Limassol, Cyprus — came at the beginning, providing no rest for the weary. Muscat in Oman and Dubai, where the ship spent a full day and a night before we disembarked, were at the end.
At Rhodes, the Quest docked adjacent to Old Town, where we strolled through winding lanes, stopping at the Jewish Museum in Kahal Shalom, said to be the oldest synagogue in Greece. We wandered freely, knowing that we couldn't go too far astray in this compact, walled city.
Kas, on Turkey's Turquoise Coast, was a highlight. Three among our traveling group of six had been there before and knew we could charter a gulet — a wooden boat, usually sail-powered, though ours wasn't — that would take us to Kekova Island and its partly sunken ancient city. We found Ali Sarica, appropriately nicknamed Captain Garlic, and his gulet Batin 2. After we came to terms — $75 apiece, including a tip, for our all-day trip — Ali and Fatima, his wife, first mate and cook, headed off on motor scooters for lunch provisions.
Batin 2 was ideal for us, with plenty of shaded space forward for lounging and sightseeing and a long table aft that would hold a luncheon of rice and salads all freshly prepared en route by Fatima while we motored to a small Kekova cove. We swam among the ruins in water that was sparkling clear and turquoise. Ali grilled chicken. Garlic reigned.
In Limassol, the next port, the AzAmazing Evening took place, a signature event offered on most Azamara cruises. Ours was a chamber concert performed in front of medieval Kolossi Castle. Unfortunately, predicted rain mandated a large tent, which obscured the view of the castle's façade — but a wise precaution because a wild thunderstorm blew in, adding drama to the concert. It reportedly hadn't rained in months.
Uninterrupted sea time
When the Quest loosed its lines in Limassol one minute before midnight, we said goodbye to land for the next week plus. This was unusual for Azamara Club Cruises, which usually features "longer stays, more overnights, and night touring." But we were repositioning and happy with the prospect of uninterrupted sea time.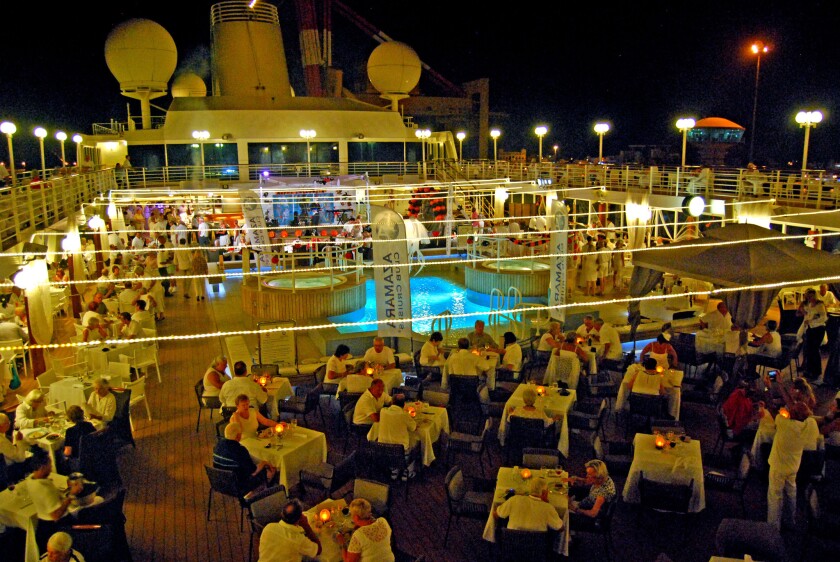 For me that would mean luxuriating with books on chaise longues on Deck 5, close to the sea, or sitting on our balcony. Laurel did that too, but each sea day would find her rehearsing, with 20 shipmates, as the High Seas Choir prepared songs from "Mamma Mia" that would be performed as the opening act of the ship's final on-board show, a tribute to Broadway called "Stage Door of Dreams."
Much more filled days at sea. Our friends planned theirs around multiple trivia contests daily, and lectures on such subjects as Alexander the Great and the Suez Canal. The latter interested me most because I knew the canal transit, from 4 a.m to midafternoon, would be intriguing, with war monuments, the soaring Mubarak Peace Bridge and countless skiffs that rowed or sailed up to us to wave.
As we cleared the canal, a boat approached and five blue-suited men boarded — from Protection Vessels International — as backup security. They proved an amiable presence — perhaps explained by the absence of any pirate encounter. On a misty full-moon night, with Deck 5 darkened as we boomed through the Gulf of Aden, spray flying, their head honcho enjoyed the moment as much as we.
"And I get paid for this," he said with a chuckle. They participated in (but lost) the on-deck tug-of-war among various crew departments for which passengers gathered en masse and Capt. Vilarinho acted as cheerleader.
"We do this on repositioning trips with lots of sea days," chief engineer Roberto said when I complimented him on the event. "It's fun for the crew too." Another sea day highlight, also featuring the crew, was Quest Expo, when each department, from engine to deck to spa, filled the main lounge with tools of their trade and fielded questions from passengers. Then there was the "Iron Chef" competition, which pitted cruise director Russ against hotel director Philip.
"Eat, drink, and be happy" was always Russ' mantra, and we did just that, in Discoveries, the main dining room, and the two extra-charge restaurants: Prime C (a steakhouse) and Aqualina (contemporary Italian). A nationality-themed buffet was offered in Windows every night, and three times we dined on its open deck aft. The Sunset Bar there was our favorite cocktail spot.
One special dinner was the barbecue buffet on White Night, an Azamara staple, when the pool deck is set with white tablecloths and festively decorated, and passengers are encouraged to wear white. Because it fell on Halloween, it became White/Fright Night and officers were in costume.
There I spotted a pirate. I couldn't identify him but thought he was oddly familiar. Later, I realized it was Capt. Vilarinho. He and the similarly attired hotel director were the only pirates we saw on our voyage.
::
If you go
Azamara Club Cruises, (877) 999-9553; www.azamaraclubcruises.com. Even swollen to $2,536 by taxes, fees, port expenses and insurance, our $1,999 base fare for a balcony stateroom for 16 nights was a bargain, considering most alcohol and coffee drinks are included, as are gratuities. Azamara on Oct. 7 will offer a similar trans-Suez voyage from Civitavecchia (Rome), Italy, to Dubai aboard the Journey, Quest's sister ship. The line's two ships will receive major refurbishments and upgrades during dry dockings early this year.
---
Get inspired to get away.
Explore California, the West and beyond with the weekly Escapes newsletter.
You may occasionally receive promotional content from the Los Angeles Times.