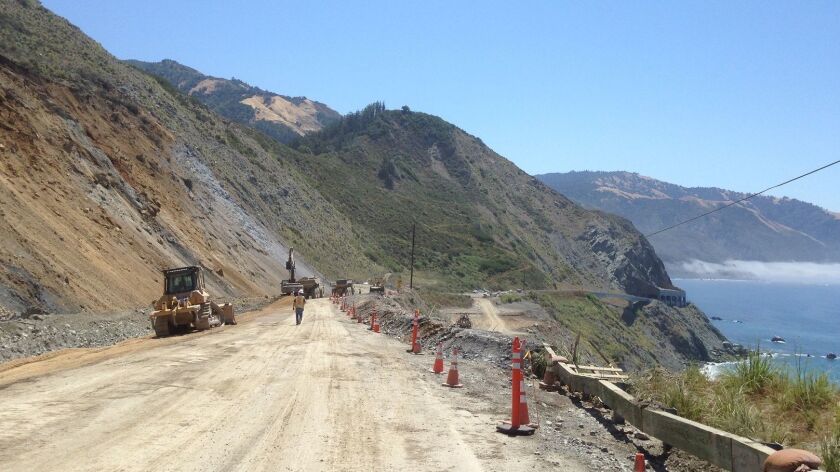 Big Sur got a bit of good news earlier this week: A 35-mile stretch of Highway 1 reopened to traffic after having been closed for months by a winter-storm landslide.
The road at Paul's Slide, near the town of Lucia, opened Monday as far south as Gorda, with a single lane handling one-way controlled traffic, according to a Caltrans statement.
What does this mean for travelers? The newly reopened part of California's premier coastal route remains hemmed in by closures to the north and south. But you can drive this cutoff part of Highway 1 by driving inland to the 101 Freeway and cutting over to the coast on Nacimiento-Fergusson Road.
Businesses on both sides of the closures, such as the landmark Nepenthe's restaurant, the Big Sur Tap House and the Big Sur Deli, are open.
Elsewhere on Highway 1, the road remains closed to all traffic at Pfeiffer Canyon, where a bridge washed out in February and was demolished in March. Caltrans is working to replace the structure.
The most problematic damage to the road is at Mud Creek, where a debris slide in May covered about a third of a mile of Highway 1. No opening date has been announced.
Please consider subscribing today to support stories like this one. Already a subscriber? Your support makes our work possible. Thank you. Get full access to our signature journalism for just 99 cents for the first four weeks.
ALSO
Don't give up on visiting Big Sur. Here's what's still open after that landslide
Big Sur lost a bridge and slipped back in time. Now residents are wondering what happens next
When Vegas' pools get too crowded, rent a 'floating cabana' on Lake Mead for a day
Pack your lightsaber — immersive 'Star Wars' resort planned for Walt Disney World
---