Ojai goes a little crazy when Pixie tangerines arrive. Ready for a Pixie scrub or a Pixie margarita?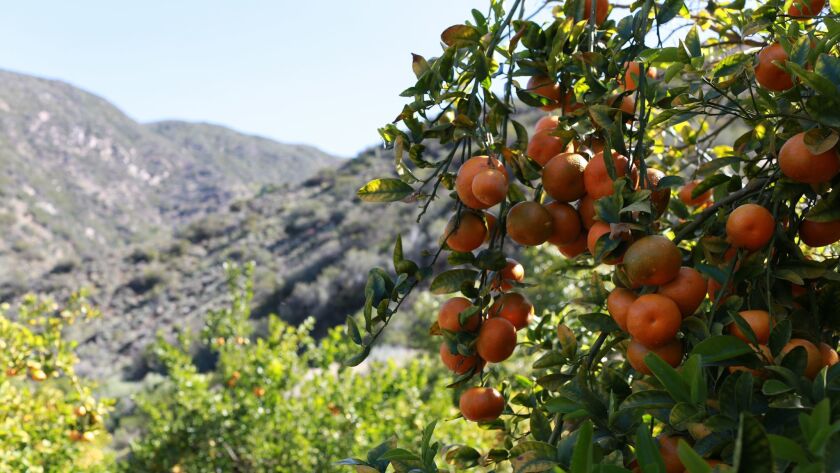 You could say Ojai is the town built on tangerines, but that wouldn't be entirely true. The resort spa town roughly 90 miles northwest of downtown Los Angeles was well-established before the citrus star came to town in the 1960s.
Still, April is Pixie Tangerine Month in Ojai, when the town's spas, restaurants, shops and other businesses go all out to celebrate the hybrid fruit marketed as "sweet, seedless and easy to peel."
Pixie fever isn't hard to catch. Take a drive to Ojai to experience your own Pixie joy and specials that are only available at this time of year.
Meet the growers. You'll find about 25,000 Pixie tangerine trees in Ojai today tended by almost 40 family-run companies, according to the growers' website.
Friend's Ranch at 15150 Maricopa Highway is open for tours, and they fill fast. You can wander through orchards of Pixies and go home with a bag or two. Tours are planned April 5, 15, 22, 29 and May 13 (adults, $12; children 4-10, $7; 3 and younger, free). You can pick your own Pixies for $2 a pound, too. Info: Friends Ranch Tours, (805) 646-2871
Go tangerine crazy. Just about every eatery in town will have a tangerine special. Bliss Frozen Yogurt at 451 E. Ojai Ave. will be serving up Pixie tangerine-flavored frozen yogurt and sorbet. You can slam back a Pixie martini or margarita at Azu at 457 E. Ojai Ave., and recover with a Pixie Tangerine Mocha at the Ojai Coffee Roasting Co. at 337 E. Ojai Ave.
Indulge in Pixie pampering. At this time of year, the Oaks at Ojai always has a bowl of Pixies at the front desk. It sets the tone for their April spa treats, such as a Pixie tangerine seasonal scrub, a Pixie pedicure and a cooking demo (would you believe chocolate mousse infused with Pixie tangerines?).
The resort's Pixie package starts with a five-night stay and includes a free Pixie scrub and half off a second treatment. Prices start at $1,325, based on double occupancy. Info: The Oaks at Ojai, 22 E. Ojai Ave.; (805) 646-5573
The Ojai Valley Inn & Spa also offers a seasonal Pixie package that includes lodging, breakfast for two, two Pixie-inspired cocktails and a 50-minute Pixie body polish at the spa. It's available through May 31. (I found availability April 13 for $549, excluding tax and nightly fee.) Info: Ojai Valley Inn & Spa, 905 Country Club Road;(855) 697-8780
Enhanced Day Spa & Boutique will throw a Pixie party open house April 8 that invites all for "spa tastings" or mini-treatments. Spend $15 on a fresh Pixie Foot Scrub and Massage, $20 on a Pixied Mini Facial or $75 for an all-day pass that massage and makeup treatments too. Info: Enhanced Day Spa & Boutique's Pixie Parties, 439 W. El Roblar Drive; (805) 746-6476
Check out other Pixie Month events here.
ALSO
Open House San Diego invites you to explore the city, building by building
6 things you need to know about the new electronics carry-on ban
Chef who made Julia Child cry headlines Santa Barbara food and wine event honoring her
---
Get inspired to get away.
Explore California, the West and beyond with the weekly Escapes newsletter.
You may occasionally receive promotional content from the Los Angeles Times.