Time to face north and salute: Canada is turning 150 and we have 150 pictures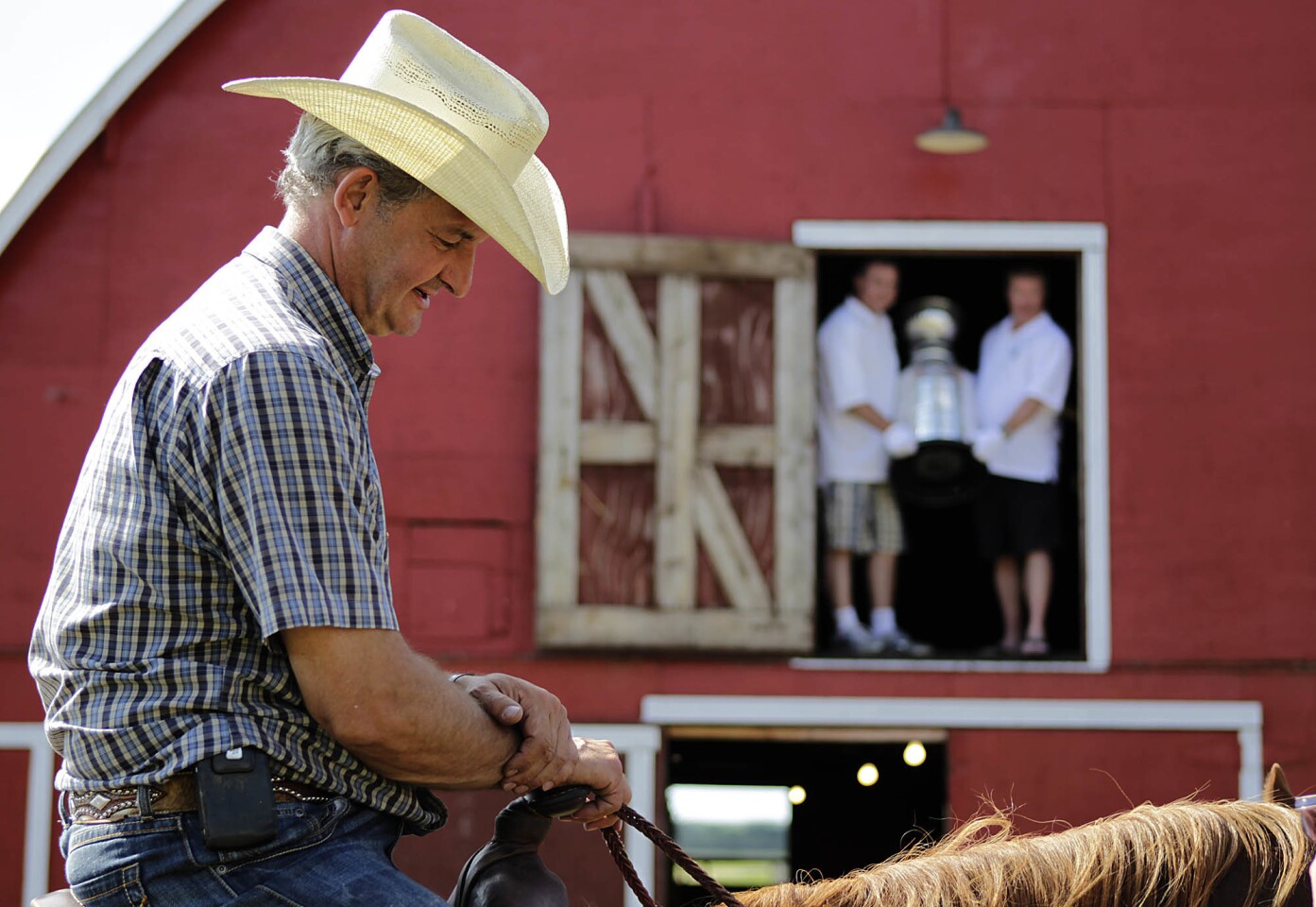 In Canada, you know that hockey is never going to be far away. Even down on the farm. In this image from 2012, the background shows Stanley Cup keepers Mike Bolt, right, and Howard Borrow in a barn doorway with hockey's greatest prize. In the foreground, Los Angeles Kings coach Darryl Sutter rides by on his horse, Red. Sutter's farm is near the small town of Viking, Alberta.
(Robert Gauthier / Los Angeles Times)
Whenever you see a cool picture of a polar bear, odds are good that it was shot in Churchill, Manitoba, as this one was. Visitors from around the world come in October and November to stay in wilderness lodges, ride tundra buggies and photograph the bears as they go about daily life in the Churchill Wildlife Management Area on Hudson Bay.
(Danita Delimont / Getty Images)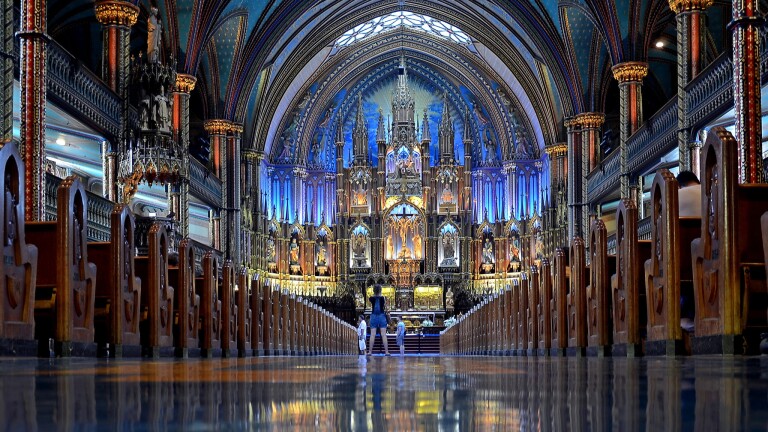 The Notre-Dame Basilica of Montreal, a Gothic Revival landmark in the city's oldest quarter, was mostly completed in 1830. But its twin towers weren't done until the 1840s. And the interior we see now was done in the late 19th century, inspired by the blue and gold hues of the Sainte-Chapelle in Paris.
(Christopher Reynolds / Los Angeles Times)
The skyline of Toronto, Canada's largest city, has one standout star: the CN Tower. It was completed in 1976 for the Canadian National Railway and stands 1,814 feet tall. Its four observation levels include a revolving restaurant, 360 (open for lunch and dinner), that's 1,151 feet above ground.
(Hector Retamal / AFP/Getty Images)
The Calgary Stampede is not one of those great events you have to learn about in history class, like the Profumo Affair or Lincoln-Douglas Debates. It's a great event that's been happening yearly since 1923 (and in fits and starts before that). There's a rodeo, live music, lots of unhealthy food, etc. The 2017 edition will run July 7-16.
(Al Seib / Los Angeles Times)
Plenty of people visit Niagara Falls, the natural wonder at the boundary of the Canadian province of Ontario and America's New York. But not many visitors do it this way. In 2012, Nik Wallenda walked on a wire across a part of the falls. The feat, televised live on ABC, was the first walk of its kind in more than 100 years.
(Carolyn Cole / Los Angeles Times)
In Jamaica, the Blue Mountains are the longest range in sight. In Australia, the Blue Mountains are a popular day trip outside Sydney. In the Canadian province of Ontario, Blue Mountain is a 364-acre ski resort, which becomes a mountain-biking destination in summer. Here, Marielle Thompson, top right, of Canada, flies off the jump with Fanny Smith, top left, of Switzerland, and Ophelieas David, of France, as they compete in the women's semifinals during the FIS Ski Cross World Cup at Blue Mountain on March 5, 2017.
(Mark Blinch / Associated Press)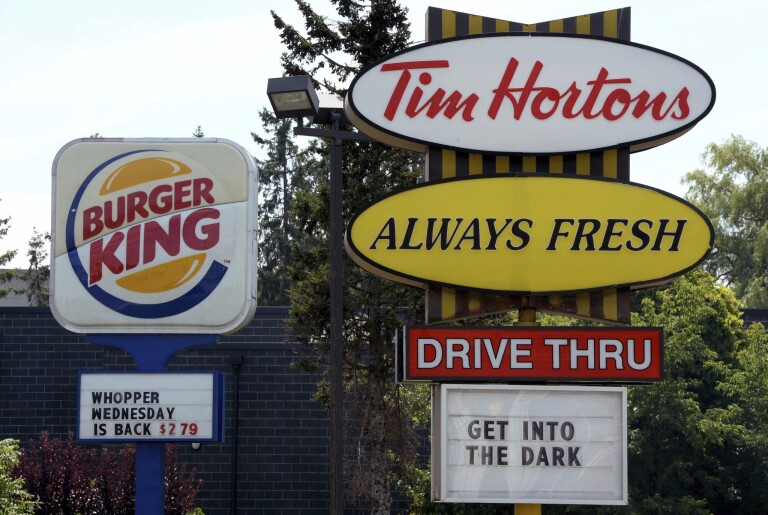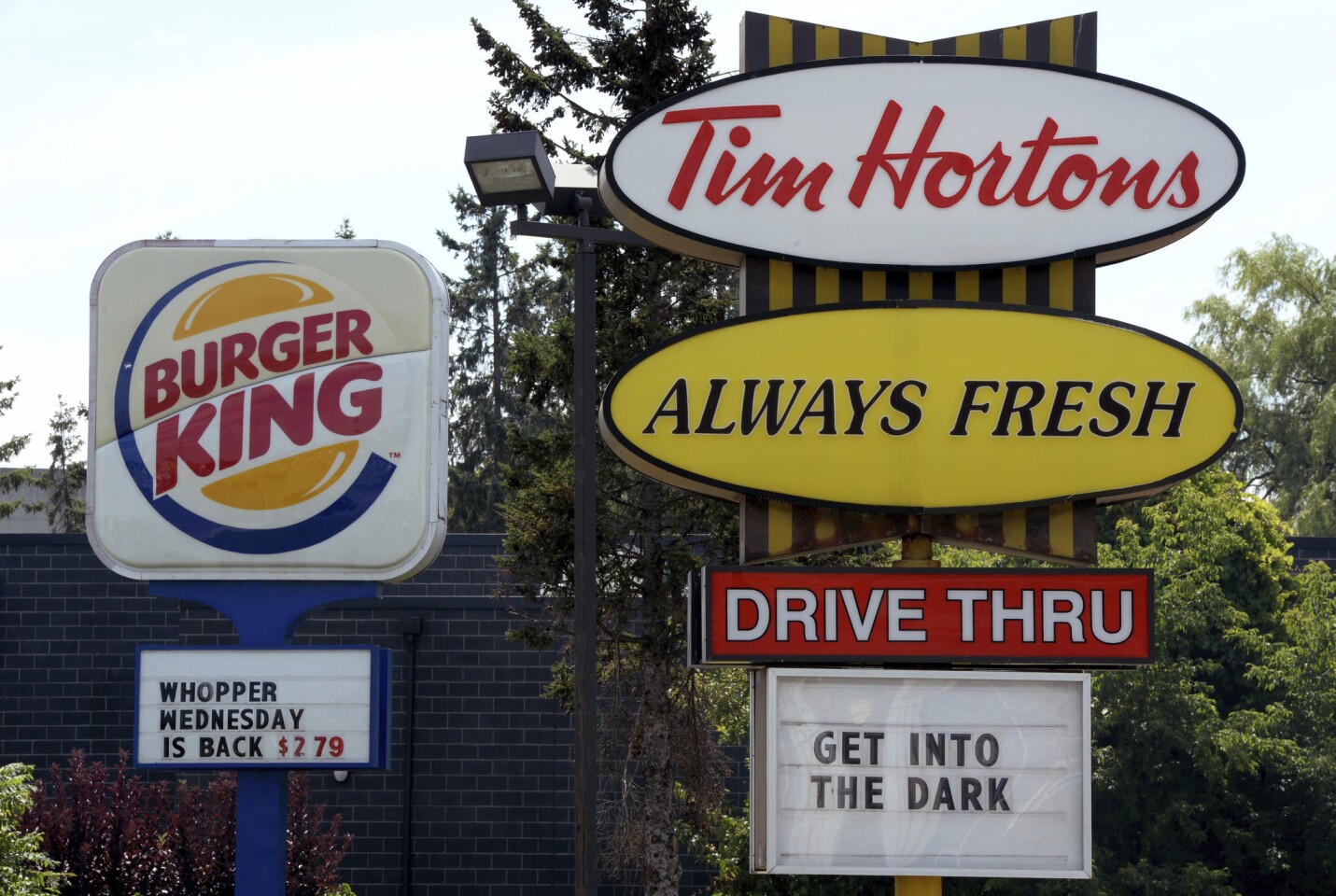 Spend any time in Canada and you will learn Tim Horton's name. He was born in Cochrane, Ontario, and became a pro hockey player for 24 years, then died in a 1974 car accident at the age of 44. In the 10 years before his death, Horton had launched a second career, opening doughnut and coffee shops. The chain had about 40 locations before Horton's death. Afterward, a partner bought out the Horton family interest and expansion accelerated. Now there are more than 4,300 Tim Horton restaurants in Canada and the U.S. This one is in Ottawa, Ontario.
(Sean Kilpatrick / Associated Press)
Many lakes in the Canadian Rockies will make you feel very, very small. This hiker is standing on a scenic lookout overlooking Moraine Lake in Alberta.
(Jordan Siemens / Getty Images)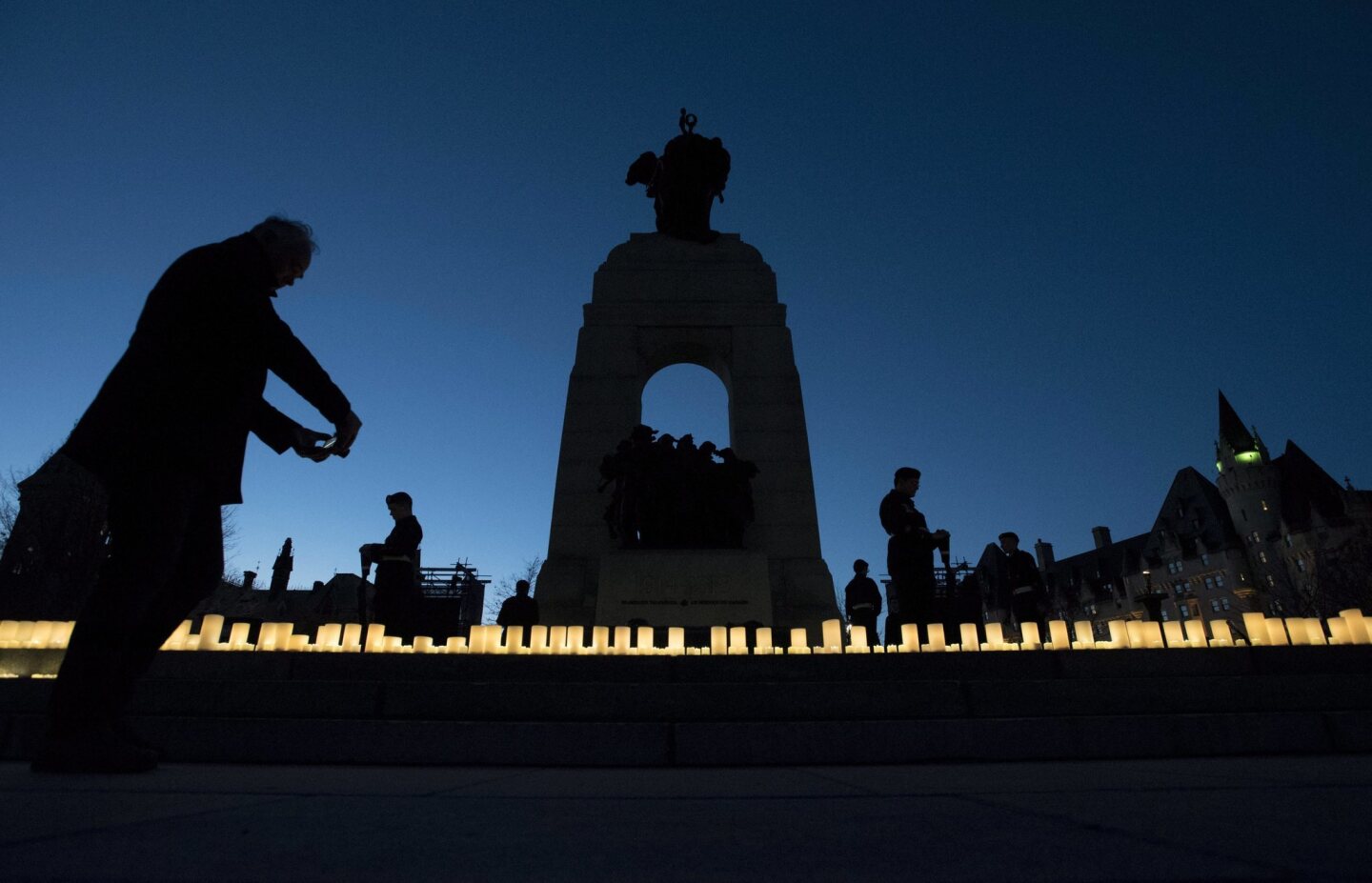 Canada sacrificed greatly in World War I. Fighting as part of the British Empire, it lost more than 60,000 Canadian soldiers from a total Canadian population of a little more than 7 million. (The U.S. lost about 116,000 from a total population of about 92 million.) Here, a man takes a photo of candles as sentries stand guard at the National War Memorial in Ottawa, Ontario, during an April 8 vigil to commemorate the anniversary of the Battle of Vimy Ridge in France.
(Justin Tang / Associated Press)
The Canadian word for Grammy is Juno. That is, the Canada Academy of Recording Arts and Sciences throws an annual awards show to celebrate the country's top musicians. The prizes are called Juno Awards. Oh, and these are the Strumbellas, winners of Group of the Year on April 2, 2017.
(Lars Hagberg / AFP/Getty Images)
Canada's parliament's front yard in Ottawa is decorated with tulips in spring. These red and white blooms dotted the front lawn of Parliament Hill, where grand buildings have stood since the mid-19th century.
(Adrian Wyld / Associated Press)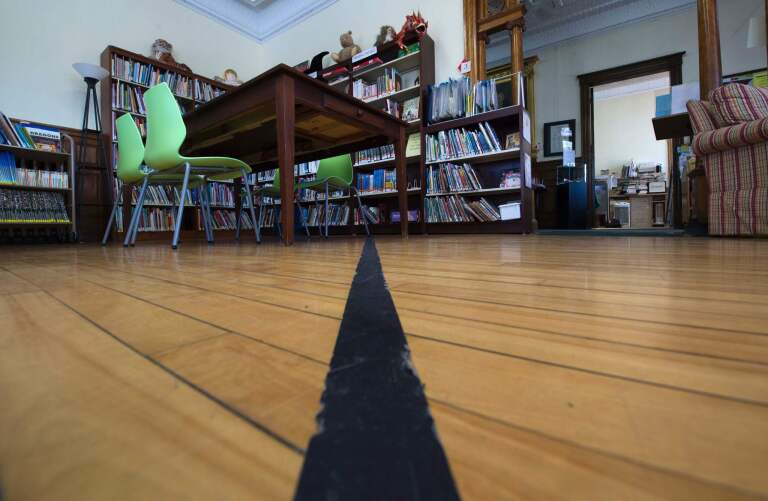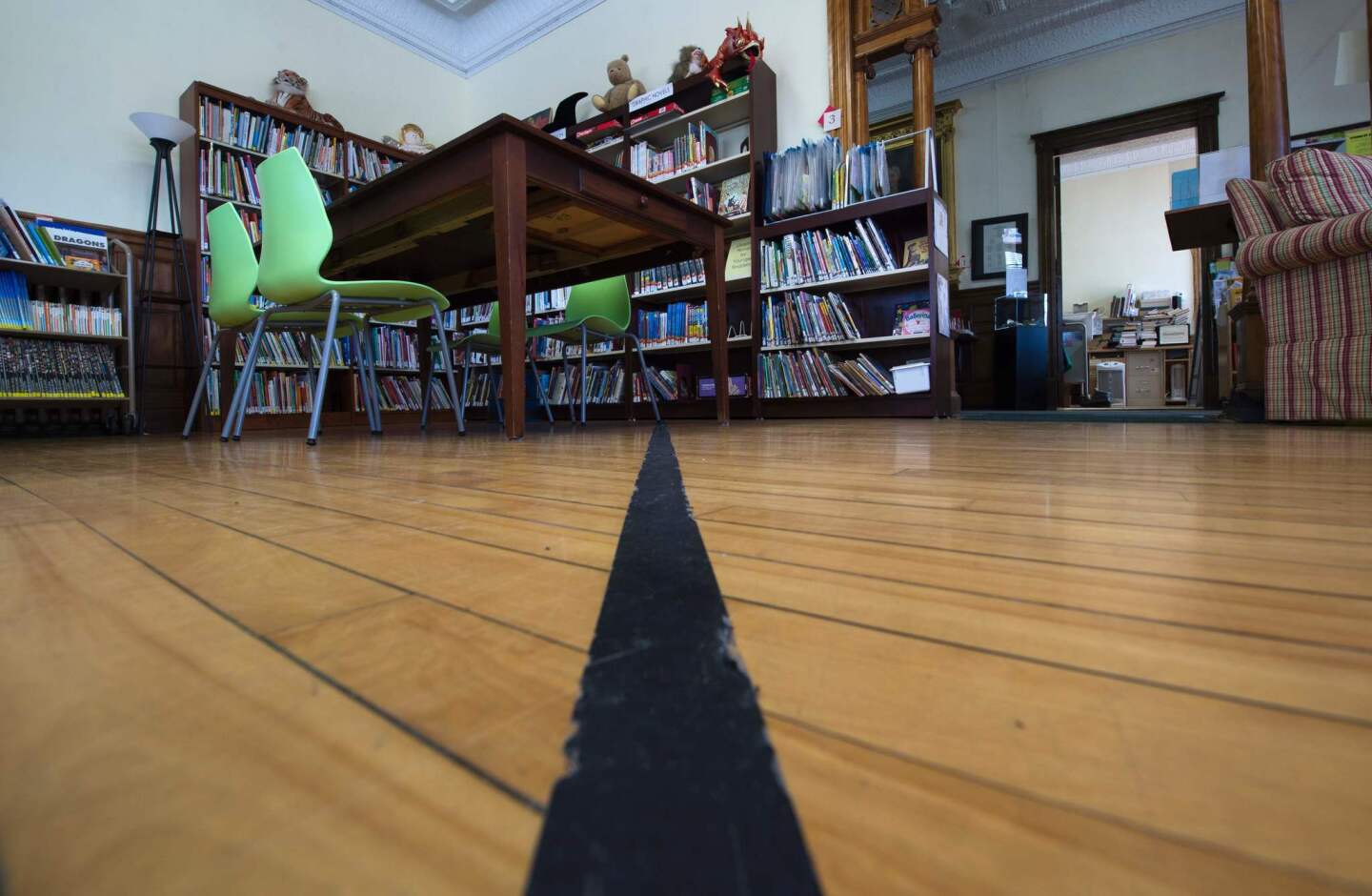 There's a spot, along the line between Vermont and the Canadian province of Quebec, where a library stands astride the border. This is it: the Haskell Free Library and Opera House of Stanstead, Quebec (left) and Derby Line, Vt. (right). The neoclassical building was designed to straddle the border. Black tape marks the line.
(Don Emmert / AFP/Getty Images)
The fences aren't always obvious along the U.S.-Canada border. Here, a boundary stone marks the crossing between Beecher Falls, Vt., and East Hereford, Quebec.
(Don Emmert / AFP/Getty Images)
Like many states in the U.S., Canada has been rethinking its marijuana laws. Here, two women smoke weed on Parliament Hill in Ottawa, Ontario, on April 20, 2017. Recent polling shows strong support in Canada for legalization, but opinions vary on what the minimum age to partake should be.
(Lars Hagberg / AFP/Getty Images)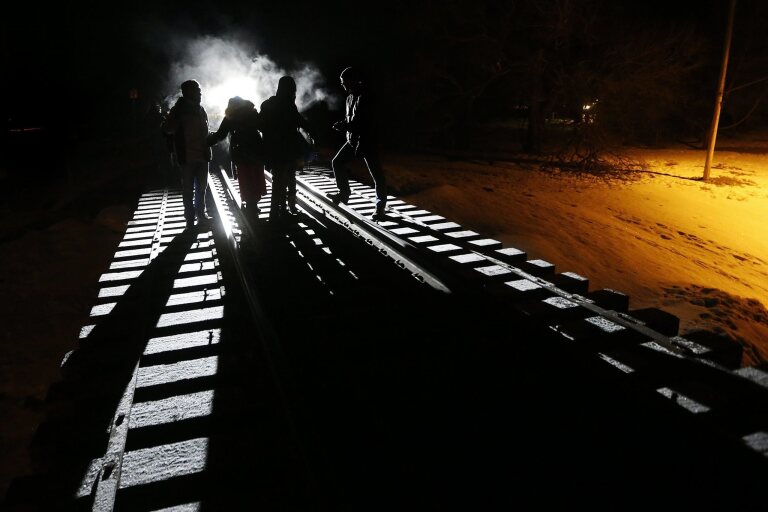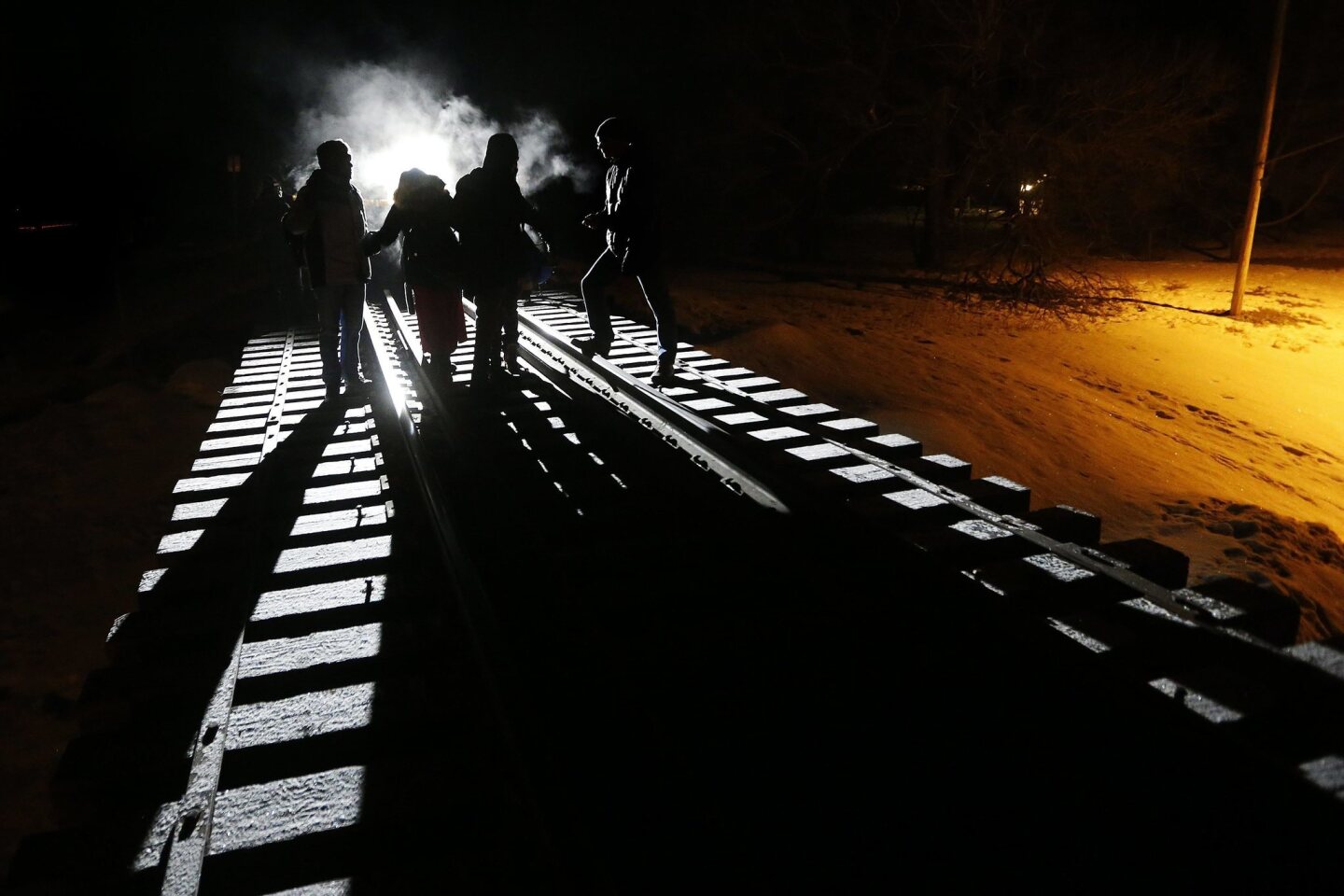 Just as the U.S. has border troubles, so does Canada. In this image from early Sunday morning, Feb. 26, 2017, eight migrants from Somalia cross into Canada illegally from the U.S. by walking down a train track into the town of Emerson, Manitoba. In Emerson, they sought asylum at Canada Border Services Agency.
(John Woods / Associated Press)
The waters off Newfoundland are known as "iceberg alley."
(Paul Daly / AP)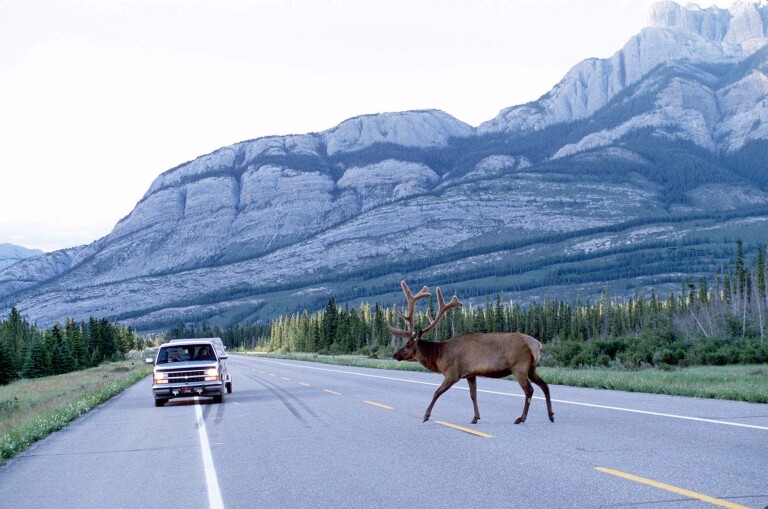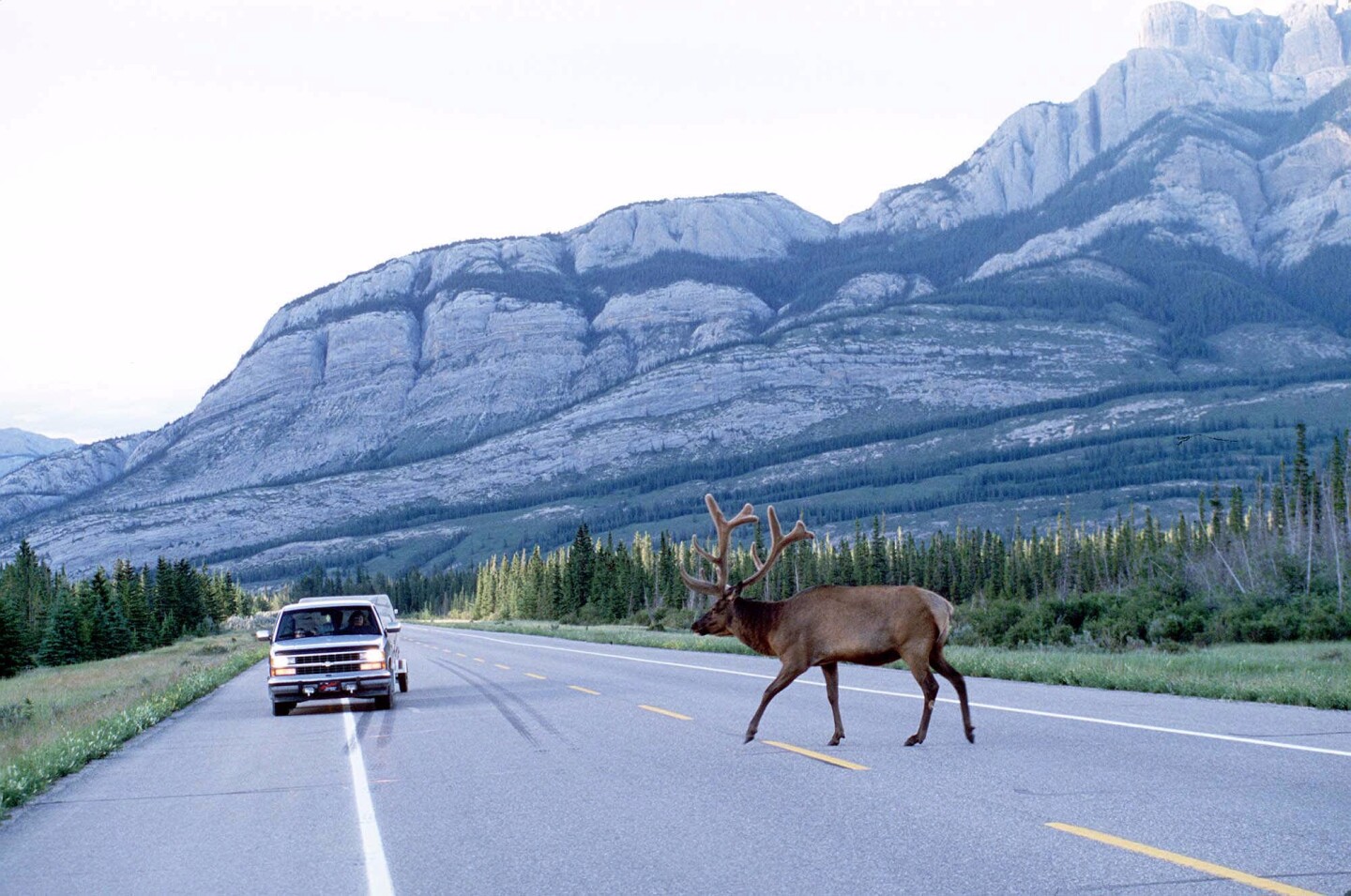 On the road in the Canadian Rockies, you can never be sure that you have the highway to yourself. Here, an elk crosses in front of a vehicle on a road that runs through Alberta's Jasper National Park. Although the park covers 4,200 square miles, man and animal often cross paths, especially at dusk, when animal activity increases.
(Karen Schwartz / Associated Press)
Public institutions that display art — which we usually call museums in the U.S. — are often known as galleries in Canada. The Art Gallery of Alberta, housed in a curvy 2010 building, brings a contemporary edge of the skyline of Edmonton. Architect Randall Stout of Los Angeles intended the ribbons of steel to echo the forms of the North Saskatchewan River and the Aurora Borealis in the winter sky.
(Michael Wheatley / Getty Images/All Canada Photos)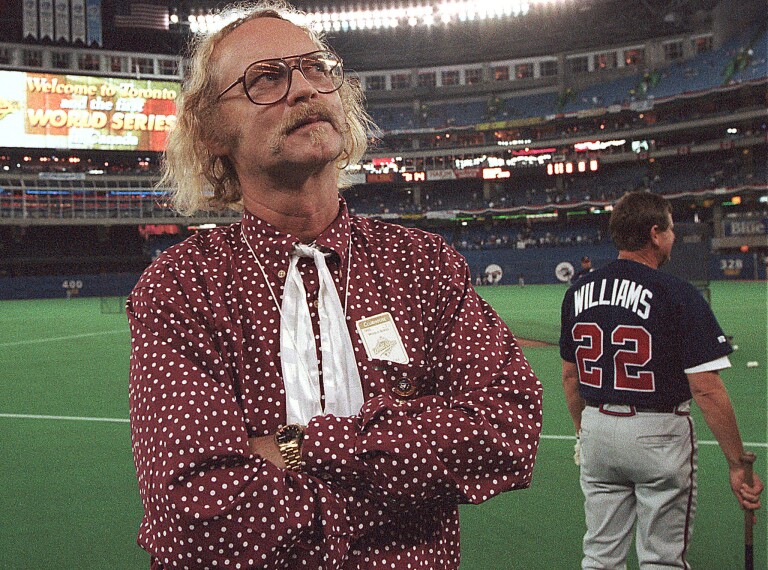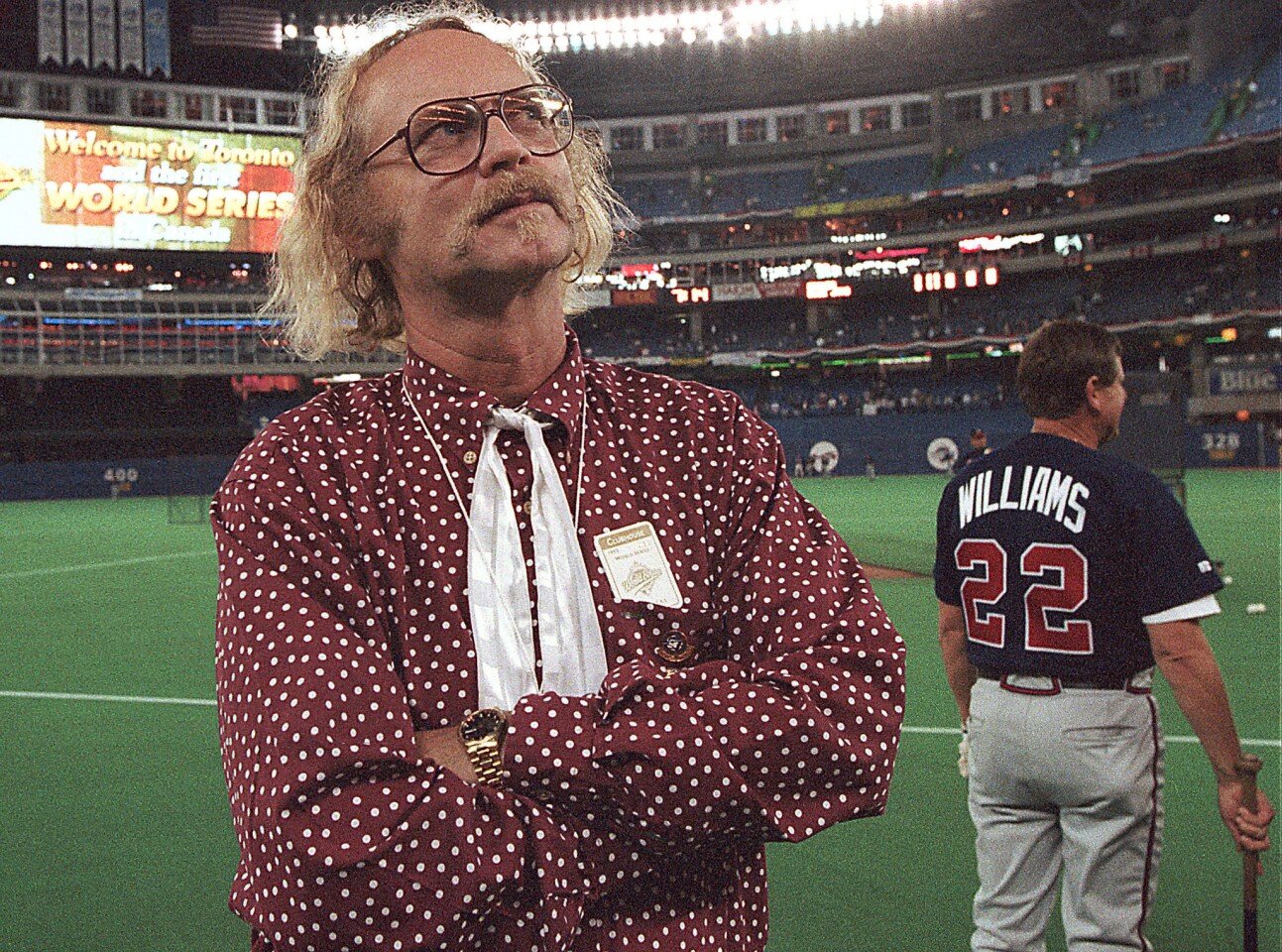 One of America's best-loved baseball stories came from the brain of a Canadian. This 1992 photo shows Canadian author W.P. Kinsella standing on the field before a World Series game between the Toronto's Blue Jays and the Atlanta Braves. Kinsella wrote the 1982 novel "Shoeless Joe," which became the film "Field of Dreams." He died in 2016 in Hope, British Columbia, at age 81.
(Rusty Kennedy / Associated Press)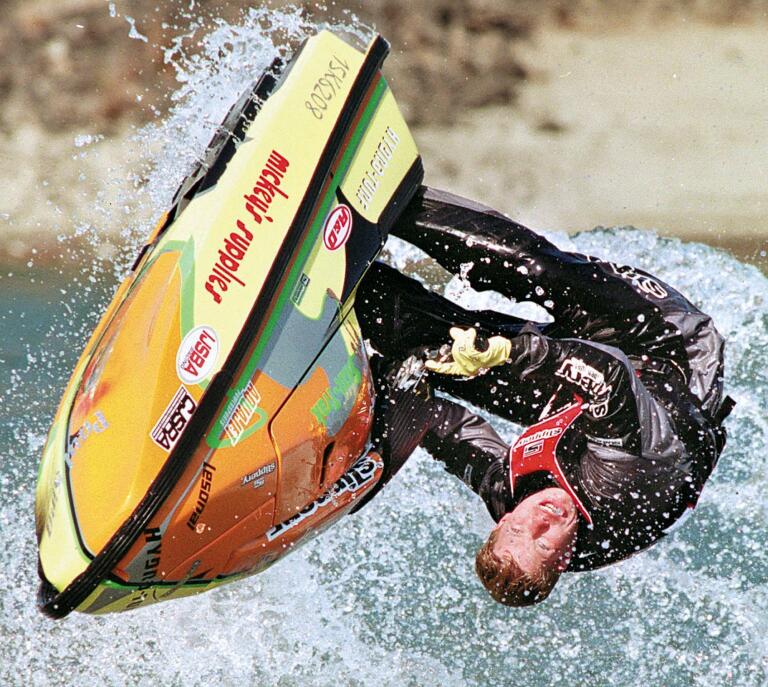 Hockey, skiing, snowboarding, curling and sledding may dominate the winters, but in the summer, many Canadians reach for their personal watercraft. Here, Paul King of Kamloops, British Columbia, flips on the Thompson River in Kamloops. The Western Canadian Watercross Assn. is staging several competitions in 2017.
(Keith Anderson / Associated Press)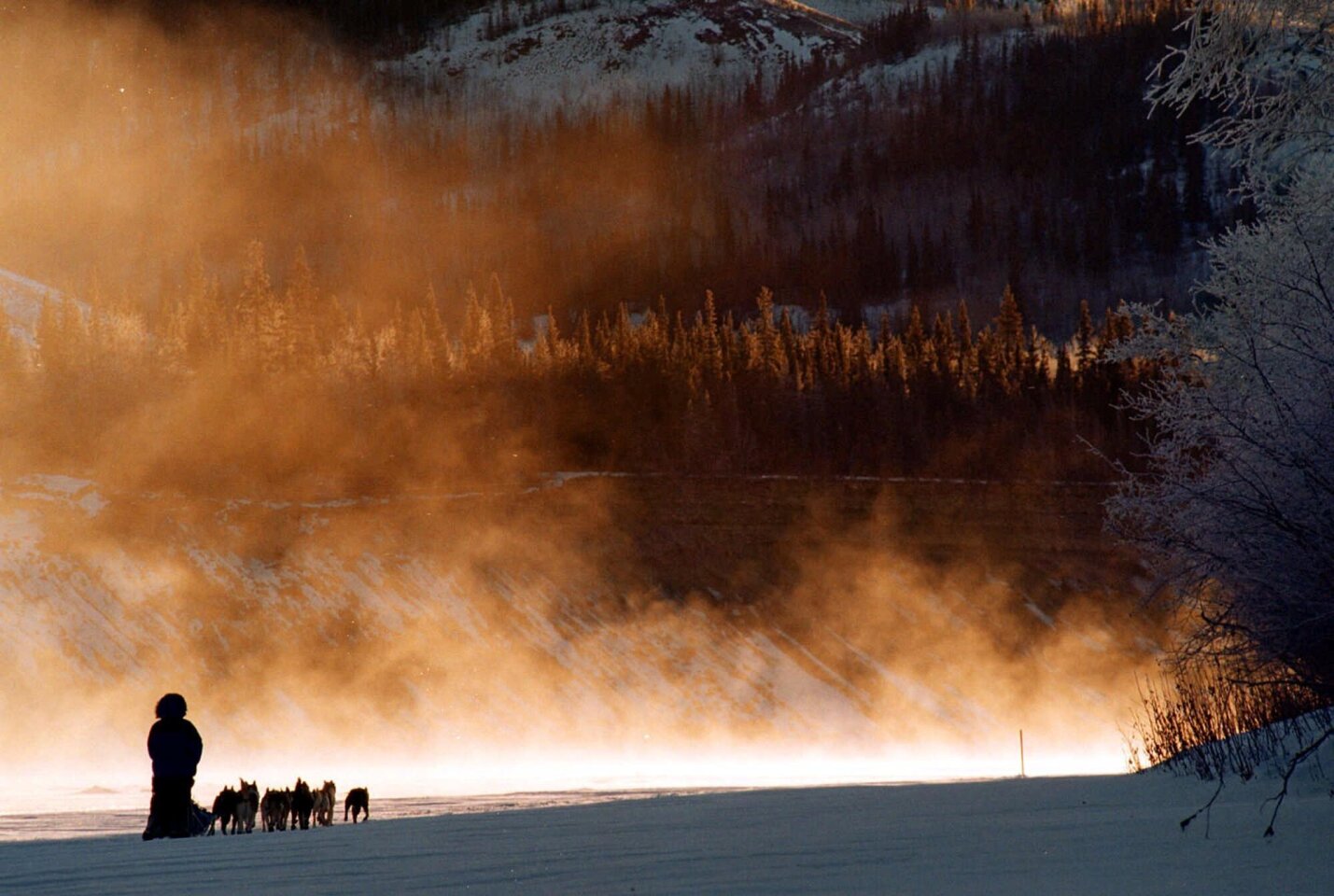 The Yukon Quest International Sled Dog Race is a 1,000-mile international journey between Fairbanks, Alaska, and Whitehorse in Canada's Yukon Territory. Just 14 teams completed the race in early 2017. In this scene from 2000, Thomas Tetz, of Tagish, Yukon Territory, makes his way along the Yukon River.
(Erick Simanis / Associated Press)
Most of the long border between Canada and the U.S. is on land. But to cross into Fort Kent, Maine (foreground), from Clair, New Brunswick (distance), you'll need to take this international bridge. Or, on a properly cold day, you could skate.
(Don Emmert/ AFP/Getty Images)
Amid global temperature fluctuations in recent years, there have been increasing reports of polar bears straying south from their traditional Arctic territory. Here, a polar bear cub sleeps with its mother on the frozen tundra on the edge of the Hudson Bay near Churchill, Manitoba.
(Paul J. Richards / AFP/Getty Images)
Air and water, cooling and warming in Canadian weather, can create some amazing spectacles. And about 15% of the province of Ontario is fresh water. Here, mist rises near two hikers at Lake Ontario during extreme cold weather in Toronto in February 2016.
(Mark Blinch / Associated Press)
Once you're north of the 49th parallel, curling becomes serious business. Here, New Brunswick's Mike Kennedy performs a feat known as "releasing a rock" against Northwest Territories at the Tim Horton's Brier curling championship in St. John's, Newfoundland and Labrador, on March 4, 2017.
(Andrew Vaughan / Associated Press)
Believe it or not, there are parts of Canada that can be mistaken, at first glance, for Thailand. These are the Hopewell Rocks at Chocolate River, on the Bay of Fundy, New Brunswick.
(Education Images / UIG via Getty Images)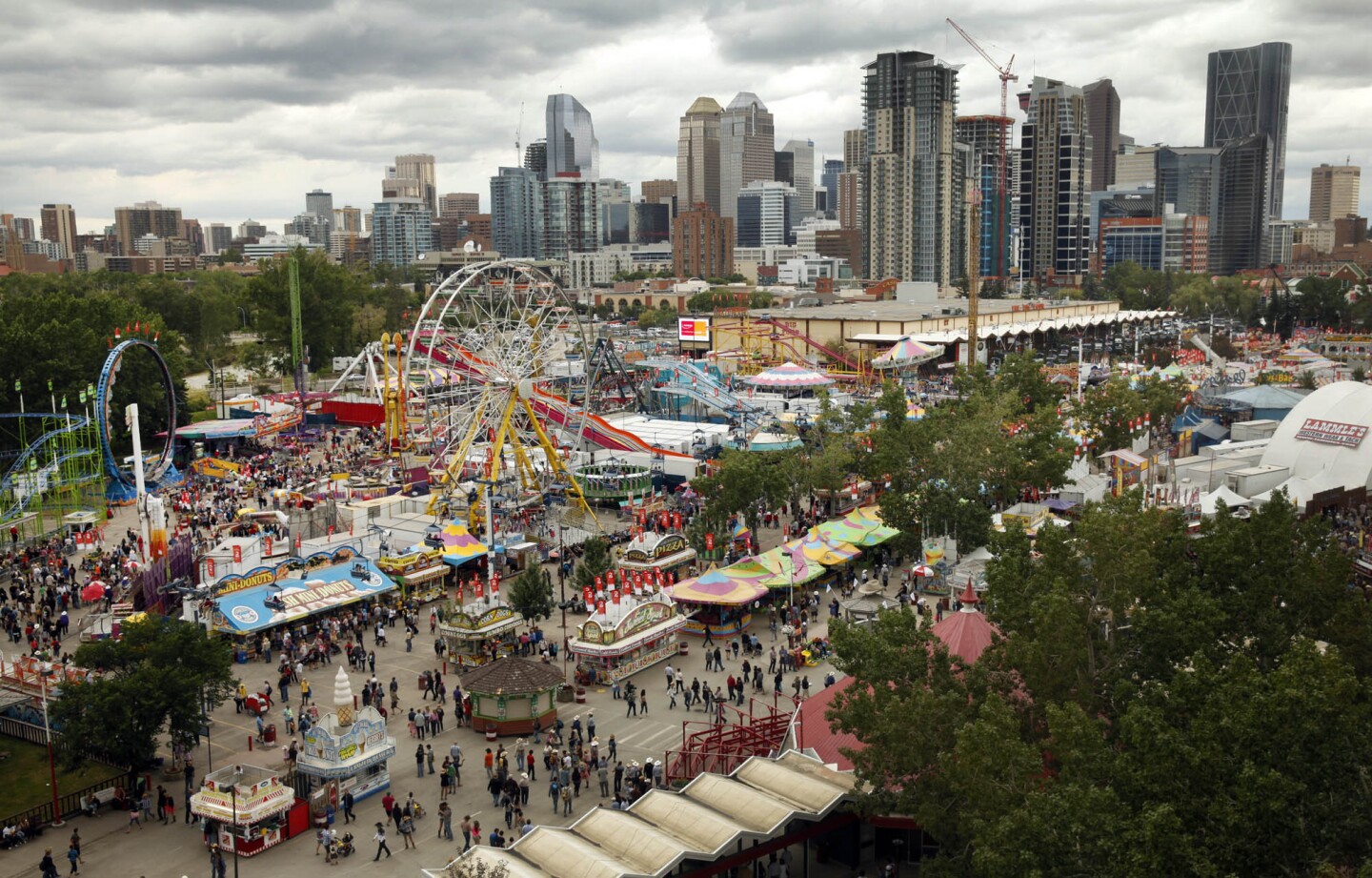 The Calgary Stampede, held each summer within walking distance of the city's business district, drew attendance of 1,088,000 in 2016. That sounds like a lot. But the Calgary Sun reported that total, blamed on rain and recession, was the lowest in 22 years.
(Al Seib / Los Angeles Times)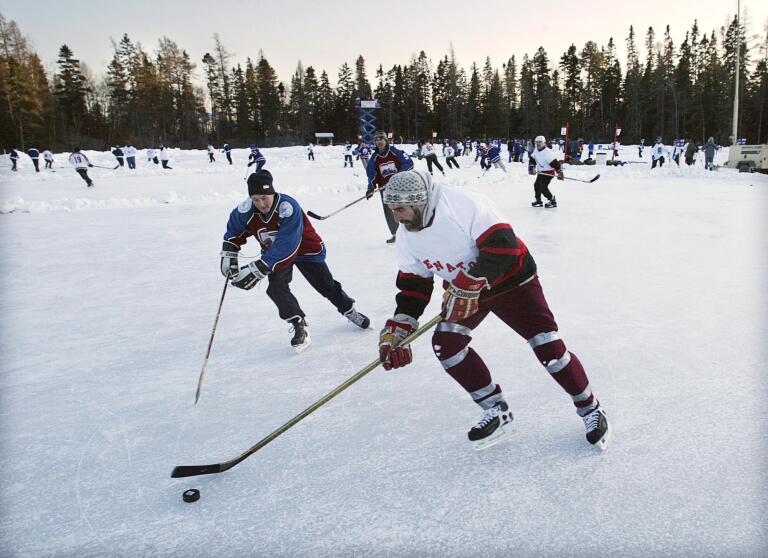 Pond hockey is a thing. And not a small one. Here, players battle for the puck during the first round of the World Pond Hockey Tournament in Pastor Rock, New Brunswick, Canada, in 2005. The 2017 tournament drew more than 100 teams.
(Ryan Remiorz / Associated Press)
These seaside structures in eastern Canada are known as "fishing stages." This one stood in the town of L'Anse aux Meadows on the northern tip of Newfoundland.
(Rolf Hicker / Getty Images/All Canada Photos)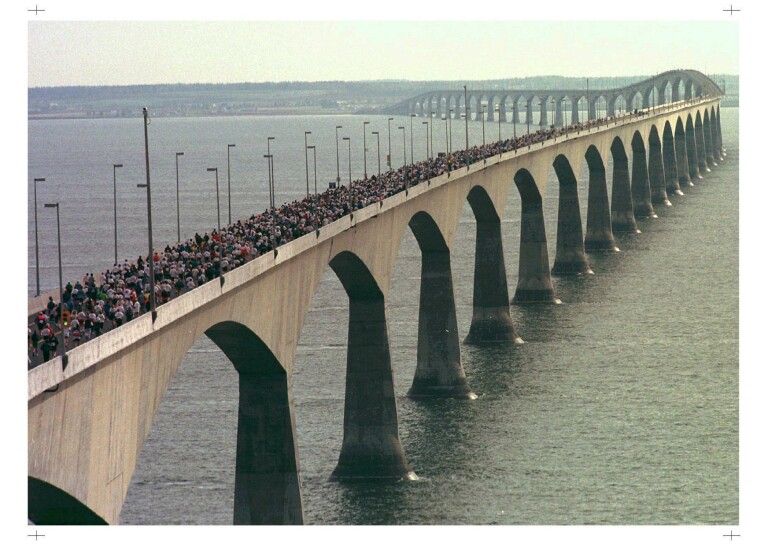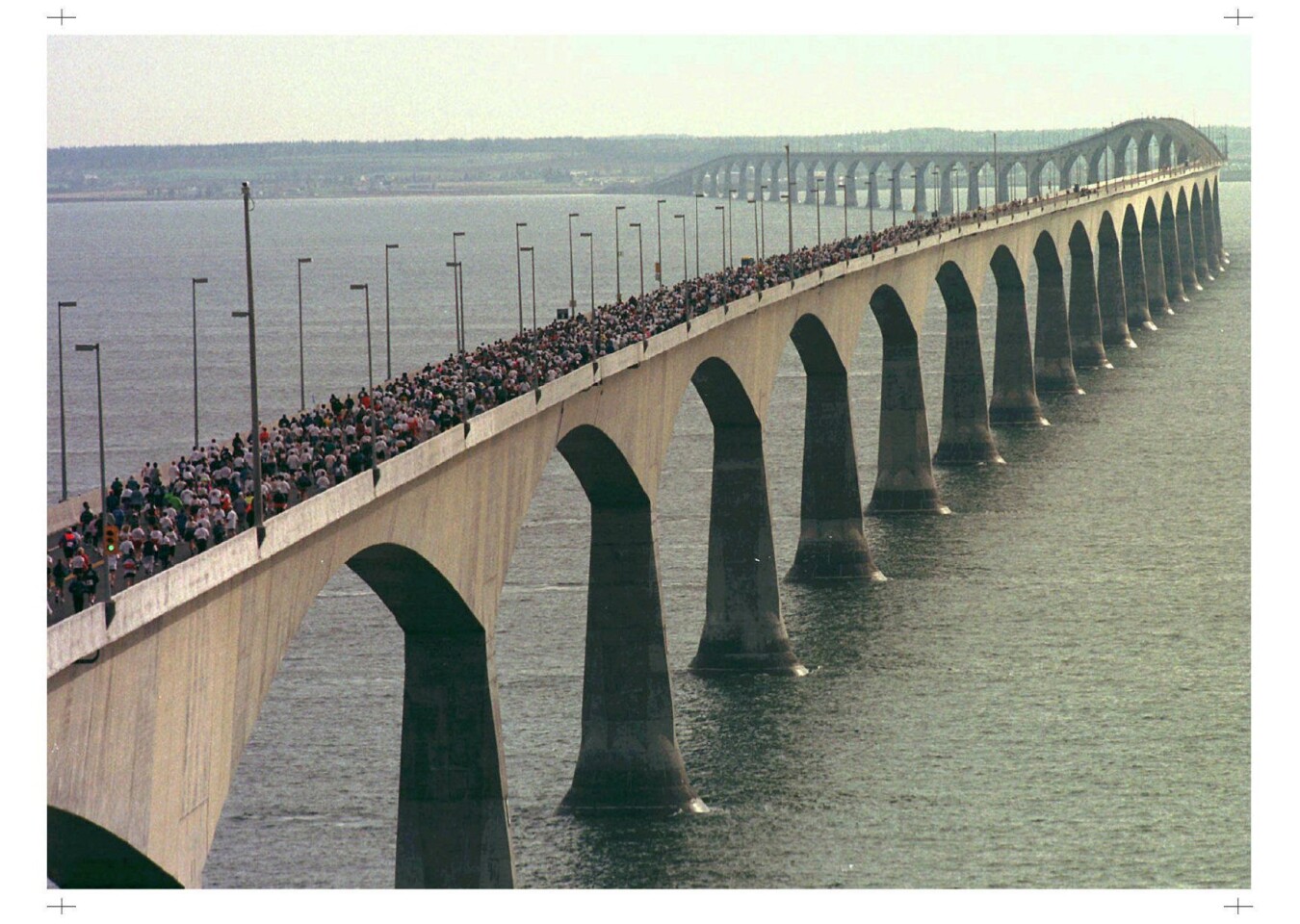 For a single day, Canada's Confederation Bridge was pedestrian only. On May 30, 1997, some 2,500 runners passed from Prince Edward Island to New Brunswick on the newly completed span on the Northumberland Strait. Since then, the eight-mile-long bridge has been open to cars.
(Andrew Vaughan / Associated Press)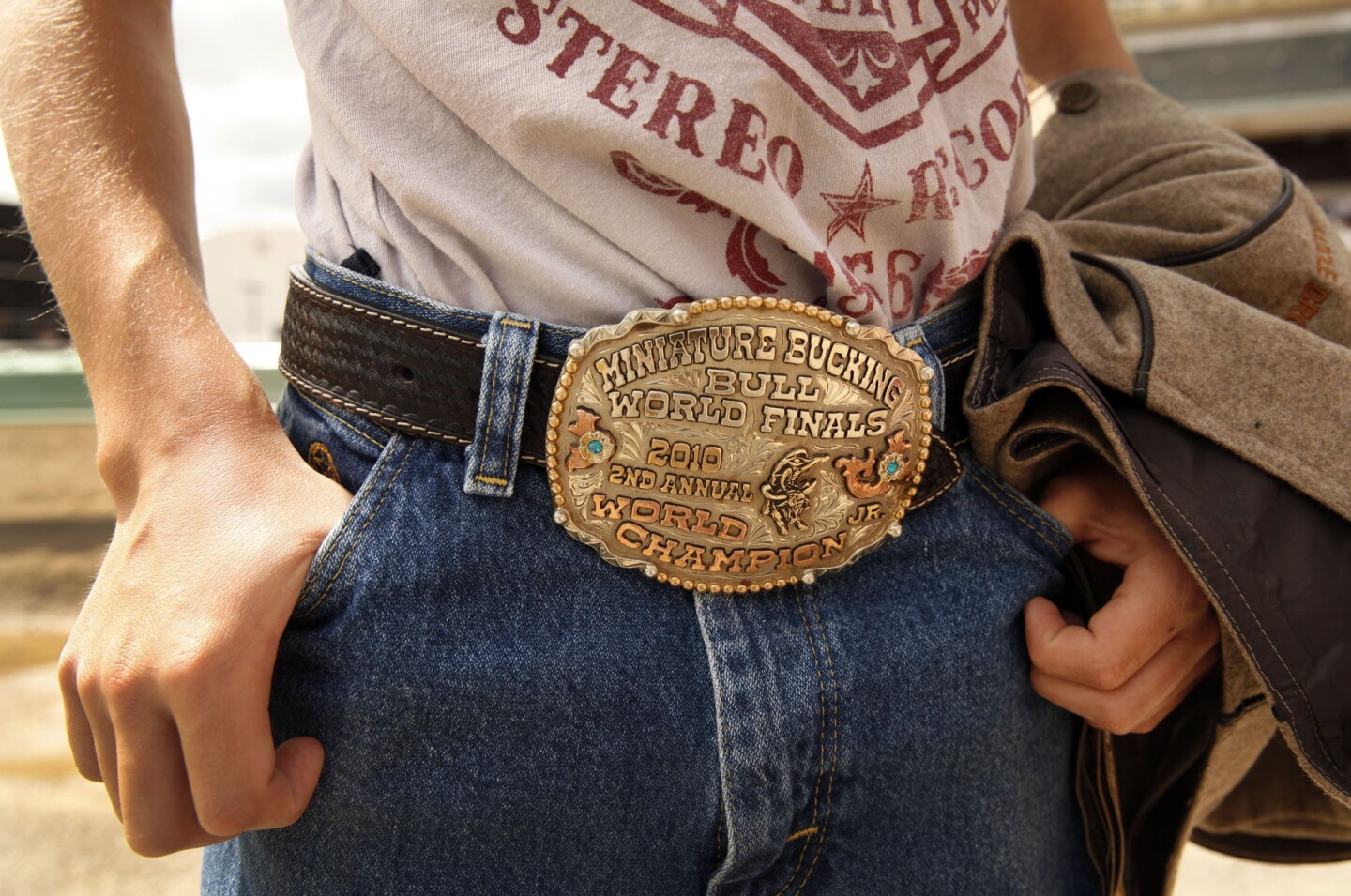 Some of the world's largest belt buckles are found in western Canada. Specifically Alberta. Most specifically at the Calgary Stampede, where specimens like this are handed out to winning rodeo competitors. This buckle belonged to a 13-year-old cowboy.
(Al Seib / Los Angeles Times)
The Mackenzie River, more than 1,000 miles long, is the largest, longest river system in Canada. A resident of Fort Simpson, in the Northwest Territories, walks along the Mackenzie as the sun sets over the town.
(Genaro Molina / Los Angeles Times)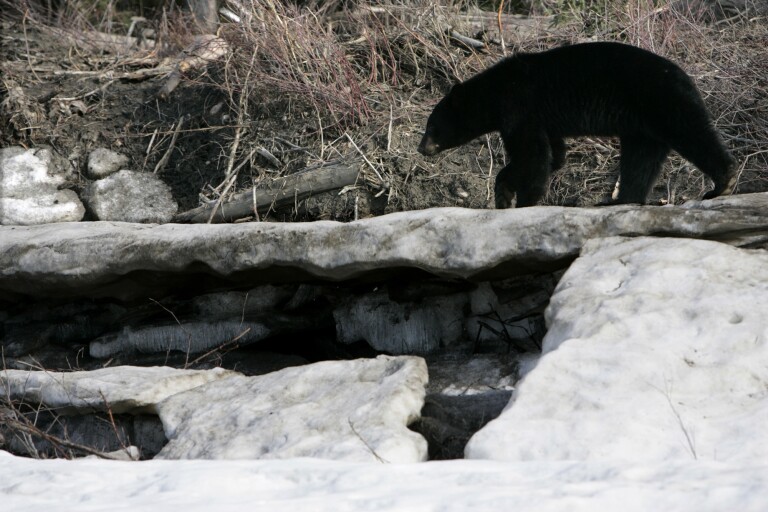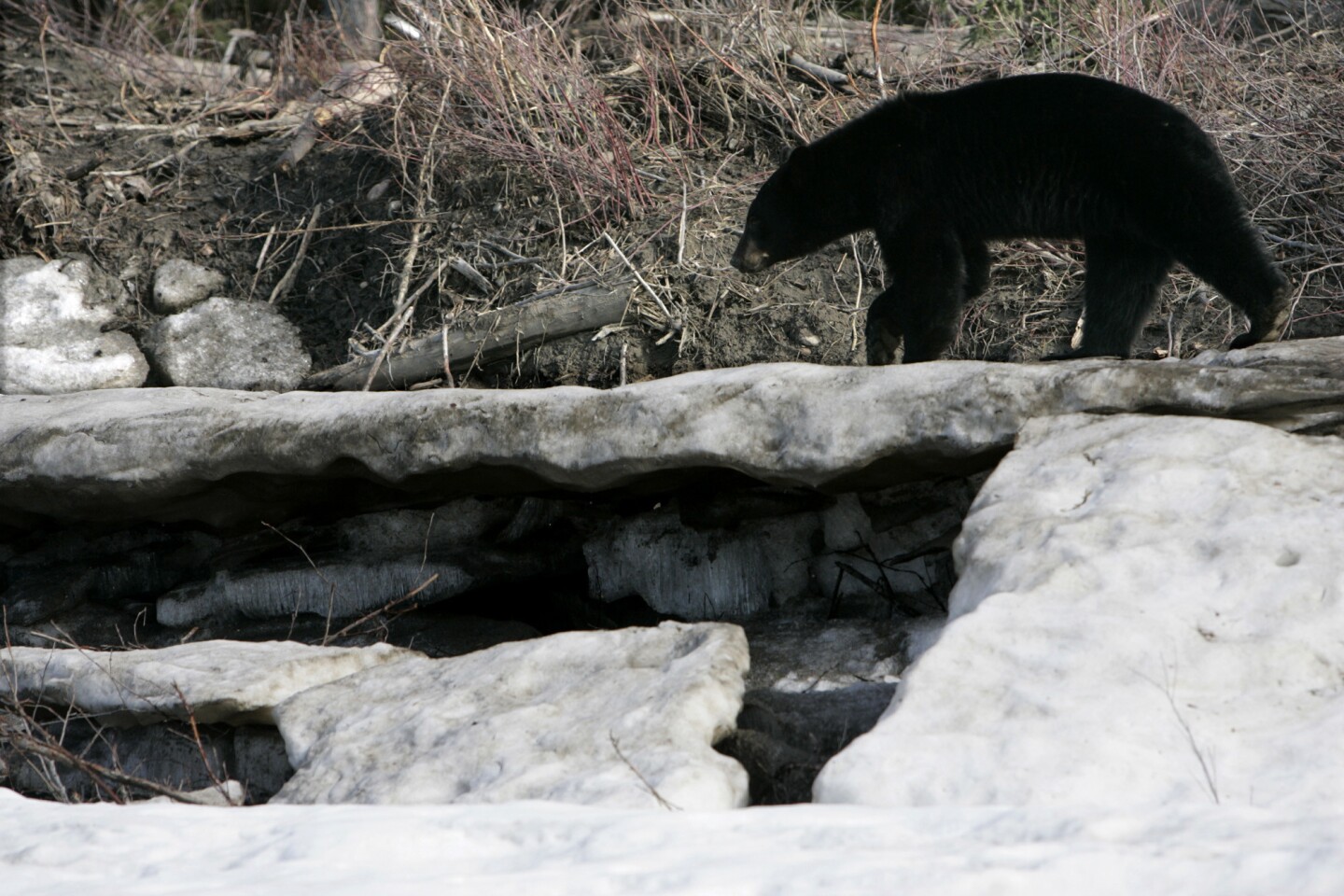 The Mackenzie River region is rich in wildlife. Here a black bear walks on a bank of ice along the river south of Fort Simpson, Northwest Territories, in 2006. Minks, moose, caribou, beavers and wolverines dwell nearby, too.
(Genaro Molina / Los Angeles Times)
Canada's youngest territory is Nunavut, born in a split from the Northwest Territories in 1999. Here, fireworks light up the sky over Iqaluit, Nunavut's capital, on its first day as a separate entity, April 1, 1999. Nunavut, whose population is mostly Inuit, is the product of the largest land-claims settlement in Canada's history.
(Kevin Frayer / Associated Press)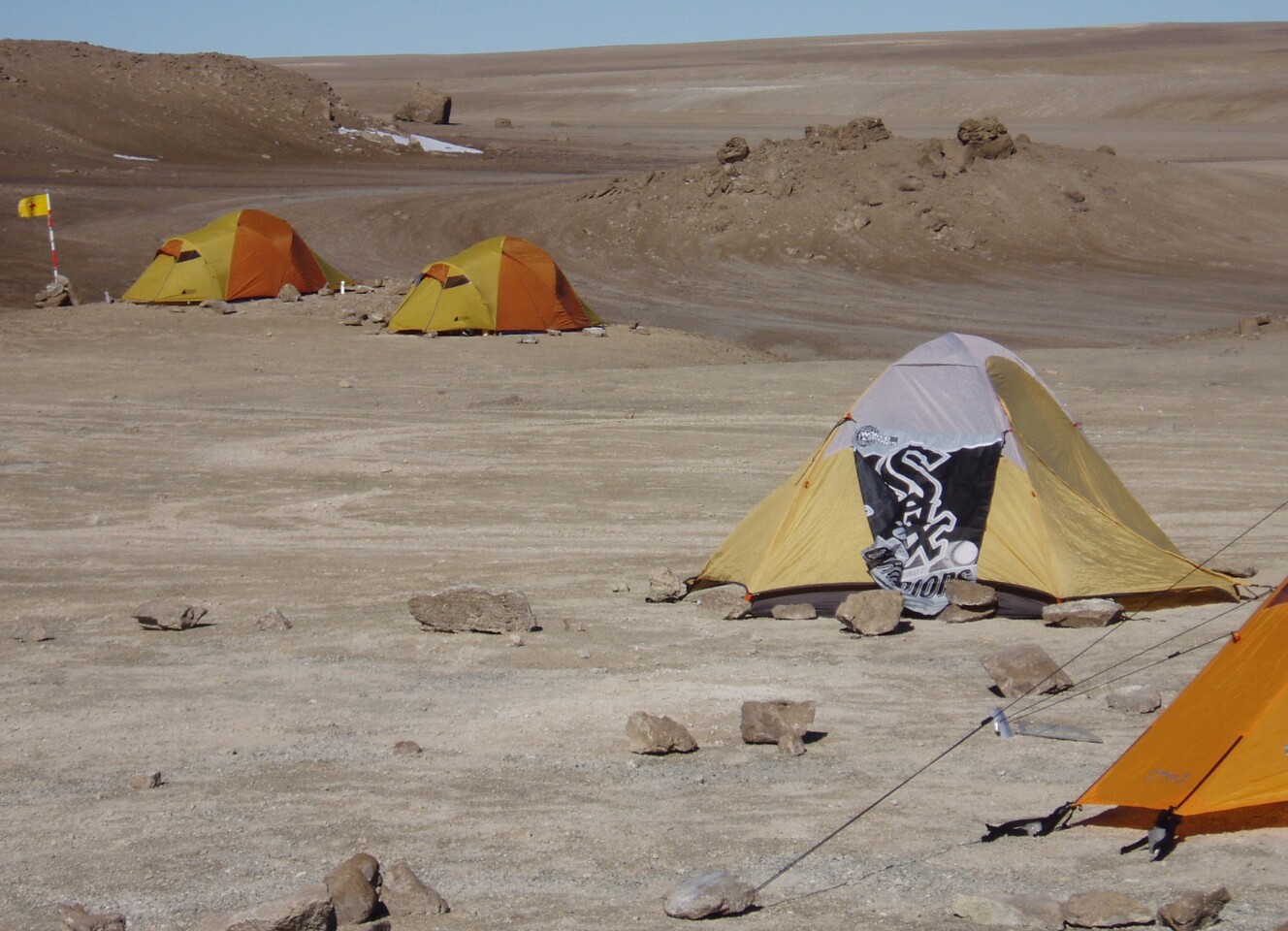 The road to Mars apparently leads through Canada's Arctic north. These tents were pitched on the rocky ground near the Haughton Impact Crater on Devon Island, Nunavut, in July 2006, where scientists conducting Mars-related research slept during their visit. The tent in the foreground — the one with the Chicago White Sox banner — belonged to Dr. Richard Scheuring, a NASA flight surgeon and native Chicagoan. A private group called the Mars Society runs a simulated Mars outpost in Canada's High Arctic each summer.
(Howard Witt / Chicago Tribune)
Yes, there really are igloos in Canada. But in many circles, "iglu" is the preferred spelling. Especially in Nunavut, to the north. In this shot from 1999, Lypa Pitsiulak, an Inuit living in the Opingivik area of Nunavut, covers the opening of an iglu — that's Inuktitut for igloo — which he constructed on an ice floe. Behind Pitsiulak is an "inuksuit," a human shape used by the Inuit as a landmark.
(Stephan Savoia / Associated Press)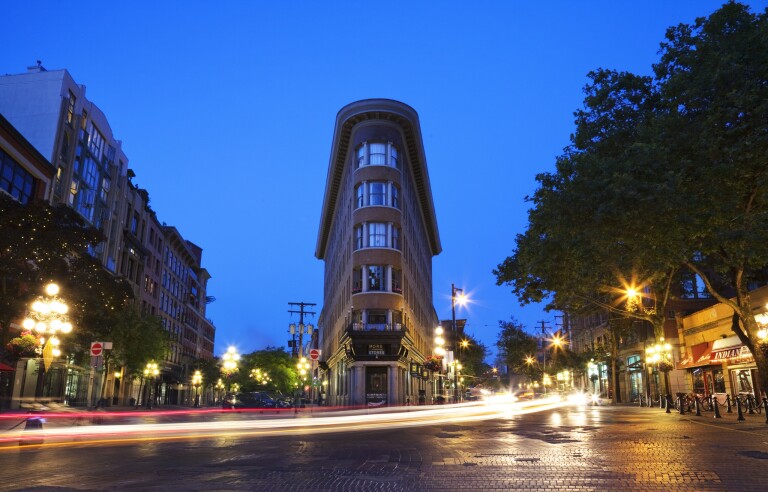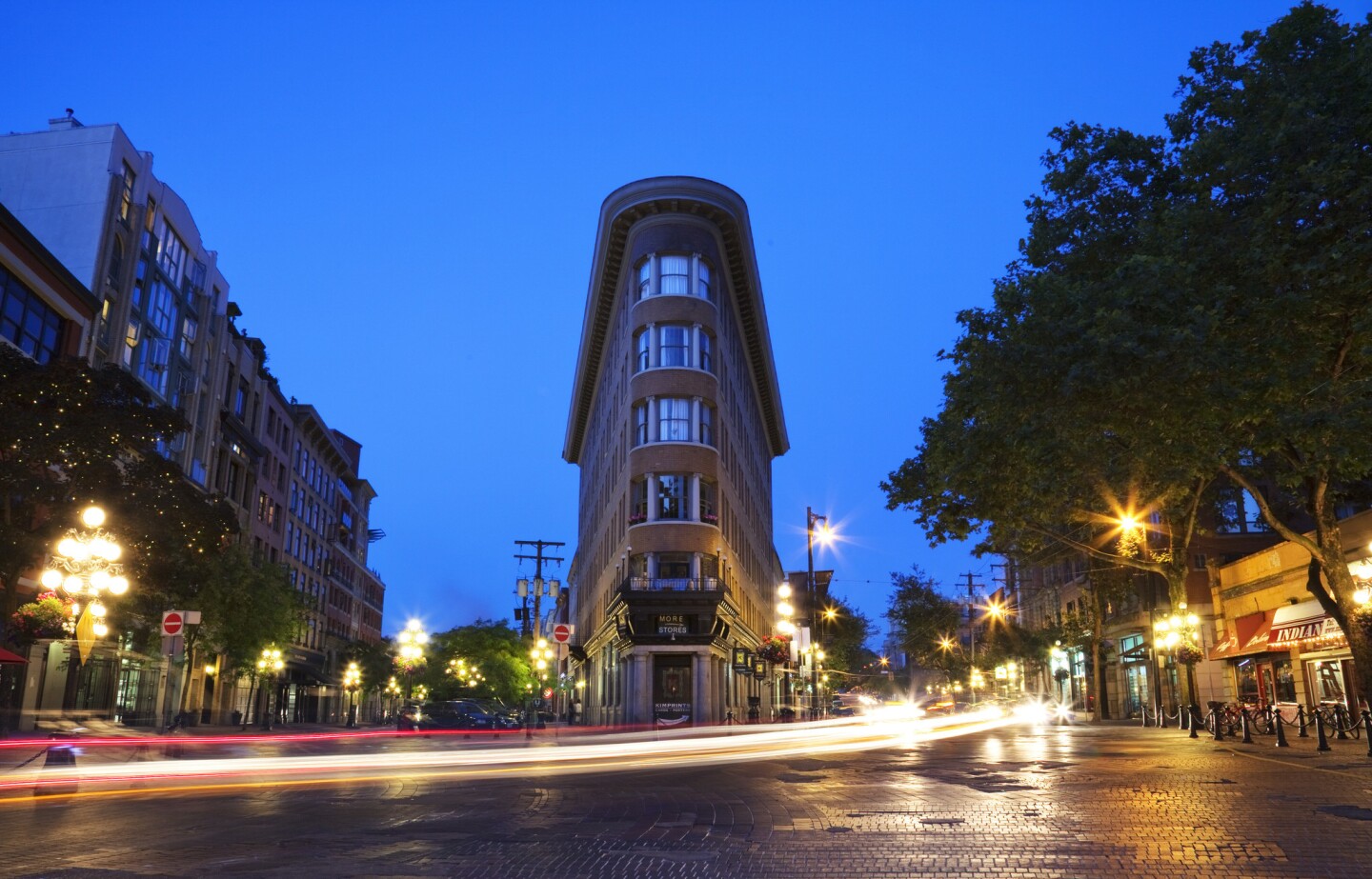 Vancouver's Gastown is full of fun architecture. Here stands the Hotel Europe, whose three-sided "flatiron" building was built in 1908 and 1909.
(Martin Child / Getty Images)
There is a sport they do in Canada besides hockey and curling and hockey and football and hockey and skiing: rodeo. These competitors were part of the 2013 Calgary Stampede rodeo.
(Al Seib / Los Angeles Times)
Besides parades, rodeo events and unhealthy food, the Calgary Stampede features sheep shearing. These sheep and shearers were part of the opening weekend in 2013.
(Al Seib / Los Angeles Times)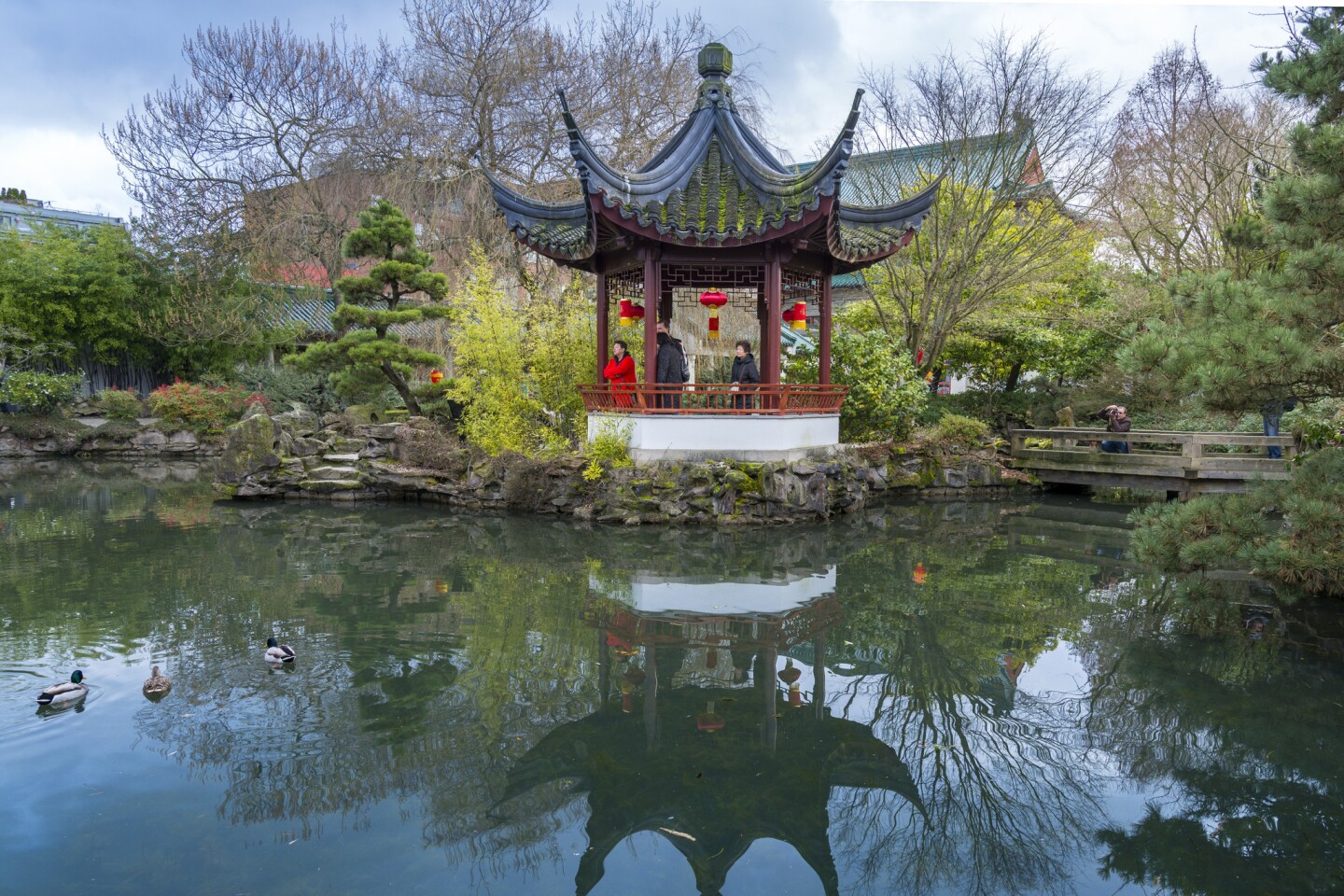 Vancouver has one of the biggest Chinatowns in North America. Here, a pagoda casts its reflection at the neighborhood's Dr. Sun Yat-Sen Classical Chinese Garden.
(Michael Wheatley / Getty Images/All Canada Photos)
Horsemanship is a central element in the annual Calgary Stampede, which includes a rodeo. These riders were part of opening ceremonies for the 2013 Stampede.
(Al Seib / Los Angeles Times)
Canada's Mounties, officially the Royal Canadian Mounted Police, go back to the 1870s, and their telltale red jackets are known as "the red serge." Here, a gaggle of Mounties is seen marching through downtown Calgary in a parade that was part of the 2013 Calgary Stampede.
(Al Seib / Los Angeles Times)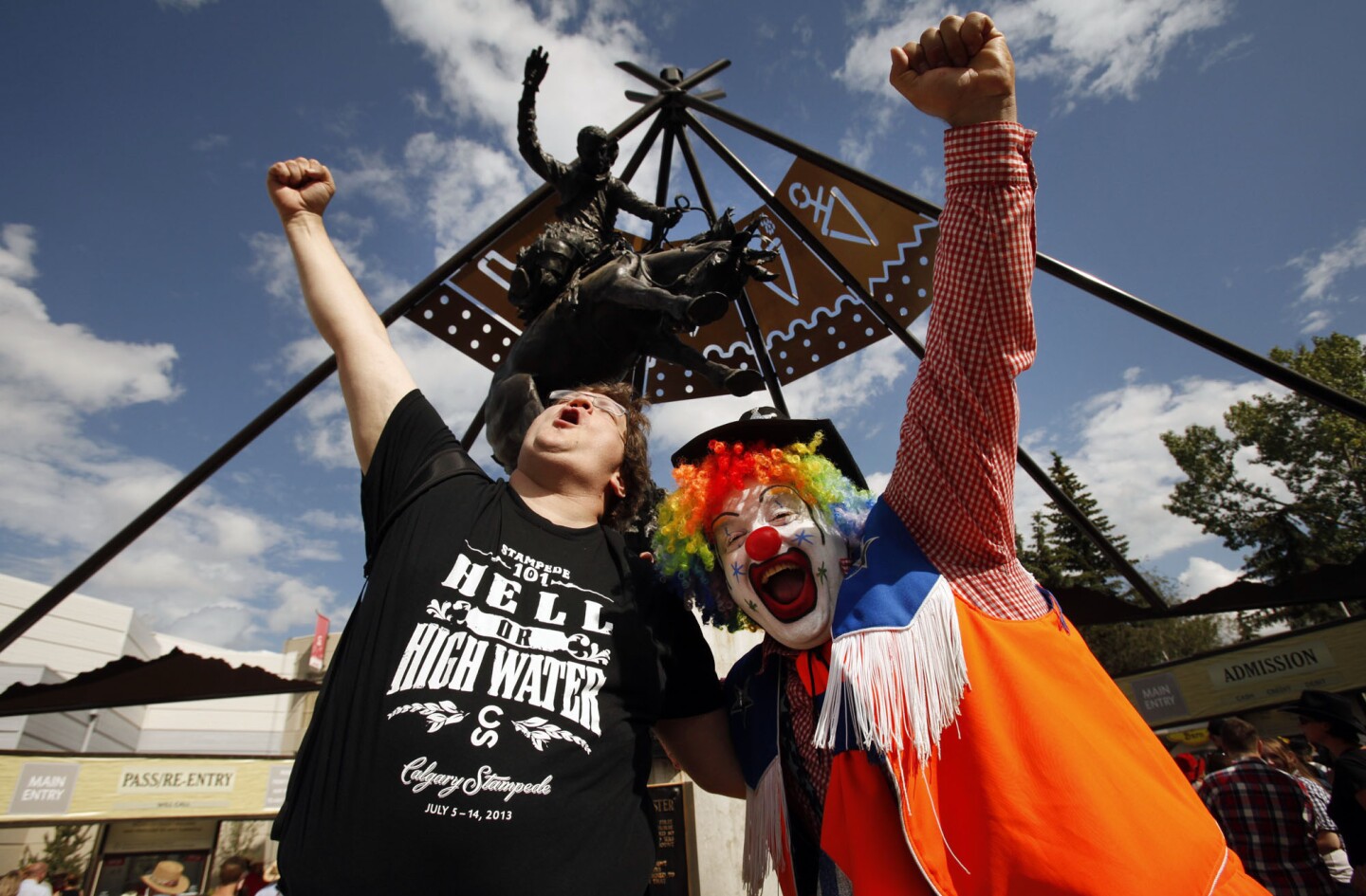 Doo Doo is big in Alberta. Doo Doo is a clown -- a fixture of the yearly Calgary Stampede. Here, he and a new friend are celebrating the decision to go on with the 2013 Stampede despite record flooding.
(Al Seib / Los Angeles Times)
Porteau Cove Provincial Park, about 27 miles north of Vancouver, is a popular destination for scuba divers, who can explore a shipwreck and artificial reefs hidden within Howe Sound.
(Karen Massier / Getty Images / iStockphoto)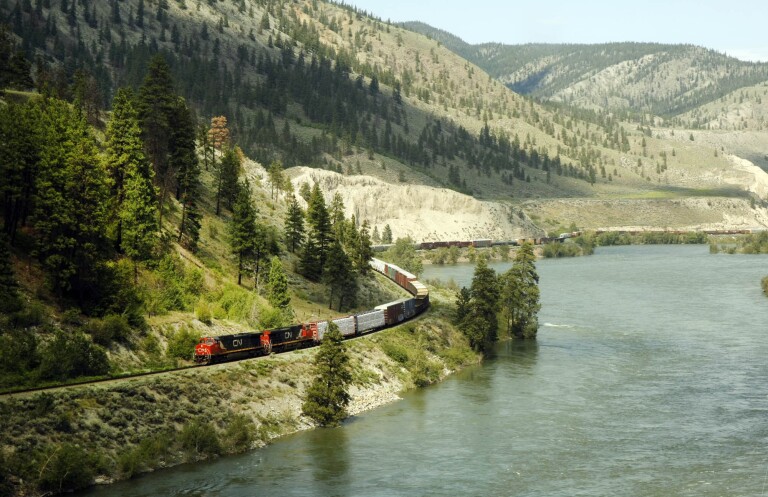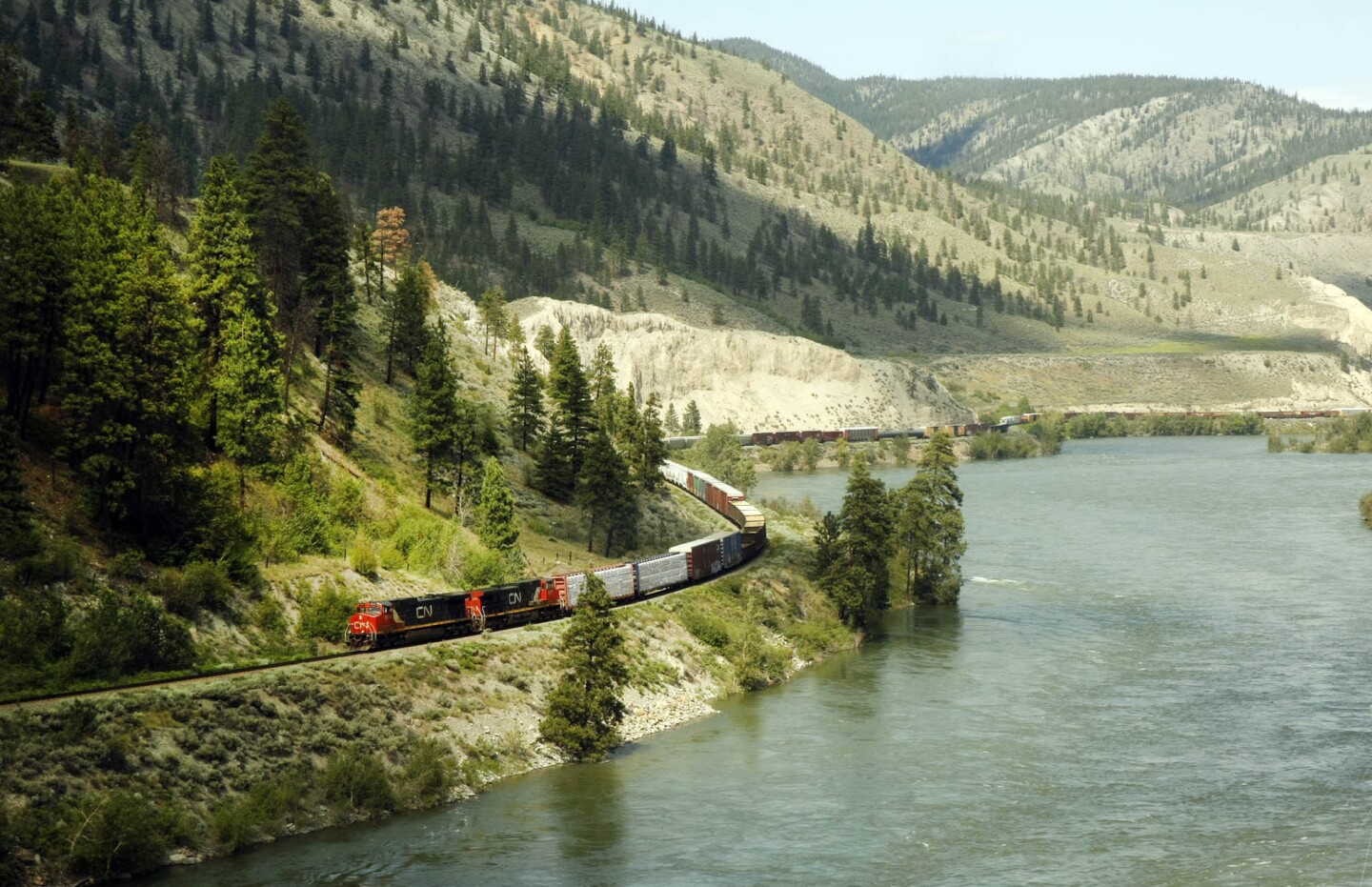 Mountains, lakes and rivers complicated the job of extending rail service through the Canadian Rockies to the West Coast. But the job was done by the 1880s and traffic continues. These days, VIA Rail Canada offers service between Vancouver and Banff and beyond; it's the country's main passenger rail provider. The Rocky Mountaineer specializes in upscale Western trips through that dramatic landscape.
(Al Seib / Los Angeles Times)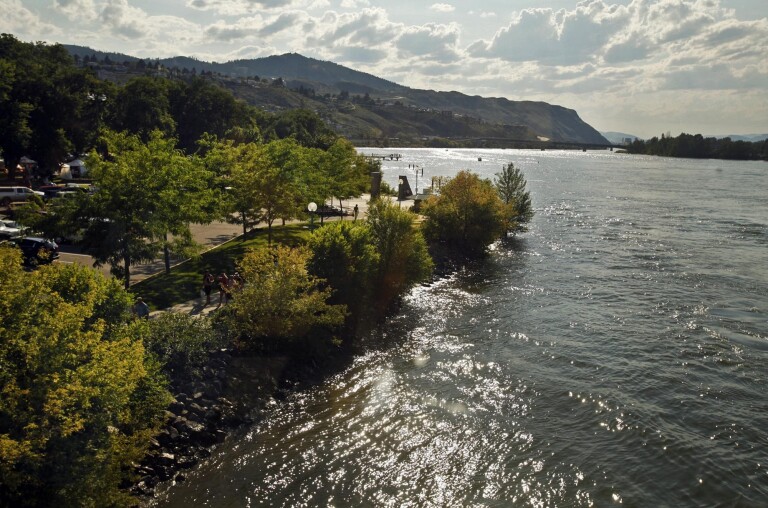 Kamloops, British Columbia, seen here from a train at the edge of town, was born along the Thompson River in the 1890s as a railroad town with about 500 occupants. Nowadays the population is about 90,000. If you take a train through the Rockies, you'll see Kamloops.
(Al Seib / Los Angeles Times)
Gander, the Newfoundland town whose airport and residents took in dozens of jets and thousands of U.S. travelers the week of 9/11, has been played a crucial role in transatlantic air travel since the early 20th century. In March 2017 the town gained another measure of fame when the play "Come From Away" — about those 9/11 days in Gander — premiered on Broadway. In this 2011 photo, Gander resident Beulah Cooper sits at her dining room showing off cards and letters from visitors she hosted during that 2001 crisis.
(Robert Gillies / Associated Press)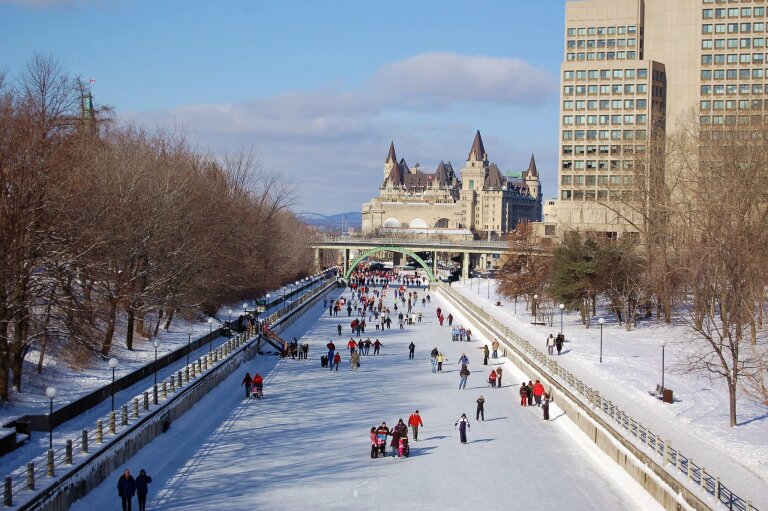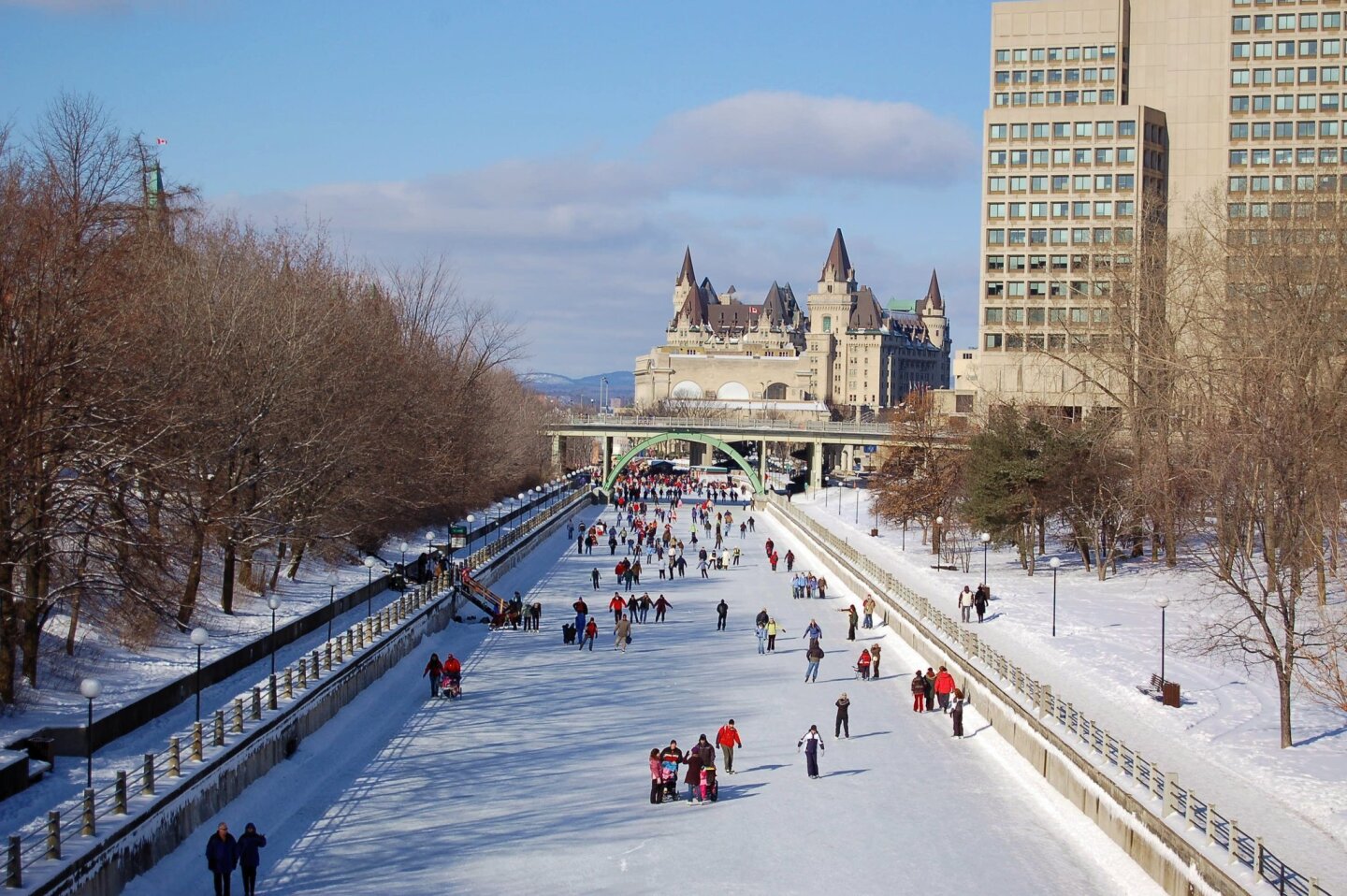 Every winter, Rideau Canal in Ottawa, the Canadian capital, is transformed into a giant ice rink. The canal, which dates to 1832 and connects Ottawa to Kingston (on Lake Ontario), is used for pleasure boating in warmer months.
(Charrongolf/Getty Images)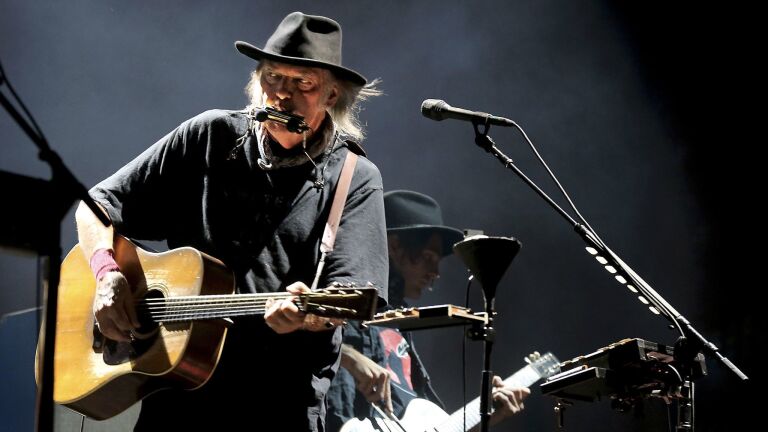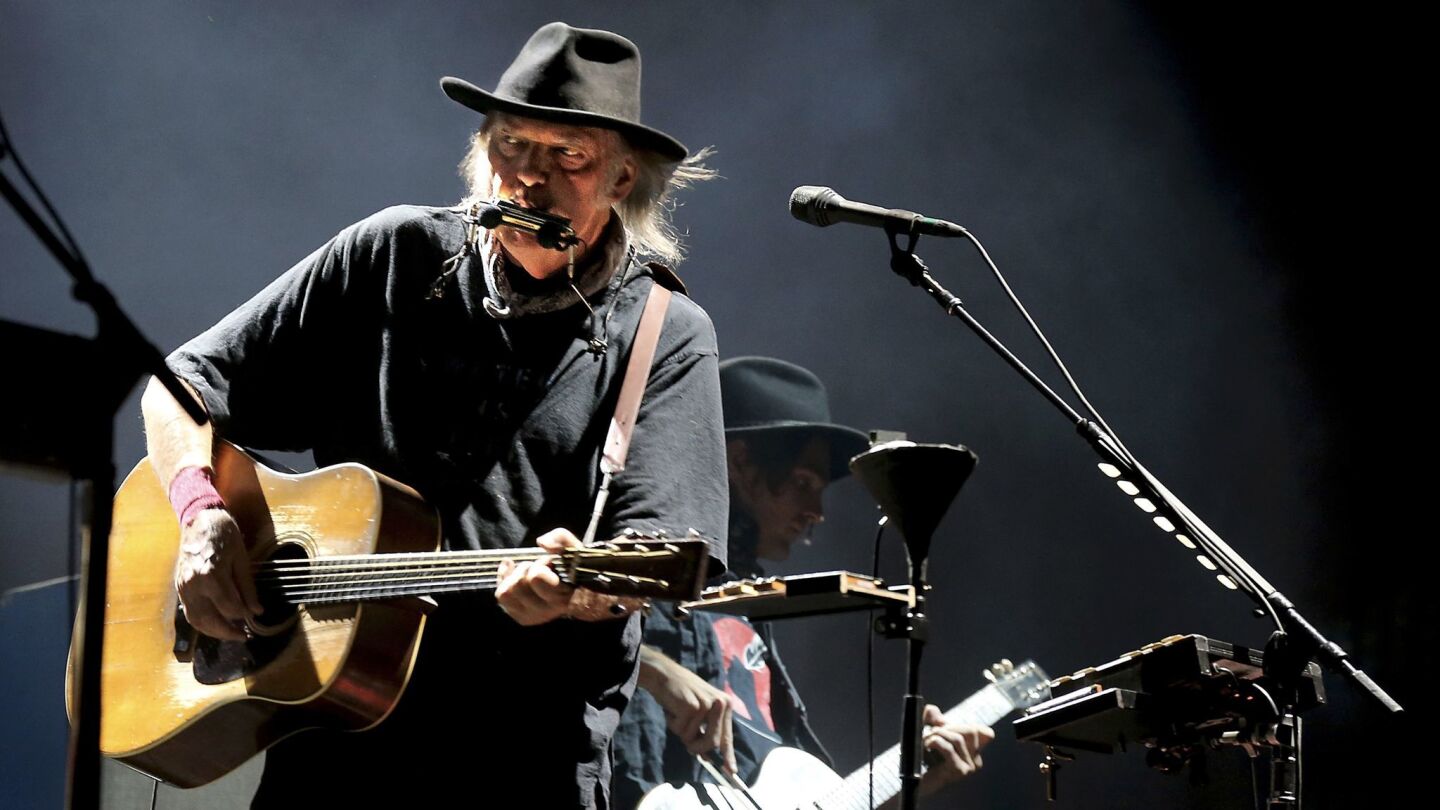 Canada-born rocker Neil Young left for California in the 1960s -- because he couldn't make any headway in the Toronto music scene.
(Luis Sinco / Los Angeles Times)
Henry Pellatt, a Canadian financier, built Casa Loma in 1914. The mansion endures as one of Toronto's grand historical monuments. Its grounds include five acres of gardens, an 800-foot tunnel and secret passages. When Canadian Prime Minister Justin Trudeau wanted to host Mexican President Enrique Pena Nieto for a dinner in June 2016, he chose Casa Loma as the venue.
( Barrett & MacKay/Getty Images)
Even for Newfoundlanders accustomed to passing icebergs, this was a big one. It was spotted in early April 2017, near Ferryland, an hour south of St. John's. When bergs like this show up, fishermen say, traditional shipping routes are set aside and captains take care to steer clear.
(Paul Daly / AP)
Many of Canada's lighthouses predate 1850. The East Quoddy Lighthouse, also known as the Head Harbour lightstation, has stood on Campobello island, New Brunswick, Canada, since 1830.
(Maryann Flick / Getty Images)
There's something about Niagara Falls that makes people want to risk their necks, either in falling barrels, aboard personal watercraft or on a tight-stretched cable. Here, Jay Cochrane skywalks near the Canadian Falls at Niagara Falls in May 2002. His walk covered about 200 feet from the pinnacle of the Sheraton on the Falls Hotel to the Casino Tower in Niagara Falls, Ontario, at a height of about 40 stories. It won him widespread attention. And then 10 years later, daredevil Nik Wallenda walked on a wire closer to the roaring water, on live TV.
(Mark D. Phillips/ AFP)
On July 1, 1867, after three years of populist revolt and bloody battle, the Dominion of Canada was born.
Just kidding. Modern Canada's birth on that day 150 years ago was mostly a matter of polite conferences and prudent compromises among colonial leaders in Ontario, Quebec, Nova Scotia and New Brunswick, along with a discreet nod from the Queen of England.
There had been plenty of blood, sweat, tears and conflict before that, and there would be more after. But in the 1860s, confederation seemed like an urgent idea.
MORE CANADA: Celebrate Canada's 150 | Ottawa | Why Canada is cool, not cold | Quiz
If they didn't knit themselves more closely together, some Canadian leaders worried, the U.S. (which had just waged its own Civil War and bought Alaska from Russia) might just try to grab up more of North America.
So the Canadians made themselves into a more perfect union while still retaining ties to the United Kingdom. By 1885, the country had added the province of British Columbia and built a rail route to underline its coast-to-coast identity.
But of course there's more to the Canadian story than that. There are now 10 provinces and three territories. There's Justin Trudeau. There's Justin Bieber.
In honor of the 150th Canada Day on July 1, here are 150 things to know and 150 transporting images from above the 49th parallel.
Follow Reynolds on Twitter: @MrCSReynolds
See travel videos by Reynolds from around the world.
---
Get inspired to get away.
Explore California, the West and beyond with the weekly Escapes newsletter.
You may occasionally receive promotional content from the Los Angeles Times.