An easygoing weekend escape in hard-working Lompoc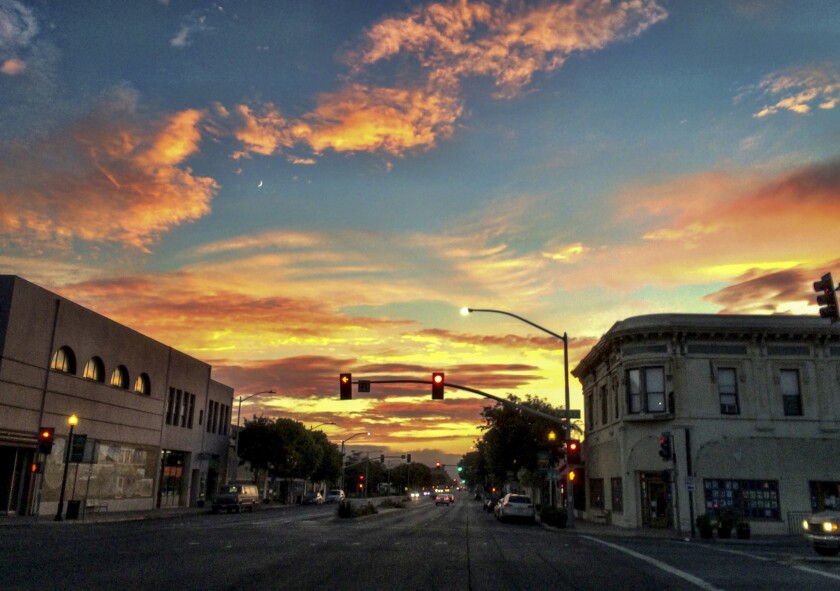 Old Town Lompoc at sunset time.
(Explore Lompoc)
Lompoc Rotary Club wine auction.
(Ed Schuler)
Lompoc Farmer's Market.
(Explore Lompoc)
Monarch Magic mural in Lompoc, by artist Colleen Goodwin Chronister, from Salem, OR.
(Explore Lompoc)
Central Coast evenings are beautiful, and if you find it a bit chilly, fire up the chimenea at Vineyard View Ranch.
()
Lompoc Wine Trail sign.
(Explore Lompoc)
Old Town Lompoc clock.
(Explore Lompoc)
Moorpark artist Jeff Raum created the 'Feeding Time' mural displayed in Old Town Lompoc's Art Alley.
(Ken Van Vechten)
At Tom's Burgers A to Z hybrids are popular, in this case W meets G, with cream cheese, black olives and grilled jalapeños, plus a local brew from Figueroa Mountain Brewing Company in Buellton.
(Ken Van Vechten)
The great room and one of several outdoor living spaces at Vineyard View Ranch.
(Ken Van Vechten)
Vineyard View Ranch guests have been known to arrive with their own chef, but anyone can make like its Food Network in this perfectly equipped and designed space.
(Ken Van Vechten)
Guinness and Finley, resident greeters at Vineyard View Ranch and always eager for a treat.
(Ken Van Vechten)
As Southern California cedes to the Central Coast at the Gaviota Tunnel, most travelers stick to the 101. Next time take the exit to Highway 1, a mile or so past the tunnel, and cruise 20 miles through oak-dappled hills and past scattered ranches to Lompoc. Lompoc isn't a faux-Scandinavian burg, nor is it a cow town gone Hollywood. It's a small, hard-working community painted with brightly colored murals, surrounded by fields and minutes from the beach and some of the most acclaimed vineyards in the world, with true all-year weather.
The tab: Vineyard View Ranch rents for $385 a night, not including taxes, and a $175 cleaning fee; $70 for dinner for two at Sissy's; $25 for lunch for two at Tom's; Rotary wine tasting $50 per person. The clean air is free.
The bed
A Lompoc escape takes a big stride toward luxury with a stay at Vineyard View Ranch (1833 Vineyard View Lane, Santa Rita Hills) just east of town. There's room to sleep eight in three bedrooms (and on a convertible queen sofa), a kitchen most of us would love to have at home and stunning vineyard, farm and Santa.Rita Hills views from the house and property. Outside there are 10 acres with two barbecues, chimenea, bocce ball court, horseshoes, putting green, 6,000-square-foot turfed play and leisure space and Guinness and Finley, two super-friendly goats.
The meal
Bright colors, warm hearts and an expansive and fairly priced wine list greet guests at Sissy's Uptown Café (112 S. I St.; [805] 735-4877). Pinot pairs perfectly with this protein, so order the coconut-tamarind salmon. Every meal must conclude with any of the homemade pies and cobblers. Don't expect fancy, but do expect fanciful in the burger selections at Tom's Burgers, "home of the educated hamburger" (115 E. College Ave. No 13; [805] 736-9996, ). Have an "X" with turkey, bacon and Swiss, or a "U" with tangy cole slaw. Or my go-to hybrid, the cream cheese and black olives of the "W" with the jalapeños of the "G," grilled.
The find
There aren't many secrets left when it comes to Sta. Rita Hills wine, not with the acclaim from casual fans and aficionados. Although the compact nature of the American Viticultural Area makes tasting logistically easy, pare that even more by attending the Lompoc Rotary Club's Annual Wine Tasting & Auction on Feb. 26 (tickets $50). Support a worthy charity, nosh on appetizers, bid on auction items and, most important, sidle from winery to winery — three dozen or so in the Veteran's Memorial Building — with your Fitbit barely taking note.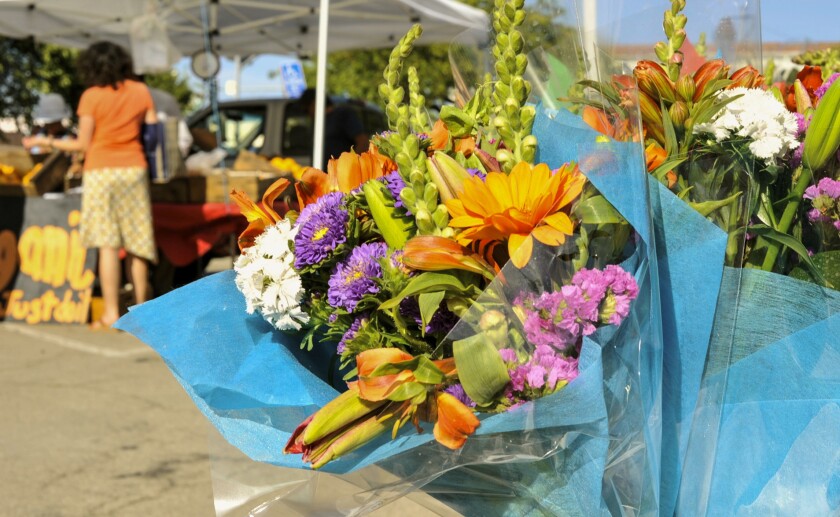 The lesson learned
Geography makes communities, and in Lompoc's case that means agriculture. Sure there's all that wine, but Lompoc is berries and beans, artichokes and asparagus, and a whole lot more. There are farmers markets downtown every Friday evening and late-morning Sundays in Vandenberg Village. In season, the Campbell Ranch farm stand on Highway 246 in view of La Purisima Mission is a many-times-a-week-stop for locals. Wine is not the only thing you should take home with you.