Honolulu tourists looking at cellphones while crossing the street risk getting a ticket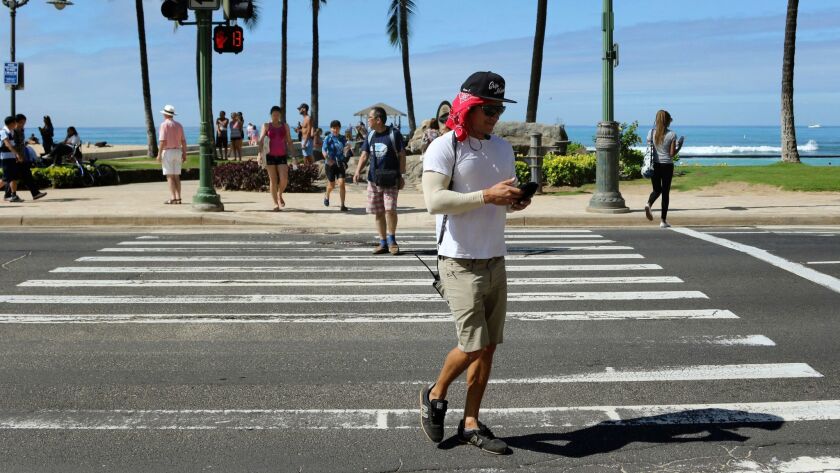 "Heads up!" could soon become Waikiki's new slogan. A new "distracted walking" law that began in October means tourists and locals who cross the street while looking down at their smartphone may wind up with a ticket.
The ordinance, which went into effect Oct. 25, makes it illegal to cross a street or highway while looking at a cellphone or other electronic device, such as a tablet or video game. First offenders could get a ticket for $15 to $35.
The new law covers the entire island of Oahu, which includes Honolulu.
"I think our incidence of pedestrian accidents the last couple of years has been on the rise," said George Szigeti, president and CEO of the Hawaii Tourism Authority.
The rising number of pedestrian accidents is a national trend. A 2015 study by the National Safety Council found that injuries to people distracted by their cellphones had skyrocketed 800% since 2000. During the same period, cellphone usage also saw an eightfold increase.
"On any given day, we have 130,000 visitors in Waikiki … and they're just not … paying attention to traffic," Szigeti said.
Officers from the Honolulu Police Department may issue distracted walkers a warning or a ticket.
Jim Cartisser, a tourist from Twin Falls, Idaho, told the Associated Press that it "could leave a lot of people with a sour taste in their mouth leaving Honolulu."
"I've been meeting with a lot of hotel people and … I've not seen or heard anything adverse to this law impacting our visitor industry at this time," Szigeti said.
"It may be a little early in the game. I'm not sure," he added.
Rexburg, Idaho, population 28,000, passed a distracted walking ordinance in 2011. A handful of mostly small communities around the country are considering similar laws.
Canada's largest province, Ontario, which has 13.6 million residents, is considering such a law. The CBC reports that Yvan Baker, a legislator from Toronto, unveiled the "Phones Down, Heads Up Act" on Oct. 30. The measure will be debated next March.
ALSO
California ski lifts beginning to spin, with limited runs. Here are opening dates
Get ready for a 35 mph zip-line ride above Linq Promenade in Las Vegas
Free travel deals and discounts for members of the military for Veterans Day
Luxury first-class suites coming to Singapore Airlines fleet of A380s
---
Get inspired to get away.
Explore California, the West and beyond with the weekly Escapes newsletter.
You may occasionally receive promotional content from the Los Angeles Times.