Hawaii: Lots to see at newly expanded Papahanaumokuakea national monument, but good luck trying to get there
Tiny Midway Atoll northwest of Hawaii may indeed be what a tour operator describes as a "magical" destination, but the chances of travelers getting there anytime soon are pretty slim.
It's part of the unpronounceable Papahanaumokuakea Marine National Monument, which President Obama expanded Aug. 26 to create the largest protected place on Earth. At 582,578 miles, the national monument made up of a few little islands and the Pacific Ocean covers an area larger than California, Montana and Texas combined.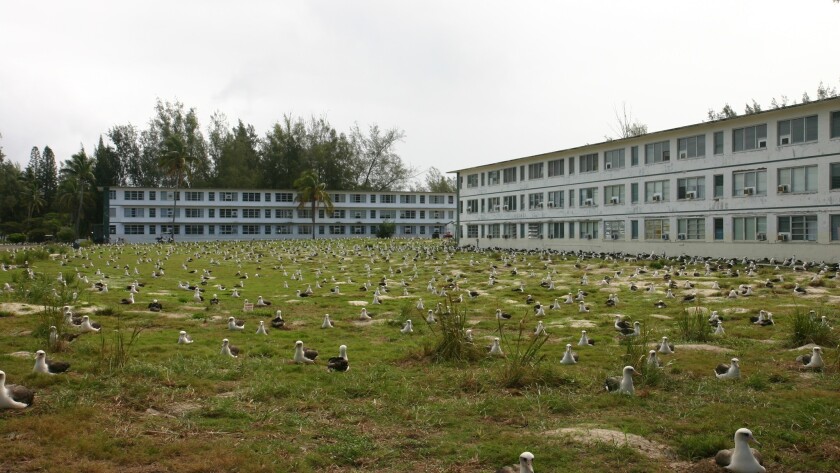 The atoll's coastal waters are home to abundant and sometimes rare wildlife. For example, a new species of butterflyfish was recently discovered there.
And if you want to visit? Well, it's complicated.
Galapagos Travel based in Aptos, Calif., used to provide charter flights from Honolulu (about 1,300 miles away) to Midway for seven-day adventures. Future tours are on hold due to budget cuts by the federal government.
"It's the only refuge [the U.S. Fish & Wildlife Service] manages that has overnight accommodations," Galapagos Travel owner Mark Grantham says.
"It's very nicely refurbished military barracks … turned into suites," he continues. But it's now closed.
The Midway Atoll National Wildlife Refuge is a bird-watcher's paradise, full of rare and endangered species. The refuge also includes the Battle of Midway National Memorial, which commemorates the decisive World War II victory for the Allies in 1942.
With visitor programs suspended, volunteering may be one way for travelers to see the islands.
Various opportunities on obscure outposts like the Kure Atoll Seabird Sanctuary and Laysan and Tern islands are occasionally available on the monument's website.
For projects on the Midway Atoll, travel dates are determined by the schedule for supply planes to fly out from Honolulu. Grantham will travel to the atoll in December to help with the annual albatross count. Due to flight schedules, he'll be there for three weeks. That, he says, is a blessing.
"It's the most magical wildlife place I've ever been," he said.
Info: Papahanaumokuakea Marine National Monument
ALSO
Washington, D.C.: Capitol Rotunda reopens; Washington Monument's elevator still broken
Carnival orders up mega-ships with room for 5,200 passengers
Ready for ski season? Vail Resorts' Epic Pass adds top slopes in Europe
China's highest, longest glass bridge closes after too many people come to visit
---
Get inspired to get away.
Explore California, the West and beyond with the weekly Escapes newsletter.
You may occasionally receive promotional content from the Los Angeles Times.