Jasper is Canada's winter wanderland
Cabins glow in the night in Jasper, Canada.
(Darren Roberts / Tourism Jasper)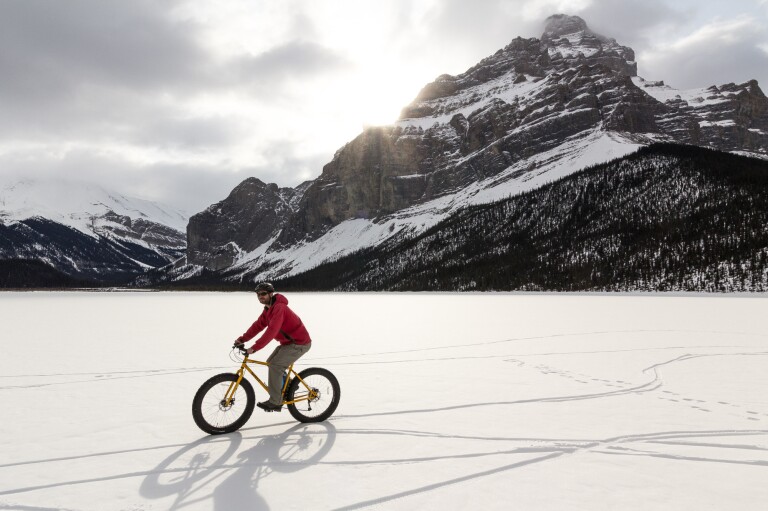 A man circles around a frozen lake on his fat bike in Jasper, Canada.
(Rogier Gruys / BluePeak Travel Photography )
A herd of mountain sheep.
(Tourism Jasper)
Skiing at Marmot Basin.
(Margo Pfieff )
The town of Jasper sits within Canada's Jasper National Park.
(Tourism Jasper)
Snowboarders at Marmot Basin.
(Margo Pfeiff )
Skiing at Marmot Basin.
(Margo Pfeiff)
Man and his dog at Maligne Canyon.
(Margo Pfeiff)
Elk outside Fairmont Jasper Park Lodge.
(Margo Pfeiff )
Men playing hockey at Mildred Lake.
(Margo Pfieff )
Skating at Mildred Lake.
(Margo Pfeiff)
Ice climbing at Tangle Falls.
(Margo Pfeiff)
A Maligne Canyon ice walk is a popular winter activity in Jasper.
(Mike Seehagel / Tourism Jasper)
Reporting from Jasper, Canada —
Snowflakes tumbled lazily in the light of the train as it inched toward the Jasper rail station, where half a dozen elk foraged. They come for grain that freight trains spill on the tracks, a steward had told me on the 18-hour train ride northeast from Vancouver. The elk didn't even raise their heads as I pulled my luggage past them on the way to pick up my rental car.
I cruised the tiny grid of streets in this Alberta, Canada, town of 5,000, happy to see a comforting collection of mountain-style shops and businesses. And there were old-style hotels, many with log, river rock or Tudor-style facades just as I remembered. The totem poles and cheesy neon signs also had changed little since I visited here as a kid in the late 1960s on family vacations.
Jasper is within Jasper National Park, Canada's largest Rocky Mountain national park and part of a UNESCO World Heritage Site, just as the town of Banff is within Banff National Park.
During the last two decades I've watched Banff undergo extensive commercial development that has affected its mountain-town character, but Jasper has remained in the slow lane.
The restaurants and accommodations are better now, and there is high-quality craft beer, but Jasper still offers an authentic glimpse into the old-world soul of the Canadian Rockies just as the tight-knit local community likes it.
Visitors may think there is no need to visit Jasper once they've checked Banff off their Rockies list, but they will miss something special. As a bonus, Jasper is easily reached from Banff by a spectacular 3½-hour drive north along the glacier-lined Icefields Parkway.
I visited in December for the first time in more than 10 years because I think the Rockies look best clad in snow and because of the promise of fewer visitors and diverse winter activities.
Uncrowded slopes
After a scrumptious breakfast wrap and coffee at Coco's Cafe, I drove 25 minutes to Marmot Basin in Jasper National Park for a day of skiing. I schussed down its four mountain faces and threaded through fresh glades on light, powdery Alberta snow.
It was Saturday, yet there were no lines, and I often found myself alone on freshly groomed runs.
"Welcome to Jasper," my German-born ski guide said with a shrug. "Since it's a four-hour drive to the nearest airport at Edmonton, we don't get many drop-in skiers to create crowds."
When I returned to my hotel, the Fairmont Jasper Park Lodge, in the afternoon, however, I did encounter a crowd enjoying the spacious lobby, sipping coffee and cocktails and chatting on leather sofas.
JPL, an iconic Canadian railway mountain hotel built in 1922 on 700 acres of JNP, has a main lodge and mini-village of cedar cabins facing Lac Beauvert, whose glacial waters glimmer in summer and are frozen solid in winter.
Later that evening an astronomer gave a presentation in an inflatable planetarium dome at the hotel's golf club. Then our small group headed outside to peer through two telescopes at a sky that sparkled with stars and a white swath of the Milky Way.
Jasper is one of the world's largest Dark Sky Preserves, 4,247 square miles of untamed wilderness with little light pollution. (The town helps by using hooded, downward-facing streets lights.) In fall, seemingly everyone celebrates the Dark Sky Festival (Oct. 12-21 this year) with visiting experts, concerts, photo seminars and excursions.
I soon learned that many Jasperites are night-sky nerds. Almost everyone I met had star apps on their phones, and there was even a live aurora borealis "weather forecast" screen streaming in the JPL lobby.
Before heading to bed, I stopped at the front desk to ask for an Aurora Alert call. Should the aurora borealis — the swooping, multicolored curtains of light across the heavens — appear, the staff would phone to wake me up.
Winter options
Ice fishing, dog-sledding, cross-country and backcountry skiing, winter wildlife tours, heli-skiing, fat-tire biking — there seemed no end to winter activity options.
I signed up for the two-mile Maligne ("mal-een") Canyon Ice Walk and fastened cleats to my winter boots. Then I walked along the surface of the frozen Maligne River, following the deepest accessible canyon in Jasper National Park. A dramatic narrow gorge rose above me lined in dazzling frozen waterfalls and brilliant ice formations.
Back at the lodge I strolled a waterfront pathway to neighboring Mildred Lake and slipped on ice skates to glide around a Zamboni-cleared loop. On that warm and sunny day I watched hockey pucks being slammed across outdoor rinks beneath the snowy triangle of Pyramid Mountain.
The lodge is about five miles from the town of Jasper, which features outdoor clothing stores, outfitters and a selection of eateries and bars.
Local specialties include Alberta beef and bison. The casual Jasper Brewing Co. offers elk carpaccio and a luscious elk meatloaf; the intimate Downstream Lounge has the corner on elk steak.
I bar-hopped a bit, ending at the locals' favorite, the Astoria Hotel's De'd Dog Bar & Grill that features photos of local heroes and their much-loved sled dogs.
Elk everywhere
In the morning I joined Jasper-born Paula Beauchamp for a guided snowshoe trek along the frozen shore of Mystery Lake, silence ringing in my ears when we stopped crunching through the snow.
Paula told me she often spotted bighorn sheep and mountain goats. "An elk even gave birth in my backyard in town," she said. Another local had told me she hoped the town wouldn't grow so much that bears would give it wide berth.
"We are living in a national park, after all — their terrain," she said.
I spotted moose on Maligne Lake Road, a bear on the way to Marmot Basin and elk everywhere, even crossing in a main street crosswalk. One grazed outside my cabin door. "Oh, that's Randy," a member of the housekeeping staff said.
Of 900 elk in Jasper National Park, 90% are here in the Athabaska River Valley. If they gather in large groups in town or in the suburbs, Parks Canada staff will show up.
"They have colored plastic strips attached to the end of hockey sticks," Beauchamp explained. "They approach the group shaking the sticks, making a loud clacking sound, and then shout to encourage them to break up and move on."
How very Canadian.
On my final day I took the opportunity to fulfill a longtime dream: ice climbing. I joined a small group heading off to learn how to scale Tangle Falls, a small but spectacular pale blue frozen waterfall on the Icefields Parkway.
I huffed and puffed and sweated my way slowly up the ice using my pointed crampons and razor-sharp ice axes, but, to be honest, I had the most fun rapelling back down.
I returned to the lodge that evening exhausted and exhilarated to have ticked ice climbing off my winter bucket list.
After dark I walked along Lac Beauvert's shoreline, illuminated by low lights. At a wooden lakeside lookout a staff member served walkers a treat, a longtime nightly JPL ritual.
I sipped hot chocolate, nibbled on s'mores and stared at the glittering sky. Sure enough, a faint green curtain of light shimmered and undulated in waves across the horizon, and I felt as though I was in a colorful heaven.
If you go
THE BEST WAY TO JASPER, CANADA
From LAX, Westjet offers nonstop service to Edmonton, Canada, and Westjet, Alaska, Air Canada, Delta and United offer connecting service (change of planes). Restricted round-trip service from $319, including taxes and fees.
VIA Rail connects Vancouver and Jasper by way of a scenic 18-hour Rocky Mountains route. The trip is onboard the transcontinental Canadian with seating from economy to luxury private cabins. Dining and Panorama dome sightseeing cars. From $125 per person one way. VIA also offers seat sales every Tuesday. 1-888 842-7245
WHERE TO SLEEP
Fairmont Jasper Park Lodge, 1 Old Lodge Road, Jasper; (800) 257-7544. Classic Canadian mountain lodge with cedar chalets a few miles outside town. Doubles from $200 a night.
Pyramid Lake Resort, Pyramid Lake Road, Jasper; (888) 704-9425. Chalet-style alpine resort on Pyramid Lake with Rockies views. Doubles from $130 a night.
WHERE TO EAT
Coco's Cafe, 608-B Patricia St., Jasper; (780) 852-4550. Popular local café with locally sourced ingredients. Vegan friendly. Breakfast from $20 for two.
Evil Dave's, 622 Patricia St., Jasper; (780) 852-3323. Cocktails and creative menu with twists on international dishes. Dinner for two from $65.
Jasper Brewing Co., 624 Connaught Drive, Jasper; (780) 852-4111. Lively brew pub offering specialties such as elk meatloaf and carpaccio. Lunch for two from $45.
Downstream Lounge, 620-B Connaught Drive, Jasper; (780) 852-9449. Casual and intimate downstairs lounge and modern restaurant open for dinners specializing in bison, back ribs and Alberta steaks. Extensive bar selection. Dinner for two from $75.
WHAT TO DO
Marmot Basin Ski Resort, 1 Marmot Road, Jasper; (866) 952-3816. Downhill ski resort with Canada's highest base elevation at 5,570 feet. Daily ticket from $77.
Jasper Planetarium, Jasper Park Lodge; (780) 852-4056. Planetarium dome theater and telescopes accompanied by insightful commentary by resident astronomers. From $44 per person/Is this admission or?.
Maligne Canyon Ice Walk, Sundog Tours; 414 Connaught Drive; (888) 786-3641. Tours with crampons atop the frozen river through the dramatic cleft of Maligne Canyon. three-hour tour; $55 per adult.
Walks and Talks Jasper, 626 Connaught Drive. Guided snowshoeing tours in Jasper National Park.
Rockaboo Mountain Adventures, 610 Patricia St., Jasper; (780) 820-0092. Mountain skills training, guided climbing and skiing in Jasper National Park.
TO LEARN MORE
---
Get inspired to get away.
Explore California, the West and beyond with the weekly Escapes newsletter.
You may occasionally receive promotional content from the Los Angeles Times.