Las Vegas is bullish on the Chicago Cubs. The 2016 World Series champs will be playing there in the next spring. And one Vegas odds-maker has already picked the Cubs to repeat a World Series win in 2017.
For the last 12 years, the Cubs have visited Cashman Field at 850 N. Las Vegas Blvd., home of the Las Vegas 51s triple-A team, for pre-season games. The 11,000-seat stands were full when they split against the New York Mets during the Big League Weekend last spring.
Now the Cubs are scheduled to meet the Cincinnati Reds in exhibition games March 25 and 26 — and demand for tickets is high.
Part of that is enthusiasm for the team that shattered the Curse of the Billy Goat to win the World Series for the first time in 108 years.
But Las Vegans also are wowed by hometown fave Kris Bryant, who played ball at Las Vegas' Bonanza High School and was chosen the National League's most valuable player this year.
How do die-hard Cubs fans snag tickets? First dibs go to people holding season tickets for 51s games in 2017. And they're selling "like hotcakes," said Michelle Taggart, who works in the 51s sales office.
Ordering is easy — and not expensive. Packages start about $100 and guarantee purchasers that they'll be able to buy tickets for Big League Weekend. Call (702) 943-7200 to order or get more details.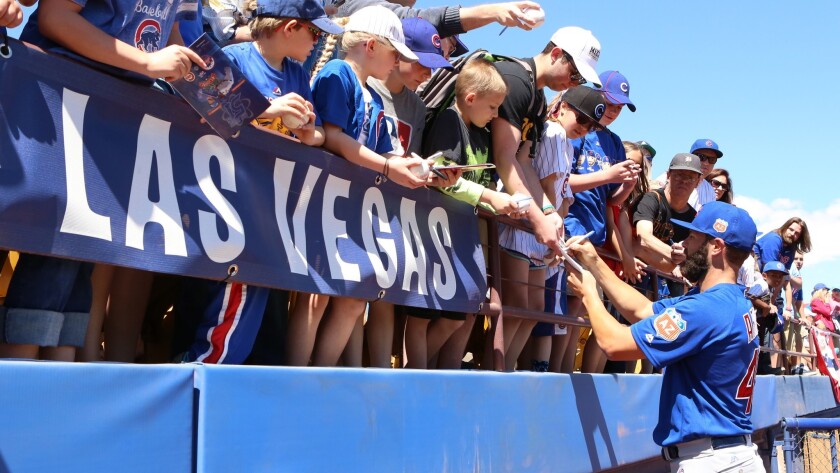 (People who buy season tickets but don't plan to use their seats for 51s games can donate them for use by the Boys & Girls Clubs of Southern Nevada.)
After that, a limited number of seats likely will be left when single-game tickets go on sale in mid-February, Taggart said. They'll be priced at $45 to $65 each at the 51s box office and on Ticketmaster — and likely will sell out within minutes.
Info: Las Vegas 51s, (702) 943-7200
ALSO
4 free apps you need for Thanksgiving travel: airport security wait times, holiday road traffic and more
Lucky Dragon, Las Vegas' first newly built hotel in 6 years, ready to open
Cheap rooms, ice skating and s'mores: 8 reasons to spend Thanksgiving in Las Vegas
Traveling this Thanksgiving? So are 48 million other Americans
ALSO
4 free apps you need for Thanksgiving travel: airport security wait times, holiday road traffic and more
Lucky Dragon, Las Vegas' first newly built hotel in 6 years, ready to open
Cheap rooms, ice skating and s'mores: 8 reasons to spend Thanksgiving in Las Vegas
Traveling this Thanksgiving? So are 48 million other Americans
---