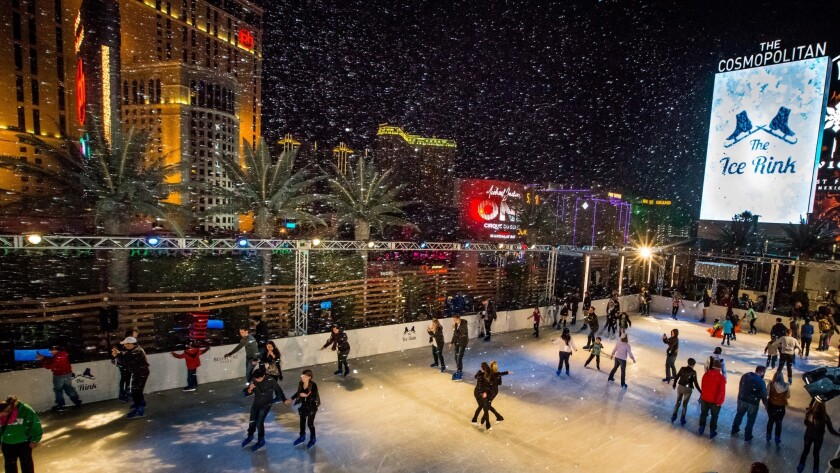 If your idea of giving thanks is to let others pamper you – and cook the turkey – then Las Vegas may be the perfect destination for a relatively-cheap Thanksgiving road trip.
1. $109 rooms at Caesars
The holiday is a traditionally slow time in Sin City, and room rates reflect that. For example, I found rooms for Wednesday, Nov. 23, at Caesars Palace for $109. That rate rises to $127 on Thursday, Nov. 24, before climbing the following Friday and Saturday.
2. $159 rooms at Bellagio
The same scenario can be found at Bellagio, where rooms for the first two nights of the holiday weekend start at $159. You will, however, pay considerably more if you remain in town Friday, Nov. 25, and Saturday, Nov. 26. (These prices are accurate as of Nov. 15.)
3. Lucky $21 dinner
But it's not just rooms that are a bargain. How about turkey dinner – at the Wynn, no less – for just $21?
La Cave-Wine and Food Hideaway, one of the luxury resort's casual dining restaurants, is certain to draw crowds with its gourmet turkey dinner. A $20 bill plus another buck will get you sliced turkey breast with dried fruit stuffing, cranberry apple compote and creamy house-made sage gravy. Sides such as mashed potatoes, Brussels sprouts with bacon and onion, collard and mustard greens and sweet potatoes with caramelized mushrooms cost $8 each.
Info and reservations: (702) 770-7375.
The price climbs to $58 a person for a three-course, prix-fixe dinner at Rao's, the ultra-popular Italian eatery at Caesars.
4. Really, you don't have to eat turkey
The price may be fixed, but the choices aren't. For example, diners seeking an alternative to turkey can opt for beef lasagna. Appetizers include stuffed artichokes and a salad of roasted butternut squash and kale. For dessert, choose either pumpkin cheesecake with a caramel praline pecan sauce or maple crème bruleé.
Info and reservations: (702) 731-7267
5. Pumpkin tiramisu
Across the street at Bellagio, Michelin-starred Chef Julian Serrano has put an Italian spin on several Thanksgiving classics at Lago by Julian Serrano. The taste-tempters at the lakeside restaurant include pumpkin tiramisu. The dessert blends pumpkin mascarpone mousse and espresso-soaked lady fingers and costs $13.
Info and reservations: (866) 259-7111
6. Ice-skating on the Strip
Counter the caloric intake while ice skating at the Cosmopolitan of Las Vegas. The Strip resort will take on a wintry feel once its ice rink opens Nov. 25, the day after Thanksgiving. Visitors can criss-cross 4,200 square feet of real ice that has been frozen atop what, in warmer months, is the Boulevard Pool.
7. S'mores and 'snow'
Make some s'mores at one of the fire pits as light "snow" falls, regardless of the temperature. Mondays are Date Skate night too, so bring a friend. In addition to the usual offerings, two holiday-themed movies will be screened on the resort's digital marquee. The $20 daily admission includes skate rental, and the fun continues through New Year's Day.
By the way, 30 minutes of skating burns 495 calories.
8. Get a jump on Christmas spirit
There will be more than a little snow on stage at the Smith Center in downtown Las Vegas as the musical "White Christmas" puts Thanksgiving week theater-goers in a festive mood. Irving Berlin's tale of budding love among the entertainers at a Vermont inn runs Nov. 22 to 27.
Tickets for the holiday classic run from $29 to $127.
ALSO
Traveling this Thanksgiving? So are 48 million other Americans
See the most chill sculptures you'll ever encounter in the U.S.
Delta fliers, now you can track your bags on your mobile app
Cheering the inauguration? Marching the day after? Washington has hotel rooms for all
---