Life-sized white chocolate skeleton and other Halloween haunts in Las Vegas
Sure, the price of gas can be scary sometimes, but not nearly as terrifying as the masked filling station attendant waiting to wreak havoc at Fright Dome, which takes over the Adventuredome at Circus Circus each October.
(Fright Dome)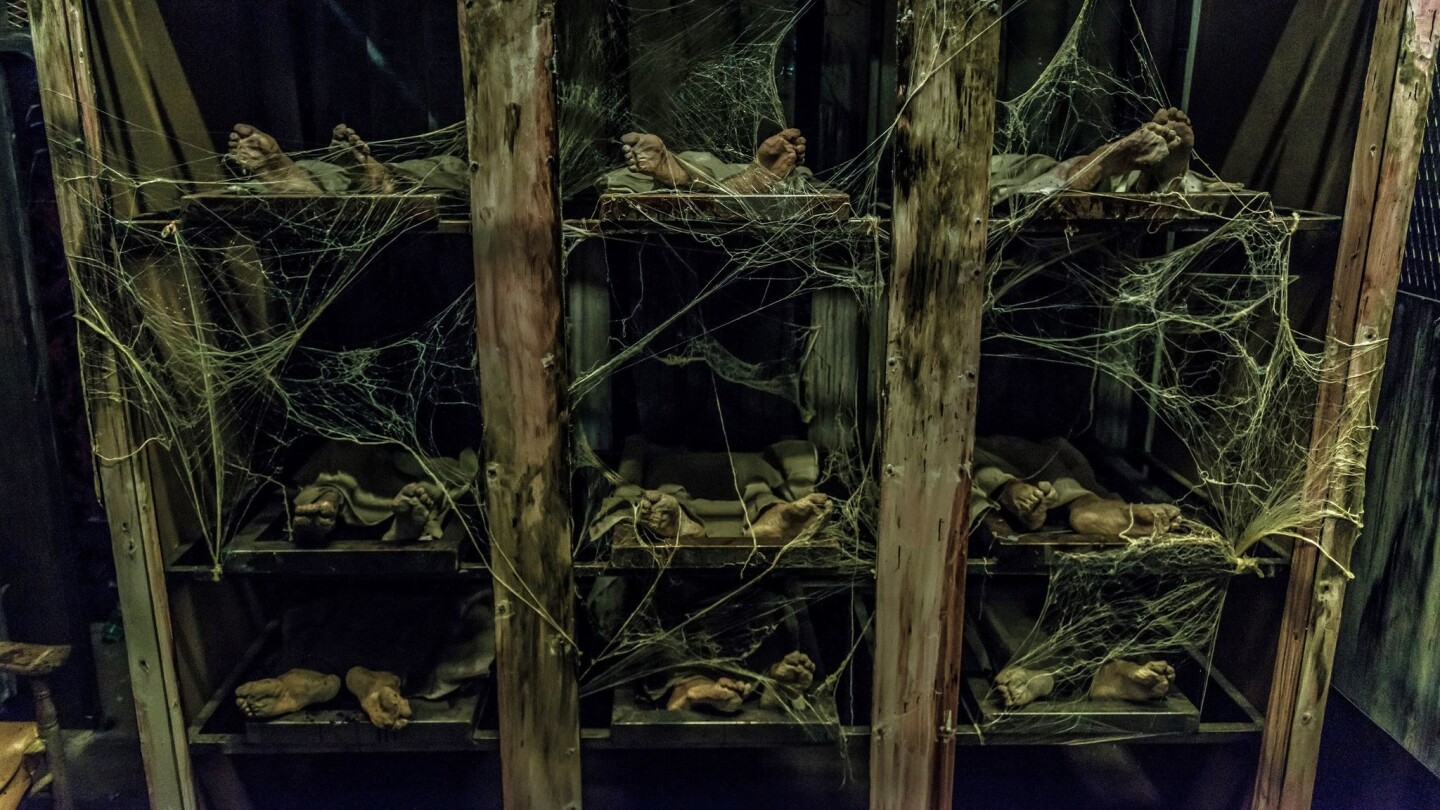 New for 2016, Fright Dome features an abandoned hospital where the dearly departed haunt the basement morgue. (Fright Dome)
(Fright Dome)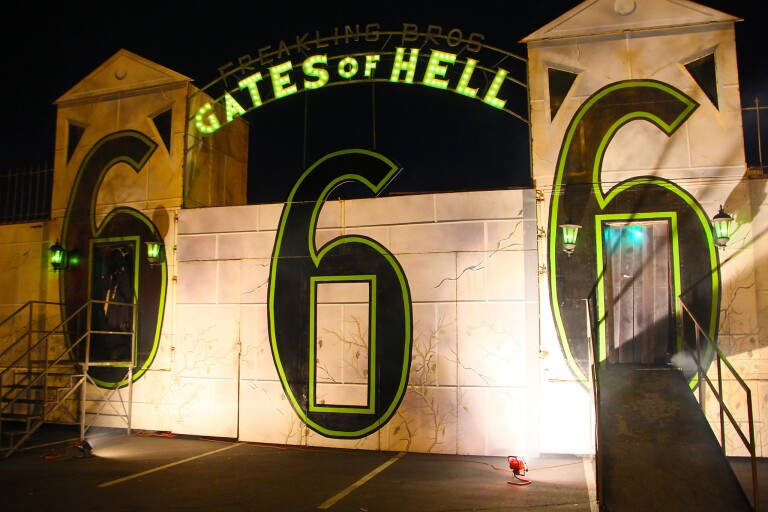 The clowns have moved on from the circus to the asylum at Trilogy of Terror, a trio of haunted houses along Flamingo Road about 20 minutes west of the Strip.
(Trilogy of Terror)
The undead are on the loose along the Strip and terrifying tourists at Zombie Escape through the end of the month.
(Jeff Regazzo/Kabik Photo Group)
A smiling scarecrow welcomes visitors of all ages to the Halloween fun at Opportunity Village, a group working with intellectually-challenged Las Vegans.
(Opportunity Village)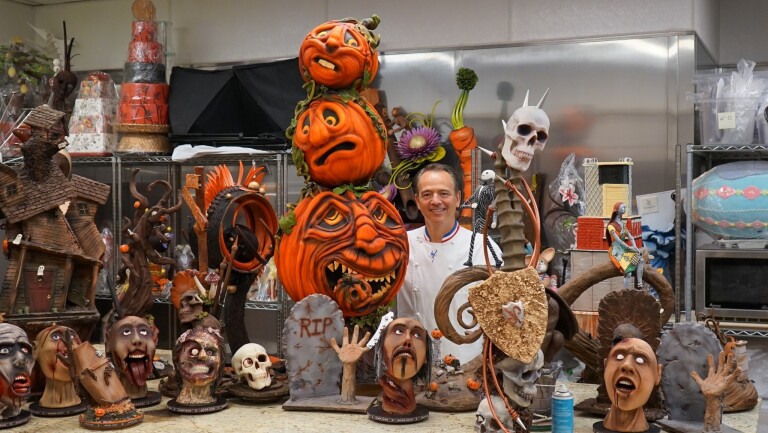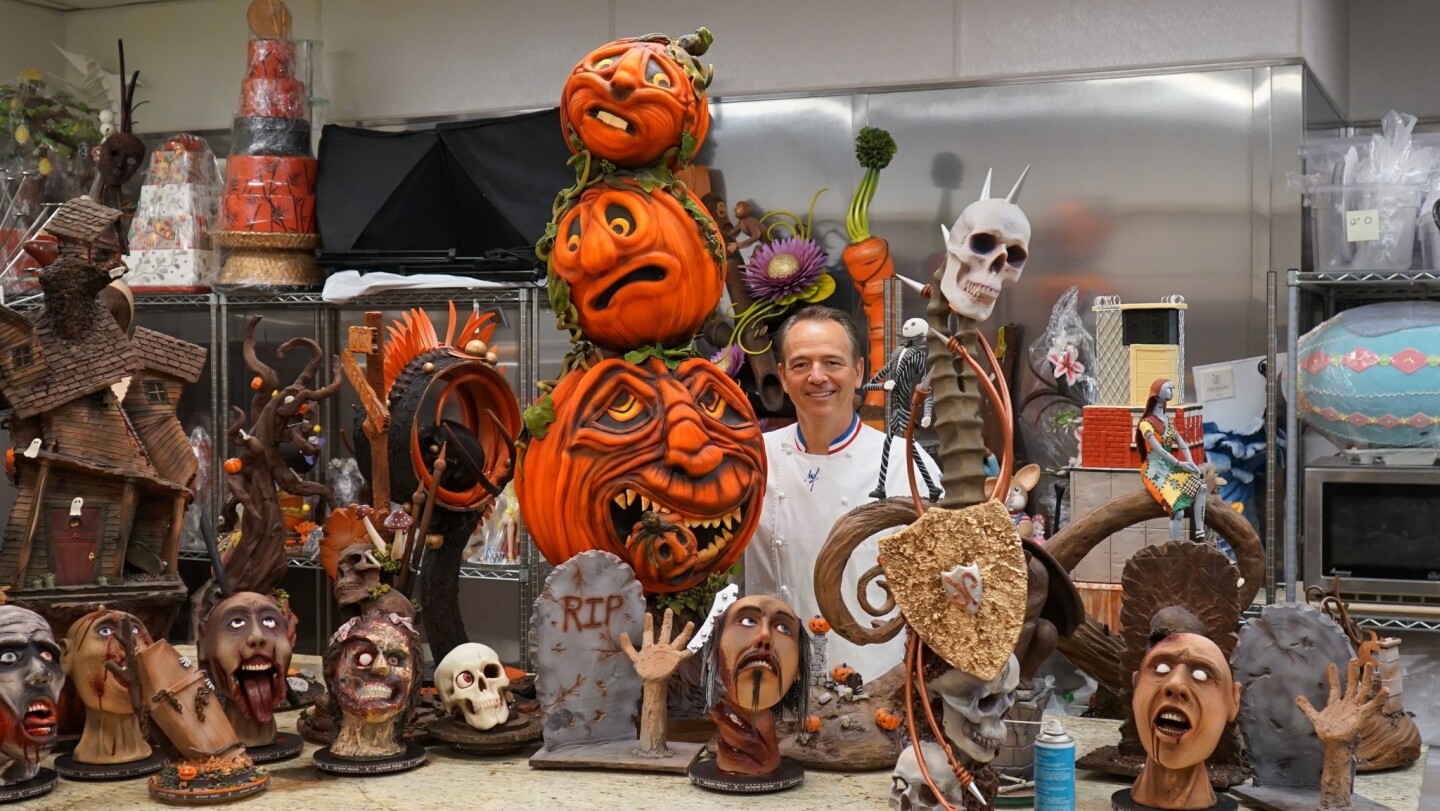 Jean-Philippe Maury and his team have created dozens of ghoulish but tasty Halloween treats. The creations crafted from chocolate and fondant icing include a zombie, carved pumpkins and skulls.
(MGM Resorts)
A life-size skeleton sits in an electric chair at Jean-Philippe Patisserie at Aria. Crafted from chocolate, both are part of the shop's amazing Halloween display.
(MGM Resorts)
Thousands of carnations, roses and other flowers help create a cornucopia of color at Bellagio. Full of autumn icons, the display will be open through Nov. 25.
(MGM Resorts )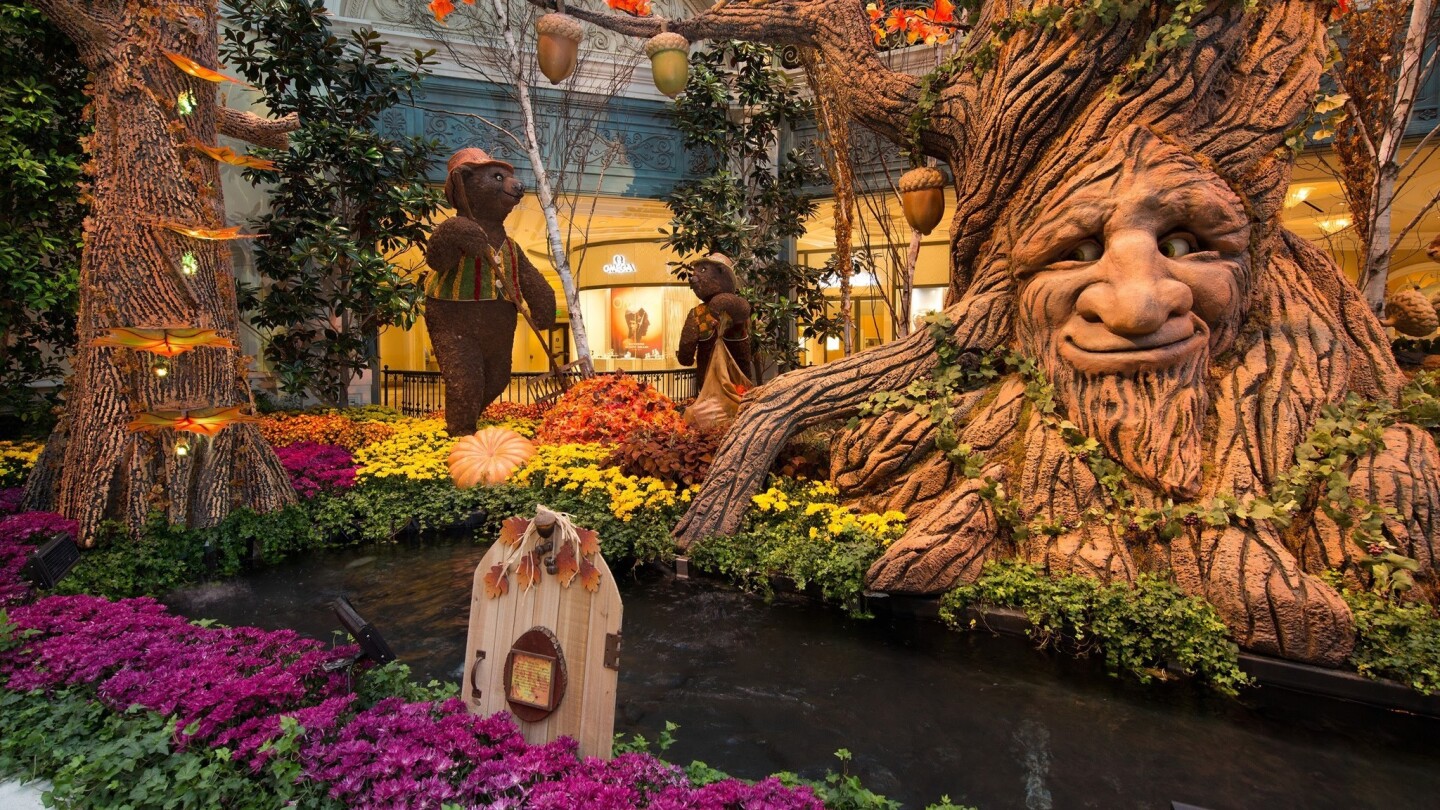 A 28-foot-tall animated tree that talks to guests is one of the centerpieces of the fall display gracing the conservatory and gardens at Bellagio. There's no admission charge.
(MGM Resorts)
Wearing creepy costumes and makeup, Frank & the Steins entertain nightly in downtown Las Vegas with a repertoire of Halloween's greatest hits.
(Fremont Street Experience)
Alice prepares to scurry down the rabbit hole at Wynn Resorts, where three nightclubs will put a modern spin on "Alice in Wonderland" in the nights leading up to Halloween.
(Rendering by Wynn Las Vegas )
Prepared to be scared – or maybe just amused? – as fall brings friendly and frightening Halloween attractions to Las Vegas.
Wait, did one of those feet in the darkened morgue just move? Is someone in this darkened room alive? That's for the mayhem makers at Fright Dome to know and for you to find out. One of the nation's biggest and most popular haunted houses creeps out thousands each October at Circus Circus. Tickets start at $36.95, and the screams continue through Halloween night.
Most of Las Vegas' haunted houses grow more sophisticated and terrifying every year. Thrill seekers with wheels can head west eight miles from the Strip to the hair-raising Trilogy of Terror.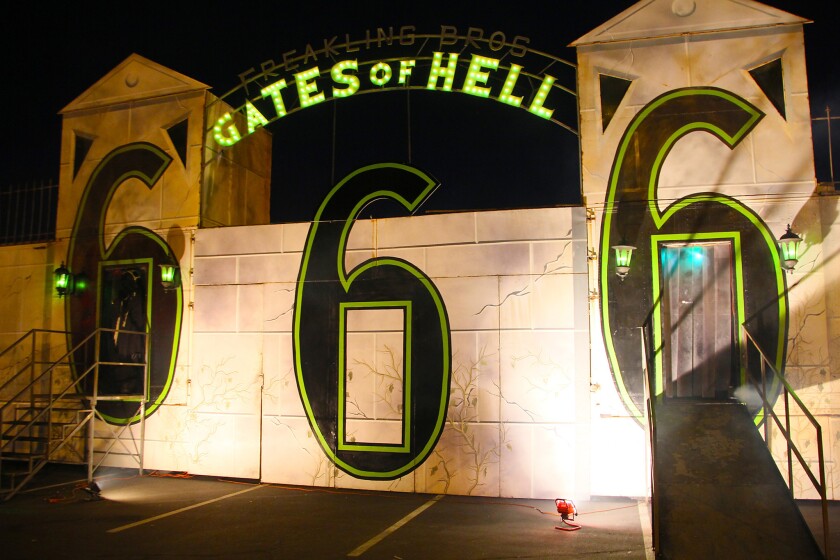 A pass to all three hauntings – they're named Castle Vampyre, Coven of 13 and Gates of Hell – is priced at $35. The fright continues through Oct. 31, with tickets are available at the door.
Back on the Strip, the Linq Promenade is getting in the spirit — or should we say, spirits? — by hosting Zombie Escape. The undead are lurking around every corner at this attraction designed by a Hollywood studio. Located along Koval Lane behind the High Roller observation wheel, Zombie Escape will be open Wednesday through Sunday nights through the end of the month — and on Halloween night, too. General admission is $20. People dying to get in quickly can purchase a fast pass for $28.
But why should teens and grownups have all the fun, right? Each autumn, Opportunity Village, an organization helping people with intellectual and developmental disabilities, welcomes guests to enjoy Halloveen. People of all ages can enjoy an enchanted carousel, a ghost train and other thrilling, but not terrifying, experiences through Oc. 31. Tickets for unlimited rides and attractions are $21.99 for adults and $18.99 for children 3-12.
French chocolatier and pastry-maker Jean-Philippe Maury is also celebrating the season with his astonishing array Halloween-themed creations. His Jean-Philippe Patisserie at Aria showcases a whopping 45 custom-crafted — and edible — items from jack-o-lanterns to various body parts.
The piece-de-resistance has to be the life-size skeleton seated in an electric chair. Made of 130 pounds of white and dark chocolate, it took a team led by executive pastry chef Claude Escamilla more than 70 hours to complete. The pastry shop has much smaller items, such as spider cupcakes and chocolate ghouls, for sale.
Down the street at Bellagio, visitors are sure to be enthralled at the resort's always-remarkable (and free) Conservatory & Botanical Garden. Their autumn display contains a cornucopia of seasonal favorites — from pumpkins crafted using roses and carnations to bears made with hydrangeas and moss.
Children and adults alike will wow at an animated, talking tree that's 28 feet tall and as much as eight feet around. Open to view 24 hours a day, the display continues through Nov. 25 (the day after Thanksgiving).
Head downtown to the Fremont Street Experience for a good, old-fashioned Monster Mash as Frank & the Steins perform Halloween-themed tunes. The spooky band members will be on the 1st Street Stage nightly through Oct. 31 (dark Tuesdays). Starting at 8 p.m. on Halloween, prepare to be scared as costumed actors lurk along Fremont Street during the "Rock of Horror" block party. All the events are free.
While not required, an Alice or Mad Hatter costume may enhance the enjoyment at Wynn-Encore this month. Leading up to Halloween, the resort's three nightclubs – Intrigue, Surrender and XS – will transform into Wynnderland, which a news release promises will be a modern twist on "Alice in Wonderland." Whether it's scrambling down the rabbit hole or enjoying a wild tea party, the themes will vary slightly from club to club. Tickets are available online.
ALSO
Celine Dion, who just notched 1,000 Las Vegas shows, adds 24 new concerts in 2017
Think California doesn't have fall colors? Five Eastern Sierra places to go right now
Gangster Al Capone's pearl-handled pistol now displayed at Las Vegas' Mob Museum
Diana Ross plans nine concerts at Venetian Las Vegas next year
---
Get inspired to get away.
Explore California, the West and beyond with the weekly Escapes newsletter.
You may occasionally receive promotional content from the Los Angeles Times.