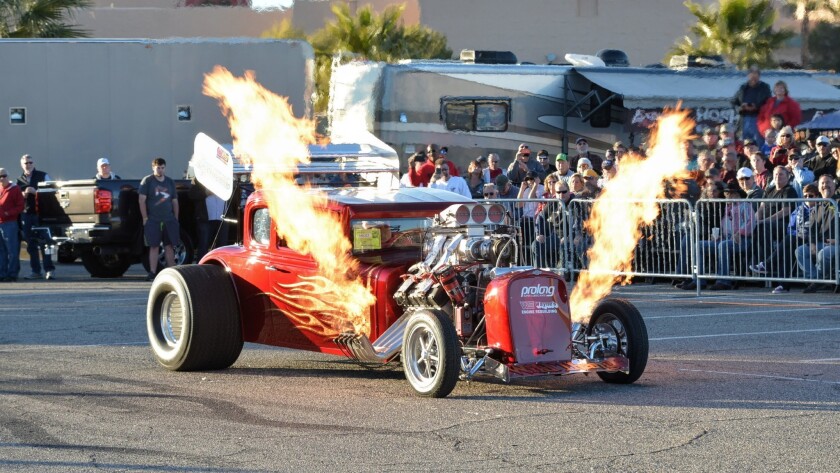 The Mesquite Motor Mania classic car show rumbles into Mesquite, Nev., this weekend with three days of eye-popping, ear-splitting, souped-up autos.
The car show will take over the desert town from Friday through Sunday, about 80 miles up the 15 Freeway from Las Vegas. With the exception of nighttime entertainment at Mesquite hotel-casinos, activities are all free.
More than 900 vehicles — from classic cars to vintage hot rods — are expected to be displayed. Their owners will be hoping to claim a portion of $8,000 in prize money awarded to the best autos.
On Friday and Saturday, judges will rub elbows with classic car fans as they wander through the sea of autos parked outside both the CasaBlanca and Virgin River resorts.
Winners will be announced in the CasaBlanca's showroom at 1 p.m. Sunday.
Prepare to plug your ears for the Roaring Engines Competition from 11 a.m. to noon Friday. The Slow Drags/Burn Out Competition takes place from 3 to 5 p.m. Saturday, followed by the Extreme Flames Exhibition at 5 p.m. Saturday. Those events will be held in the parking lot south of the CasaBlanca's events center.
An Open-Header Cruise will bring scores of cars to the streets of Mesquite between noon and 2 p.m. Friday. And a Car & Parts Corral will be open from 9 a.m. to 6 p.m. Saturday at designated locations.
While the two host hotels are sold out this weekend, rooms were still available (as of Tuesday) — at higher than usual rates — at the Eureka Casino Resort and the Best Western Mesquite Inn.
The car show is staged in conjunction with the Las Vegas Cruisin' Assn.
Info: Mesquite Motor Mania, (877) 637-7848
ALSO
Newly opened Hell's Kitchen restaurant in Las Vegas got 50,000 reservations in 10 days, Gordon Ramsay says
Secret to Las Vegas restaurant's pasta sauce: its 100-year-old chef
What's up for MLK Day weekend: three days of California events
---