Century Boulevard pothole fixes and repaving could thwart your next trip to LAX — starting now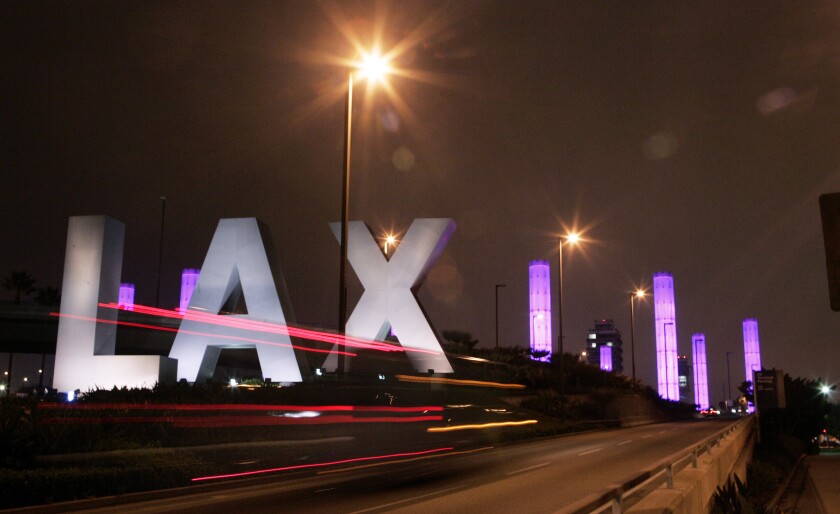 Three upcoming construction projects may affect your drive to the airport if you take the 405 Freeway and Century Boulevard, one of the main arteries into Los Angeles International Airport.
The temporary road and lane closures mean passengers and their rides should plan ahead time-wise.
LAX warns airport-bound passengers and drivers to expect delays into August, an LAX release says. Here are the pressure points:
1. Metro Crenshaw/LAX Line: This ongoing work will add a new Metro 8½-mile rail line along Crenshaw Boulevard. Metro is filling potholes and working on water lines on Century and Aviation boulevards.
Work will continue from 11 p.m. to 6 a.m. weekdays through Aug. 6.
You can expect single-lane closures eastbound on Century Boulevard between Aviation Boulevard and Concourse Way, and northbound on Aviation Boulevard between 104th Street and Century.
2. Caltrans work on the 405: From 10 p.m. Friday to 5 a.m. Monday, the 405 Freeway's on- and off-ramps to westbound Century Boulevard will be closed while crews repave the ramps.
An easy workaround: Use the La Cienega Boulevard exit off the 405 and make your way to the airport on surface streets.
3. More Metro construction work: Starting Monday, you can expect "one-directional" closures of Century Boulevard between Aviation Boulevard and Bellanca Avenue between 11 p.m. and 6 a.m. weekdays. Metro will be removing temporary structures related to the a future Century Bridge.
From Monday through Aug. 6 and from Aug. 22 to 27, westbound lanes of Century Boulevard at Aviation will be closed. From Aug. 8-13 and Aug. 15-20, eastbound lanes will be closed.
Here are alternate routes that LAX suggests:
And here's one other frustrating note: None of this is cast in concrete, so to speak. That means if these projects finish earlier or later, the schedule for planned closures could shift.
If you choose not to drive, here's a list of ways to get to LAX, including shuttles, FlyAway buses and public transportation.
For more information, go to LAX Is Happening and for updates follow @flyLAXaiport on Twitter.
MORE
Need to complete your TSA Precheck application? Pop-up site near LAX opens for five days
Why you're still stuck on the plane after landing at LAX — and what you can do about it
Don't like your rental sedan? Switching cars gets easier
---
Get inspired to get away.
Explore California, the West and beyond with the weekly Escapes newsletter.
You may occasionally receive promotional content from the Los Angeles Times.