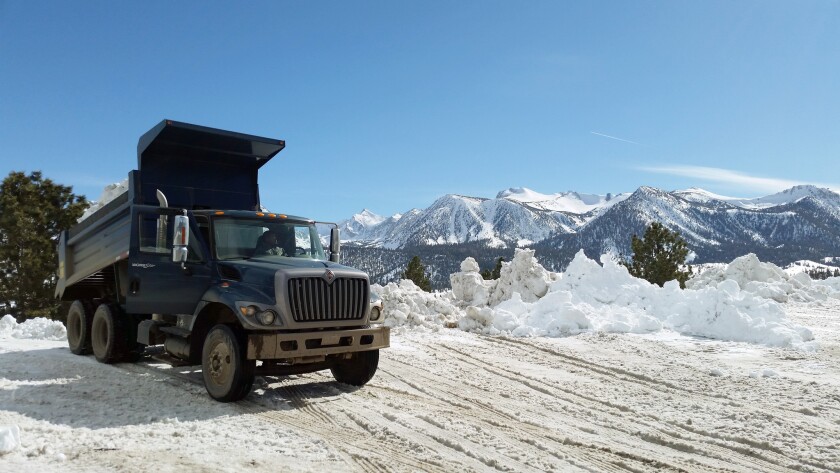 The still icy Eastern Sierra is expected to get yet another snowy blast this weekend, with up to 5 feet predicted at higher elevations. The storm is expected to roll into Mammoth Lakes late Thursday for a two-day stay. Locals are looking forward to clearing skies and deep powder by Sunday.
"I'd expect this to be the last legitimate snowmaker in California this season, but it's been a crazy year, so never say never," the Weather Channel's Mike Bettes told The Times on Tuesday.
Roads may be hazardous Friday. Bettes said the late-season storm system is likely to produce heavy rains and significant snow across the Sierra but should exit by late Saturday. For road conditions, call the Caltrans hotline at (800) 427-7623, or check its website.
"This next storm has even the locals excited about one last real powder skiing opportunity," Mammoth Lakes resident Cynthia Hayes said Tuesday.
Pleasant spring conditions are expected Wednesday and Thursday, with highs of 50 and above, the National Weather Service said. Winds will kick up late Thursday, as the storms roll in around midnight. The weather service called for 100% chance of snow by Friday.
Beginning Jan. 3, the resort town of 8,200 saw a string of blizzards dump 45 feet of snow, which a month ago required the National Guard to bring in trucks to help with removal. The five-day offensive involved 17 air and army troops.
Mammoth Lakes is still 10 feet away from a season record of 668 inches of snow, set in 2010-2011.
ALSO
Many resorts extend their seasons. Ready to ski on July 4?
Once podunk, now posh, Northstar at Lake Tahoe has come up in the downhill world
The secret's out and there's no schussing it: Seattle is a great ski town
---