You can walk inside a giant guitar to see how its sound works or build a race car and send it speeding down a track at a new science museum in Santa Barbara that connects science and innovation with hands-on experiences.
MOXI, the Wolf Museum of Exploration + Innovation, opened Saturday at 125 State St., across from the city's Amtrak Station and right next to Hotel Indigo.
"What you won't find here … [are] a lot of plaques on the wall," marketing and communications manager Martha Swanson says. "We give you prompts and send you off to go experience the museum." That's why the museum calls its on-the-floor guides "sparks" instead of "docents" because they stand ready to "ignite curiosity."
At the 17,000-square-foot museum on three floors, visitors explore seven different themes or "tracks," including displays dedicated to sound, tech, speed, light and color.
The mega-guitar and Foley sound studios are part of the Sound Track. In the studios, visitors watch short clips of films such as "Ice Age" or "Edward Scissorhands."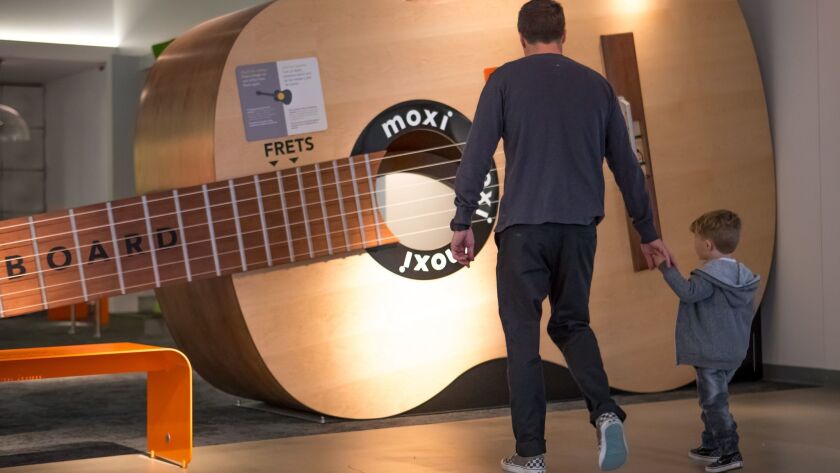 You listen to the sound effects, then create your own sound track using tools in the studio, just like Foley artists do. (You can email it to yourself too, Swanson says.)
The LEED Gold-Certified building has a rooftop Sky Garden where you can peer through a telescope to see the city's mission and surrounding mountains.
The museum raised $25 million in a capital campaign for the building, designed by the late Barry Berkus. It has a 50-year lease on the land from the city of Santa Barbara.
And that Wolf in the museum's name? That would be Dick Wolf and his wife, Noelle. He's the creator of TV's popular "Law & Order" franchises; she has sat on the museum's board for eight years.
The museum is open daily 10 a.m. to 5 p.m., except for Thanksgiving and Christmas. Admission costs $14 for adults, $10 for children 3 to 12 years old and younger kids get in free.
Info: MOXI, the Wolf Museum of Exploration + Innovation, (805) 708-2282
ALSO
With the opening of Shake Shack in LAX's Terminal 3, fliers will get a little bit of heaven on a bun
Headed to Yosemite from SoCal? Here's the detour you need to take
World War II Museum captures all that was gained, and lost, in a conflict that still fascinates
This road race in the Nevada desert is 400 miles of hell--and wickedly good fun
---