Delta blackout makes cheap airfare game even tougher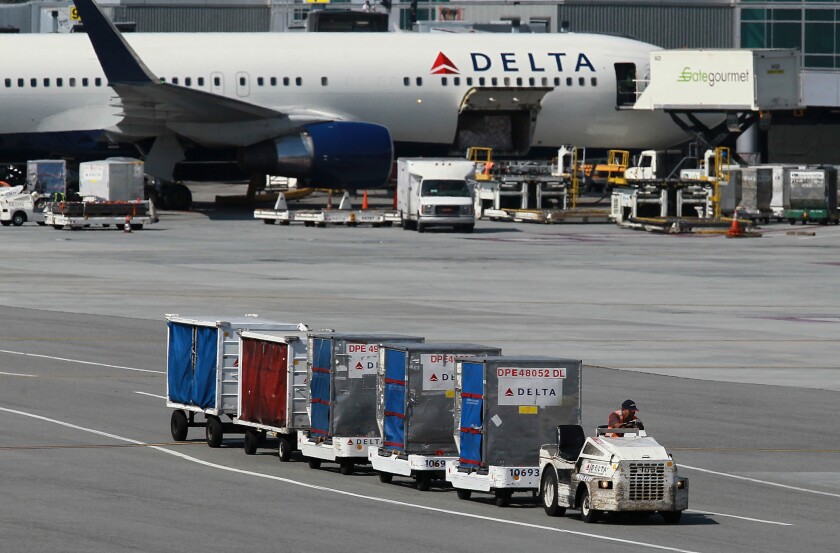 No wonder booking an airfare is the bane of nearly every leisure traveler's existence. This DIY experience hasn't become easier with time and practice. In fact, I'd rather re-tile my bathroom than try to make sense of the multiplicity of airfares options — and, occasionally, the lack of those same options.
Here are two pieces of information to tuck away as you're trying to find the best fare this summer.
First, when you use a search engine to look for a fare, you may not see every airline.
You already know that Southwest's fares don't show up on your favorite online travel agency or metasearch engine. Now, Delta's might not either.
That could be a problem for Southlanders now that Delta has muscled its way into the top spots in terms of passengers carried from LAX. For 2014, Delta was No. 2 behind United; for the first quarter of this year, Delta was No. 1.
Here's the confusing part: The blackout on Delta is not on every online travel agency, or OTA, and metasearch engine, the aggregators that sweep airline and other sites for fares, then return those listings to you.
On Monday, I searched Expedia, an OTA, and Kayak, a metasearch engine, for a hypothetical flight to Washington, D.C. Delta was among the airlines listed.
I searched Fly.com and Cheapoair.com; Delta didn't show up.
Huh? Why make an already complicated process more so?
That's not just the price-sensitive leisure traveler in me that's complaining. A report by the Travel Technology Assn., released May 19, continually points to the value to consumers of comparison shopping, which becomes more difficult if airlines don't show their cards.
"If information is readily available at low cost and is transparent, clear and complete, travelers are more likely to be well-informed and airline competition is fiercer," says the report, prepared by Fiona Scott Morton of the Yale School of Management.
We could use some fierceness. Thanks to mergers, about 80% of the domestic airline market is controlled by four airlines, the report says, and you know what that means.
The airlines would be happy if you went only to their site to book your ticket (called direct airline distribution), and if you're a loyal flier who would never be lured by another airline, that's fine too. The airline then has the opportunity to show you some more products (vacation packages, rental cars) or upsell you on "amenities" (bags, meals, leg room and more).
The one-and-done airfare shopping model comes at a price. You may or may not see the lowest price for a route because you don't know what other airlines are offering. You aren't going to see combination fares — that is, out on one airline and back on another, which sometimes can save you a chunk of change. You aren't going to know about other times that might fit your schedule.
But airlines should be allowed to control their information. It is, after all, their information.
So why the fuss? You may argue, for instance, that Southwest has never allowed us to see its fares except on its site, and are we the worse for it?
Yes and no.
Yes, if you think Southwest is a consistently low-cost carrier. It's often not offering the lowest base fare — not these days. But it also doesn't do a host of things that the legacy carriers do, including charging outrageous change fees (or any change fees, for that matter) and charging for the first two checked bags.
But it also doesn't pick and choose which sites get its info.
The report comes down heavily on the side of allowing all OTAs and metasearch engines access to all airline information, for the sake of the consumer. It's worth noting that the Travel Tech Assn., whence came the report, includes some of the OTAs and metasearch engines that Delta has cut off.
If we are forced to play this stupid airfare game — and with few travel agents booking airfares anymore, we pretty much are — shouldn't we be able to see all the information on any site we choose?
Warren Chang, vice president of Fly.com, one of the search engines that Delta cut off, thinks so. "We are hoping the DOT [Department of Transportation] will look into this," he said.
On to some happier news in the offing.
Among other issues in booking an airfare is that most of us don't have crystal balls or advanced degrees in economics that allow us to understand what makes an airfare go up or down.
Should you book 21 days out? Some experts say yes, for a domestic airfare. Some say 45 days, for a domestic or international. Some say book only on Sundays or Tuesdays, never on Saturdays.
My own theory says the time to book a good airfare is when you see one. To do that, you need to study the market a bit, although it doesn't take a scintilla of smarts to know that a fare to London's Heathrow for less than $1,100 is a buy-right-now deal. (Just be sure it's not Aeroflot's fly-to-Moscow-then-back-to-London, unless you like that sort of thing.)
Relief may be in sight. A new airfare search engine, called Flyr, tells you whether this is the time to buy, and also will eventually let you lock in the price by letting you buy what is in essence an insurance policy.
I perused flights from LAX to Honolulu for a random date in September. It told me to wait — that my fare would drop by $14 in the next seven days. Its Fare Beacon will let you track the cost of your ticket; that feature is to come online in mid-June. Its protection policy, called Fare Keep, lets you lock in the fare and refunds the difference if it drops (and doesn't charge you more if it goes up); it was to come online last week.
Do we need another tool? If we're going to have to fight to find a good fare, then, yes, give me anything to make it a fair fight.
Have a travel dilemma? Write to travel@latimes.com. We regret we cannot answer every inquiry.
---
Get inspired to get away.
Explore California, the West and beyond with the weekly Escapes newsletter.
You may occasionally receive promotional content from the Los Angeles Times.