How hotels are saving the environment (and, OK, money too)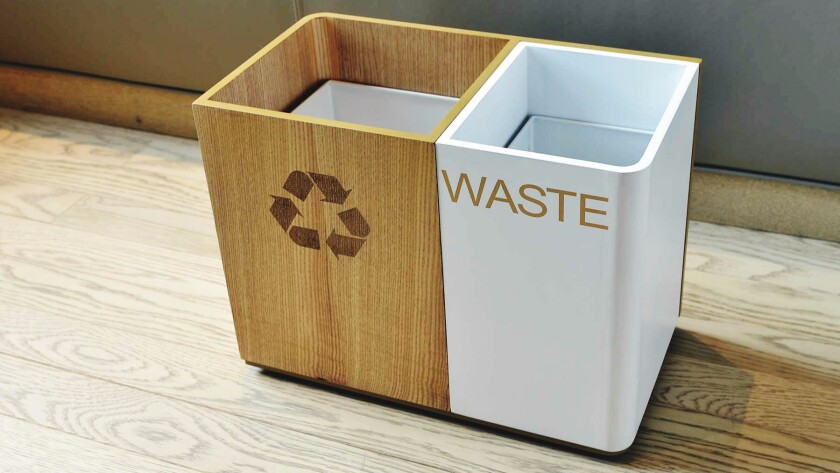 A colleague recently went on vacation and returned puzzling about whether she had been a good steward of the Earth during her hotel stay. She wanted to recycle, just as she does at home, but there were not separate bins for her cans and bottles. What's a hotel guest to do?
Green initiatives present interesting opportunities for hotels. And by opportunities, we mean saving money, never mind Mother Earth.
We may snicker at the in-room cards that say, "If you don't ask us to change your sheets or replace your towels, you're saving the environment" because we know that the hotel, in all likelihood, is saving the hotel money.
We may wonder whether those recycled materials (if, indeed, the hotel does recycle) really represent extra revenue for the hotel.
We may suspect that low-flow toilets and showerheads and thermostats that let the room get a little chilly or stuffy while you're gone are really just ways to reduce the hotel's utility bills.
We may believe it's always and forever about the bottom line.
And then you talk to someone like Paul Snyder of IHG and you think you need to go to Camp Black and White Thinking, where you will be re-educated to stop believing that it is either all one thing or all the other.
Snyder's title is vice president of corporate responsibility at IHG, whose hotel brands include Holiday Inn, InterContinental, Hotel Indigo, Kimpton and more. His unofficial title is chief sustainability officer for the company.
Whatever title he may go by, he is committed to being green, noting that saving money and saving the environment do not have to be mutually exclusive.
There are, he said, ways to address environmental concerns and make properties more attractive to guests.
IHG Green Engage, for instance, is an online tool that lets hoteliers benchmark their properties against others and evaluate how they are doing in such areas as energy, waste and water. And it offers more than 200 green solutions to issues.
"We've had over 100,000 green solutions executed" as a result of what he calls an empowerment platform.
Here's the issue, though, for hotel guests, from his perspective and from mine: Most of the solutions are "inside the walls of the hotel — it is very hard for people to see."
Hotels don't like sounding their own horn.
But I say blast away.
Because how else will we know that some trash is separated out (if there's only one bin) at the hotel or it's separated at the waste facility or…not at all?
Hotels walk a delicate line, Snyder said. Guests come for the hotel experience; they don't necessarily come to be converted into tree huggers (my phrase, not his). By way of comparison, restaurant menus may offer healthier choices, but that doesn't mean you can force a guest to make that better-for-you choice.
Otherwise, we'll need to go directly to the source and find out what hotels are doing about:
— Plastic water bottles. Many hotels still provide bottled water (and they charge for it). If the hotel does that, ask whether it has a way to recycle.
A step beyond: Bucuti & Tara Beach Resort in Aruba gives guests a metal bottle to use for water; the property thinks it may be saving more than a quarter of a million plastic bottles a year on a small island that grapples with trash issues, a representative said in an email.
— The material it collects from recycling. The hotel gets extra credit if it recycles, and many do. But does it get paid for it? There's nothing wrong with that either, but…
A step beyond: The Westin Princeville Ocean Resort Villas donate proceeds from recycling to charities and to a scholarship fund.
— Old equipment. What happens to, say, coffeemakers when a hotel switches systems? Do they get recycled? That's good but…
A step beyond: Holiday Inn Express donated its old coffeemakers to Goodwill Industries when it switched. Snyder estimates it kept 300,000 pounds of waste out of landfills and provided 90,000 hours of jobs training.
— Food waste. Many hotels compost their food waste, turning it into luscious nutrients for green plants.
A step beyond: At the Seaport Hotel & World Trade Center in Boston, a company collects grease and creates home heating fuel. If you've spent time in New England in winter, this will warm your heart — never mind fingers and toes.
These are but some of the examples that flooded my inbox when I asked for examples. Much more is being done to make our homes away from home more like home.
Green may not be the first thing you think about when you're booking a hotel, said, Anthony Melchiorri, the host and creator of the Travel Channel series Hotel Impossible.
Melchiorri visits hundreds of hotels and although he remains a bit skeptical about some of the motivation for going green, he has also seen the efforts hotels are making. (He cites Las Vegas' Aria resort, which has earned LEED [Leadership in Energy and Environmental Design] Gold certification, which honors its innovations).
So, yes, there may be a financial incentive for hotels to go green. But, Melchiorri noted, there's one for guests too. "I feel better about myself that I'm doing something for the environment," he said of staying in environmentally aware properties.
And isn't feeling better what a vacation is all about?
Have a travel dilemma? Write to travel@latimes.com. We regret we cannot answer every inquiry.
---
Get inspired to get away.
Explore California, the West and beyond with the weekly Escapes newsletter.
You may occasionally receive promotional content from the Los Angeles Times.